How to Insure Walmart
(And how it can help you understand your own business insurance needs)

Small or large, all businesses need to be protected. So to help you understand those coverages, let's talk about business insurance needs at a macro level, illustrated through the needs of mega-retailer, Walmart. Understanding their risks will help you understand your own business insurance needs better and how an independent insurance agent can get you covered properly, just on a much smaller scale.
How Do You Insure Walmart?
Walmart is the largest company in the world by revenue. What started as a five-and-dime that opened in 1962 by Sam Walton, now has over 4,700 stores nationwide.
Coverage for such a huge company is vital; it's also a bit different than your standard small business insurance policies. Typically, a company of that size would have a retention limit before coverage would kick in. A retention limit is a deductible — what Walmart would pay out of pocket — and it's most likely in the millions. Once Walmart hits the retention threshold, the insurance company would start footing the bill.
Walmart would need a lot of different coverages, but some of the main policies would include:
General liability insurance: This covers bodily injury or property damage to others, like if a customer slips and falls in the dairy section.
Business property insurance: This can provide coverage for the commercial buildings themselves as well as business personal property for things like refrigerators, shelving, and pretty much anything inside of Walmart.
Commercial auto insurance: This will cover any owned delivery trucks, vans, or even airplanes, and also provide coverage for the drivers while driving.
Umbrella insurance: This is an extension of a general liability policy and will even offer coverage for uninsured and underinsured motorists. An umbrella policy will become active after a covered claim exhausted the underlying policy liability limit.
Workers' compensation insurance: This provides coverage for employees who get injured or ill while on the job.
As you can tell, all of these coverages may very well apply to your own business. On a smaller scale, of course, but there was a time when Walmart was just a small business itself.
Critical Property Coverage for Walmart
Walmart has a lot of properties that need insuring. With over 4,700 locations, they have a lot of real estate. While your small business may not have even one building as massive as a Walmart Supercenter, property coverage is all the same from a fundamental standpoint.
You have a structure that you own, and then you insure said building for a predetermined amount that is figured by a replacement cost estimator. This replacement cost estimator is what all insurance companies use to determine the cost to replace your business property to like, kind, and quality should a loss occur.
There's another property coverage known as business personal property. Walmart would have this coverage for all its cooling systems, shelving, and pretty much any piece of property within their stores that isn't bolted down.
Inventory would be another form of property coverage that is needed at Walmart. Until all their store goods sell, its Walmart's responsibility to replace each piece of stock. If they get coverage for their inventory, they won't have to foot all of the bill should a refrigerator go out and spoil thousands of dollars worth of food.
Necessary Liability Coverage for Walmart
General liability coverage is a big deal for any business owner, but especially if you own one of the largest companies in the world. If a patron trips over a rug and has a nasty fall on Walmart property, then Walmart is likely to get sued for bodily injury and any damages.
The same can happen to any small business owner. And what could be worse is if you don't have the proper coverage and it puts you out of business.
Your independent insurance agent can go over your business risk exposure, so you have enough per occurrence and total aggregate liability insurance. Walmart is likely to have an obscene amount of coverage, but don't worry, you won't need that much.
Walmart Employees and Workers' Compensation Coverage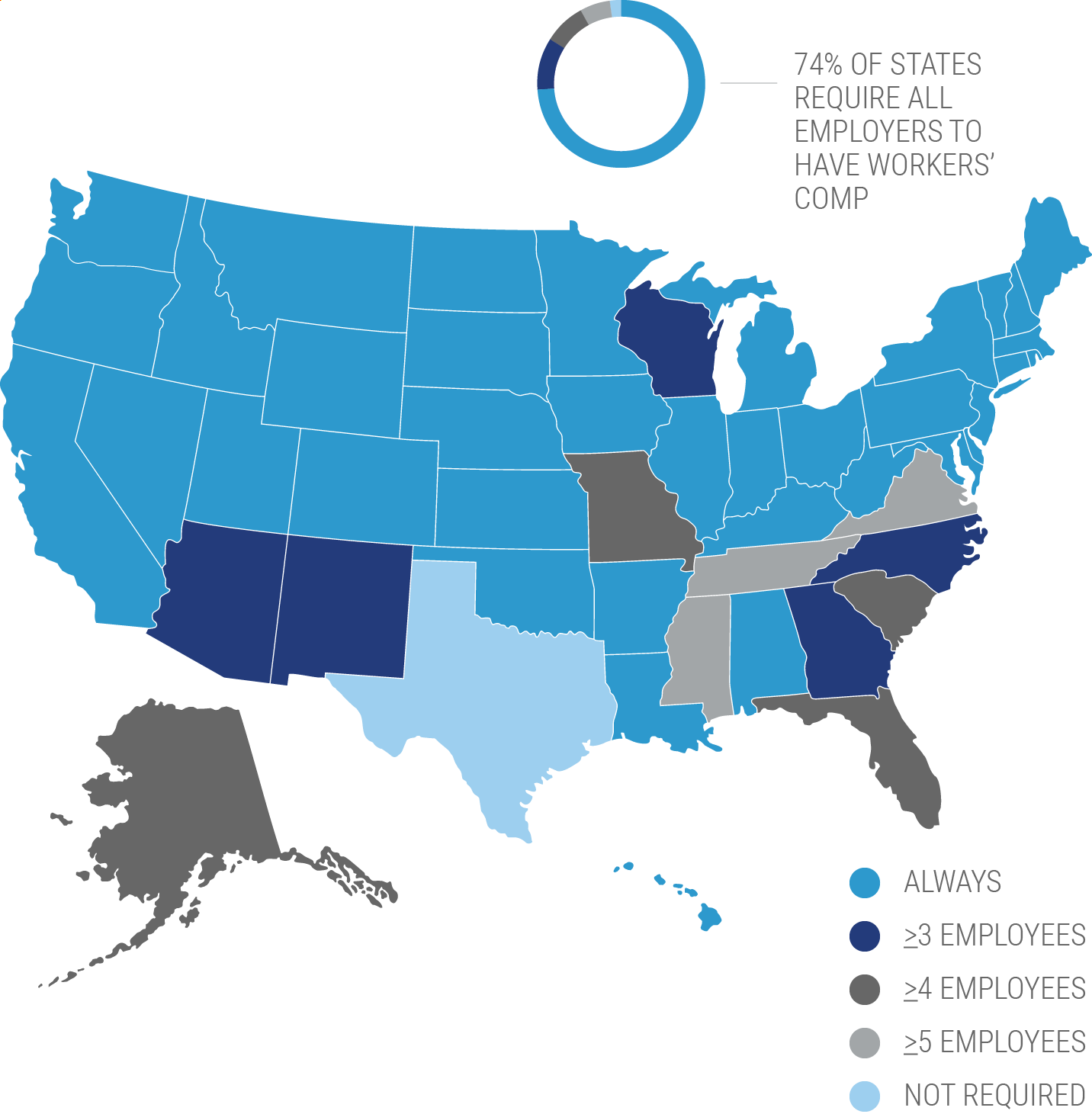 If you have employees, you need workers' compensation insurance. Every state except for Texas mandates coverage in some form or another. Walmart is no exception to this rule, and being the largest private employer in the world with over 2.2 million employees, they need it pretty much more than anyone else.
Workers' compensation protects your business from a personal lawsuit and also shows your employees you care. This policy will provide coverage for bodily injury and illness as a result of working such as an employee falling off a ladder while stocking shelves and breaking their leg. Workers' compensation would come to the rescue.
Transportation Insurance, Walmart, and Your Business
Walmart has to transport a lot of stock from warehouse to shelves. Transporation insurance would provide coverage for transporting your cargo as well as commercial auto insurance for the vehicles you own that are hauling the cargo.
Walmart likely has a large fleet traveling to and fro. Your business may only have a few commercial autos, but coverage is still needed.
Your independent insurance agent will be able to review your commercial vehicles and any cargo that needs transportation coverage.
What if Walmart Had to Close Stores, and What if You Had to Close Your Business?
The thing about most crises is that you may never know when they could happen, and to what extent. So, what if Walmart has to shut down stores, even for a short period of time? If Walmart had to close some stores due to a covered loss like a tornado, then business interruption coverage would kick in. Business interruption coverage is typically added to your package policy or general liability policy.
Business interruption, aka business income coverage, will help keep the lights on. It can help pay for bills, payroll to your employees, and anything you need to keep your business running when your not able to operate at full capacity.
We insure just about anything. Even your house.
Our independent agents shop around to find you the best coverage.
Here's How an Independent Insurance Agent Would Help
When it comes to a business the size of Walmart, the needs are so big that they're typically insured through a broker, or even brokers, who can shop and negotiate all the different coverages they need. Independent insurance agents may not be able to handle that kind of need, but they can tackle the insurance needs of just about anything you could ever ask for. And they work in a similar way too.
Independent insurance agents gather information about your needs and shop multiple companies to find the right coverage and cost for you. Find an independent insurance agent in your community here.
TrustedChoice.com Article | Reviewed by Candace Jenkins
©2023, Consumer Agent Portal, LLC. All rights reserved.
https://www.softschools.com/facts/business/walmart_facts/2769/