Hurricane Aftermath: What Do I Do Now?
A step-by-step guide of what to do after a hurricane for your safety and convenience.

Hurricanes are not only destructive and deadly, but unfortunately for many victims, can also lead to bankruptcy. Worse yet, receiving compensation from insurance can be complicated. Even some victims of Hurricane Katrina still have not received insurance payments to this day.
So what can you do to ensure you won't end up in the same situation? It's important to find a local independent insurance agent who can get you set up with the proper coverage. But first, here's a look at what to do after a hurricane.
How Can Hurricane Victims Be Left without Coverage?
Unfortunately, many victims of Hurricane Katrina in 2005 got denied their homeowners insurance claims for property damage. But how could this happen? Well, it's because homeowners insurance doesn't cover all forms of hurricane damage.
Home insurance only pays for hurricane damage that's caused by natural wind, not by floodwaters. To be covered against flood damage, you need a separate flood insurance policy. So, to insure that your home will be protected against all kinds of hurricane damage, work with an independent insurance agent to find the right home insurance and flood insurance.
How Common Are Hurricanes in the US?
More hurricanes make landfall in the US each year than you might expect. Some obviously receive more media coverage than others, but all storms can lead to severe property damage and the need to file insurance claims.
Number of hurricanes that made landfall in the United States from 1931 and beyond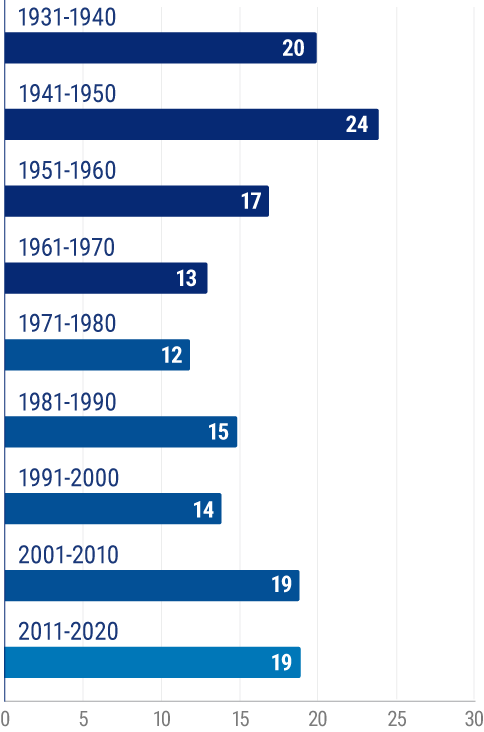 More than 10 hurricanes have made landfall in the continental US each decade for the past 150 years. That's roughly at least one hurricane per year. The peak decade for hurricanes in the country was from 1941 to 1950, when 24 hurricanes reportedly made landfall.
With hurricanes being such a common occurrence, it's crucial to ensure you're set up with all the coverage you need. Make sure to contact your independent insurance agent before disaster ever strikes to get set up with homeowners insurance, auto insurance, and flood insurance to fully protect yourself.
What to Do after a Hurricane: Stay Safe
Before even thinking about your insurance, there are a few steps you should take for your personal safety and that of your family. Follow this checklist below after initially surviving the storm.
Stay connected to your local news station for updates about mandatory evacuations and when it's declared safe to return home.
Wear protective clothing during cleanup of your property. Face coverings should be worn to protect against mold spores that may not be visible, and to protect you against the spread of disease from other people.
Turn off your home's breaker box while performing a cleanup. Especially if you're in standing water, be sure not to touch an electrical equipment or wires.
Avoid wading through floodwaters, since they can be full of diseases, debris, chemicals, or wildlife like snakes. The water could also have been electrically charged from underground or downed power lines.
Stay in touch with friends, neighbors, and extended family as much as possible, but also work to conserve your phone's battery life.
Document all visible property damage to your home and surrounding areas through photographs and videos.
Before you worry about insurance reimbursement for damage, it's critical to first ensure your personal safety. Be sure to never reenter a building after a storm until it's been professionally inspected and declared safe to reenter.
Save on Home Insurance
Our independent agents shop around to find you the best coverage.
What to Do after a Hurricane: Prepare Documents for Insurance
There's still work to be done before you can file an insurance claim after a hurricane. Follow these preparation steps to help streamline the process so you can get as much reimbursement as possible.
Take inventory of property damage: You'll need to have all property damage from minor to major documented for your insurance company. This means damage to your home's structure, detached structures, and also to contents or personal belongings. If you have a vehicle, document any damage to it for your auto insurance.
Contact licensed contractors: You'll want to get professional estimates for any necessary repairs from licensed contractors. These official estimates can help speed up the insurance claims process and aid you in getting the maximum reimbursement available.
Copy and file important documents: You'll have to send your insurance company a lot of documentation to make your claim after a hurricane, but it's important to keep copies of everything for yourself as well. Copy all receipts, estimates, inventory lists, etc. to ensure your records match those sent to your carrier.
Dealing with storm damage and insurance can certainly be stressful and time consuming, but it's important to follow these action steps beforehand to make the process as smooth as possible.
What to Do after a Hurricane: File Insurance Claims
Now it's finally time to contact your insurance company (or companies) and file your hurricane damage claims. You might have to file claims through a couple different types of insurance, such as homeowners, flood, and auto insurance, depending on the extent of the storm's damage and the types of property affected.
Your insurance company's claims process may vary, but here is just one example of how to file claims, as provided by State Auto Insurance Company.
If your home is damaged by the hurricane, take the following steps:
Call your insurance agent or company immediately. Your agent will walk you through the claims process, including what to do next and exactly what information you'll need. They can also tell you how long your claim will take to process and whether you should get estimates for repairs.
Make temporary repairs. Take steps to protect your home from further damage. Save any receipts to submit to your insurance company along with your claim. You may qualify for reimbursement.
Get claims forms. Your insurance company will send you required forms to document any property damage. Fill the forms out and send them back to your insurance company ASAP to keep the process running smoothly.
Prepare a list of damaged/destroyed items. You'll need to be prepared to prove your losses. Refer to the home inventory list you created before the storm to easily mark which items were damaged or destroyed. Include related receipts along with this report for your insurance company. Hold onto damaged items until after the adjuster visits your home. Take photos/videos of the damage for thorough documentation.
If you must relocate temporarily, save your receipts. If your home is untenable while you're awaiting repairs, your homeowners insurance policy may reimburse you under your loss of use coverage. Record all of your expenses and be prepared to give your insurance company any applicable receipts for potential reimbursement.
Schedule a home visit with an adjuster. Your insurance company may require an in-person visit from an adjuster to assess your home's damage. Pick a date as soon as possible to schedule their visit. Be prepared with all necessary paperwork and any additional documentation you've prepared (such as photos or video) when they arrive.
Reimbursement will be sent out. In most cases you will be reimbursed for covered damages promptly by your insurance company. At this point you may contact your insurance company or independent insurance agent with any further questions or concerns.
An independent insurance agent can also help walk you through the entire process by filing claims for you and keeping you updated every step of the way. They'll provide you with ETA's for reimbursement from your insurance company as well.
Are Some Companies Better at Handling Hurricane Claims Than Others?
Unfortunately, as many victims (including those of the recent Hurricane Irma in Louisiana) have found out the hard way, some insurance companies are just better at handling hurricane claims than others. Here's a list of some of our top picks for not only hurricane coverage, but also for claims handling after a disaster.
Why Are Independent Insurance Agents Awesome?
It's simple. Independent insurance agents simplify the process by shopping and comparing insurance quotes for you. Not only that, but they'll also cut the jargon and clarify the fine print, so you know exactly what you're getting.
Independent insurance agents also have access to multiple insurance companies, ultimately finding you the best home, auto, and flood coverage, accessibility, and competitive pricing while working for you.
TrustedChoice.com Article | Reviewed by Paul Martin
©2022, Consumer Agent Portal, LLC. All rights reserved.
https://www.ready.gov/hurricanes
https://www.statista.com/statistics/621238/number-of-hurricanes-that-made-landfall-in-the-us/