The Most Important Steps to Take Immediately after a Hurricane
A step-by-step guide of what to do after a hurricane and how the right coverage can help you get back on track even faster.

Hurricanes can leave a devastating, deadly, and destructive impact. That's why knowing how to handle yourself right after a hurricane passes can help you get on the fast track to returning to normal life. Having the right protection in place before the storm hits is just one essential preparation step to take.
An independent insurance agent can help you get equipped with the right homeowners insurance to help you recover after a hurricane. They'll also help you find additional coverages that may be necessary to protect against damage from the storm. But first, check out this list of essential action steps to take after a hurricane.
The Very First Thing You Do after a Hurricane: Find Safety for You and Your Family
Right after a hurricane passes is not the time to think about your most prized possessions. Your top priority must be your and your family's safety. Make sure to locate all family members including pets and move everyone to a safe location ASAP. You can also follow these guidelines:
Stay connected to your local news station for updates and to find out when it's declared safe to return home.
Wear protective clothing during the cleanup of your property. Face coverings should be worn to protect against mold spores that may not be visible and to protect you against the spread of disease from other people.
Turn off your home's breaker box while performing a cleanup. Especially if you're in standing water, be sure not to touch electrical equipment or wires.
Avoid wading through floodwaters, since they can be full of diseases, debris, chemicals, or wildlife like snakes. The water could also have been electrically charged from underground or downed power lines.
Stay in touch with friends, neighbors, and extended family as much as possible, but also work to conserve your phone's battery life.
Document all visible property damage to your home and surrounding areas through photographs and videos.
Once your family members are all safe and accounted for, you can move on to the rest of the checklist of what to do after a hurricane passes.
The Seven Next Most Important Steps to Take after a Hurricane
After establishing safety, it's time to begin the process of sifting through property damage, communicating with your insurance company, and getting back on your feet. These next steps are designed to help you get your life back on track as quickly as possible. Keep them handy in case a hurricane ever hits your area.
#1: Make Any Temporary Repairs You May Need for Safety
At this stage, you can start making temporary repairs to your home that are vital to your family's safety. Look for branches that could snap and fall at any minute and cut them down. Clear access to breaker boxes in and around your home, and patch any holes that you can for the moment. Anything that you can do to keep your family protected from the elements for the minute is ideal, but don't go overboard on home repairs until you've spoken to your insurance company.
#2: Prepare Your Personal Inventory List
Once an adjuster from your homeowners insurance company arrives, having a premade list of your damaged and destroyed property to give to them will help speed up the process of you getting your home repaired and receiving reimbursement. Don't clean out or throw away any damaged and destroyed items before the adjuster visits your home. Further documenting your damaged and destroyed property by taking pictures or videos to include with your inventory list can also expedite the process.
#3: Take Inventory of Any Structural Damage
Along with your damaged and destroyed personal property, you'll also want to know and document the extent of the damage and destruction to your home's structure. Be sure to include detached structures like sheds, garages, and pools as well. Your list should include minor damage like wall cracks, major destruction like shattered windows or missing sections of the home, and everything in between.
You may also want to get your plumbing and electrical systems inspected. Your home insurance policy will probably reimburse you for this process. If you're unsure, you can ask your independent insurance agent to review your coverage for you and advise accordingly.
#4: Make Copies of All Important Documents
You'll be giving a lot of important paperwork to your insurance company, but you'll want to keep copies for yourself, too, as they will be useful after the claims process is complete. Keep a folder of copies of all receipts, estimates, inventory lists, etc. to help the process run as smoothly as possible. Then you can compare your documentation to your insurance company's final decision with your claim and any reimbursement to make sure everything adds up.
Save on Hurricane Insurance
Our independent agents shop around to find you the best coverage.
#5: Secure Estimates from Licensed Contractors
Once you've identified the damage, you'll want to get professional estimates for the necessary repairs to your home. Having itemized estimates from licensed contractors to send to your insurance company will speed up the claims and reimbursement process. Your independent insurance agent can help advise on which aspects of your property you need to secure professional estimates for.
#6: File an Insurance Claim
Next, you'll want to talk to your independent insurance agent who can help you file a home insurance claim immediately and walk you through the rest of the journey. They'll help answer any questions you may have about the process and keep you moving in the right direction. They can also keep you informed with ETAs on when every step of the process is expected to be completed.
#7: Learn from This Experience and Adjust Coverage and Preparedness
One of the most important things you can do after a hurricane is to take inventory of the lessons you've learned for the future. Some important questions to ask yourself include whether you had the right amount of coverage, or whether you needed more or less. Also ask yourself if you were properly prepared for every phase of the disaster, or if there's something else you could have done that would've been useful.
Take note if there's anything you discover you could've changed to help get your life back on track more smoothly. Don't be hard on yourself, of course. This practice is only meant to increase your preparedness in case a disaster strikes again.
What if I Don't Have Hurricane Insurance? Am I Still Protected?
Though your homeowners insurance includes coverage for wind damage from a hurricane, it won't cover water damage caused by the natural flooding that tends to come with these storms. You'd need to add flood insurance, which is a separate policy, to ensure that your home would be protected against flood damage caused by heavy rainfall and flooding from hurricanes.
Having comprehensive coverage for your car insurance can help protect your vehicle from all the property damage caused by hurricanes. To protect your business adequately, you'd also need to add flood insurance to your regular business insurance policy. If you're unsure whether you have enough hurricane protection in any of these areas, ask your independent insurance agent to review your policies with you.
How Common Are Hurricanes?
In many states, the formation of a hurricane just isn't possible. Hurricanes mainly hit states off of the Gulf and East coasts and any bordering states as they continue along their path. But more hurricanes make landfall in the US each year than you might expect. While some of them receive more media coverage than others, all storms can lead to severe property damage and the need to file insurance claims.
Number of hurricanes that made landfall in the United States from 1931 and beyond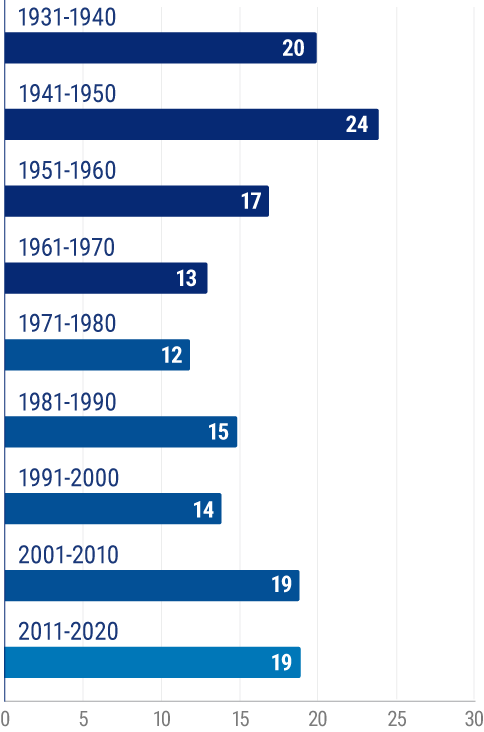 The number of hurricanes that make landfall has remained fairly consistent over the past several decades. From 1931 to 1940, a reported 20 hurricanes made landfall in the US. This number was practically the same documented from 2011 to 2020, at 19 hurricanes that made landfall.
Hurricanes can not only claim lives, but they can also destroy your home and other property. It is extremely helpful to have a checklist of action steps to follow after a hurricane passes, and having the right coverage equipped beforehand is also ideal for streamlining your family's recovery. If you need more information about what to do after a hurricane passes, check out these official tips from the CDC's website.
Why Choose an Independent Insurance Agent?
Independent insurance agents simplify the process by shopping and comparing insurance quotes for you. Not only that, but they'll also cut through the jargon and clarify the fine print so you'll know exactly what you're getting.
Independent insurance agents also have access to multiple insurance companies, ultimately finding you the best home insurance coverage, accessibility, and competitive pricing while working for you.
TrustedChoice.com Article | Reviewed by Paul Martin
©2023, Consumer Agent Portal, LLC. All rights reserved.
https://www.ready.gov/hurricanes
https://www.cdc.gov/disasters/hurricanes/be-safe-after.html