Motorcycle Insurance Discounts
(Discover how much you could be saving)

The ATGATT principle (all the gear, all the time) applies just as much to motorcycle insurance as it does to riding. But what if that insurance ends up being just as pricey as your collection of gear? Good news, though. It doesn't have to be. How? One word: discounts. And they could be just a phone call away.
Our independent insurance agents are here to help you find the right discounts to help you lower those rates. They'll do all the hard work for you, so you can spend less time bargain-hunting and more time riding. Just don't forget your helmet.
What Are Motorcycle Insurance Discounts?
It's simple: motorcycle insurance discounts are a sweet little way to lower your premiums. Most insurance discounts don't work like coupons, though.
They're more like a super-complex math riddle that the insurance company uses to calculate how likely you are to get into an accident. The less likely a crash is, the less you'll pay.
It's important to remember that not all discounts will be spelled out in your policy, even if they're still saving you money. You'll likely know if you're getting a military or veterans discount, but you might not realize you're getting a marriage discount, too. It's all in the math.
Better Motorcycle Insurance
Our independent agents shop around to find you the best coverage.
What Motorcycle Insurance Discounts Are Available?
There are lots. And then lots more. But they can all be funneled into these four major types:
Safety discounts: These are given if the insurance company decides you're not very likely to get in an accident. Motorcycle insurance safety discounts aren't typically as clear-cut as those for car insurance, but your age and the age and condition of your bike are easy to consider.
Bundling discounts: These are discounts you can get if you buy multiple types of insurance with the same company. Say you need to insure your home as well as your bike. If you get both with the same company, they'll likely cut you a deal.
Group discounts: These are discounts you can get if you belong to a certain association or profession. Common group discounts include military discounts, teacher discounts and government employee discounts. Other niche discounts include ones for farmers, clergy and even dentists. And we all know how much clergy love motorcycles.
Loyalty discounts: These are pretty self-explanatory: They reward customers who stay with the same insurance company for a long time. You might also get discounts for referring friends and family to your insurance company.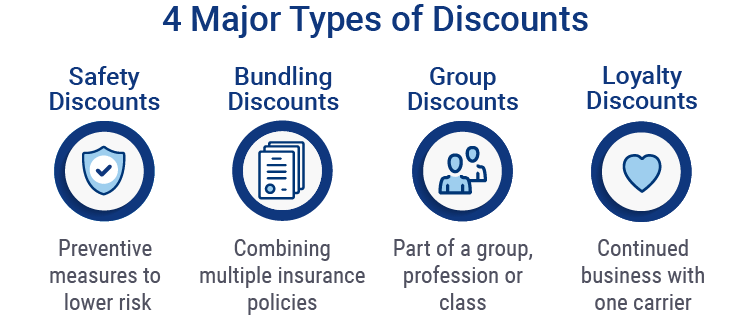 How Hard Is It to Get Motorcycle Insurance Discounts?
Basically, it's pretty easy. But sometimes you may have to settle for less-than-ideal discounts at first, qualifying for more as time goes on. One of the best ways to get motorcycle insurance discounts is to have a clean riding record, but it's not the only way.
If your record is spotty, try for bundling and group discounts first. Then try for age and loyalty discounts down the road. In the meantime, focus on keeping your nose clean and those safety discounts might not be so elusive, after all.
Better Motorcycle Insurance
Our independent agents shop around to find you the best coverage.
How Do I Get Motorcycle Insurance Discounts?
Chances are you'll get a few discounts automatically whether you ask for them or not. Many of these discounts aren't explicitly spelled out in your policy and are based on things you can't always control, like your location or marital status.
If you want to go beyond the entry-level discounts, you can maximize your potential savings by following these easy steps while you bargain-hunt:
Take notes: Write down all the information you think the insurance company will need. That includes the make, model and special features of your bike and any recent accident or traffic violation details. Also note your age, marital status, occupation and any special memberships you have.
Have a heart-to-heart with an agent: Make an appointment by phone or in person. The agent will ask you additional questions to get to know you better. Answer honestly and thoroughly. The more they know, the more discounts they can help you qualify for.
Compare wisely: When you get your quotes, don't go for the lowest number right away. Ask your agent about what discounts have been applied. One of those higher-priced quotes could actually be offering more discounts—and better coverage, as well.
Keep your agent updated: Did you switch jobs? Buy a house? Add on a sidecar? Dropping your agent a quick line during these life changes can save you big money in the long run. They'll help you find new discounts to make the coverage you need more affordable than ever.
The Benefits of an Independent Insurance Agent
Why do all the hard work yourself? Our independent insurance agents stay on top of the industry and all the latest discounts so you don't have to. That means they'll help you find the right coverage for you at the right price.
They're not just there at the beginning, either. If you get in a jam and need to make a claim, they'll help you meet deadlines and ensure you're getting all the benefits you're entitled to.
TrustedChoice.com Article | Reviewed by Paul Martin
©2023, Consumer Agent Portal, LLC. All rights reserved.