Whole Life Insurance
(Because you've got your whole life to live)

The universe might pick favorites, but in the end, we all have the same fate. One day we'll leave this world, and all that will be left behind is our legacy and hopefully some money for our loved ones, because dying is kind of expensive.
You're already a step ahead of most by knowing you want life insurance. That's why our independent insurance agents are like invisible angels waiting in the wings of the internet to help you understand and purchase the best whole life insurance policy.
Distribution of life insurance ownership in the United States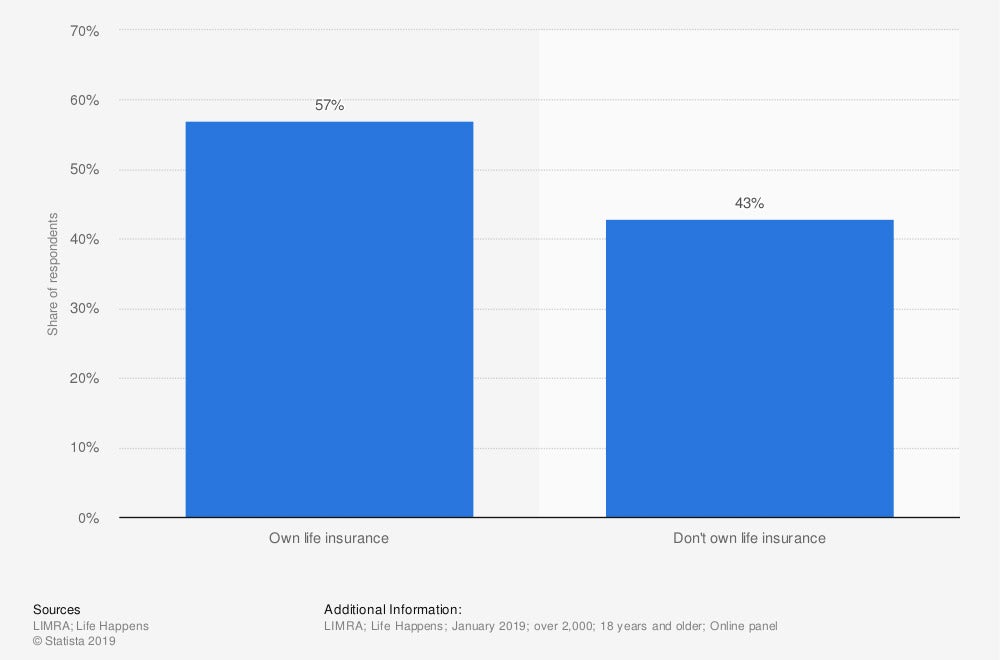 Nearly 50% of Americans don't own health insurance which is most likely a result of a lack of education on life insurance policies and benefits.
What is Whole Life Insurance?
Whole life insurance is a permanent insurance policy that covers you for your entire life. It pays death benefits, but also works like a savings account that allows you to accrue money.
When your time comes to an end, your whole life insurance policy will pay your chosen beneficiary to help pay for the costs associated with your death.
However, until you pass away, you can use the cash value of your whole life insurance as an investment tool or even borrow against it with a loan.
What Is the Difference Between Whole and Universal Life Insurance?
When it comes to permanent life insurance there are two kinds, whole and universal life insurance. There are a few differences between the two.
| | |
| --- | --- |
| Whole Life Insurance | Universal life insurance |
| Tax-deferred death benefits | Tax-deferred death benefits |
| Level premium for the premium's life | Flexibility to customize your coverage |
| Cash value accumulation | Options for tailoring your premiums |
| | Cash value accumulation |
Whole life insurance might be right for someone who:
Is young and just starting out in life
Wants both life insurance and a savings plan
Wants to use life insurance as a financial planning tool
Wants to protect family members from a loss of income as a result of the policyholder's unexpected death
Wants to pay off a mortgage, outstanding debts, loans, or future debts such as children's college tuition
Wants to pay for death and funeral costs
Wishes to create an estate or trust
Save on Life Insurance
Our independent agents shop around to find you the best coverage.
What Does Whole Life Insurance Cover?
Whole life insurance covers the most important thing in the world, your life. Unlike other types of insurance, like auto or home insurance, life insurance doesn't cover specific situations, it just covers you.
Reasons for owning life insurance in the United States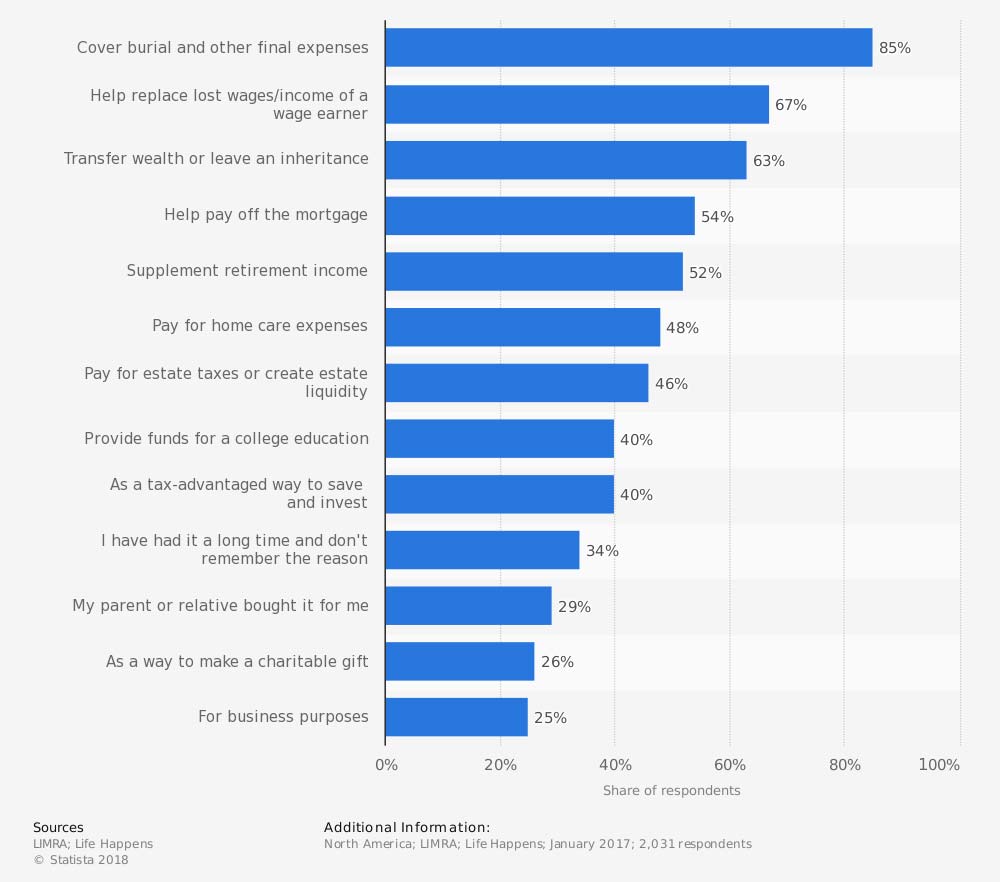 After interviewing more than 2,000 people about why they purchased life insurance, it was determined that the costs associated with dying are a big enough burden to purchase a plan.
What Benefits Does Whole Life Insurance Have?
Whole life insurance is the oldest form of permanent life insurance and continually the most popular. That's because there are several benefits of having a whole life insurance policy:
Guaranteed interest rate: A guaranteed rate of return for your cash value accumulation that does not change.
Guaranteed insurance premium: Your premium amount, which you pay monthly or annually to keep the policy in force, is guaranteed to remain the same during the life of the policy.
Guaranteed death benefit: The face value death benefit amount you choose is guaranteed.
Cash value accumulation: The tax-deferred cash value which you build in the cash value accumulation portion of the policy is guaranteed.
What Is the Cash Value Account and What Can I Do with It?
The cash value that accumulates in a whole life insurance policy provides you with several choices, which include:
Allowing the cash value to continue to accumulate until your passing, and bequeathing it to one or more beneficiaries if you do not need it for retirement expenses.
Withdrawing a portion of the cash value to use as you wish during your retirement years.
Borrowing the cash value accumulation, and potentially repaying it later with interest.
Because of the different options available, a whole life insurance policy can be an excellent tool for structuring your finances in retirement, as well as planning your legacy.
It's important to note that should you die with money left in your cash value account, the insurance company will absorb the cash value and your beneficiary is paid the policy's death benefit.
On some policies you can purchase a "rider" that gives the beneficiary the cash value and face value of the policy. This causes a higher premium but may be worth it if you plan on putting large sums of money into your cash value account.
It's best to work with your independent insurance agent to understand the benefits of the cash value account and the best way to use it throughout your life.
Investing too much can result in leaving behind large sums of money that don't go anywhere, but over withdrawing can result in a reduction in the benefit payout to your beneficiary.
How Much Does Whole Life Insurance Cost?
As with all insurance, the cost of your whole life policy will depend on several factors.
How much coverage do you need?
What is your current age?
How healthy are you?
What is your life expectancy?
The good news is that your premiums with a whole life insurance policy are fixed so they'll never increase. This isn't the case with term or universal life insurance policies.
This is why it's best to start thinking about your whole life insurance when you're young and in good health. Your policy premium will be much less expensive and you can lock in a good price for the rest of your life.
Save on Life Insurance
Our independent agents shop around to find you the best coverage.
Comparing Whole Life Insurance Quotes
Insurance is confusing, time is of the essence, and dying is not fun to think about. That's why our independent insurance agents can help shop whole life insurance quotes for you. They'll compare policies and quotes from a variety of insurance carriers and make sure you have the best protection.
Life insurance distribution channels in the United States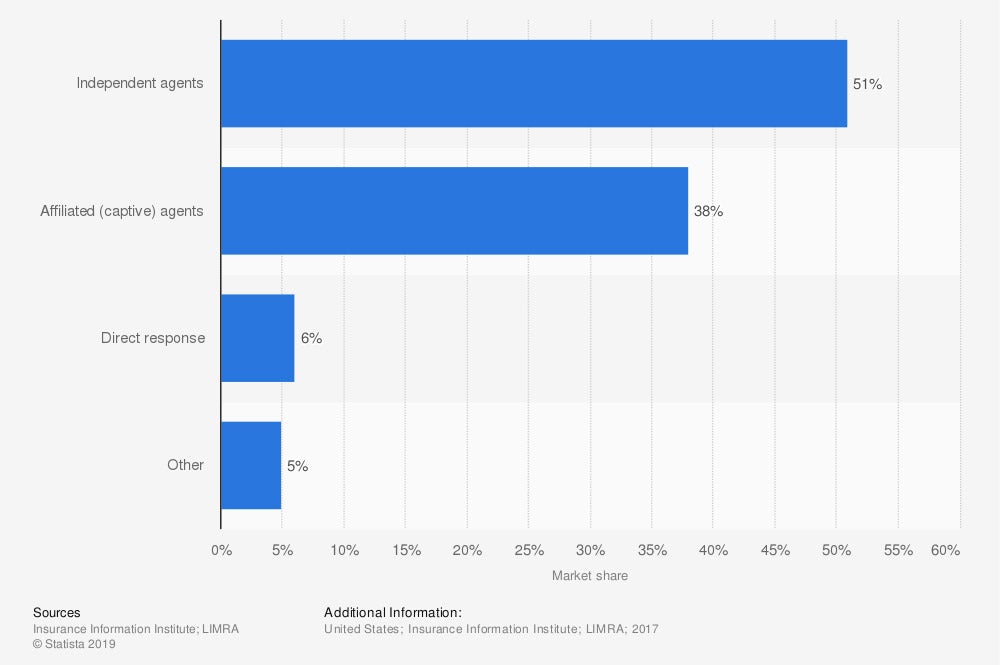 There are a lot of ways to purchase life insurance, but surveys show that more people trust getting their life insurance policy from an independent insurance agent. More than 50% of life insurance plans are distributed by independent insurance agents.
Whole Life Insurance FAQ
Most whole life policies endow at age 100. When a policyholder outlives the policy, the insurance company may pay the full cash value to the policyholder (which in this case equals the coverage amount) and close the policy. Others grant an extension to the policyholder who continues paying premiums until they pass. Others still stop collecting premium, but keep the policy active until it's needed.
If you choose to withdraw money from your whole life insurance policy, contact your independent insurance agent to see how much is available, what interest rate will be applied (if any), and whether you will be taxed on the loan.
The key difference between whole life and term life insurance is coverage length. Whole life insurance is good for people who want lifelong coverage and to build cash value. Term life insurance is good for people who want a financial safety net for a specific number of working years, such as the years of paying off a mortgage.
The general advice is that you purchase a policy that covers up to 10 to 15 times your annual income, but it may be more if you have dependents, financial circumstances or goals.
The Benefits of an Independent Insurance Agent
Most insurance companies are just out to make money. Our independent insurance agents are out to make you happy. They don't work for one specific insurance carrier, so they're in the market to find you the best rate possible. And they stick around long past when you purchase your policy.
If you have any questions, they can help guide you in fully understanding your policy. Our independent insurance agents are out to protect you, so all you have to do is go live your best life for a really long time.
TrustedChoice.com Article | Reviewed by Paul Martin
©2023, Consumer Agent Portal, LLC. All rights reserved.