Term Life Insurance
Everything you need to know, and a little more.

Life insurance helps your family pay for any bills associated with your death when you pass away. Whether you're young and thinking ahead or doing end of life planning, life insurance is one type of coverage you don't want to wait to purchase.
With several life insurance options to choose from, it's easiest to work with an independent insurance agent. They'll help you understand the difference between term and whole life insurance and universal life policies. To start, let's talk more about term life insurance.
What Is Term Life Insurance?
There are two options when it comes to life insurance products: permanent life insurance and a term life insurance policy.
Term life insurance: As its name suggests, term life insurance is set for a period of time, typically 10, 20, or 30 years. The premiums you pay are fixed for the entire length of your term. Benefits are paid to your beneficiary, assuming you pass away within the term length.
Permanent life insurance: This insurance is meant to be permanent, and therefore lasts for as long as you live. One of the most popular forms of permanent life insurance is whole life. It offers a fixed premium from start to finish, and it works like a savings account, accruing money that you can borrow against for a loan.
With both varieties of life insurance, your chosen beneficiary receives the full death benefit when you become deceased. The money can be used to pay for death-related costs, funeral costs, or anything else the beneficiary chooses.
Term Life vs. Permanent Life Insurance
| Term Life Insurance | Permanent Life Insurance |
| --- | --- |
| Coverage for a specific term (Usually between 5 and 25 years) | Designed to provide coverage for an individual's entire life. |
| Typically provides no cash value | Will build cash value that accumulates over the life of the policy. |
| Often provides protection for specific times of need, such as a mortgage or a child's college tuition. | Cash value can be accessed if needed for any reason and can provide guaranteed income after retirement. |
Save on Life Insurance
Our independent agents shop around to find you the best coverage.
What Does Term Life Insurance Cover?
Life insurance is different from other insurance policy products in that it doesn't cover specific situations. A policyholder will select the amount of money they would like their beneficiary to receive when they pass. While they're living, they pay a monthly premium to secure a life insurance amount. Once the policyholder dies, the beneficiary receives the full payout in the manner in which they choose.
Once the beneficiary receives the funds, they can be used however the person chooses. However, some of the most common uses for life insurance include:
Funeral costs
Additional death-related costs
Debt
Mortgage payments
Medical bills
College education
Monthly bills and expenses
Leading reasons for owning life insurance in the US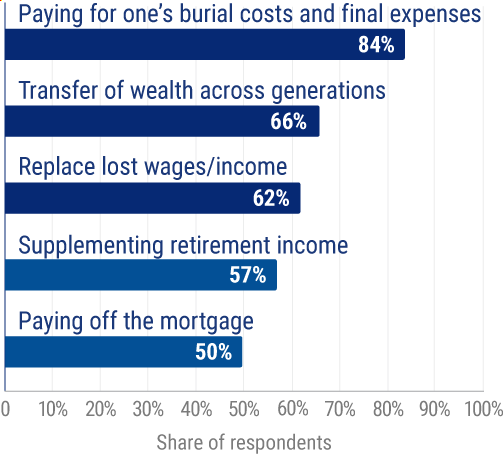 Of the individuals that purchase life insurance, 84% do so in order to help families pay for burial and funeral costs.
Why You Should Buy Term Life Insurance
Deciding between term and permanent life insurance is a personal decision, but there are benefits to choosing a term policy. According to insurance expert Paul Martin, term insurance tends to be more affordable.
Most people start thinking about life insurance when they start a family. This means it's a time when they need the coverage the most but probably have a strict budget. A more affordable option will be appealing. When your term is up, you can renew your policy for a new term.
It is best to meet with your independent insurance agent and discuss the unpaid debts and expenses that you may have and for how long you will have them. This, along with your budget and the coverage amount, will determine which life insurance policy will be most beneficial for your situation.
DID YOU KNOW?
More than 27 million life insurance policies are purchased every year.
How Much Does Term Life Insurance Cost?
Age and health are two of the strongest factors that go into the cost of your term life insurance premiums. Insurance companies are looking to determine how healthy you are in order to estimate how long you may live.
When you apply for a policy, they look to see where you fit based on the physical shape you're in and the terms you desire. During your entire selected term, your premiums won't increase and are locked in. With a term life policy, rates are usually much lower than a standard permanent policy.
What Happens When Term Life Insurance Ends?
When you're nearing the last years of your term life policy, the insurance company will reach out to you with your options for moving forward.
Renewal: Add a new term to your policy that will give you the same benefit amount. This option will take into account your new age, and your rates could be higher.
Convert to a permanent policy: This option allows you to transition your term life policy into a permanent policy with the same benefit that will last as long as you are alive. Premiums could be much higher and may not make sense for your current situation.
Terminate: If you've decided to save money for your family or decide that you no longer want to have life insurance coverage, you can terminate your policy. Once terminated, no payouts would be made unless you purchased a new policy.
Save on Life Insurance
Our independent agents shop around to find you the best coverage.
What Happens If Both Spouses Pass away Together?
If both you and your spouse pass at the same time, then there are some more details to be figured out. Nothing would necessarily change with your life insurance policy. However, if you are both listed as the beneficiary for one another, then having an estate plan is vital.
It's best to speak with an estate attorney and have them walk you through every step of the process for estate planning. They can help you set up your estate so that your children are supported when you pass.
How an Independent Insurance Agent Can Help You Purchase Term Life Insurance
The best resource when it comes to term life insurance is your independent insurance agent. An agent will chat with you, free of charge, and help you determine the best life insurance option.
Agents are not only there in the beginning either. They can advise you when your term policy is nearing its end and help transition your policy or purchase new coverage.
TrustedChoice.com Article | Reviewed by Paul Martin
©2023, Consumer Agent Portal, LLC. All rights reserved.