Term Life Insurance Discounts
Save More on Term Life Insurance with the Right Discounts
(Discover how much you could be saving)

Besides your vintage baseball card collection and unappreciated sense of humor, one of the most important things you can leave behind after passing is life insurance. "But isn't it expensive?" you ask.
It depends, though term life insurance is typically one of the least expensive options out there. AND, we know where all the term life insurance discounts are hiding—so BO-NUS.
Everything from certain hobbies to your marital status could help lower your term life insurance premiums. Our independent insurance agents will help you navigate the playing field to snag the right discounts for you. Still a good idea to hold on to those baseball cards, though.
Let's talk a little more about term life insurance discounts from the what, to the why and the where. So strap in, friend, this is gonna be fun.
What Are Term Life Insurance Discounts?
Simply put, term life insurance discounts are a super-easy way to lower your premiums. But most insurance discounts don't work quite the same as your beloved coupons do.
They're more like a tightly woven math problem that the insurance company uses to calculate how likely you are to die prematurely. The less likely that is, the less you'll pay. Morbid, but true.
It's important to remember that not all discounts will be spelled out in your policy, even if they're still saving you money. You'll likely know if you're getting a military or veterans discount, but you might not realize you're getting a discount for not going skydiving, too. It's all a part of the math.
Oh, and a quick reminder: Term life insurance is different from whole (aka permanent) life insurance. Whole covers you for your entire lifespan, while term covers you for a fixed amount of time, like 5 or 20 years. You can get discounts on either type.
Save on Life Insurance
Our independent agents shop around to find you the best coverage.
What Term Life Insurance Discounts Are Available?
There are many insurance discounts available out there, but they all fall under four main types:
Safety discounts: These are discounts you can get if the insurance company sees that you take good care of your body (i.e., not smoking, drinking in moderation, healthy eating and good cardio work).

Sometimes safety discounts aren't obvious. For example, your life insurance costs may be lower if you're married. That's because the insurance company has found that married people don't tend to die prematurely as often. It's all in the math—and sometimes math can be a real downer.

Bundling discounts: These are discounts you can get if you buy multiple types of insurance with the same company. Say you need to get some car insurance along with your life insurance. Get both with the same company and they'll likely cut you a deal.
Group discounts: These are discounts you can get if you belong to a certain association or profession. Common group discounts include military discounts, teacher discounts and government employee discounts. Other niche discounts include ones for farmers, clergy and even dentists.

If you work in a dangerous field like sword-sharpening or Deadliest Catch-style Arctic fishing, it's important you check with your employer and see if there are special deals you can qualify for. Otherwise you could be on the hook for much more than you bargained for.

Loyalty discounts: These reward customers who stay with the same insurance company for a long time. The longer you're with them, the more you save.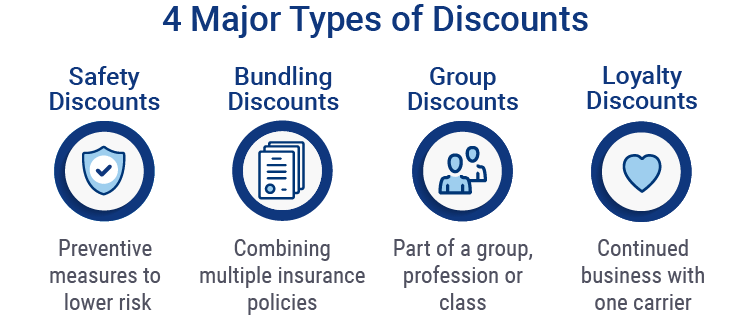 How Hard Is It to Get Term Life Insurance Discounts?
More often than not, it's pretty easy. But sometimes life insurance discounts depend on things you can't easily control. Sometimes you have to settle for less-than-ideal discounts, especially if you're health ain't what it used to be or you love bullfighting on the weekends.
You can offset the extra cost that comes with being older, being ill or having dangerous hobbies by hunting extra-hard for bundling or group discounts. Talk to your agent and your employer to make sure you're getting everything you're entitled to.
How Do I Get Life Insurance Discounts?
Chances are you'll get a few discounts automatically whether you ask for them or not. Many of these discounts aren't explicitly spelled out in your policy and are based on things you can't always control, like your gender and age.
But if you want to go above and beyond to lower those premiums as much as possible, just follow these easy steps while you bargain-hunt:
Take notes: Write down all the information you think the insurance company will need. That includes details on your health and habits around smoking, alcohol and exercise. (Be honest—lying about this stuff can invalidate your benefits.) Also note your age, marital status, occupation and any special memberships you have.
Have a heart-to-heart with an agent: Make an appointment by phone or in person. Bring your notes with you. The agent will ask you additional questions to get to know you better. The more they know, the more discounts they can help you qualify for.
Compare wisely: When you get your quotes, don't go for the lowest number right away. Ask your agent about what discounts have been applied. One of those higher-priced quotes could actually be offering more discounts—and better coverage, too.
Keep your agent updated: Did you switch jobs? Get a new car? Lose a bunch of weight? Dropping your agent a quick line during these life changes can save you big money in the long run. They'll help you find new discounts to make the coverage you need more affordable than ever.
Get fit(ter): Some insurance companies offer health and wellness programs you can participate in and use to lower your premiums. If you can stick to it, it's a great way to feel better and save money (and of course help you live longer).
Save on Life Insurance
Our independent agents shop around to find you the best coverage.
The Benefits of an Independent Insurance Agent
Now you know how term life insurance discounts work, but why do all the hard work yourself? Our independent insurance agents stay on top of the industry and all the latest discounts so you don't have to. That means they'll help you find the right term life insurance coverage for you at the right price.
They're not just there at the beginning, either. If disaster strikes, your agent will be there to help walk your loved ones through the process of getting the benefits they're entitled to. Now that's thinking ahead.
TrustedChoice.com Article | Reviewed by Paul Martin
©2022, Consumer Agent Portal, LLC. All rights reserved.