Daycare Insurance
Because your business deserves the proper protection from all disasters.

The daycare industry continues to grow as more and more families become two-income households. And whether it's a modest in-home daycare or a mega-care center with a bunch of rooms and a fine motor skills gymnasium, it needs to be protected. Especially when it involves something as big as other people's little ones — not to mention your livelihood, as well.
That's where independent insurance agents come in. They're experts when it comes to all things insurance and can help you find the right coverage for your daycare at the right price for you. But first, let's talk about risks and what kind of protection your daycare will need.
What Is Daycare Insurance?
Daycare insurance is a specific type of business insurance designed to meet the unique needs of childcare businesses. It provides business owners with much-needed daycare liability insurance coverage as well as business property coverage. Since kids are prone to accidents, it's imperative for daycare owners to be equipped with ample legal protection in case they get sued.
Daycare insurance is a customizable form of business insurance. It provides the basic protections needed by most businesses, and is then topped off with specific coverages required for childcare centers.
Top Risks for Daycares
When you run a daycare, there are all kinds of risks. From the children you watch to the adults who drop them off and pick them up, there are hazards waiting for everyone around each corner. Here are some of the most common you need to be prepared for:
Liability risks: What can't you get sued for as a daycare business? For starters, if any children get injured or ill as a result of your business practices, you could end up with an ugly lawsuit on your hands.
Property risks: The building your daycare is housed in, whether it be your home or a separate office structure, needs protection against the harsh elements of nature, vandalism, and more.
Premises risks: Here's one that could also apply to both kids and adults. Slips and falls are some of the most common premises liability claims filed by businesses of all kinds, and daycares don't escape this.
Auto liability risks: If your daycare transports children to field trips, etc., you need to be extra certain you're covered with the right business auto insurance.
Abuse and molestation risks: A sad reality of the childcare industry is that children are vulnerable to threats like abuse and molestation from adults, and even older kids, while away from the home.
Workers' comp risks: Your daycare also needs to take care of its own employees to help prevent losses stemming from injuries and illness on the job.
Save on Business Insurance
Our independent agents shop around to find you the best coverage.
Who Needs Daycare Insurance?
Whether you operate your daycare business out of your home or at a location far from it, you'll want to think long and hard about getting daycare insurance. In fact, coverage is usually required.
Childcare centers and nursery schools must carry daycare liability insurance in order to be licensed by the Department of Health and Human Services (HHS), and most states require licensure in order for a daycare business to legally operate.
While the HHS has strict guidelines that your business must adhere to, your insurance company may have even stronger requirements that will affect your daycare insurance costs. These requirements are put in place to limit your exposure to liability lawsuits.
The HHS doesn't require liability insurance to license home-based daycare businesses. However, you may be required by your homeowners insurance policy to carry a business insurance policy or to purchase specific endorsements to protect your business.
DID YOU KNOW?
Do not expect that your home insurance policy will cover you for bodily injury or property damage stemming from your home business.
Your insurer may even refuse to renew your policy if they discover that you have been running a business out of your home without home daycare insurance.
Who Sells Daycare Insurance?
Daycare insurance is available from many different insurance companies, and the best way to find the right carrier for you is through working with an independent insurance agent. These agents help all types of insurance customers, including those in search of daycare insurance. They know which insurance companies to recommend to meet your needs, and can provide informed suggestions based on company reliability, rates, and more.
While many insurance companies could create a daycare insurance policy for you, finding coverage could also depend on the area you live in. Here are just a few of our top picks:
| | |
| --- | --- |
| Daycare Insurance Companies | Star Rating |
| Assure Child Care | |
| Markel | |
| Philadelphia Insurance Companies | |
| CyberPolicy | |
| The Hartford | |
| Next Insurance | |
| American Family Insurance | |
One daycare insurance company outshines its competitors:
Best overall daycare insurance company: Assure Child Care
Assure Child Care works with the Philadelphia Indemnity Insurance Company, an insurance industry leader for more than 50 years, to provide quality group accident, workers' comp, and liability insurance for childcare providers. The Philadelphia Indemnity company has the highest possible rating from A.M. Best, an "A++." Coverage is available in 44 states across the country.
Assure Child Care's coverage is said to be ideal for folks who own small daycare businesses or run daycares out of their homes. The company's daycare insurance products are also known for being highly affordable, especially in comparison with their competitors.
Daycare Business Insurance Offers Liability Protection
We live in a quick-to-sue society. Many instances could arise where your daycare business faces a lawsuit. Even if the charges are dropped, the ensuing legal defense fees can be very expensive. Liability insurance covers court costs and legal fees associated with covered events.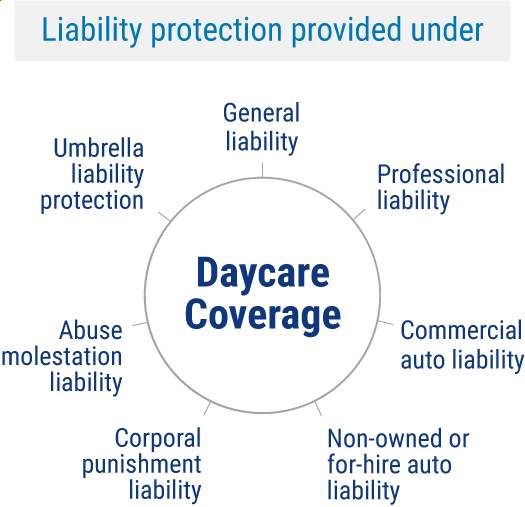 General liability: This coverage is necessary for any business that welcomes the public onto its property. It covers property damage and injuries suffered by third parties while they are on your property. This is particularly important when dealing with children, since they get injured easily.
Professional liability: This insurance covers your teachers and childcare workers. Your business can get sued because a member of your staff is blamed for showing negligence of the children's safety. Lawsuits can also spring from mental, physical, or emotional abuse of the children.
Commercial auto liability: This is required if your daycare business has company-owned vehicles used to transport children to and from schools.
Non-owned or for-hire auto liability: If you, or any of your workers, drive children in privately owned vehicles for field trips, etc., your business can be held liable for injuries or property damage if the driver gets into an accident. This coverage protects privately owned vehicles when they are being used for company business.
Corporal punishment liability: If one of your employees strikes a child or is accused of administering corporal punishment, your business can be held liable. This insurance option provides financial protection if you face a claim.
Abuse and molestation liability: If an employee of your daycare turns out to be sexually or otherwise abusive, your business can be liable for extremely expensive fines and medical payments. This insurance coverage will protect your business from severe financial losses.
Umbrella liability protection: This coverage provides additional liability protection beyond your insurance policy's liability limits. Larger daycare facilities may benefit from this added coverage.
To get your daycare set up with the complete picture of liability protection, work with a local independent insurance agent.
Daycare Business Insurance Offers Property Insurance
Daycare business operations often invest a lot of capital in equipment to keep the children entertained during the day. A daycare insurance policy can provide you with compensation if your business property is lost or damaged. Coverage needs are slightly different for those that run their business in-home vs. outside.
Building coverage: This aspect covers damages to the structure of your business's building by fire, severe weather, falling objects, and property crimes. Additional insurance may be necessary for damage caused by floods and earthquakes.

If you rent your business space, you may not need this insurance coverage.
If you are working out of your home and you have a dedicated space for your daycare operation, you may only need to add a small rider to your homeowners insurance policy.
If you own a daycare building, you certainly need to protect your investment with this insurance.

Contents coverage: This provides coverage for damage to indoor items you use for childcare purposes, like cribs, toys, books, sound systems, and electronics. If any of your business property is lost or damaged by fire, extreme weather, vandalism, or theft, you may be able to receive reimbursement for your loss.
Outdoor equipment coverage: Most daycare establishments include outdoor equipment like swing sets, sandboxes, and sports equipment. In many cases, coverage for loss or damage to this property is included in your contents coverage, but some insurers require you to purchase a separate endorsement for outdoor equipment.
An independent insurance agent can help your daycare get equipped with all the property coverage it needs to maintain smooth operations.
What Else Should I Look for in a Daycare Insurance Policy?

Daycare insurance can provide other insurance options that may be beneficial to your childcare business, like:
Field trip insurance: This provides liability and property damage coverage while you are providing childcare services off-site.
Special events liability coverage: If your facility hosts a special event like a holiday party, fundraiser, or pageant, this one-time insurance policy can provide liability protection during the event.
Lost income coverage: If your facility is forced to temporarily close its doors after a covered incident, this insurance will reimburse for that lost income, so you can continue paying employee salaries and monthly expenses until your business is able to reopen.
Workers' compensation: Provides medical coverage for your employees if they get injured on the job. Every state has its own laws when it comes to workers' compensation insurance, so make sure your daycare business is compliant. Many daycare insurance companies allow you to purchase this coverage as an addendum to your policy.
Adding options to your policy often increases the cost only marginally, and you can benefit from the added protection. An independent insurance agent can recommend the most important coverage additions to your daycare insurance policy.
Save on Business Insurance
Our independent agents shop around to find you the best coverage.
How Much Does Daycare Insurance Cost?
The cost of your daycare insurance policy can vary greatly, depending on several factors. But in general, policies on the low end can run at an average of $250 annually, such as if your daycare is an in-home business with relatively few risks and a small roster. But larger daycare centers might pay up to $2,000 or more per year to cover all the liability insurance expenses and more.
Childcare Insurance Costs & Deductibles by Policy
| Policy | Premium Range | Typical Deductible | Coverage Amounts |
| --- | --- | --- | --- |
| General Liability Insurance | $750 to $2,000 | $0 | $1 million per claim/$2 million aggregate |
| Property Insurance | $500 to $900 | $500 to $1,000 | $15,000 to $20,000 |
| Professional Liability Insurance | $500 to $1,200 | $500 to $1,000 | $1 million aggregate |
| Abuse & Molestation Coverage | Included with general or professional liability | $5 to $10 per child | $25,000 to $50,000 |
| Commercial Auto Insurance | $800 to $3,000 | $500 to $1,000 | $100,000 to $1 million |
Really, your specific daycare's insurance costs will be calculated based on the following factors and maybe even more:
Your annual revenue
Your exact location
How many employees you have
Your claims history
Your chosen deductible and coverage limits
Your daycare's size
For more exact figures and quotes for daycare insurance in your area, a local independent insurance agent can help. They'll be able to find you the right coverage at the best possible rate available.
Things to Think about When Shopping for Daycare Insurance
When shopping for daycare insurance, it's a good idea to think about some common mishaps that could affect your company, and prepare for these in advance. Here are just a few common mishaps and scenarios to consider when looking into daycare insurance:
One of your daycare's children gets injured on your premises: Kids can get hurt while playing or even while sitting still, and the resulting legal fees can be devastating without the right protection. That's why liability coverage is so important.
Your daycare's building is damaged or destroyed by a natural disaster: If a destructive natural disaster rolls through your town and hits your daycare, you'll need to make sure you have enough property insurance.
One of your workers gets in an accident with the company vehicle: If your daycare uses a company vehicle, it's important to get commercial auto insurance to protect it while it's out on the road or parked in the lot. A regular auto insurance policy will not cover vehicles used for business purposes.
One of your workers hurts themselves while on the job: Worker injuries are some of the most common incidents for businesses of all kinds, and they can be costly to treat. That's why it's so important to make sure you have enough protection for your workers under a workers' compensation policy.
An independent insurance agent can detail several other examples of common mishaps and scenarios to consider while browsing through available daycare insurance options. They'll help your business anticipate and prepare for the worst by selecting the best available coverage for your needs.
Frequently Asked Questions about Daycare Insurance
Well, you'll need different types of coverage depending on the size and style of your daycare business. If your daycare business is larger and has at least one separate office space, you'll need business property coverage for each location. But really the biggest difference in pricing is the overall size of your daycare business, or its annual revenue. If you have an extremely successful in-home daycare business, you might pay as much for coverage, or even more, than a daycare business run out of a stand-alone building that doesn't have a large roster or make much money.
The cost of your liability coverage under your daycare insurance policy will also depend on several factors, but in general, this aspect of coverage alone costs about $54 monthly, or $646 annually. And that's just for general liability insurance. The many additional types of liability insurance required by daycares can add up fast.
To know which type of workers' comp coverage you need for your daycare, work with an independent insurance agent. They'll know what type of coverage is required in your area for businesses in the daycare industry.
Depending on the types of coverage you select for your daycare insurance policy, coverage can apply to the following activities and much more: field trips, outdoor activities, routine indoor activities, visits by guests, and physical playtime activities. To make sure your daycare's various activities and operations are fully covered, enlist the help of a trusted independent insurance agent.
Your business could face a lawsuit if a child gets hurt at your daycare for any reason. Whether the injury was intentional or not, you must make sure your daycare is equipped with adequate liability insurance to protect you. If the parents of the child press charges against your daycare, your liability insurance will respond to the claim and reimburse you for legal fees, such as attorney and court costs, whether you're found guilty or not. If you lose the case, liability insurance will reimburse for settlement fees, as well.
The Benefits of an Independent Insurance Agent
Independent insurance agents are kind of like the Google of insurance quotes. You tell them what you're looking for, and they bring in the results. And since they aren't tied down to one carrier, they're free to shop around and bring multiple policy options to the table.
And it gets better, you don't have to review the policy options alone. They'll walk you through everything you need to know about finding the right coverage, and price, for you.
But it doesn't end with your signature. Along the way, if something bad ever happens, they'll handle the entire claim process for you and deal with the carrier, so you can focus on your daycare empire.
TrustedChoice.com Article | Reviewed by Paul Martin
©2023, Consumer Agent Portal, LLC. All rights reserved.
iii.org
Statista
irmi.com