Landscaping Insurance
(Time to give your business the protection it needs to grow.)

Anyone in the landscaping business knows all about the potential risks that come from working with a variety of tools, heavy machinery, and against natural elements. But when it comes time to finding the right protection for your business, understanding where to start can be overwhelming.
There is no one-size-fits-all when it comes to landscaping insurance, but that's a good thing. With the right business insurance package, you can get the custom attention your business needs—no more, and no less.
And the good news is that there are hundreds of thousands of independent Insurance agent out there who can help you find exactly what you need, walk you through the whole process, and find the best policy for your business.
But first, here's a little background to help you learn more about what you need to be protected.
Save on Business Insurance
Our independent agents shop around to find you the best coverage.
What Is Landscaping Insurance?
If you're running a landscaping business, you need protection. But if you call an insurance company and ask for landscaping insurance, you'll probably hear silence on the other end.
That's because landscaping insurance doesn't really exist. Instead, it's just a combination of business and liability insurance policies designed to protect all the different elements and potential risks you may face in the landscaping industry.
Specifically, it protects your business against property damage caused by an employee while on the job, bodily injury to someone (employee or a third party) on a job site, advertising injury, and products/work produced/sold by your company. And the coverages are tailored specifically to your needs.
What Does Landscaping Insurance Cover?
Typically, for small to mid-sized companies, standard forms of coverage are bundled into what's called a business owners policy (BOP). But that only goes so far.
You'll also need additional stand-alone policies in your insurance portfolio to fully protect your business from the unique risks that come with landscaping.
A business owners policy will usually include:
General liability: Protects against lawsuits related to injury/property damage or if your advertising causes reputational harm to another person or company.
Property insurance: Covers damage to your building or equipment on your property.
Business income insurance: Covers up to a year of loss of income due to any insured property loss.
And stand-alone policies to consider adding can include:
Commercial auto insurance: This will cover any damage, or theft, to any vehicles you or your employees use on the job.
Inland marine insurance: Protects property, equipment, and tools moving between job sites and the business.
Installation floater insurance: This is a type of inland marine insurance. It will cover materials and products from the time they leave your property until the time they are installed or used.
Workers' compensation: Covers employees' medical costs, lost wages, permanent disability, or death benefits that result from a workplace injury or illness. This coverage is mandatory in almost all states.
And many more. When you work with an independent insurance agent, they can help you find exactly the kind of coverage your landscaping business needs.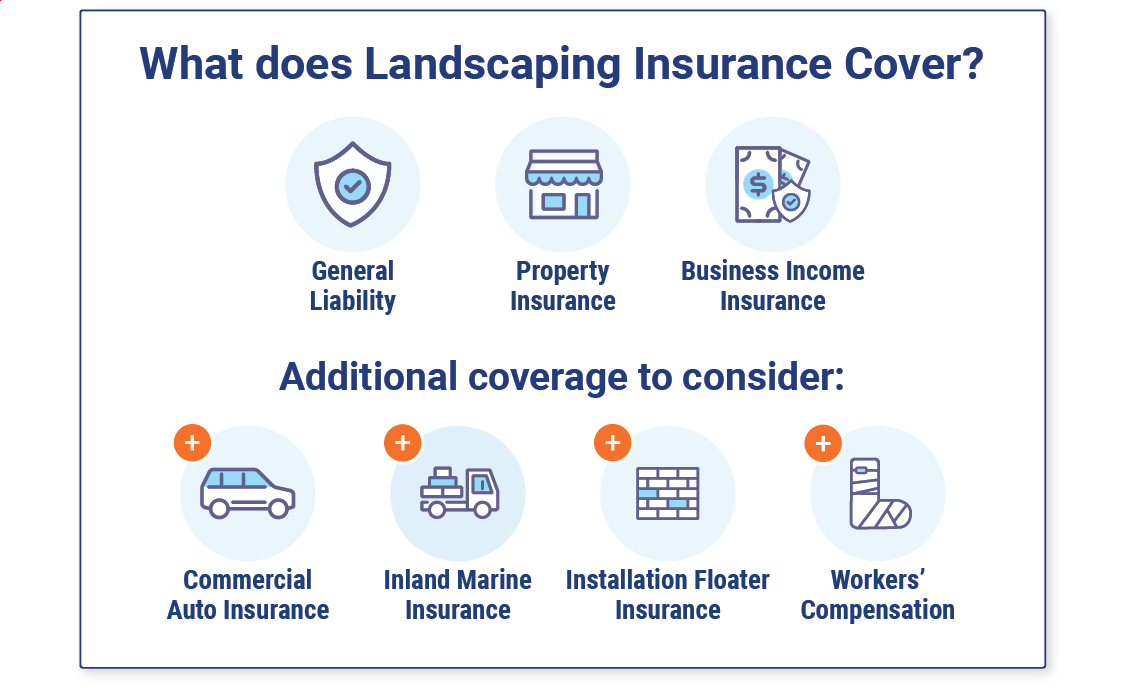 How Much Does Landscaping Insurance Cost?
Because no two business policies are alike, no two costs are the same. The cost of your policy will depend on a number of factors like the size and location of your business, the amount of coverage needed, and the equipment you use.
Because the potential for injury or property damage is higher in the landscaping world, the premium is likely to be more expensive than that of a low-risk business.
For example: If you're a 3-person mulch 'n' shrub crew that doesn't use heavy equipment, you might be looking at $1,500 per year, whereas if you're a 20-person company with 4 crews and use earth-moving machines daily, you could be paying $15,000 annually. It's all up to what you deal with on a daily basis.
Save on Business Insurance
Our independent agents shop around to find you the best coverage.
Is Landscaping Insurance Mandatory?
Yes and no. If your days consist of dealing with customers and selling goods, there are usually contracts, loans, or leases involved, and that will require some general liability coverage. In addition, almost every state requires workers' compensation for employees.
Workers' compensation provides coverage for workers should they get injured while on the job. Most landscaping requires the operation of machinery or the use of potentially dangerous equipment, so making sure your employees are covered should they get injured on your watch is a necessity.
Whether it's mandatory or not, insurance is always a good idea in case you find yourself being sued, dealing with a personal or employee-related injury, or on the receiving end of an unexpected accident that disrupts your ability to earn income.
Who Needs Landscaping Insurance Coverage?
Any type of business that deals with rocks, grass, trees, dirt, blades, and bulldozers should at least have a quick chat with an independent agent about coverage.
Landscaping services can range from private yard maintenance to working with commercial businesses operating heavy equipment like snow removal.
There are several ideal candidates for landscaping coverage:
Landscapers
Landscape architects/designers
Arborists
Tree trimmers
Lawn irrigation contractors
Professional lawn mowing services
Not only do you need to protect yourself and your employees, but if you have vehicles you use to get to job sites, they'll also need protection as well.
Why Do I Need Landscaping Insurance?
At first glance, there may not seem to be anything dangerous about winterizing someone's sprinkler system or mowing lawns. But landscape insurance is designed to protect you against the risks that may not seem obvious.
What if that sprinkler system backs up and floods the basement? Being too prepared is always better than not being prepared at all.
Operating heavy machinery, working with a variety of equipment, and being susceptible to environmental elements leaves you exposed to a lot of risks.
In addition, third-party claims, employee injuries, and income loss due to vandalism or theft can also cause major financial damage to your business if you're not properly covered.
The Benefits of an Independent Insurance Agent
Insurance policies can be complex. And searching through company after company can be extremely time-consuming and overly frustrating.
An independent agent's role is to simplify the process. They work with multiple insurance companies on a daily basis, so they know all the pros and cons of each and can help you navigate the playing field.
Plus, they'll break down all the fancy insurance jargon and fine print to make sure you're confident you got the right coverage for your business's unique needs.
Save on Business Insurance
Our independent agents shop around to find you the best coverage.
Finding and Comparing Landscaping Insurance Quotes
An independent insurance agent will review your needs and help you evaluate which type of landscaping insurance makes the most sense for your business. Then, they'll start shopping options from some of the best companies out there to bring a number of different options to the table.
You'll review them with your agent, walk through all the fine print, get all your questions answered, and choose the one that is right for you, together. It just doesn't get any easier than that.
TrustedChoice.com Article | Reviewed by Paul Martin
©2023, Consumer Agent Portal, LLC. All rights reserved.