How to Set Up a Killer Home Bar
Even though "Mad Men" has ended its highly successful, award-winning run this year, its impact will continue to be felt for years. The show, set in the 1960s and '70s, helped usher in a rise in cocktail culture, especially whiskey. With the resurgence of cocktailing out at bars and restaurants, many people have also started entertaining more at home again, something that had faded from popular culture over the prior decades.
"I think we're seeing a resurgence of home bars since cocktail culture is coming back," says Eric Hay, beverage development manager for Wirtz Beverage Illinois, one of the state's largest distributors of wine, spirits and beer. "There are all these neat spirits, bitters, and sexy barware so people are entertaining in their homes more."
Setting up your own home bar, whether you drink often or want to offer guests a drink, doesn't have to cost a lot or require an actual bar. You can set up your home bar in the kitchen, on a sturdy bookshelf or cabinet or on top of an existing piece of furniture, like a credenza. Or if you want, you can get a bar cart (check out antique markets and vintage shops for some really cool ones or search Pinterest for inspiration). Or you could check out a cabinet from a store like Pottery Barn or West Elm, made specifically for a home bar, that includes space to display bottles, cabinets to store more bottles, drawers for tools and a place for glassware and decanters. So what do you need?
Get Your Base Spirits
A home bar doesn't have to look like the back bar of your favorite local watering hole. "A home bar need not be grand and it doesn't have to include an actual bar," says Sean Ludford, founder and editor of BevX.com. You can set up your home bar in your kitchen if you have some extra counter and cabinet space. As an added bonus, you also have a sink and easy access to ice there.
Regardless of where you put it, you will need to stock up on booze. While Ludford says you should "start with what you like and build up an inventory one bottle at a time," you could also knock it all out in one fell swoop. Whatever you do, don't skimp and get the cheap stuff.
"Get a little better quality because you're entertaining people you have a relationship with," Hay says. "Don't get an off-brand vodka, but aim for middle or higher tier."
Hay believes every home bar should contain at least one bottle each of:
Vodka
Gin
Rum
Tequila
American whiskey like bourbon
Irish whiskey
Blended Scotch whisky
Single malt Scotch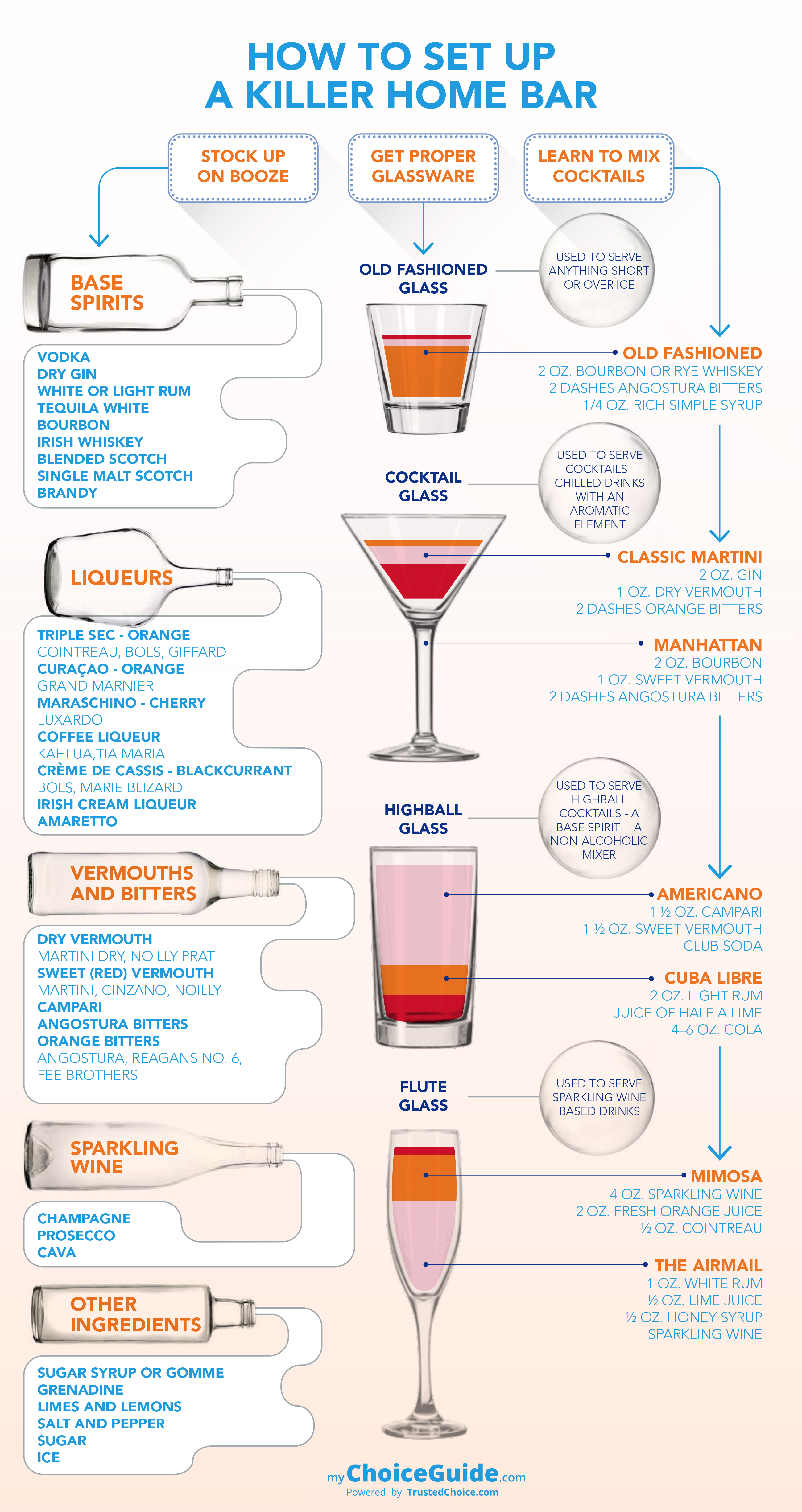 Mixers Round Out Cocktails
Once you get your base spirits set, start adding mixers. These help you craft a great cocktail like a margarita, manhattan, old fashioned, or negroni. "A quality orange liqueur is an essential ingredient in many classic and modern cocktails, including the margarita, sidebar and cosmopolitan," Ludford says. "Vermouth is essential for martinis and manhattans. Bitters is another common ingredient, and a bottle will likely last you a year." You can get sweet and dry vermouth, but keep in mind that this is a fortified wine that will start to go bad after being open about a month. Once you open it, keep it sealed in the fridge to keep it fresh longer.
Some things to specifically look for and keep on hand, according to Hay, include Angostura bitters, Regan's Orange Bitters and Cointreau (for your orange liqueur). Over time, when you want to expand and have some fun, you can add aperitifs like Lillet Blanc or Lillet Rose, Campari or Luxardo Bitter Liqueur; maybe a Fino sherry; digestifs like Fernet-Branca; and a bottle of St-Germain, a sweet, aromatic liqueur made from elderflowers.
Another must, Hay says, is to keep a bottle or two of sparkling wine — whether Champagne, Prosecco or Cava — on hand with one bottle in the fridge. You never know when you're going to crave a bit of the bubbly or have an occasion to celebrate.
Tools for Mixing Cocktails
To mix your drinks, you'll need a set of bar tools. You don't have to spend a lot, but remember that if you're entertaining, you want your tools to look good, right? "Your home is your showplace so you should have nice, visually pleasing items," Hay says. If you're on a budget, Libbey makes a 9-piece mixology set that you can pick up at Bed Bath & Beyond for about $30. If you want bar tools with a more professional feel, Hay suggests logging on to Cocktail Kingdom, where you can find it all. Here are the things you'll need:
1 or 2 jiggers
Spiral bar spoons
A nice mixing glass
1 or 2 shaker sets
Hawthorne strainer or cobbler shaker with a built-in strainer
Muddler
Citrus press/juicer
Get Proper Glassware
Your days of drinking out of red plastic cups should be behind you. If you're setting up a home bar, you'll need to have some proper glasses. "You can get as fussy as having a glass for each cocktail, but you can do well with three styles of glasses," Ludford says. Stock your bar with:
Coupes for martinis and champagne
Old-fashioned or rocks glasses for anything short and over ice
Collins (or tall) glasses
Happy mixing and drinking!