Get Commercial Vehicle Insurance Quotes
(Getting the right coverage has never been easier)

So, it's time to get some legit coverage for your business's vehicles. A quick heads-up, though: finding, comparing and making sense of insurance quotes by yourself can be tricky. The process can be long and complicated.
Our independent insurance agents are always ready to help make the process much simpler. They'll ask you all the right questions, then shop and compare policies from top carriers to find the right coverage at the best possible price. They'll even break down all the fancy insurance jargon in a way that's easy to understand.
Now, before we get too far ahead of ourselves, we want to give you a little background on commercial auto insurance quotes and the process as a whole.
How Commercial Auto Insurance Quotes Are Born
Before you dive into getting coverage, you should know how insurance companies come up with quotes.
They start by evaluating a series of risk factors that have number values (costs) associated with them, in a rating manual.
Risk factors may be things like age, gender, location, etc.—things that could increase the chances of you filing a claim.
The cost of the risk factors is determined either through studies of historical trends, or via analytical models (basically, super sciency/mathy stuff).
They'll check off those attributes that apply to you.
A quote comes from the sum total of everything checked off on the list—plus a bit extra factored in for the insurance company's profit margin. However, due to competition from other companies, they might lower the price a bit.
NOTE: Quotes are subject to change—the insurance company may gradually increase your premium over time to keep up with the financial demands of offering the coverage.
How to Get the Commercial Auto Insurance Quotes You Want
Step 1: Understanding Commercial Auto Insurance and Why You Need It
Now that you understand how commercial auto insurance quotes are born, it's important for you to understand what commercial auto insurance is, and why you'd need/want it:
The what: Commercial auto insurance is a contract between an insurance company and a business where the insurer agrees to protect the business financially should its vehicles get stolen, or involved in an accident.
The why: First off, many states have minimum commercial auto insurance requirements. A Trusted Choice independent agent can tell you all about your own state's requirements.
Beyond that, having proper commercial auto coverage in place if something bad happens will protect your business's assets. Awaiting repairs/replacement of any damaged/lost vehicles can be a long process if you don't have an insurance company helping you through it.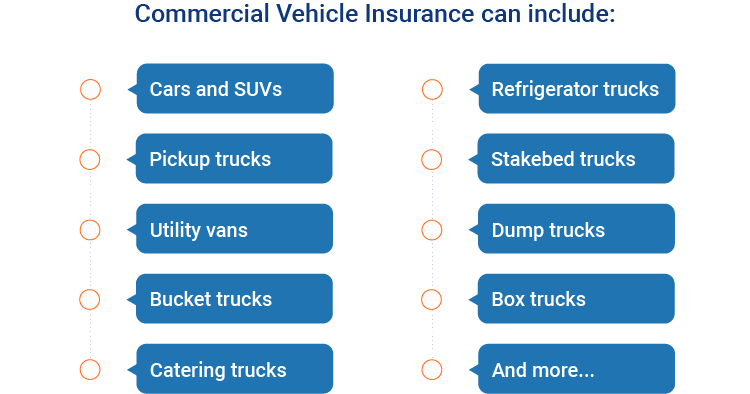 Step 2: Gather All Your Info
Commercial auto insurance quotes are only as good as the info you provide. Make sure you supply the following details with superhuman accuracy:
The basic details of all company vehicles, including make, model and year of manufacture
Expected annual mileage of each vehicle
How the vehicles are used (e.g. if they are driven on weird terrain or transport crazy stuff like hazardous materials)
Who will be transported by each vehicle (i.e. will it be just your employees or will there be other, non-employee passengers)
The ages of all drivers who will be using the vehicle(s)
A record of any existing/past company insurance
Your business address and where the vehicle(s) will be stored when not in use
The type of insurance coverage you need, including additional coverage you might want (i.e. towing or roadside assistance)
Credit scores for all drivers of the vehicle
Accident records for all drivers of the vehicle
Step 3: Connect with an Independent Agent
Comparing quotes by yourself can be pretty complicated. You've gotta keep things like an insurer's claims process, customer service and reputation in mind when choosing which is right for you.
Here's where an agent comes in to save the day for you—they'll know everything that's important to consider when comparing quotes, and companies.
An independent agent is like a wish come true and can make your life a lot easier—at least through this process. They're not tied down to one insurance company, so they're free to shop around, compare and assemble all the pieces of the coverage puzzle for you—even if they end up coming from multiple carriers.
Step 4: Work with Your Agent
Your agent really is there for you. They are genetically enhanced to listen to your concerns, process them and find the right solution for you. So the better you are at communicating your needs and concerns, the better the outcome will be.
Here's a few things you'll for sure want to discuss with your agent to get the ol' ball rollin':
The amount of coverage you'll want in each aspect of the policy (e.g. collision, comprehensive, liability and uninsured/underinsured motorists)
The limit of what you're willing to pay out of pocket towards a deductible, should an accident occur
Any factors that could up the risk factor of your policy (like an employee who always blasts speed metal while driving with a lead foot)
Ask for and discuss any deals or incentive payment plans (i.e. discounts for paying annually vs. monthly)
Pick the best coverage for your business (it's supposed to be tailored for it, after all)
Step 5: Tell Them Everything
Here is where you'll tell them everything. All the nitty gritty details you might rather gloss over, because inevitably they, or the carrier, will eventually find out. And purposefully omitting risks to get yourself a lower premium will come back to bite you in the bumper.
Keep these pointers in mind:
If they do ask, you tell. Honesty is best for your policy. Open and truthful communication will lead to a premium/risk match in terms of your policy's price (and no biting of any kind).
If they don't ask, you tell. Don't ignore anything you think is relevant just because it didn't come up. The longer your Q&A/confessional segment is with your agent, the better your commercial auto insurance quote will ultimately be.
Find Commercial Auto Insurance
Our independent agents shop around to find you the best coverage.
The Lowdown On Online Quotes
We know what you want—quick n' easy commercial auto insurance quotes in under a minute. We get it, you want the goods, ASAP. However, choosing supersonic speed could mean sacrificing accuracy, which could end up costing you.
Look, we all love quick quotes—but online companies might leave out options that'll save your business some serious expenses, while conveniently leaving in higher risk factors that end in a much pricier policy.
Plus, our competitors might sell your business's precious info to multiple companies, which could lead to a bunch of unrecognized phone calls and a flooded inbox.
We flipped the script by giving YOU the info and options to connect with an independent insurance agent when the time is just right for you.
TrustedChoice.com Article | Reviewed by Paul Martin
©2023, Consumer Agent Portal, LLC. All rights reserved.