The Best Commercial Auto Insurance of 2023
Getting the right coverage has never been easier.

As a smart business owner, you know that getting the best commercial insurance is a top priority. If you are starting a business, have acquired new vehicles, or your business insurance needs have changed, now is the time to review your commercial vehicle insurance options.
Whether your business uses a car, delivery van, dump truck, tractor trailer, or an entire vehicle fleet, be sure to compare commercial auto insurance quotes to find the best fit.
Finding the best auto or truck insurance policy is no simple task. Prices for commercial vehicle insurance vary considerably from carrier to carrier. The difference in price to insure one car, a large truck, or a fleet of delivery vans will be something for you to consider as you purchase a policy.
It's important to compare commercial auto insurance quotes from multiple sources to find the best coverage and value. Contact a local independent insurance agent who specializes in commercial insurance to find the right business vehicle insurance for your needs.
The 5 Best Commercial Vehicle Insurance Companies in 2023
Best Overall Commercial Auto Insurance: Progressive

When choosing an insurance company, you look for great service, affordability, coverage options and customer service. Based on these factors, we picked Progressive as the head of the class for commercial auto insurance.
Progressive has been in business for more than 85 years and is the largest commercial auto insurer in the US, according to the Insurance Information Institute.
With more than 30 types of liability and vehicle insurance coverage, Progressive can help small businesses get the protection they need.
Let's look at how Progressive raced ahead of the competition.
AM Best Rating: A+
AM Best is a credit rating agency that focuses on the insurance industry and assigns credit ratings that assess an insurance company's creditworthiness and financial stability.
Progressive insures a variety of commercial vehicles – including autos, trucks, vans, dump trucks, food trucks, and tow trucks.
Most commercial policies come with the following standard coverage:
Liability
Physical damage
Medical payments
Uninsured motorist
For small businesses that need specialized protection, Progressive offers these options:
Non-owned car
Any auto
Hired auto
Single deductible endorsement
Pros:
Cons:

| | |
| --- | --- |
| | Leader in the insurance field |

| | |
| --- | --- |
| | Coverage not available for businesses with more than 20 vehicles |

| | |
| --- | --- |
| | Offers coverage for nearly every vehicle type |

| | |
| --- | --- |
| | Coverage can't be purchased online |

| | |
| --- | --- |
| | Lots of available discounts |

| | |
| --- | --- |
| | Option to bundle your commercial car insurance with your personal policy |

| | |
| --- | --- |
| | Allows for seasonal policy changes |

| | |
| --- | --- |
| | Other types of business insurance available |
Best Commercial Auto Insurance for Value: Nationwide

With deductibles as low as $0, plus a range of affordable policy options, Nationwide comes in first for value.
In addition to standard protections such as collision, comprehensive and liability, Nationwide offers a variety of optional coverages:
New car replacement
Roadside assistance
Rental reimbursement
Gap coverage for loans and leases
AM Best Financial Strength Rating: A+
Pros:
Cons:

| | |
| --- | --- |
| | Lower-cost coverage |

| | |
| --- | --- |
| | Does not cover semis or tractor trailers |

| | |
| --- | --- |
| | Coverage available for employees who use their cars |

| | |
| --- | --- |
| | Not available in all states |

| | |
| --- | --- |
| | Discounts for bundling |

| | |
| --- | --- |
| | Discount for hybrid vehicles |

| | |
| --- | --- |
| | Allows for seasonal policy changes |

| | |
| --- | --- |
| | Claims can be submitted online or over the phone |
Best Commercial Auto Insurance for Single Vehicles: Progressive

With the resources to handle big or small commercial auto insurance needs, Progressive scores again in this category. While they can insure entire fleets, Progressive also offers coverage for single vehicles used for business purposes.
AM Best Financial Strength Rating: A+
Pros:
Cons:

| | |
| --- | --- |
| | Custom policy options |

| | |
| --- | --- |
| | Customer satisfaction rating lower than other top insurers |

| | |
| --- | --- |
| | 24/7 policy service by phone or online |

| | |
| --- | --- |
| | Doesn't sell policies online |

| | |
| --- | --- |
| | Flexible billing and payment options |

| | |
| --- | --- |
| | Lots of available discounts, including bundling |
Best Commercial Auto Insurance for Fleets: The Hartford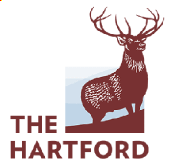 Offering commercial auto insurance to mid- to large-size businesses in a variety of industries, The Hartford comes in first for fleets.
In addition to providing solid coverage, The Hartford offers FleetAhead, a telematics program that gathers real-time driver data designed to help businesses improve fleet operations and reduce claim losses.
AM Best Financial Strength Rating: A+
Pros:
Cons:

| | |
| --- | --- |
| | Wide variety of coverage options |

| | |
| --- | --- |
| | Below-average customer service rating |

| | |
| --- | --- |
| | Specialized services for both large and small businesses |

| | |
| --- | --- |
| | Limited options for single-vehicle policies |

| | |
| --- | --- |
| | Discounts for hybrid and electric vehicles |
Best Commercial Auto Insurance for Customer Service: Nationwide

Ranked third in customer service in the J.D. Power 2022 U.S. Small Commercial Insurance Study, Nationwide's customer service inched ahead of the competition as the best in this category.
Nationwide got high marks from customers for their simple claims process, as well as the array of discounts and options available. The company's customer service accolades made them a winner, alongside robust and innovative coverage options. For instance, businesses get a discount if they use Vantage 360, Nationwide's telematic monitoring tool, and individual drivers can earn points for good driving that can be redeemed for gift cards.
AM Best Financial Strength Rating: A+
Pros:
Cons:

| | |
| --- | --- |
| | Easy claims process |

| | |
| --- | --- |
| | Not available in all 50 states |

| | |
| --- | --- |
| | Lots of discounts, including bundling |

| | |
| --- | --- |
| | High customer satisfaction rate |

| | |
| --- | --- |
| | Nationwide Vantage 360 Fleet® telematics |
What Is Commercial Vehicle Insurance?
Also known as "business auto insurance," commercial auto insurance is similar to personal auto insurance except that it's specifically for vehicles that are used for business purposes. This type of insurance helps businesses pay the costs of property damage, vehicle repairs, medical expenses, and legal liabilities after a covered accident.
Commercial vehicle insurance can cover a wide range of vehicles, including:
Cars
Trucks
Vans
Tow trucks
Food trucks
Cement mixers
Semis and tractor trailers
Find Commercial Auto Insurance
Our independent agents shop around to find you the best coverage.
How Does Commercial Vehicle Insurance Work?
Commercial insurance can be purchased for a single vehicle or an entire fleet. The business owner works with an agent or insurance company representative to determine coverage types, policy limits, deductibles, monthly premiums, and other policy details.
When considering commercial insurance, businesses should look for policies that offer necessary coverage along with reasonable deductibles and monthly premiums.
Similar to personal auto insurance, if a business vehicle gets into an accident, the policyholder files a claim. If the incident is covered, the insurer will pay for damages as determined by the policy.
What Does Commercial Vehicle Insurance Cover?
While policies can be customized based on a business's needs, a typical policy will offer the following coverage:
Property damage liability: Covers repair costs for property you damage in an accident
Bodily injury liability: Covers medical costs from an accident where you were at fault
Combined single limit (CSL): Offers one limit for property damage claims and bodily injury claims
Collision: Covers repair costs to your car if you collide with another vehicle or an object (like a tree)
Comprehensive: Covers repair costs from damage not caused by a collision with another vehicle, including weather, hitting an animal, theft, or vandalism
Medical payments and personal injury protection (PIP): Covers the cost of medical care for you and your passengers, no matter who was at fault
Uninsured motorist: Covers your injuries and your passengers' injuries if your vehicle is hit by an uninsured driver
Insurance companies also offer additional coverage types that can provide extra protection:
Hired and non-owned auto: Covers rental vehicles and employee-owned vehicles used for business purposes
Named insured coverage: Covers specific individuals in the business, regardless of the vehicle they drive
Roadside assistance: Covers emergency services if your vehicle breaks down on the road, including towing, tire change, jump-starts, and more
Why Do I Need Commercial Auto Insurance?
Commercial auto insurance is required for any company that uses vehicles for business purposes – from an independent contractor to a large corporation.
Moreover, commercial insurance can meet the needs of industries that require specialized vehicles or additional protection. These include:
Construction companies
Restaurants
Plumbing or electrical contractors
Heating and air conditioning specialists
Carpet and upholstery cleaners
Painters
Pest control technicians
If you use a vehicle for business purposes, you will need commercial insurance. Remember, your personal auto insurance won't cover you If you get into an accident while driving your car for work.
How Much Does Commercial Auto Insurance Cost?
The cost of your commercial auto insurance policy varies depending on a number of the following factors, including your business's location:
The number of vehicles insured
The type and value of vehicles insured
The level of risk involved in the use of insured vehicles
Your business's claims history
Your employees' driving records
Your policy's deductible and limits
Did you know?
The average cost of a commercial auto policy for many businesses is $133 per month, or just under $1,600 per year.
An independent insurance agent can help you find exact quotes for commercial auto insurance in your area.
Frequently Asked Questions about Commercial Auto Insurance
Commercial auto insurance is generally more expensive than standard auto insurance, as it provides more extensive coverage and protection for businesses. The cost of commercial auto insurance will depend on a variety of factors, including the type of vehicles used for business, the number of vehicles, and the type of business and its location.
Larger, more expensive vehicles will typically cost more to insure than smaller vehicles. Additionally, vehicles used for delivery or transportation services will generally be more expensive to insure than those used for sales or service.
Businesses with good driving records will typically pay less for insurance than those with poor records.
As soon as you employ a new driver or add another vehicle to your business, it is important to update your coverage. When changing or adding to your fleet, you may want to compare commercial vehicle insurance rates and consider finding a better value or a new policy that more closely matches your needs.
If you upgrade to a new or better truck, the conditions of your policy may be affected, so it is important to review the coverage you would need in the event of an incident.
A change in the location where you send your delivery drivers, the roads they use, or the cargo they haul, can all impact your policy. You may think that your insurer is already aware of obvious changes such as a new address.
However, it is your duty to inform your agent or insurance company of changes to ensure that there are no interruptions in coverage or difficulties processing your claims after an accident.
Tips to Help You Compare Commercial Vehicle Insurance Prices
As a business owner, you want to be sure to get the best value for your money. Use these tips to compare commercial vehicle insurance prices, get the most accurate quotes, and make an educated choice on the best coverage for your company:
Review your employees' driving records. Consider requiring remedial training for any drivers who have had safety incidents, traffic infractions, or accidents.
Make a list of your vehicle types and uses. If you have a fleet of vans or trucks, do they transport people, food, goods, or other vehicles?
Record the mileage of each vehicle. How far each vehicle travels each year in the course of doing business will affect risk and premium cost.
Work with an agent, not an 800 number. Insurance companies offer special savings based on reduced risk factors. You won't find the discounts available to you without speaking to a knowledgeable insurance professional.
Additionally, take as many measures as possible to improve driver and vehicle safety, reduce the risk of incidents, and remain claims-free.
Managing risk and reducing the likelihood of incidents will keep your employees and vehicles safe, protect your business investment, and result in the best commercial vehicle insurance rates.
How Independent Insurance Agents Can Help with Commercial Auto Insurance
It's simple. Independent insurance agents simplify the process by shopping and comparing insurance quotes for you. Not only that, but they'll also cut through the jargon and clarify the fine print, so you know exactly what you're getting.
Independent insurance agents also have access to multiple insurance companies, ultimately finding you the best commercial auto coverage, accessibility, and competitive pricing while working for you.
TrustedChoice.com Article | Reviewed by Jeffrey Green
©2023, Consumer Agent Portal, LLC. All rights reserved.
https://www.jdpower.com/business/press-releases/2022-us-small-commercial-insurance-study
https://www.progressivecommercial.com/coverages/
https://www.nationwide.com/lc/resources/small-business/articles/business-auto-policy
https://www.thehartford.com/commercial-auto-insurance
https://money.com/best-commercial-auto-insurance-companies/
https://constructioncoverage.com/commercial-auto-insurance
https://www.insurancebusinessmag.com/us/news/breaking-news/ranked--americas-25-leading-commercial-auto-insurers-in-2022-425800.aspx
https://www.forbes.com/advisor/car-insurance/best-commercial-auto-insurance-companies/