Experts Weigh In: What Features Should You Look for When Buying a Mattress
Find the right mattress for you.

Who doesn't want a great night's sleep? If your bed is too hard, you might not be able to sleep. And if it's too soft? Same problem! Sure, a good mattress can be expensive, and finding the right one can take some time, but investing in the best mattress for your body will pay off for years.
Think about it: If you get the suggested eight hours of sleep a night (though let's be honest, we're lucky if we get six), you're spending a third of your day in bed, which translates to about 3,000 hours a year. Don't you want that place to be a cozy sanctuary instead of a lumpy version of hell? Thought so. So why are you sleeping on an old mattress that slumps in the middle, has bumps in all the wrong places and gives you a kink in the neck and back? It's high time you got a new mattress. So where do you start?
What's the Best Mattress for You?
With dozens of mattress types on the market, you need to do your homework. People have different needs and preferences when it comes to mattresses, so the one your neighbor just got, loves, and insists you buy may not work for you. "A mattress is a very personal choice," says Mary Helen Uusimaki, VP of marketing and communications for the Better Sleep Council. "A mattress should support you, and each mattress is like a fingerprint."
You'll want to determine your needs by asking yourself (and the internet) some questions:
Do you have back or neck issues?
Do you need a firmer or softer mattress?
Should the mattress have a pillow top?
Do you sleep alone or share your bed?
What size bed are you looking for?
How much can you afford to spend?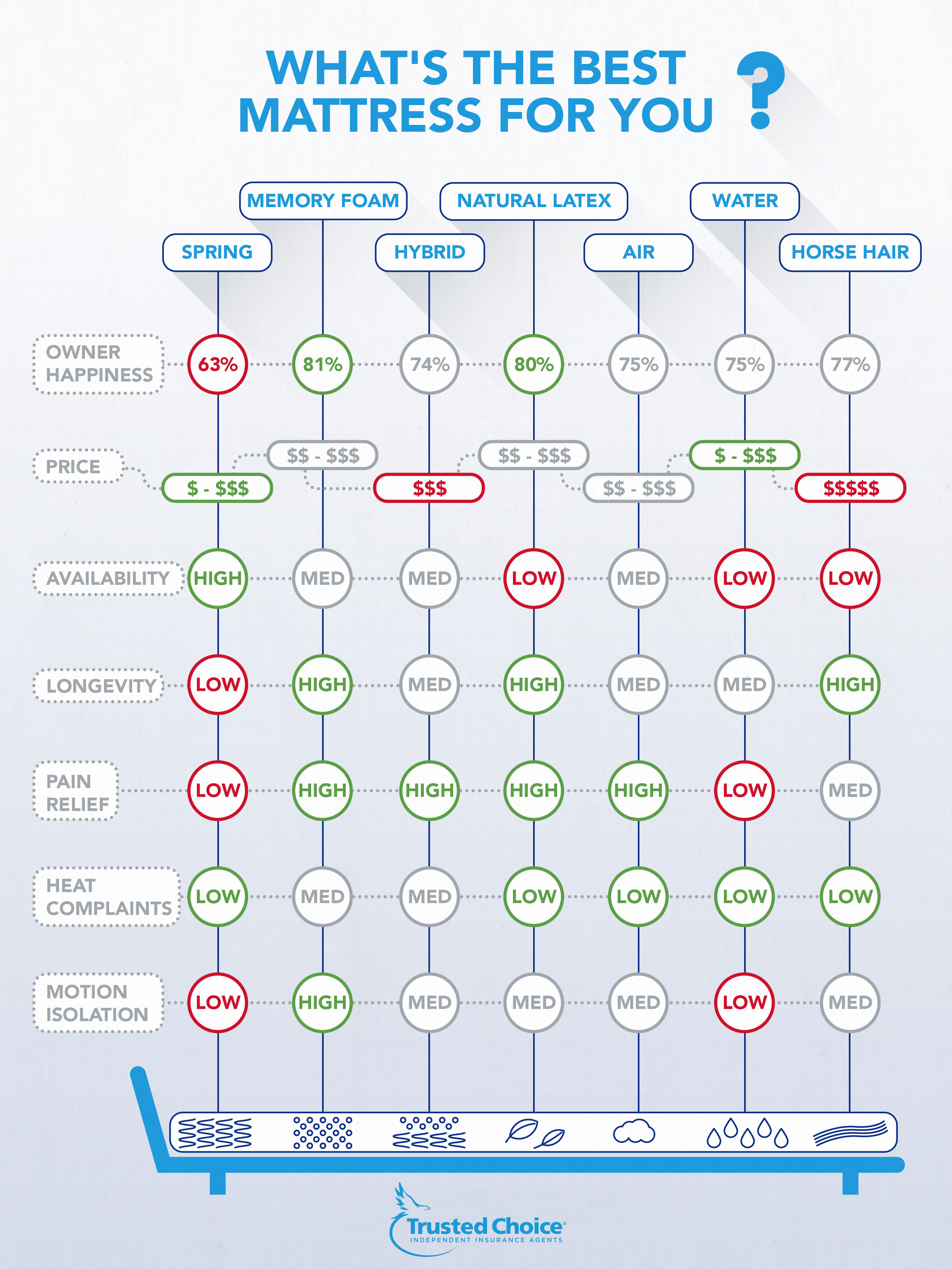 A Mattress for Every Budget
After you've considered what you want from your mattress, start exploring the types of mattresses on the market. With manufacturers like Sealy, Stearns & Foster, Simmons, Tempur-Pedic, Hästens, Sleep Number and more, the search for a new mattress can be daunting. But know that each category —basic, luxury or something in between — has a mattress for you. "There are pretty distinct price points when you go into a store, and within each category, most manufacturers will have a good, better and best mattress," Uusimaki says. "Consumers will be able to find the right mattress for them within each price range."
Uusimaki says that everyone should physically go into a store to test out beds. "We tell consumers to put on comfortable clothes, take their pillow or favorite blanket and bring their partner to the store," Uusimaki adds.
Springs vs. Foam vs. Air
Now look at other options, like memory foam, pillow top, organic materials, horsehair, or an adjustable base. Many considerations go into finding your ideal bed. That's why you need to do your homework and go into a store to lie on different beds in what Uusimaki calls a "rest test."
Uusimaki says consumers should reevaluate their mattress every seven years to determine whether it's holding up and is also still what their body needs. Where you may have enjoyed a spring mattress a while ago, today you may want memory foam. With all these different materials, fillers and toppings, what's the difference?
Innerspring: Has a series of interconnected steel coil springs in one unit or individual pocket coils. The more coils, the more the points of contact spread out throughout the bed. Don't worry, you're not sleeping directly on top of the springs; they're covered with various materials to add comfort and support.
Foam: Combines various types of foam, like memory or latex foam, and can have more density.
Hybrid: Blends steel coil springs and foam.
Waterbed: Pretty self-explanatory, don'tcha think?
Pillow Top: If you want a firm mattress, but also want a little cushion, a mattress with a sewn-in pillow top may do the trick.
Horsehair: These are some of the most expensive beds made, but people swear by them. They are handcrafted by Hästens, a Swedish company, made with all-natural materials, and filled with horsehair. They can cost tens of thousands of dollars.
Air Bed: The best example of an air bed, which is a bed that uses air-filled chambers you can control for support, is the Sleep Number bed. It allows you to adjust the amount of support on both sides of the bed. This is great for couples who have different sleep needs.
Adjustable Base: Think of a hospital bed, but with more style. You can adjust the base, so the bed allows you to sit up, raise your knees and more. You'll need to get a mattress that is made for this type of base, and it can be made with springs, foam, etc.
Once you are armed with knowledge, you can head to the store with confidence; the salesperson should be able to direct you to a handful of mattresses to check out within your specifications. You'll want to lie on each bed for a few minutes, and be sure to get into your preferred sleep position just to make sure you're giving the mattress as accurate a "test-drive" as possible.