Are You Getting a Good Price On Your New Home?
(Let's break it down, square foot by square foot.)

How on Earth is the average John or Jane Q. Homebuyer supposed to know if they're getting the right price on a home? Sure, a realtor can say you are, but how do you know they're not just saying so for the sake of the sale? The key is to look at the cost per square foot and compare it with similar properties in the same area.
Unfortunately, there is no magic calculator to tell you exactly what a good price per square foot is. But there are a few tricks to help make sure you're getting what's best, and we can't wait to talk about 'em. You can also find an affordable home insurance policy within our trusted network.
How to Determine the Average Price Per Square Foot
Figuring out how much a home is worth per square foot depends on a number of factors (and a little bit of math, too). Everything from the type of home, to the location, to the size and even the current market plays an important role.
To find out if you're getting a good deal, it's important to fully understand the whole picture to get an accurate price pinpointed for your property. Real estate experts have four ways you can analyze the price per square foot on a home.
Follow the 10% rule: This rule says that both the improvements and the square footage of the land must be within 10% of those of the subject property being evaluated.
Understand improvement value: While it may seem like home improvements increase the price per square foot, most upgrades don't add actual price per foot value to the home. The ones that matter are those that increase the square footage.
Understand the "thirds": Price per square foot values will group into thirds: top, middle, and bottom tier. "Specifically, the top-price price per square foot is limited to the properties in the best condition and best locations. The middle tier includes properties that are average for the area, i.e., the square footage, condition and lot size hover around the median values for the area. The bottom one-third includes properties where the condition, improvements and/or location are not comparable to the upper two-thirds."
Use marketing knowledge: Working with a local real estate agent can provide an in-depth knowledge of the market. The more you know about local home values the better, and the easier it will be to determine your price per square foot value.
Save on Home Insurance
Our independent agents shop around to find you the best coverage.
Examples of Price Per Square Foot by Home Type
To get an idea of what different prices per square foot look like between homes, we're going to take a look at some properties in Nevada. Why Nevada? Well, because Nevada is currently experiencing a bit of a housing bubble, and according to Zillow, home values have gone up 11.2% over the past year and continue to rise.
Cost per square foot for a million-dollar home in Nevada
On average, a million-dollar home in Nevada has between 3,500 and 8,000 square feet of real estate. This puts the average price per square foot around $200 for homes ranging from $1,000,000 to $2,000,000.
Cost per square foot for a single-family home in Nevada
The average cost per square foot for a single-family home is about $150. Single-family homes whose prices range from $200,000 to $400,000 contain between 1,100 and 2,600 square feet of space.
Cost per square foot for a trailer home in Nevada
Trailer homes in Nevada ranging from 800 square feet to 2,000 square feet range in price from $30,000 to $115,000. The average price per square foot for a trailer home in Nevada is around $50.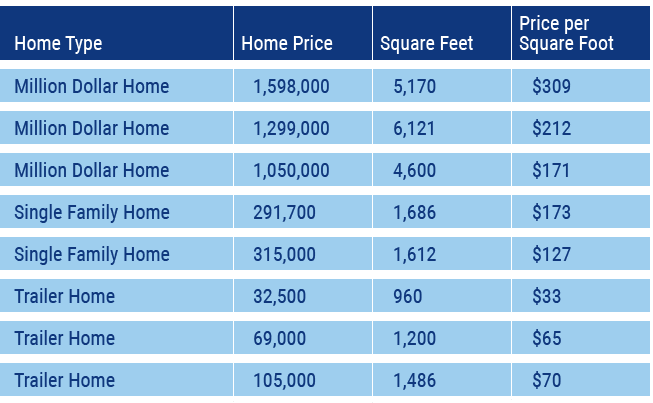 How to Know If You're Getting a Good Deal
If you're buying a home, you want to know that you're getting a good deal on the price per square foot. According to Zillow and HomeAdvisor, the median price per square foot for housing in the US is $150.
This is a good base if you're shopping for or building a home, but everyone's home-buying needs are different, so how do you tell if you're actually getting a good deal on your home?
Know the average price per square foot in the area: Search homes for sale and punch some numbers into your calculator to find out the average prices per square foot of homes in the area where you're looking.
Work with your realtor: A good realtor should be well-versed in home prices and whether a home is listed for a good price.
Look at the history of the home: Sites like Zillow will tell you how much a house has sold for in the past so you can compare prices.
Ensuring that you don't get the short end of the stick when purchasing a house is a matter of crunching the numbers. Fortunately, professionals and the Internet can help you do just that, so you can get the best bang for your housing budget buck, especially when it comes to an affordable home insurance policy.
©2023, Consumer Agent Portal, LLC. All rights reserved.
https://www.inman.com/2015/09/08/195372/
https://www.newhomesource.com/guide/articles/cost-to-build-house-per-square-foot
https://www.zillow.com