Eleven Business Insurance Pitfalls to Avoid in Alabama
Find out some of the most common mistakes business owners make when hunting for coverage and why you need to avoid them.

When equipping your business with the right protection against numerous daily threats and unexpected disasters, it can be hard to find the right coverage on your own. On top of that, there are many overlooked areas in which business owners might not add coverage that they later really need.
Fortunately, an independent insurance agent in Alabama can help you understand your coverage needs and help you get exactly the right type of business insurance at the right price. That way you can fully protect your biggest small business dreams. Until then, here's a closer look at the top business insurance pitfalls to avoid in Alabama.
Why You Need Business Insurance
Businesses of all kinds face threats every day, no matter how safely they operate. Let's review a few of the most common risks that businesses across Alabama deal with.
Most common business insurance claims: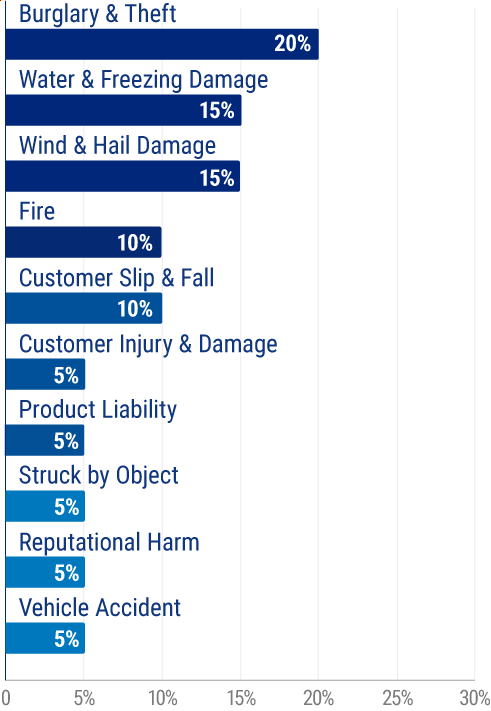 The most common risks businesses deal with were found to be burglary and theft, water damage and freezing, wind and hail damage, fire damage, and simple customer injuries like slips and falls. Having a business insurance policy with all the necessary coverages can help your company recover after these incidents.
The Biggest Business Insurance Mistakes to Avoid in Alabama
If it's your first time buying business insurance, worrying about which coverages to choose can be overwhelming. But working with an independent insurance agent can help you review your business's needs and get you matched to exactly the right coverage.
Here are some common business insurance mistakes to avoid:
#1: Choosing the cheapest policy
While everyone wants to save money in every way possible, it's better to shell out the extra dollars to get all the coverage you need to maintain peace of mind.
Not compromising the protection your business needs is critical because if a disaster happens somewhere down the line, you could end up having to pay much more out of your own pocket than you would've spent on coverage.
Independent insurance agents in Alabama can help you get the exact business insurance coverages you need, on the budget that works for you.
#2: Not reading the fine print
No one wants to read the fine print of an insurance policy, especially with all the jargon used by insurance companies, but it's actually a must to know what you're getting.
An independent insurance agent in Alabama can help walk you through all the fine print and answer any questions you may have about confusing items listed.
The more you know about your policy, the harder and better it will work for you.
#3: Overlooking income loss protection
Of course, your business' goal is to turn a profit, which is why it's relevant to consider what would happen if disaster strikes and you don't have revenue coming in.
Business income coverage can reimburse your business for lost revenue and continue to pay employees their regular rate if you must close temporarily for a covered disaster.
With business income coverage in place, you can focus on your business and what it needs, rather than worrying about lost revenue and how to recover from it.
#4: Choosing the wrong fit
Taking advice from friends who run their own businesses is a good start, but they don't know all of your specific operations and coverage needs.
You might even buy extra coverages that don't fit with your business, rather than ending up with too little coverage if you don't work with an insurance expert.
Listen to your Alabama independent insurance agent who is a local expert in business coverage needs and can help identify exactly what you need, no more, no less.
#5: Not updating your coverage periodically
Businesses change over time, and their coverage must grow with them.
You may need to add more types of coverage if your company expands or takes on different operations.
Your Alabama independent insurance agent will check in with you periodically to continue optimizing your coverage throughout the life of the policy.
According to insurance expert Jeffery Green, all business insurance coverages should be reviewed annually or when circumstances change. Keep in touch with your independent insurance agent regularly to make sure you continue to meet your company's growing demands for protection.
Save on Business Insurance
Our independent agents shop around to find you the best coverage.
Even More Mistakes to Avoid When Shopping for Business Insurance
Believe it or not, there are still more mistakes that business owners can make when shopping for the coverage they need, including:
#6: Staying with the same insurer too long
Though staying with an insurance company because it's convenient can feel easier, it can end up being detrimental.
If an insurance company isn't doing what you need them to do, they're only hurting your business.
Unlike captive and direct agents, an independent insurance agent works with multiple insurers and can help you jump from company to company if the need arises, always making sure you get the best coverage.
#7: Overlooking cyber liability
Small businesses are an easier target for hackers and thieves because they rarely have reliable security measures.
Just one data breach or hacking event could be catastrophic for your business if it exposes customer credit card data, employee records, etc.
Cyber liability coverage is a must in today's digital world because it helps reimburse your business for legal fees, public relations help, and income loss.
#8: Skipping workers' compensation
Workers' compensation reimburses businesses for incidents of employee injury, illness, or death on the job or caused by related activities.
Every state has different laws when it comes to workers' comp, but in Alabama, any business with five or more employees must have this coverage.
In exchange for providing workers' comp for your employees' protection, your workers cannot sue your business if they get hurt, sick, etc. because of their job.
#9: Skipping general liability
Much like workers' comp, general liability insurance is there to protect your business from serious issues and injuries.
General liability insurance reimburses your business for lawsuit costs related to third parties who claim to have been injured at or by your business, or who claim to have had their property damaged by your business.
Just one lawsuit without the proper coverage could easily lead to bankruptcy, which is why it's critical to at least consider getting general liability.
#10: Overlooking umbrella coverage
Umbrella insurance extends your business's liability coverage in both the general liability and commercial auto insurance categories.
Umbrella insurance tends to be highly affordable and can increase liability coverage limits in a single category to $1 million or more, which can make all the difference in case of a hefty lawsuit.
In a serious situation, this extended coverage will pay for itself thousands of times over.
Green added that overlooking a risk is why it's so important to review and assess your coverage with an insurance professional like an Alabama independent insurance agent. In case of major trouble, your business cannot afford to be without the coverage it needs.
The Biggest Business Insurance Pitfall of All
We've saved the best for last, and it's the biggest common insurance pitfall that all business owners need to consider before hunting for their own coverage.
#11: Not choosing a local Alabama independent insurance agent
A local Alabama independent insurance agent will know all your state's requirements for businesses, so your company won't have any issues complying with local regulations.
Alabama independent insurance agents can connect you with the best rates and coverages that really meet your company's needs.
Alabama independent insurance agents will walk you through all of your options for affordable business coverage in your area.
An Alabama independent insurance agent will make sure you only pay for what you need, and that you don't walk away without coverage that's relevant to your company's niche. Purchasing business insurance isn't a step to be taken lightly, which is why it's helpful to keep this list of pitfalls in mind before you do so.
Why Choose an Alabama Independent Insurance Agent?
Alabama independent insurance agents simplify the process by shopping and comparing insurance quotes for you. Not only that, but they'll also cut through the jargon and clarify the fine print so you'll know exactly what you're getting.
Alabama independent insurance agents also have access to multiple insurance companies, ultimately finding you the best business insurance coverage, accessibility, and competitive pricing while working for you.
TrustedChoice.com Article | Reviewed by Jeffrey Green
©2023, Consumer Agent Portal, LLC. All rights reserved.
https://www.iii.org/article/small-business-insurance-basics