Are Wildfires a Threat to Residential Areas in Arizona?
Find out common causes of wildfires near you, and how to protect your property with the right coverage.

Arizona ranks in the top 10 states for highest wildfire risk in the nation. With such a high probability of facing this type of disaster, it's critical to have the right safety checklist and protection on hand before one strikes. While an independent insurance agent in Arizona can help you get set up with the right homeowners insurance and other protections to guard your property, we'll start by diving deeper into wildfires in your state and how to stay safe.
Are Wildfires a Common Threat to Arizona Homes?
Wildfires are in fact a huge threat to homes throughout Arizona. That's why it's important to consider the real impact these disasters can have on you and your property ahead of time.
Wildfire risk by state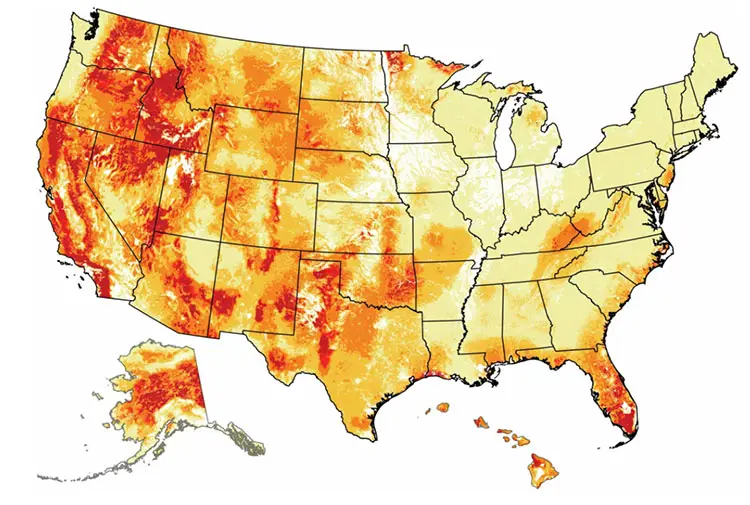 Quick Arizona wildfire stats:
Currently, Arizona ranks as the 10th most dangerous state for wildfires in the US.
The risk of wildfires in Arizona has increased steadily over the past few years.
In 2019 alone, the average number of wildfires across the country jumped up a whopping 959%.
In 2019 alone, the median number of wildfires across the country jumped up 46%.
About 49,469 acres in Arizona burned due to wildfires in 2020.
Knowing your area's risk of wildfires can help you prepare your property and insurance coverage to avoid or recover from damage much faster.
What Are the Most Common Causes of Wildfires?
Wildfires can stem from different sources, many of which are human errors. Check out the list below so you can reduce your risk of unintentionally starting a potential wildfire.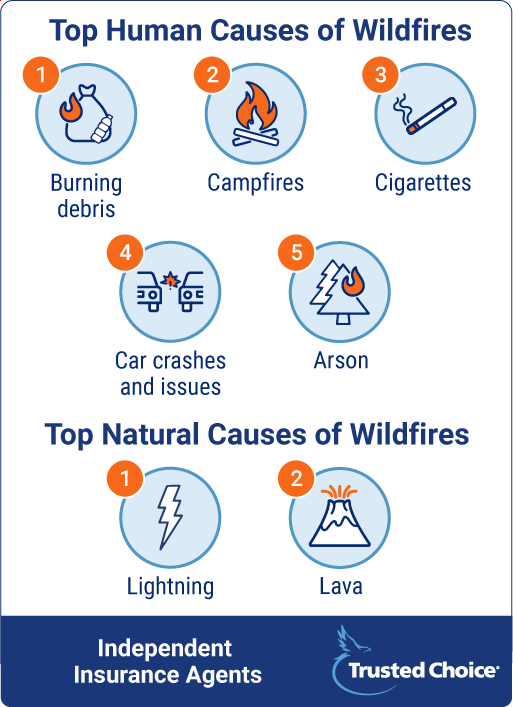 Top human causes of wildfires:
Burning debris: When burning debris, stray embers can get carried away all too easily by the wind, igniting a fire in a different area.
Campfires: Campfires that are left unattended or not fully contained or extinguished can lead to wildfires when embers travel outside of their intended quarters.
Cigarettes: Unextinguished cigarettes are not only bad for the environment when carelessly tossed outside a vehicle or onto the ground, but can also easily ignite trash, dry grass, or leaves, leading to a wildfire.
Car crashes and issues: Car crashes and mechanical issues can cause a vehicle to ignite in flames quickly, which can travel to surrounding brush, etc.
Arson: Arson doesn't always apply to homes and other property; humans can intentionally set wildfires, too.
Top natural causes of wildfires:
Lightning: Lightning strikes on plants, trees, and dry debris piles can ignite flames very quickly, which can then spread rapidly into a wildfire.
Lava: If lava travels over dry vegetation after a volcano erupts, a wildfire can form and spread, leading to a secondary natural disaster.
Note that only about 10 percent of wildfires are actually caused by Mother Nature. Keep this list in mind and do your part to prevent wildfires from starting as much as possible.
Is Wildfire Coverage Included in Homeowners Insurance?
Wildfire damage is included in your homeowners insurance protection the same way many other types of unintentional fire damage are. Home insurance can help you handle a wildfire by providing:
Reimbursement to rebuild your home: If your home gets badly burned or completely obliterated by a wildfire, your home insurance can pay to rebuild your property entirely.
Reimbursement for destroyed personal property: If your home's contents like furniture, clothing, etc., get damaged or destroyed by a wildfire, your home insurance can pay to repair or replace that property as well.
Reimbursement for other property: Home insurance can also reimburse for property you don't keep at home. Belongings stored elsewhere, such as in a storage unit, are sometimes limited to 10% of your personal property coverage, but you can add more if you wish.
Reimbursement to replant your yard: Home insurance can also reimburse for damage to plants in your yard, typically up to $500 per plant, or 5% of your total dwelling coverage limit, unless you choose to add more.
Reimbursement for staying elsewhere: If you have to stay in a hotel or somewhere else while your home gets repaired for extensive wildfire damage or destruction, your home insurance can also pay for many of these costs including extra gas mileage, takeout meals, and more.
You'll have to meet your home insurance policy's deductible amount out of your own pocket before receiving reimbursement for wildfire damage. While some policies offer replacement value of damaged items like clothing, others factor in the depreciation of your property. You can also add replacement value riders to your home insurance policy if necessary.
Save on Home Insurance
Our independent agents shop around to find you the best coverage.
What Else Does Homeowners Insurance Cover?
Homeowners insurance provides a ton of essential coverage, not just for wildfires. Standard homeowners insurance policies in Arizona include the following:
Dwelling coverage: Your home's structure or dwelling is protected against many disasters including fire and lightning damage, hail, vandalism, and more.
Personal property coverage: Your personal property like clothing, furniture, silverware, collections, etc. is protected against many disasters like theft, fire, certain types of water damage, and more.
Liability coverage: You and your family members are protected against lawsuits filed by third parties for claims of personal property damage or bodily injury.
Coverage for other structures: Sheds and other structures on your property are also sometimes covered by homeowners insurance against many disasters including vandalism.
Additional living expenses: Home insurance also covers extra, unexpected costs if your home is undergoing extensive repairs and you have to stay somewhere else until the process is complete.
Ask your Arizona independent insurance agent to expand on all the ways your homeowners insurance coverage works for you.
How to Prepare for Arizona Wildfires
The best offense against Arizona wildfires starts with a good defense. Review this checklist so you and your family can prepare yourselves and your property for wildfires in your area.
Double-check your insurance: To prepare for wildfires, be sure to periodically review your existing home insurance with your independent insurance agent, who can help you update or add more coverage if necessary.
Stay alert: Get signed up for wildfire and other natural disaster alerts in your area through the Emergency Alert System or through apps on your smartphone.
Make an emergency plan: Gather your family and create an emergency plan for wildfires and other types of disasters, including evacuation routes out of town, who to contact after you've reached safety, who's responsible for taking care of the pets, and more.
Protect important documents: Go ahead and back up important documents electronically, and be sure to keep the physical copies in a waterproof, fireproof safe or other security box.
Guard your home: Keep a hose or other water source nearby in case of disaster, use fire-resistant materials in your home's components, and locate a room inside that you can shelter in and be far away from all doors and windows to avoid inhaling smoke from nearby wildfires.
Create a supply kit: Assemble an emergency supply kit not only for your home but for your car in case disaster strikes by filling it with essential medications, non-perishable food, bottled water, batteries, extra blankets, radios, pet food, etc.
Wildfires don't have to mean the end of your home or life as you know it, as long as you're prepared for them before they hit. Keep this safety checklist handy and review it often to be as prepared as possible.
What Does Living in a Wildfire-Prone State Mean for Your Insurance?
Folks who live in wildfire-prone states like Arizona can expect to pay higher rates for home insurance than their friends in, say, Delaware. In states and areas where wildfires are a very low-to-nonexistent risk, insurance companies can offer lower rates because they're less likely to have to pay out a related claim. Likewise, those in high-risk areas pay more for their coverage to offset their carrier's increased risk.
Even homeowners in wildfire-prone states can help lower their risk of damage and injury by:
Installing smoke alarms: Having working smoke alarms installed in your home can help alert you and your family immediately to the presence of smoke, which can indicate a wildfire. Once you're aware, you can evacuate and call your local fire department.
Having fire extinguishers ready: One way to battle flames on your property is to keep fire extinguishers, in addition to your external water source like hoses, handy. Be sure to aim at the base of the fire and sweep side-to-side when using it.
Living close to a fire department: Obviously, the closer you live to a fire department, the faster you're likely to receive professional help in case of wildfires. But the benefits don't stop there, because folks who live close to a fire department may also qualify for discounts on their home insurance premiums thanks to this fact.
Keeping fire blankets on hand: Though fire blankets may not be able to protect your entire home from wildfires, they can offer some protection. If only a small area of your property is engulfed in flames, a fire blanket can be used to choke the fire of its oxygen source and extinguish it, keeping it from spreading further.
Before calling your Arizona independent insurance agent to make sure you have the coverage you need, check out this helpful source for more tips on preparing for and handling wildfires when they happen.
Why Choose an Arizona Independent Insurance Agent?
Arizona independent insurance agents simplify the process by shopping and comparing insurance quotes for you. Not only that, but they'll also cut through the jargon and clarify the fine print so you'll know exactly what you're getting.
Arizona independent insurance agents also have access to multiple insurance companies, ultimately finding you the best home insurance coverage, accessibility, and competitive pricing while working for you.
TrustedChoice.com Article | Reviewed by Paul Martin
©2023, Consumer Agent Portal, LLC. All rights reserved.