Acuity Insurance Company Review
Acuity Insurance Company At a Glance:
Founded in 1925
Offers coverage for individuals and businesses
Available in 27 states
"A+" (excellent) rating by Better Business Bureau
"A+" (superior) rating by A.M. Best
Offers multiple types of insurance
Large network of independent insurance agents
Strong financial stability
Consistently high customer service ratings
Roadside assistance available
Range of discounts available
24/7 claims reporting
Acuity Insurance Pros: Well-established company with nearly a century of experience in the insurance industry. Providing insurance policies to both individuals and businesses. Offers multiple types of coverage, including boat insurance, business insurance, renters insurance, and more. Offers 24/7 claims reporting via phone. High volume of excellent customer reviews across multiple websites.
Acuity Insurance Cons: Coverage is not offered in every state. Some customers state that rates are a bit pricey in comparison to other carriers.
What Type of Insurance Does Acuity Insurance Offer?
Acuity Insurance offers a multitude of both personal and business coverages, including:
ATV insurance
Boat insurance
Business insurance
Commercial auto insurance
Commercial property insurance
Condo insurance
Home-based business insurance
Identity theft insurance
Motorcycle insurance
Personal valuables insurance
Renters insurance
RV insurance
Snowmobile insurance
Umbrella insurance
Watercraft insurance
For both businesses and individuals, Acuity Insurance offers many different types of coverage. Whether you're in the market for protection for your home, business, or vehicle, Acuity Insurance may just be the right match for you. Also, the carrier offers discounts for bundling your coverages, should you purchase more than one type of insurance through them.
What to Know about Acuity Insurance
Acuity Insurance was founded in 1925, making it a well-established insurance carrier with decades of experience in offering quality insurance policies and service to businesses and individuals alike.
Acuity Insurance's history and size has helped it to earn a reputation as a notably stable company. While coverage is not offered in every state, the carrier currently does business with more than 1,000 independent agencies across the nation. The official website states that the carrier has more than $4 billion in insurance policies in force presently.
Acuity Insurance's long-standing status and amount of in-force insurance aids the carrier's reputation as a financially stable insurance provider with a strong outlook for the future. A.M. Best, the leading global credit rating agency monitoring the insurance industry, gives Acuity Insurance an "A+" rating—the highest available—indicating the carrier is a superior choice for insurance customers. The "A+" rating assures customers that Acuity Insurance is capable of offering guaranteed, secure coverage from a trustworthy and reputable carrier.
Established in 1899, A.M. Best is one of the oldest rating companies in the world. Reviews from A.M. Best indicate an insurance company's financial strength and creditworthiness, and are based on comprehensive evaluations of the company's operating performance, business profile, and balance sheet. For customers who aren't as familiar with insurance companies' reputations, A.M. Best's rating system allows them to make an informed decision about who they can trust to meet their needs in the short term, and also to remain a strong, financially sound company in the long term.
What Discounts Does Acuity Insurance Offer?
Acuity Insurance offers extremely competitive discount programs for their customers, especially for car insurance. These discounts include: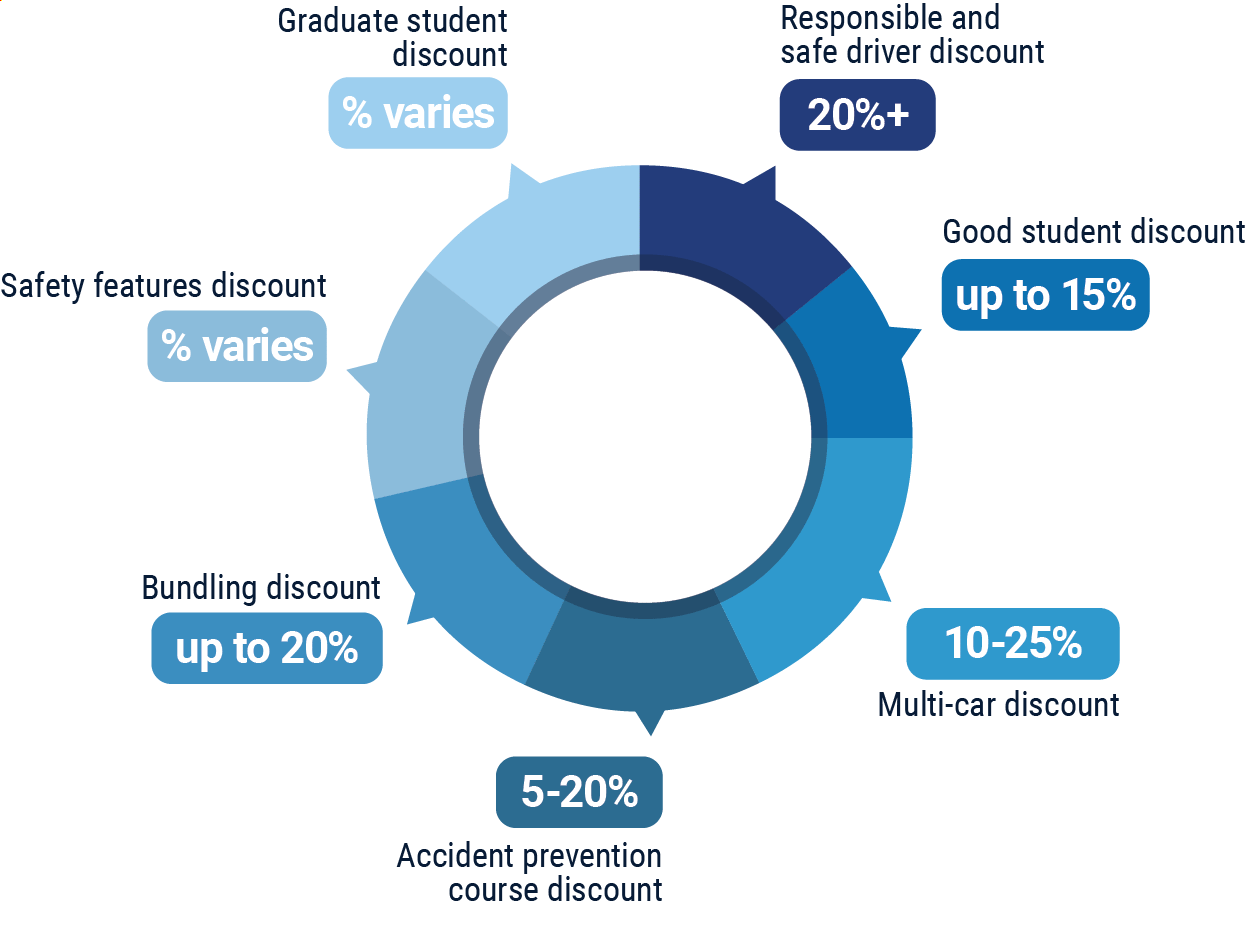 Responsible and safe driver discount: Available to customers who have a clean driving history for at least the last three years.
Good student discount: Offered to customers who are young drivers and maintain a good grade average.
Graduate student discount: Offered to customers who are graduate students.
Multi-car discount: Available to customers insuring multiple cars or multiple drivers under one policy.
Accident prevention course discount: Available to customers who complete an approved defensive driving course.
Safety features discount: Available to customers who install safety features such as rear cameras and adaptive headlights on their vehicles.
Bundling discount: Offered to customers who combine their home, vehicle, and umbrella insurance policies.
An independent insurance agent can help you find even more discounts available through Acuity Insurance, helping you get the most bang for your buck out of your coverage.
Acuity Insurance Customer Service
Acuity Insurance allows customers to handle claims over the phone or online, any time of the week. Additionally, the carrier provides the following customer service options:
24/7 claims reporting hotline.
Additional options to file claims via the website or through email.
Live chat representatives also available.
Main hotline for customer service has the following hour restrictions:
| | | | |
| --- | --- | --- | --- |
| | | Hours (CST) | |
| | | Monday-Friday | 7 am - 6 pm |
Acuity Insurance sells insurance primarily through independent insurance agents. These agents are also available to handle claims and insurance concerns for you, making customer service even easier.
Find The Right Company Today.
Shopping for a company? We have the right one for you.
Acuity Insurance FAQ
What is Acuity Insurance's average claims response time frame?
Acuity Insurance's claims reporting hotline is available for customers in need via a toll-free phone number. Customers can also submit claims and file appropriate reports online through the website, or via email. The carrier promises to contact customers either the same day or within 24 hours of filing a claim.
What is Acuity Insurance's customer service availability?
Acuity Insurance offers a toll-free phone line for prospective and current customers to get in touch with them at slightly restricted hours, Monday-Friday. However, the carrier's claims reporting department can be reached 24/7. Live chat services are also available around the clock for all kinds of insurance inquiries.
What is Acuity Insurance's claims process?
Acuity Insurance promises just "four steps to stress-free claims." The official process is outlined on their website as follows:
"Step one: Report your claim
Claims can be reported by calling 800.242.7666, or you can report claims online.
Step two: Facts are gathered
Our claims representative will attempt to make contact with you the same day the loss is reported or within 24 hours.
Step three: Your claim is reviewed
Each claim is unique and evaluated based on its own specific circumstances.
Step four: Your claim is completed
A decision is made based on the claims representative's investigation and your policy's language."
Acuity Insurance customers can track the status of their claim at any time via the carrier's website.
Does Acuity Insurance create a user-friendly experience for customers?
Acuity Insurance's website is extremely intuitive and easy to navigate. Customers can file claims, check their claim's status, request quotes, and learn what types of coverage are available through the official website. Prospective customers can also be matched with an independent insurance agent right through Acuity Insurance's website. The carrier also has a presence on Facebook and Twitter, making itself even more available to customers. A mobile app is also available for smartphone users.
Acuity Insurance Customer Reviews
Better Business Bureau

"Acuity is a very responsible insurance company. We had a business for many years that worked almost exclusively with insurance companies. We found Acuity to be the most fair and equitable company to deal with. For that reason we chose Acuity for our personal home and cars. They have always been prompt and just with any claims we needed to make. We realize they may be more expensive than some other companies, but this is one instance where you get what you pay for. Acuity has real value for its service."
Clearsurance

"We have been happy with this company. They served us well throughout an unfortunate incident and were very helpful."
Trustpilot

"I love the ease of access of information, billing, etc. utilizing the app."
Yelp

"Top quality service and customer care team. Cannot complain at all, the one-year homeowners renewal went up 3% which is in line with inflation.
They bill the mortgage company a full month ahead of time in order to keep the early payment discount in force and avoid a possible late charge if the mortgage company receives the invoice at a late date.
The website is easy to navigate and simple too.
Regards to all the yelpers out there. So many times people only belch & yelp when unhappy, this is unfair and thus it is important to point out good service when you get it.
Regards!"
WalletHub

"I recently switched my insurance to Acuity and have only had them now for under a month. I am currently excited about the change. I am getting more coverage and paying less. Also my last insurance company billed me separately for my auto and home insurance. Acuity bills them together in one premium making my payments much simpler. They also have more options for the increments of my premium payments. My last insurance billed 3 times in 6 months but I never knew when the bill was coming. Acuity makes it easier with the extra options and letting me know far enough in advance when I am expected to make the payment."
TrustedChoice.com's Final Review

We award Acuity Insurance a final rating of 5 out of 5 stars. Not only does the carrier have a well-established history, but also impressive financial stability, which makes them a top contender in the insurance industry. Furthermore, an extremely high volume of customer satisfaction noted across multiple review websites only further demonstrates that Acuity Insurance aims to offer quality coverage while keeping their customers' needs in mind. Acuity Insurance's official website proudly displays customer reviews and boasts a 95% customer claims satisfaction rate. Additionally, the carrier's extremely high rankings through A.M. Best and the Better Business Bureau promise prospective customers that Acuity Insurance offers quality and trustworthy products. Finally, the carrier's user-friendly online, mobile, and phone presence helps Acuity Insurance earn its well-deserved place among our top picks.
©2022, Consumer Agent Portal, LLC. All rights reserved.
acuity.com
ambest.com
https://wallethub.com/profile/ci/acuity-insurance-company-13012454i
https://www.yelp.com/biz/acuity-insurance-sheboygan
https://www.trustpilot.com/review/acuity.com
https://clearsurance.com/insurance-reviews/acuity-a-mutual-insurance-company-5835ece073b103329e91ab42
https://www.bbb.org/us/wi/sheboygan/profile/insurance-companies/acuity-a-mutual-insurance-company-0694-22000189/customer-reviews