Acuity Insurance Company Review 2023
Acuity Insurance Offers Many Coverage Options, Excellent Ratings, and Highly Accessible Customer Service.
Trusted Choice's Acuity Insurance Score

5 Stars
---
Trusted Choice rates Acuity Insurance 5 out of 5 stars. Not only does the carrier have a well-established history, but also has impressive financial stability, which makes them a top contender in the insurance industry.
Customer satisfaction ratings with several of the carrier's major coverages, including Acuity car insurance, Acuity business insurance, Acuity health insurance, and Acuity life insurance, demonstrate ongoing excellence provided by the carrier. This further demonstrates that Acuity Insurance aims to offer quality coverage while keeping its customers' needs in mind.
Acuity Insurance's official website proudly displays customer reviews and boasts a 95% customer claims satisfaction rate. Additionally, the carrier's extremely high rankings through AM Best and the Better Business Bureau promise prospective customers that Acuity Insurance offers quality and trustworthy products. Finally, the carrier's user-friendly online, mobile, and phone presence helps Acuity Insurance earn its well-deserved place among our top picks.
We highly recommend working with an independent insurance agent to look into making Acuity Insurance your next trusted carrier.
Acuity Insurance Pros and Cons:
Pros:
Well-established company with nearly a century of experience in the insurance industry
Provides insurance policies to both individuals and businesses
Offers multiple types of coverage, including boat insurance, business insurance, renters insurance, and more
Offers 24/7 claims reporting via phone
High volume of excellent customer reviews across multiple websites
Cons:
Coverage is not offered in every state
Some customers state that rates are a bit pricey in comparison to other carriers
What Type of Insurance Does Acuity Insurance Offer?
Acuity Insurance offers a multitude of both personal and business coverages, including:
ATV insurance
Boat insurance
Business insurance
Commercial auto insurance
Commercial property insurance
Condo insurance
Home-based business insurance
Identity theft insurance
Motorcycle insurance
Personal valuables insurance
Renters insurance
RV insurance
Snowmobile insurance
Umbrella insurance
Watercraft insurance
For both businesses and individuals, Acuity Insurance offers many different types of coverage. Whether you're in the market for protection for your home, business, or vehicle, Acuity Insurance may just be the right match for you. Also, the carrier offers discounts for bundling your coverages, should you purchase more than one type of insurance through them.
What to Know about Acuity Insurance
Acuity Insurance was founded in 1925, making it a well-established insurance carrier with decades of experience in offering quality insurance policies and service to businesses and individuals alike.
Acuity Insurance's history and size has helped it to earn a reputation as a notably stable company. While coverage is not offered in every state, the carrier currently does business with more than 1,000 independent agencies across the nation. The official website states that the carrier has more than $4 billion in insurance policies in force presently.
Acuity Insurance's long-standing status and amount of in-force insurance aids the carrier's reputation as a financially stable insurance provider with a strong outlook for the future. AM Best, the leading global credit rating agency monitoring the insurance industry, gives Acuity Insurance an "A+" rating—the highest available—indicating the carrier is a superior choice for insurance customers. The "A+" rating assures customers that Acuity Insurance is capable of offering guaranteed, secure coverage from a trustworthy and reputable carrier.
Established in 1899, AM Best is one of the oldest rating companies in the world. Reviews from AM Best indicate an insurance company's financial strength and creditworthiness, and are based on comprehensive evaluations of the company's operating performance, business profile, and balance sheet. For customers who aren't as familiar with insurance companies' reputations, AM Best's rating system allows them to make an informed decision about who they can trust to meet their needs.
What Discounts Does Acuity Insurance Offer?
Acuity Insurance offers extremely competitive discount programs for their customers, especially for car insurance. These discounts include: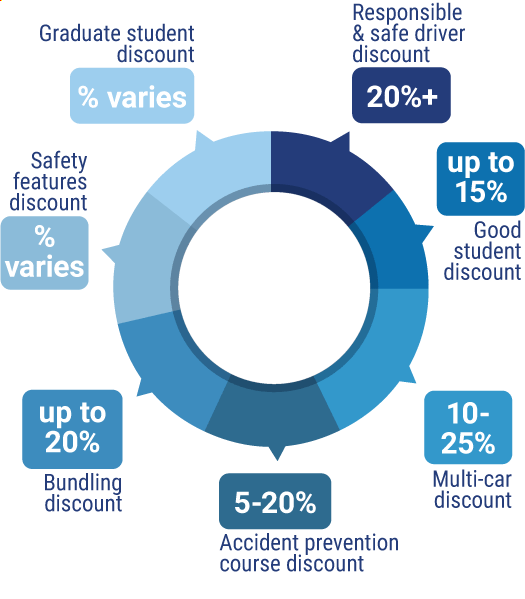 Responsible and safe driver discount: Available to customers who have a clean driving history for at least the last three years.
Good student discount: Offered to customers who are young drivers and maintain a good grade average.
Graduate student discount: Offered to customers who are graduate students.
Multi-car discount: Available to customers insuring multiple cars or multiple drivers under one policy.
Accident prevention course discount: Available to customers who complete an approved defensive driving course.
Safety features discount: Available to customers who install safety features such as rear cameras and adaptive headlights on their vehicles.
Bundling discount: Offered to customers who combine their home, vehicle, and umbrella insurance policies.
An independent insurance agent can help you find even more discounts available through Acuity Insurance, helping you get the most bang for your buck out of your coverage.
Acuity Insurance Customer Service
Acuity Insurance allows customers to handle claims over the phone or online, any time of the week. Additionally, the carrier provides the following customer service options:
24/7 claims reporting hotline.
Additional options to file claims via the website or through email.
Live chat representatives also available.
Main hotline for customer service has the following hour restrictions:
| | | | |
| --- | --- | --- | --- |
| | | Hours (CST) | |
| | | Monday-Friday | 7 am - 6 pm |
To report a claim, the Acuity Insurance phone number is 800-242-7666.
Acuity Insurance sells insurance primarily through independent insurance agents. These agents are also available to handle claims and insurance concerns for you, making customer service even easier.
Connect with an Acuity Insurance Agent Today.
Shopping for insurance? Acuity has you covered.
Acuity Insurance Customer Reviews
Check out a handful of Acuity Insurance reviews from customers across the web. These Acuity Insurance ratings have been compiled from various websites customers most frequently visit when comparing options for reputable insurance companies. Acuity home insurance reviews and more are discussed in the samples below.
*Note that some reviews have received light editing for grammatical errors and readability purposes.
Better Business Bureau

"Acuity and our agent have done an excellent job of reviewing our policies and recommending changes that eliminated unneeded coverage, showed us where increased coverage was needed, and modified types of average where required. That never happened with previous carriers."
-7/13/21
Better Business Bureau

"I have been an Acuity customer for more than 10 years and am very pleased. They write my coverage on my home as well as cars and Personal Umbrella and provide good service at competitive rates with good coverage. They are good to do business with through my Agent as well as their online website. Would recommend Acuity to my friends and family."
-6/22/21
Better Business Bureau

"We have been with Acuity for 2+ years so far. They are friendly and helpful whenever needed. We are happy with the rates and everything. We would suggest Acuity to everyone."
-6/17/21
Better Business Bureau

"Enjoy doing business with professionals who treat you like an old friend. Great rates and service."
-6/15/21
Better Business Bureau

"Rates are competitive and use of online bill pay and services is easy."
-6/10/21
Acuity Insurance FAQ
Acuity Insurance's claims reporting hotline is available for customers in need via a toll-free phone number. Customers can also submit claims and file appropriate reports online through the website, or via email. The carrier promises to contact customers either the same day or within 24 hours of filing a claim.
Acuity Insurance offers a toll-free phone line for prospective and current customers to get in touch with them at slightly restricted hours, Monday-Friday. However, the carrier's claims reporting department can be reached 24/7. Live chat services are also available around the clock for all kinds of insurance inquiries.
Acuity Insurance promises just "four steps to stress-free claims." The official process is outlined on their website and basically implies the following:
Customers report a claim online or by calling 800-242-7666.
A claims representative will contact a customer within 24 hours.
Acuity's team reviews the claim.
Customers are contacted once a decision is made by the claims team.

Acuity Insurance customers can track the status of their claim at any time via the carrier's website.
Acuity Insurance's website is extremely intuitive and easy to navigate. Customers can file claims, check their claim's status, request quotes, and learn what types of coverage are available through the official website. Prospective customers can also be matched with an independent insurance agent right through Acuity Insurance's website. The carrier also has a presence on Facebook and Twitter, making itself even more available to customers. A mobile app is also available for smartphone users.
©2023, Consumer Agent Portal, LLC. All rights reserved.
https://www.acuity.com/about
https://www.bbb.org/us/wi/sheboygan/profile/insurance-companies/acuity-a-mutual-insurance-company-0694-22000189/customer-reviews