Americo Life Insurance Company Review
Americo Life Insurance Company at a Glance
Founded in 1946
Offers specialty coverage options
Offers individual policies only
Coverage offered in most states
"A" (excellent) rating by A.M. Best
"F" (lowest possible) rating by Better Business Bureau
Offers income planning solutions for retirement
Offers Medicare supplements
Strong financial stability
One of the largest independent and privately held insurance companies in the US
Americo Life Pros: More than half a century of experience in the insurance industry. High rating through A.M. Best. Provides retirement solutions and Medicare supplements. Strong financial stability. Wide reach across the country.
Americo Life Cons: Not a BBB accredited company. Lowest possible rating through the BBB. Concerning number of customer complaints filed against the carrier in recent years. Official website lacks many features offered by many other modern carriers. High volume of dismal customer reviews.
What Type of Insurance Does Americo Life Offer?
Americo Life is a specialty insurance carrier, so they have only a few coverage options. Their products include:
Life insurance
Retirement solutions
Vision insurance
Medicare supplements
While Americo Life does not offer as many products as other carriers, if you're an individual concerned about retirement, they may have exactly the solution you're looking for.
What to Know about Americo Life
Americo Life Insurance was founded in 1946, meaning the carrier has more than half a century of experience in offering reputable coverage to customers in the US. The carrier is ranked as having a fairly large financial size category, at $500-$750 million.
While Americo Life does operate in most states across the country, not all of its products are available nationwide. The carrier reportedly has a total of 300 employees. Americo Life is also said to generate $76.03 million in annual revenue.
Given its long-standing history, wide reach, and respectable financial size category, Americo Life is considered to be a stable insurance provider with a positive outlook for the future. A.M. Best, the leading global credit rating agency monitoring the insurance industry, gives Americo Life Insurance an "A" rating, indicating the carrier is an excellent choice for insurance customers. A high rating from A.M. Best assures customers that Americo Life is capable of offering guaranteed, secure coverage from a trustworthy and reputable carrier.
Established in 1899, A.M. Best is one of the oldest rating companies in the world. Reviews from A.M. Best indicate an insurance company's financial strength and creditworthiness, and are based on comprehensive evaluations of the company's operating performance, business profile, and balance sheet. For customers who aren't as familiar with insurance companies' reputations, A.M. Best's rating system allows them to make an informed decision about who they can trust to meet their needs in the short term, and also to remain a strong, financially sound company in the long term.
What Discounts Does Americo Life Offer?
While Americo Life unfortunately does not make information about their specific discounts readily available, there are several common discounts offered by many modern insurance carriers on comparable products. These discounts include: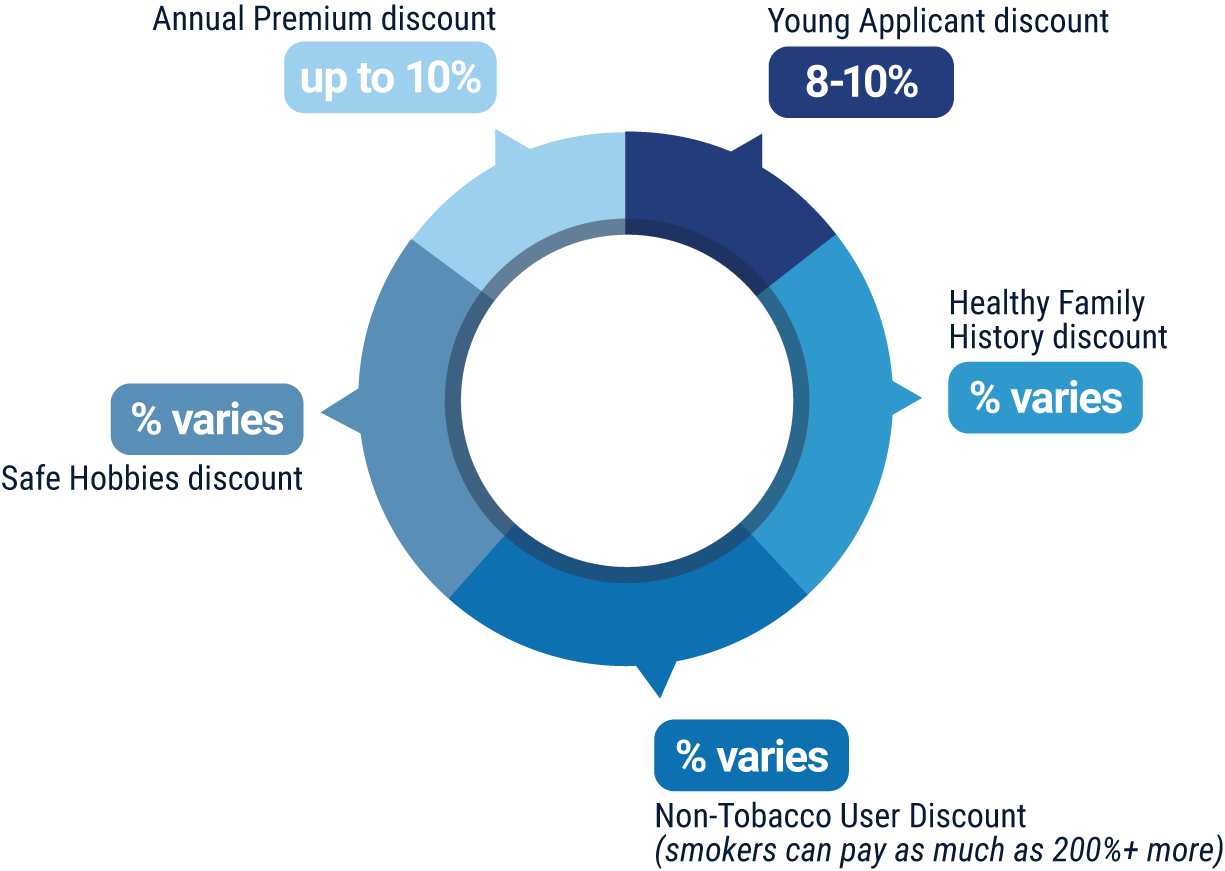 Young applicant discount: When signing up for life insurance, considerable discounts are often awarded to applicants who purchase coverage when they are younger, such as in their 20s or 30s.
Healthy family history discount: Insurance companies also reward applicants with healthy genetics or a good family health history.
Non-tobacco user discount: Life insurance companies tend to reward customers who do not use tobacco products with cheaper premiums.
Safe hobbies discount: Life insurance companies often award customers who practice safe, non-life threatening hobbies (e.g., no skydiving) with cheaper premiums.
Annual premium discount: Insurance companies often award discounts to customers who pay their premiums annually instead of monthly.
An independent insurance agent can help you find exact discounts offered by Americo Life, as well as provide you with quotes and help answer any other questions you may have.
Americo Life Customer Service
Americo Life allows customers to file claims and inquire about other issues over the phone. The carrier also provides the following customer service options:
Email claims reporting.
Fax contact options available.
Snail mail contact options available.
Customer service and claims hotline has the following hour restrictions:
| | | | |
| --- | --- | --- | --- |
| | | Hours (EST) | |
| | | Monday-Friday | 8:00 am - 5:00 pm |
Americo Life sells insurance through a wide network of agents, including independent insurance agents. These agents can help make customer service easier for you by handling claims and other concerns.
Americo Life FAQ
What is Americo Life's average claims response time frame?
Americo Life does not offer 24/7 claims reporting, nor does their official website provide a claims response time frame promise.
What is Americo Life's customer service availability?
Americo Life offers one phone line for both customer service inquiries and claims reporting. Their customer service department operates at restricted hours, Monday-Friday. Official hours of operation are not listed on the carrier's website, but can be found on their Facebook page. Claims reporting is not available through the website. The carrier also has a social media presence on LinkedIn, making them a bit more accessible to customers.
What is Americo Life's claims process?
Americo Life only allows customers to file claims over the phone, or through email, snail mail, or fax, which makes them feel dated compared to many other modern carriers that allow 24/7 claims reporting online or via mobile apps. As far as a claims process, the official website only provides the following information for customers:
"We care about you and your family and are committed to providing prompt, accurate, and courteous claim processing services to our Beneficiaries. To ensure that your claim will be processed in a timely manner, please make sure to complete the claim forms and submit all of the documentation requested. You may contact our office at the number below with any claim-related questions. Completed claims forms can be submitted to forms@americo.com."
It does not appear that Americo Life Insurance customers can track the progress of existing claims through the official website.
Does Americo Life create a user-friendly experience for customers?
Americo Life's website leaves much to be desired. The design feels restrictive and dated, but more importantly, much of the information prospective and current customers would be searching for seems to be lacking entirely. The carrier does not list much of a claims process, nor any sort of official claims response time frame promise. Customers cannot even file claims through the website. Their homepage offers a dated, generic contact form for those interested in getting coverage. No options are offered online to get matched with an insurance agent or request quotes. Overall, Americo Life falls far behind other modern insurance carriers in terms of user-friendliness.
Americo Life Customer Reviews
Better Business Bureau

"I am a licensed life insurance agent, Americo is one of 10 companies I use in my portfolio. I've been writing policies for the last three years and cannot have enough good things to say about Americo. I've had four death claims since starting, and Americo has paid out within one week on all claims."
Better Business Bureau

"Poor, poor customer service. Have been on hold over an hour today. Another error on my bill. This error has been going on for 7 months and they can't seem to get things right. There is NEVER anyone who can explain why this is still a problem nor do they really care that it hasn't been addressed. I am told to just send in the correct payment amount. Horrible place to do business with."
Yelp

"Ripoff — had to call BBB and still waiting for response — took over 11K out of my account over 8 year period — no notification, no paperwork . . . nothing. Customer service was useless — wouldn't even escalate my complaint. I had to call my bank to block them! Horrible. BEWARE."
Yelp

"Americo has been great about handling my insurance policy on an ongoing basis. They are easy to contact by phone and will deliver documents by secure email. There is virtually no hold time when calling to request information or to make changes. The annual statements provided by Americo are simple and clear to read and their billing is timely and payments are applied appropriately."
BirdEye

"This company is not any good — they don't listen to their customers. I purchased life insurance for my husband and self, asked for the payment not to come out until Sept. 5, they took it out Aug. 20. This caused a huge problem with my account. When I contacted the company they were not very empathic to my concerns. They more or less said it is your problem not ours."
TrustedChoice.com's Final Review
We award Americo Life Insurance a final rating of 2.5 out of 5 stars. A long-standing history in the insurance industry and a high rating through A.M. Best are both certainly noteworthy and respectable achievements by today's standards. However, not only is the carrier not currently BBB accredited, but they also received the lowest possible rating through the organization, and have had a concerning number of customer complaints filed against them, one of which they failed to respond to. The carrier's website is lacking compared to many other modern carriers, and does not provide many service options insurance customers have come to expect today, such as requesting quotes and 24/7 claims reporting.
Bottom Line: Americo Life offers a handful of good solutions for those looking into retirement or Medicare supplements, but there is a high volume of concerning customer complaints across multiple review sites. At the end of the day, it doesn't matter how financially strong an insurance company is, if they fail to deliver quality service and care to their paying customers. As far as we're concerned, you'll most likely want to work closely with your independent insurance agent to survey your other available options before looking into Americo Life to meet your coverage needs.

©2023, Consumer Agent Portal, LLC. All rights reserved.
americo.com
ambest.com
bbb.org
yelp.com
birdeye.com
dnb.com