Ameriprise Insurance Company Review
Ameriprise Insurance at a Glance
Founded in 1894
Offers auto and home insurance
Coverage available in most states and DC
"A" (excellent) rating by A.M. Best
"B+" (good) rating by Better Business Bureau
Strong financial stability
Offers flexible payment options
Offers financial planning services
Offers annuities
Offers estate planning
Insurance also offered through Costco memberships
Ameriprise Financial Pros: Well-established company with more than a century of experience in the insurance industry. Provides insurance policies to both individuals and businesses. Offers multiple types of coverage including auto insurance, home insurance, renters insurance, and umbrella insurance. Offers 24/7 claims reporting via phone. Claims process and discounts outlined on the official website. Good number of discounts available. Flexible billing options available for customers.
Ameriprise Financial Cons: Not all coverages offered in each state where carrier provides insurance. Not a BBB accredited business. Concerning number of recent customer complaints filed through the BBB. Coverage is not offered in every state.
What Type of Insurance Does Ameriprise Financial Offer?
Ameriprise Financial offers a multitude of both personal and business coverages, including:
Auto insurance
Home insurance
Condo insurance
Renters insurance
Umbrella insurance
Specialty insurance
For both businesses and individuals, Ameriprise Financial offers many different types of coverage. Whether you're in the market for protection for your home or vehicle, Ameriprise Financial may just be the right match for you. Also, the carrier offers discounts for bundling your coverages, should you purchase more than one type of insurance through them.
What to Know about Ameriprise Financial
Ameriprise Financial was founded in 1894, making it a well-established insurance carrier with more than a century of experience in offering quality insurance policies and financial services to businesses and individuals alike. Having been around for more than 125 years, Ameriprise's long-term status is both noteworthy and impressive.
Ameriprise's history and massive size has helped it to earn a reputation as an undeniably stable company. Though not all coverages and services are offered in every state, many options are available practically nationwide. The carrier currently offers its products and services in 44 states and DC. The official website boasts that the company currently caters to more than 2 million individual, business, and institutional clients and employs about 10,000 financial advisors across the country.
Ameriprise's long-standing status, amount of in-force insurance, and number of clients served aids the carrier's reputation as a financially stable insurance provider with a strong outlook for the future. A.M. Best, the leading global credit rating agency monitoring the insurance industry, gives Ameriprise Financial an "A" rating, indicating the carrier is an excellent choice for insurance customers. The "A" rating assures customers that Ameriprise Financial is capable of offering guaranteed, secure coverage from a trustworthy and reputable carrier.
Established in 1899, A.M. Best is one of the oldest rating companies in the world. Reviews from A.M. Best indicate an insurance company's financial strength and creditworthiness, and are based on comprehensive evaluations of the company's operating performance, business profile, and balance sheet. For customers who aren't as familiar with insurance companies' reputations, A.M. Best's rating system allows them to make an informed decision about who they can trust to meet their needs in the short term, and also to remain a strong, financially sound company in the long term.
Using our insurance company directory can help you find the best insurance companies that specialize in your specific coverage needs. The company directory can also help you get connected to an agent near you.
What Discounts Does Ameriprise Financial Offer?
Ameriprise Financial offers extremely competitive discount programs for their customers, especially for car insurance. These discounts include: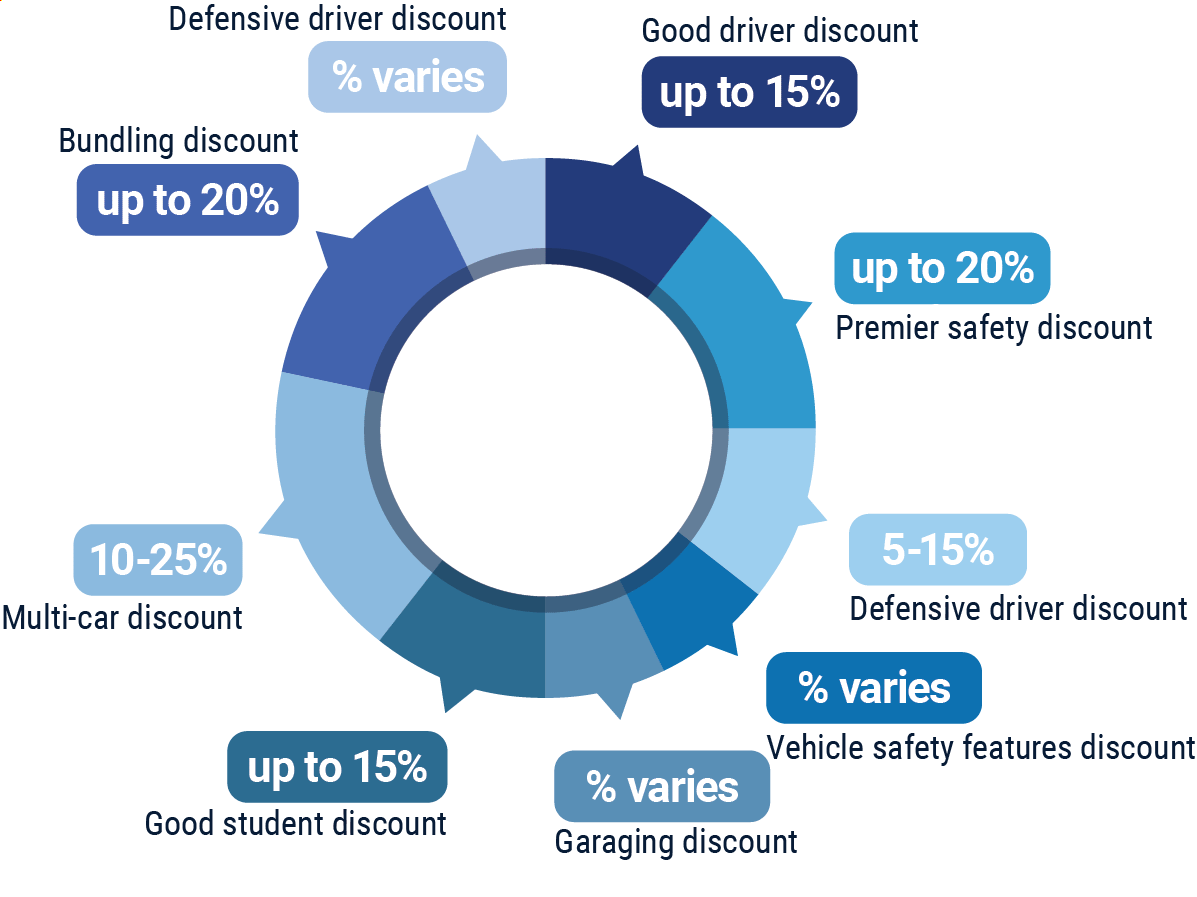 Good driver discount: Available to customers who maintain good driving records. Currently offered in California only.
Premier safety discount: Offered to customers whose driving records are virtually spotless. Customers must have had no traffic violations, accidents, or claims within the past four years.
Defensive driver discount: Available to customers who complete an approved defensive driving course offered by their state's Department of Motor Vehicles or other accredited organization.
Vehicle safety features discount: Available to customers who install safety features such as anti-lock brakes, air bags, automatic seatbelts, and anti-theft devices in their vehicles.
Garaging discount: Offered to customers who keep their vehicles in a garage at night.
Good student discount: Offered to customers who are young drivers and maintain a good grade average.
Multi-car discount: Available to customers insuring multiple cars or multiple drivers under one policy.
Bundling discount: Offered to customers who combine their auto and home, auto and umbrella, or auto, home, and umbrella insurance policies through Ameriprise.
Tenure discount: Offered to customers who have stayed with the company for specific intervals of time.
An independent insurance agent can help you find even more discounts available through Ameriprise Financial, helping you get the most bang for your buck out of your coverage.
Ameriprise Financial Customer Service
Ameriprise Financial allows customers to handle claims over the phone or online, any day of the week. Additionally, the carrier provides the following customer service options:
24/7 claims reporting hotline.
Additional options to file claims via the website, fax, or through email.
Main hotline for customer service has the following hour restrictions:
| | | | |
| --- | --- | --- | --- |
| | | Hours (CT) | |
| | | Monday-Friday | 7:00 am - 10:00 pm |
| | | Saturday | 8:30 am - 7:00 pm |
While Ameriprise Financial offers plenty of direct contact options, the easiest way to get set up with the right coverage for you is through working with an independent insurance agent. These agents also help handle claims and insurance concerns for you, making customer service even easier.
Find The Right Company Today.
Shopping for a company? We have the right one for you.
Ameriprise Financial FAQ
What is Ameriprise Financial's average claims response time frame?
Ameriprise Financial's claims reporting hotline is available for customers in need 24/7. Customers can also submit claims and file appropriate reports online through the website or via fax or email. The carrier promises to contact customers within one business day of filing a claim.
What is Ameriprise Financial's customer service availability?
Ameriprise Financial offers a phone line for prospective and current customers to get in touch with them during slightly restricted hours, Monday-Saturday. However, the carrier's claims reporting department can be reached 24/7 and inquiries can be made online at any time.
What is Ameriprise Financial's claims process?
Ameriprise breaks down their claims process in a way that's easy to follow. Ameriprise states that claims adjusters for home insurance claims in need of assessment will be in touch with customers within 48 hours of filing. The company promises that adjusters will schedule home inspections within three days of when a claim is filed.
Does Ameriprise Financial create a user-friendly experience for customers?
Ameriprise Financial's website is one of the most intuitive and easy-to-navigate carrier websites across the board. All of the website's information is organized logically and can be found quickly. Customers can file claims, request quotes, and learn what types of coverage are available through the official website. Prospective customers can also find information about the carrier's many discounts on different types of coverages right through Ameriprise Financial's website. The carrier also has a presence on Facebook and Twitter, making itself even more available to customers. A mobile app is also available for smartphone users.
Ameriprise Financial Customer Reviews
Value Penguin

"We recommend Ameriprise for its solid auto and home insurance coverage, generally cheap rates and the practical endorsements you can use to supplement your coverage. While you might be able to find comparable rates and better coverage from other companies, Ameriprise will suit the needs of most people. Its customer service reputation is decent but can vary somewhat depending on what you're insuring. Ameriprise home insurance policyholders tend to get better customer service than their auto insurance counterparts."
Consumer Affairs

"I get my insurance through my Costco membership & I OFTEN refer others to Ameriprise (you don't have to be Costco member but it costs slightly less & has more benefits when you are). Has been very competitive & customer service has always been very helpful & friendly. My last car caught on fire while on a trip to neighboring state & the adjuster made the process easy to deal with (I was all shook up & had no idea what to do next. He helped me through it all & never made me feel like I was a bother)...& took care of everything in a very timely manner."
Consumer Affairs

"I switched to this carrier and have been pleasantly surprised at the savings and the quality of the service. They were faster to help me on the phone than my previous (nationally known) carrier - I had that previous plan through a broker. This I got through Costco. The coverage is identical but I am saving money each month."
Consumer Affairs

"Walter is an excellent financial advisor. There is no judgment and no, "you spent how much money on a mountain bike?!" Instead, he works with you to get you to the point where you realize that when you are able to save money and get your financial life in order, you can get a clearer picture of options, and scenarios for all of your next steps in life, mortgages, going back to school, retirement,
Consumer Affairs

"Great customer service. Handled my claim very well. Always easy to reach someone when I need to call them."
TrustedChoice.com's Final Review

We award Ameriprise Financial a final rating of 4.5 out of 5 stars. The carrier not only has a well-established history, but also has impressive financial stability, which makes them a top contender within the insurance industry. Ameriprise offers multiple types of coverage across most states, making them a noteworthy choice for many different kinds of prospective insurance customers. The carrier also makes information about their discounts readily available through their official website, a courtesy not all insurance companies offer. High ratings through both A.M. Best and the Better Business Bureau help to assure customers that Ameriprise offers quality and trustworthy insurance products and financial services. However, the carrier's lack of accreditation through the BBB and a concerning number of customer complaints through the organization could cause some prospective customers to doubt their credibility. Finally, Ameriprise's extremely intuitive official website and user-friendly online, mobile, and phone presence helps the carrier earn its well-deserved place among our top picks.
©2023, Consumer Agent Portal, LLC. All rights reserved.
ameriprise.com
ambest.com
bbb.org
https://clearsurance.com/insurance-reviews/ameriprise-auto-and-home-insurance-costco-593ed9d477902c71361ed501
https://www.yelp.com/biz/acuity-insurance-sheboygan
https://www.consumeraffairs.com/finance/ameriprise.html