Colonial Life Insurance Company Reviews
Colonial Life Insurance Company at a Glance
Founded in 1937
Offers employee benefits
Offers multiple types of coverage
Specializes in life insurance
"A" (excellent) rating by A.M. Best
"A+" (excellent) rating by Better Business Bureau (BBB)
A highly respected name in the life insurance market
Strong financial stability
Online claims reporting
Colonial Life Pros: Well-established carrier with multiple decades of experience in the insurance industry. Provides multiple types of coverage including life insurance, accident insurance, cancer insurance, and more. High ratings through A.M. Best and the BBB. Strong financial stability.
Colonial Life Cons: Not a BBB accredited company. No official claims response time frame promise. Official website could use an upgrade. Mixed customer feedback. Concerning volume of complaints filed against the carrier through the BBB.
What Types of Insurance Does Colonial Life Offer?
Colonial Life focuses on life insurance and employee benefits insurance. Their coverage offerings include:
Accident insurance
Cancer insurance
Critical illness insurance
Dental insurance
Disability insurance
Hospital confinement indemnity insurance
Life insurance (term, universal, and whole)
If you're in the market for any of these coverages, Colonial Life may be just the right insurance company for you.
What to Know about Colonial Life Insurance Company
Colonial Life was founded in 1937, under the name Mutual Accident Company. A subsidiary of the Unum Group, the carrier has become one of the leading voluntary benefits providers in the US today. Colonial Life has also been recognized as an industry leader in new insurance sales, ranked second overall for whole and universal life insurance, short-term disability insurance, and cancer insurance.
Colonial Life has expanded its network to more than 10,000 independent insurance agencies and brokerages and more than 1,000 home insurance office professionals. The carrier's official website states that it currently has more than three million policyholders and $1.5 billion of insurance in force. About 90,000 employers reportedly currently trust Colonial Life with their coverage needs.
Thanks to its long-standing history, wide network, and amount of in-force insurance, Colonial Life has developed a reputation as a financially stable insurance company with a positive outlook for the future. A.M. Best, the leading global credit rating agency monitoring the insurance industry, gives Colonial Life an "A" rating, indicating the carrier is an excellent choice for insurance customers. A high rating from A.M. Best assures customers that Colonial Life is capable of offering guaranteed, secure coverage from a trustworthy and reputable carrier.
Established in 1899, A.M. Best is one of the oldest rating companies in the world. Reviews from A.M. Best indicate an insurance company's financial strength and creditworthiness, and are based on comprehensive evaluations of the company's operating performance, business profile, and balance sheet. For customers who aren't as familiar with insurance companies' reputations, A.M. Best's rating system allows them to make an informed decision about who they can trust to meet their needs in the short term, and also to remain a strong, financially sound company in the long term.
What Discounts Does Colonial Life Offer?
While Colonial Life does not make information about their specific discounts readily available, most life insurance companies today offer several common discounts on comparable coverages. These discounts often include: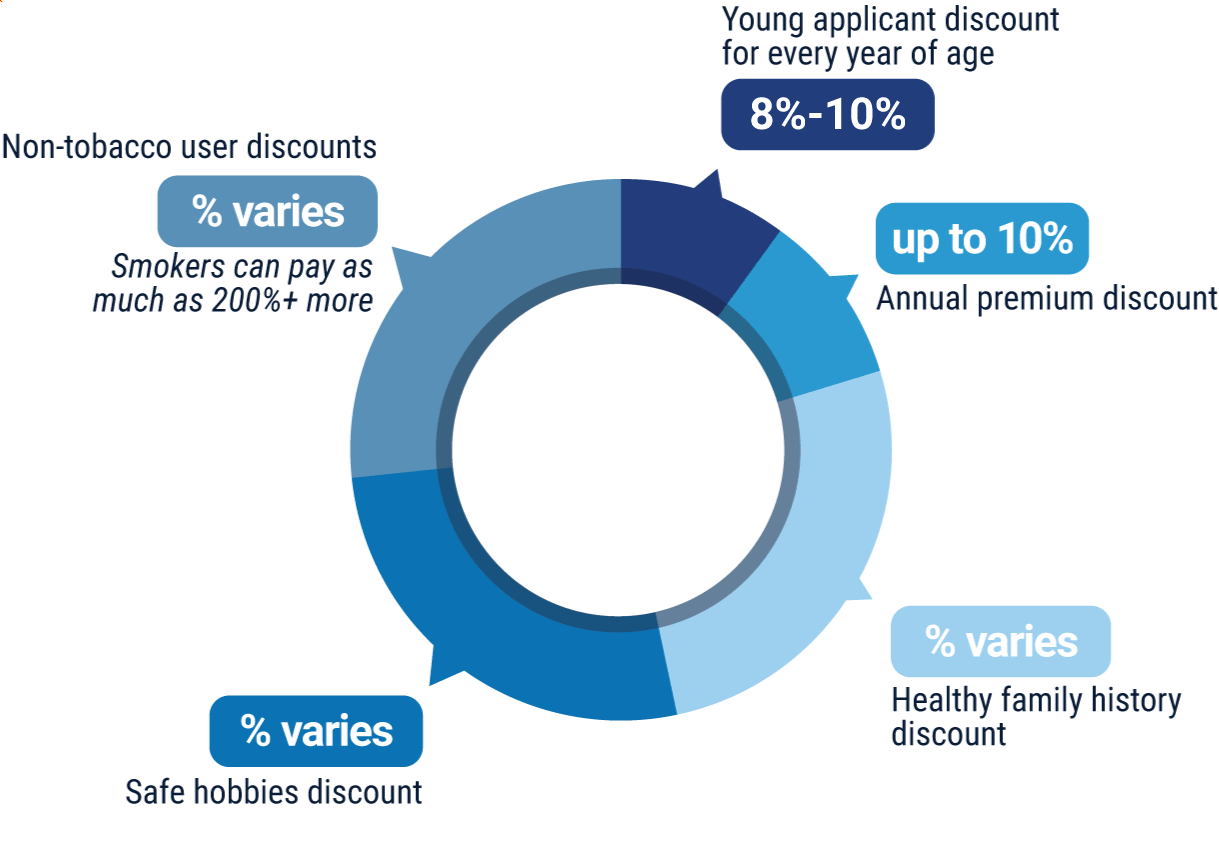 Young applicant discount: When signing up for life insurance, considerable discounts are often awarded to applicants who purchase coverage when they are younger, such as in their 20s or 30s.
Annual premium discount: Insurance companies often award discounts to customers who pay their premiums annually instead of monthly.
Healthy family history discount: Life insurance companies also reward applicants with healthy genetics, or a good family health history.
Safe hobbies discount: Life insurance companies often award customers who practice safe, non-life threatening hobbies (e.g., no skydiving) with cheaper premiums.
Non-tobacco user discount: Life insurance companies tend to reward customers who do not use tobacco products with cheaper premiums.
Your independent insurance agent can help you find more information on exact discounts offered by Colonial Life and other ways to save money through the insurance company, helping you to get the most bang out of your buck on coverage.
Find The Right Company Today.
Shopping for a company? We have the right one for you.
Colonial Life Insurance Company Customer Service
Colonial Life allows customers to file claims through the website at any time. The carrier also provides the following customer service options:
Online claims reporting available.
Fax claims reporting available.
Snail mail contact options available.
General contact inquiries form available through the website.
Main customer service hotline has the following hour restrictions:
| | | | |
| --- | --- | --- | --- |
| | | Hours (ET) | |
| | | Monday-Friday | 8 am - 8 pm |
Colonial Life sells insurance through a wide network of agents and brokers, including independent insurance agents. These agents can help make customer service easier for you by handling claims and other concerns.
Colonial Life Insurance Company FAQ
What is Colonial Life's average claim response time frame?
Colonial Life allows customers to file claims through the official website or via fax at any time. However, the carrier does not provide a specific claims response time frame promise. They do state that customers can access their benefit payouts within 48 hours if they've signed up for direct deposit.
What is Colonial Life's customer service availability?
Colonial Life does not provide claims reporting via phone. Their customer service hotline is available during restricted hours, Monday-Friday. The carrier also has a social media presence on Facebook, Twitter, and LinkedIn, making them a bit more accessible to customers.
What is Colonial Life's claims process?
Colonial Life provides online claims reporting as well as fax claims reporting options for their customers. The insurance company does not list their official claims process on their website beyond how to file. Customers can call the carrier if they have questions about how to file. Forms are available on the website to make claims filing easier. After filing, customers can check a claim's status by logging into their account through the website, or they can contact their insurance agent.
Does Colonial Life create a user-friendly experience for customers?
Colonial Life's official website leaves much to be desired. The layout feels a bit restrictive, and certain pieces of pertinent information are not included, such as an official claims response time frame promise. There is also not much detail at all in the way of a claims process from the carrier. While customers can file claims and get matched with an agent online, they have to call the insurance company to request a quote. The carrier does have a social media presence across multiple platforms. Overall, Colonial Life provides a decent experience for customers in terms of user-friendliness, but certainly has a ways to go to catch up to that provided by many other modern insurance companies.
Does Colonial Life have good life insurance?
Colonial Life specializes in life insurance. They offer adjustable term, whole, and universal life insurance policies for everyone, including employees, spouses, and children. Some of Colonial Life's policies offer guaranteed coverage. The company also allows you to transfer your policy if you switch jobs, which is a nice pro. However, certain policies require a medical exam before being approved. Customers have also reported frustration with difficulties in getting their policies canceled.
Your independent insurance agent can help you find out more about Colonial life insurance policies, as well as their other products.
Is Colonial Life a good insurance company?
Colonial Life has earned a reputation as being one of the most respected insurance companies offering life insurance in the US. The carrier has received high ratings through A.M. Best and the BBB and has demonstrated consistent financial strength. Millions of insurance customers currently rely on Colonial Life to meet their coverage needs. However, the carrier is not accredited through the BBB and has a concerning number of complaints filed against them through the organization. It may be up to individual interpretation whether Colonial Life can be considered a good company.
Colonial Life Insurance Company Customer Reviews
Consumer Affairs

"I have had Colonial Life for several years (over 15). I have filed cancer, sickness, and accident claims and have always got prompt settlements. I received notifications when my claim was received and also when they mailed the payments. The mail claims that I sent were usually about a 10-14 day turnaround and the faxed claims were about half that. I am very pleased with Colonial Life and would recommend it to anyone."
Consumer Affairs

"So I ran into a wall while playing laser tag. Ended up breaking a tooth that needed a root canal and a crown. My Colonial accident plan paid me 300 dollars more than my Aflac Accident plan and the best part is it is half the price! Both checks arrived within 2 days of each other. The nice part was I got 2 emails from Colonial updating me on my status of the claim."
Consumer Affairs

"It seems like just as with any company some people are extremely incompetent and some are not. It took me 17 days to finally get my claims approved and I really, really needed the money. I think the trick is to just continue asking for someone else to help you. As with all companies some people know how to do their job and some people are extremely stupid."
Yelp

"Doesn't pay out on claims ... Drag out processing for weeks and then decline the claim … Waste of money ... How do you deny a chainsaw injury claim on an accident policy ... oh wait, guess it wasn't an accident ... Get real accident insurance from a better company in my opinion. Zero stars ...
Yelp

"Save your money and use any other insurance company as this one will do nothing for you .They refuse to send policies out in any other way than regular mail and tell you not to expect it before 10 days. Then when it doesn't show up they only offer to 'try' and resend it. They don't care at all about customers, and have no management or service skills."
TrustedChoice.com's Final Review

We award Colonial Life Insurance a final rating of 3 out of 5 stars. The carrier has had many decades of experience in the insurance industry, which is certainly noteworthy, as are their high ratings through both A.M. Best and the BBB. However, the company is not accredited through the BBB, and has had a high volume of complaints filed against it in recent years. The fact that Colonial Life is one of the most respected names in the nation among life insurance companies is very respectable, but customer reviews are mixed across the board. While Colonial Life offers online claims reporting, it does not provide a claims reporting hotline for its customers, which is a service offered by most other modern carriers. The company's official website also leaves quite a bit to be desired in terms of both layout and detail.
Bottom Line: Colonial Life has made quite a name for itself over the years. While the carrier has an impressive number of policyholders and a lot of in-force insurance, what we're most concerned about is whether an insurance company takes care of its customers and delivers on its coverage promises. Thanks to the extremely mixed customer feedback across the web, it seems impossible to determine whether Colonial Life responds to claims in a timely fashion or offers the payouts its customers rely on. If you're looking for an insurance company known for its financial strength and history, Colonial Life may be a good match for you. However, we say don't skip exploring your other options with your independent insurance agent first before choosing Colonial Life as your trusted carrier, especially if customer service is important to you.
©2023, Consumer Agent Portal, LLC. All rights reserved.
coloniallife.com
ambest.com
bbb.org
consumeraffairs.com
yelp.com
thebalance.com
reviews.com