Delaware Life Insurance Company Review
Delaware Life Insurance Company at a Glance
Founded in 1970
Specializes in annuities
Also offers life insurance coverage
Coverage available in 49 states
"A" (excellent) rating by Better Business Bureau (BBB)
"A-" (excellent) rating by AM Best
"BBB+" (stable) rating by Standard and Poor
Offers retirement planning solutions
Strong financial stability
Delaware Life Pros: Carrier has 50 years worth of experience in the insurance industry. It has high ratings through both AM Best and the BBB and a stable rating through Standard and Poor. It has strong financial stability. It offers several annuity options. It has an Impressive number of in-force insurance policies, and coverage is offered in most states.
Delaware Life Cons: This is not a BBB accredited business. There are a concerning number of customers complaints filed against the carrier within recent years and a concerning volume of negative customer reviews across multiple websites. Customers report frustration in having claims approved. There is no official claims response time frame promise. No 24/7 claims reporting or online filing is available and no term life policy options.
What Type of Insurance Does Delaware Life Offer?
Delaware Life is a specialized insurance company with a strong focus on annuities. Their coverage offerings include:
Executive variable universal life insurance
Prime variable universal life insurance
Various annuity options
Delaware Life offers several options for those in the market for annuities and a couple of choices still for those looking for life insurance coverage. If you're ready to start planning for retirement or otherwise taking charge of your finances in advance, Delaware Life may have the solution you're seeking.
What to Know about Delaware Life
Delaware Life was founded in 1970. With 50 years worth of experience in the insurance industry under their belt, Delaware Life has established itself as a reputable carrier capable of offering quality products and solutions. The carrier currently offers only two life insurance policy options, but several types of annuities. Coverage is available in all states except New York, and it is not offered in DC.
As of 2020, Delaware Life has $40.1 billion in assets. The carrier currently has more than 340,000 life insurance policies and annuities in force. Delaware Life also reportedly has nearly $14 billion in invested assets, and $38.5 billion in liabilities.
Delaware Life's half-century history, amount of in-force insurance, and strong rankings help the carrier earn its reputation as a financially stable insurance provider with a strong outlook for the future. AM Best, the leading global credit rating agency monitoring the insurance industry, gives Delaware Life an "A-" rating, indicating the carrier is an excellent choice for insurance customers. The "A-" rating assures customers that Delaware Life is capable of offering guaranteed, secure coverage from a trustworthy and reputable carrier.
Established in 1899, AM Best is one of the oldest rating companies in the world. Reviews from AM Best indicate an insurance company's financial strength and creditworthiness, and are based on comprehensive evaluations of the company's operating performance, business profile, and balance sheet. For customers who aren't as familiar with insurance companies' respective reputations, AM Best's ratings system allows them to make an informed decision about who they can trust to meet their needs in the short term, and also who will remain a strong, financially sound company in the long term.
What Discounts Does Delaware Life Offer?
While Delaware Life does not readily provide information about their discount offerings to prospective customers through their website or direct inquiries, there are several common discounts on life insurance offered by many other carriers. These discounts include: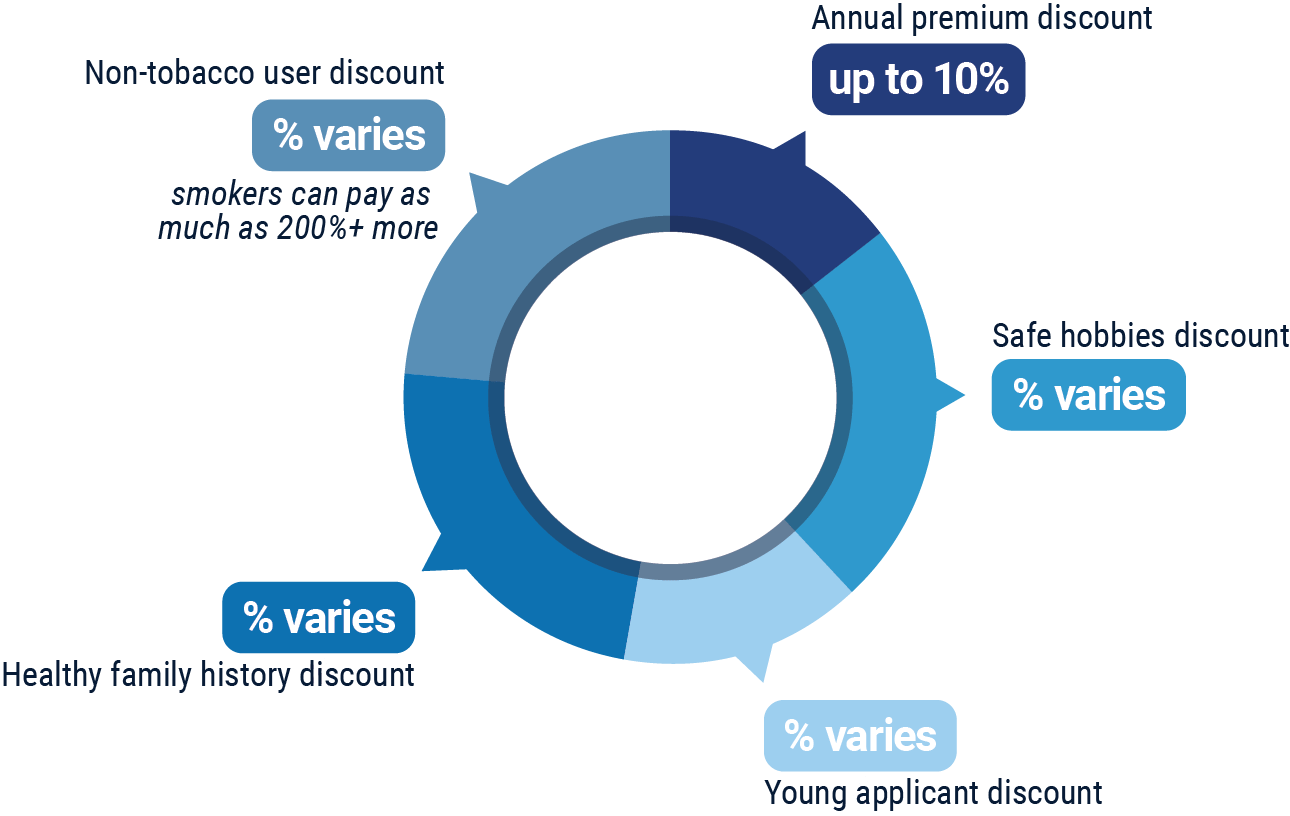 Annual premium discount: Insurance companies often award discounts to customers who pay their premiums annually instead of monthly.
Safe hobbies discount: Life insurance companies often award customers who practice safe, non-life threatening habits (e.g., no skydiving) with cheaper premiums.
Young applicant discount: When signing up for life insurance, considerable discounts are often awarded to applicants who purchase coverage when they are younger, such as in their 20s or 30s.
Healthy family history discount: Insurance companies also reward applicants with healthy genetics, or a good family health history.
Non-tobacco user discount: Life insurance companies tend to reward customers with cheaper premiums who do not use tobacco products.
An independent insurance agent can help you find more exact discount information and premium quotes for coverage through Delaware Life. When it comes to coverage, independent insurance agents work hard to help to get you the most bang out of your buck.
Delaware Life Customer Service
Delaware Life handles most customer inquiries via phone and regular mail. The carrier provides the following customer service options:
Email options available for customer support inquiries.
Main hotline for customer service has the following hours restrictions:
| | | | |
| --- | --- | --- | --- |
| | | Hours (EST) | |
| | | Monday-Friday | 8:30 am - 6:00 pm |
While Delaware Life offers direct contact options, the easiest way to get set up with the right coverage for you is through working with an independent insurance agent. Independent insurance agents also handle claims and other insurance concerns for you, helping to make customer service even easier.
Find The Right Company Today.
Shopping for a company? We have the right one for you.
Delaware Life FAQ
What is Delaware Life's average claim response time frame?
To begin with, Delaware Life only accepts claims filed via snail mail, which slows the process down considerably compared to many other modern insurance carriers that offer online filing, or 24/7 filing via phone. The carrier's official website has no mention of any specific time frame in which they will respond to claims, but customers report frustrating, lengthy delays in hearing back from Delaware Life after filing.
What is Delaware Life's customer service availability?
Delaware Life offers a phone line for prospective and current customers to get in touch with them at restricted hours, Monday through Friday. The carrier does not offer a 24/7 hotline for claims reporting, however, they do provide an email address for additional customer service inquiries.
What is Delaware Life's claims process?
Delaware Life accepts claims via regular mail. The official website does not list a specific step-by-step process, but claims forms are available for customers to download through their online account. From there, customers can print the forms and send them to the appropriate mailing address provided on the website.
Does Delaware Life create a user-friendly experience for customers?
The carrier's official website feels a bit dated and bare-bones. Certain pertinent information is not listed or readily available to current or prospective customers, such as a FAQ about the carrier's claims processing — a courtesy provided by many modern insurance companies. Customers are also unable to file claims online, which sets Delaware Life quite a ways into the past when compared to many other carriers today. Delaware Life also does not provide options to request quotes or get matched with an agent through their website. The carrier does have a social media presence on Facebook, which makes them more available to customers, but it does not appear that the page is very active or responsive. The carrier also does not provide a mobile app for smartphone users, making them seem even more dated.
Delaware Life Customer Reviews
Yelp

"Don't! Just don't use them!! I had nothing but problems with them since the day I started. They will make it impossible to access your own money while they find all kinds of ways to impose fees. They told me the date my account would be out of surrender. When the day came and I transferred to Fidelity they charged me $1,600 anyway. Zero stars would be more accurate."
Yelp

"Horrible company, horrible service and just bad. Every time I call I am put on hold and transferred to different departments. My 90-year-old mother somehow ended up with this company and we are just trying to get her money sent to her. Every time I call they have another excuse why the check hasn't been cut. In the meantime she is accruing over draft charges, etc. They should not be in business.
THEY DO NOT DESERVE EVEN ONE STAR!"
Indeed

"Delaware Life was created when private equity investors purchased a block of business from Sun Life Financial. The company started with over 500 employees and is downsizing to less than 200. The outsourcing of jobs has been a complete disaster. Management is ineffective at best, but mostly appears clueless. Customer service has been horrendous. Annuity policy holders and agents have been waiting on hold for 45 minutes just to speak to a customer service representative. Many life insurance policies still have not received their anniversary statement which are being sent out several months late."
Better Business Bureau

"I can't see how Delaware Life could possibly have an A+ rating when they only have negative reviews. I feel they are working very hard at scamming people out of their money. I have had nothing but problems with this company from the day I started. They make it very difficult to access money (ignoring my requests) and have all sorts of fees. Navigating both customer service and the website are both horrible. On numerous occasions I confirmed when one of my accounts would be of surrender. On the date they gave me I transferred my money, they withheld $1,600. When I logged onto my account to see what the fee was for my account had totally disappeared. When I finally spoke to someone they had been dishonest about the initial information. I can't believe this company is even legal. Do not use this company. I can't wait to close my remaining account."
Better Business Bureau

"I can't understand all the bad reviews. I have never had a problem with them for just about 5 years now???? But hope things straighten out for people who were thought they were short changed."
TrustedChoice.com's Final Review

We award Delaware Life a final rating of 2 out of 5 stars. The carrier has been around for half a century now, which proves them capable of offering reputable life insurance coverage and annuities to many folks across the country. High ratings through the BBB and AM Best and noteworthy financial strength are also major pros within the insurance industry. However, a concerningly high volume of customers seem upset with their coverage, not having claims approved, and failing to get a response from the carrier after initiating contact. Customer reviews are dismal across the board, and there have been 21 complaints filed against the carrier through the BBB within the past three years. The carrier's website also leaves much to be desired, as does their customer service availability and claims process.
Bottom line: While offering coverage practically nationwide and having verifiably high financial strength ratings are major selling points for insurance carriers, what it really boils down to is whether the company is delivering on the promises they make to their customers. With such a high volume of customer complaints, we can't help but recommend that you work closely with your independent insurance agent to explore your other options for life insurance or annuities first, before considering Delaware Life.
©2023, Consumer Agent Portal, LLC. All rights reserved.
delawarelife.com
ambest.com
bbb.org
yelp.com
indeed.com