Does Homeowner Liability Coverage Protect You if a Neighbor Is Bitten by Your Dog?
(And other important insurance coverage for homeowners)

As a homeowner, you're responsible for what happens on your property and the actions of any living thing on your property, including your dog. Whether you have a 10-pound Chihuahua or a 110-pound Labrador Retriever, any furry family member can decide they don't like someone visiting your home and act out. So the question becomes, will your homeowners insurance cover you if Fido is having a bad day? We'll tell you. We'll also tell you if you're covered.
Fortunately, an independent insurance agent understands all the risks involved with being a homeowner and can help you prepare for potential risks like unexpected dog bites. Even if your dog has no history of biting, an independent agent can help you prepare for the "just in case." Here's how they can help you find the right protection when you need it.
What Happens if My Dog Bites the Neighbor?
To start, you could get sued. Dog bites are nothing to take lightly, and while you might get lucky if the bite isn't too bad or if the neighbor is willing to write the bite off as an accident, a bad bite or full-on attack could lead to your neighbor seeking monetary action.
There are three types of law that hold dog owners liable:
A dog-bite statute: You're liable for injuries or property damage that is caused by your dog, whether it was provoked or not.
One-bite rule: You're responsible for any injuries or property damage caused by your dog if you knew the dog was likely to bite or attack. In this case the neighbor has to prove that you knew the dog was dangerous.
Negligence laws: You're liable if it's determined that your dog bit the neighbor as a result of your careless (negligent) care of the animals.
In addition to your neighbor suing you for the cost of medical bills, if your dog has a history of aggressive behavior or if the bite is bad enough, the neighbor could push for the animal to be removed from the home.
According to the Center for Disease Control, it's predicted that 4.5 million people are bitten by dogs each year, and that's just the number based on those who report the bite. Unfortunately, the most common age range for dog bites are children ages 5 to 9. As a dog owner, it's responsible not only to understand the risks of your dog biting someone but also where your insurance might be able to help you if it happens.
What Insurance Is Going to Help Protect Me if My Dog Bites My Neighbor?
It's never fun to deal with a dog bite, but dogs are animals and accidents happen. As a pet owner, and since your dog doesn't have the financial means to pay for its own actions, it's your responsibility to pay the medical bills if your dog bites someone.
The good news is that most homeowners and renters insurance will cover if your dog bites the neighbor or any other person. Usually, the coverage is up to the liability limits, which typically are between $100,000 and $300,000. However, many factors go into having the proper coverage including where you live, your type of dwelling, your dog's breed, and your dog's behavioral history.
If you don't own a home and have homeowners insurance or if you're renting and don't have insurance, you're stuck having to pay for the claim yourself. The average cost of a dog bite claim ranges from $20,000 to $50,000.
Can Liability Really Help in This Situation?
Yes! If your neighbor is bitten by your dog and it's a covered incident under your homeowners policy, then your liability coverage will protect you. Whether the claim goes to court or your neighbor just wants you to pay their medical bills, your liability insurance covers you in the following ways:
Payment of legal fees: If your neighbor decides to sue, you'll need to get a lawyer. Whether or not you end up in court, fighting a claim can be costly. Homeowners liability insurance will reimburse you for attorney fees and court fees should the claim end up that way. It will also pay for any settlements if you're found responsible for the dog bite.
Payment of medical bills: As previously mentioned, the average dog bite claim ranges from $20,000 to $50,000. Liability insurance will cover any medical bills and fees associated with the bite.
Payment for property damage: Let's say your neighbor is also a photographer and is at your house taking family portraits. Your dog isn't a fan of the flashing camera and lashes out at your neighbor biting their arm and causing the expensive camera to fall and break. Liability insurance will cover to replace the damaged property.
Umbrella Coverage for Homeowners
Simply put, umbrella insurance extends your liability coverage's limits by increasing the dollar limit of liability coverage. Depending on your home and other factors, you may want to consider umbrella coverage to help extend your liability limits. If a dog bite is bad, medical bills and potential legal fees can be pretty pricey, but umbrella insurance will help. Your umbrella insurance limits usually cover up to a total of $1 million in addition to your homeowners liability limit.
Even if you think your liability insurance limit is enough, imagine if a dog bite results in hospitalization, care, and rehabilitation. Your homeowners insurance can max out quickly. In this case, your umbrella policy covers the excess. In 2019 alone, dog-related injuries cost homeowners insurers $797 million.
Other Common Home Insurance Claims
While dog bites are one of the most common home insurance claims, they're not the only risks that homeowners deal with. Property damage accounts for 98% of losses for homeowners. For the 5.6% of home insurance claims filed between 2014 and 2018, 2.3% of the claims were a result of wind and hail damage. Other property damage is caused by:
Fire and lightning
Water damage and freezing
Theft
Homeowners Insurance Losses By Cause, 2014 to 2018 (1)
(Percent of losses incurred)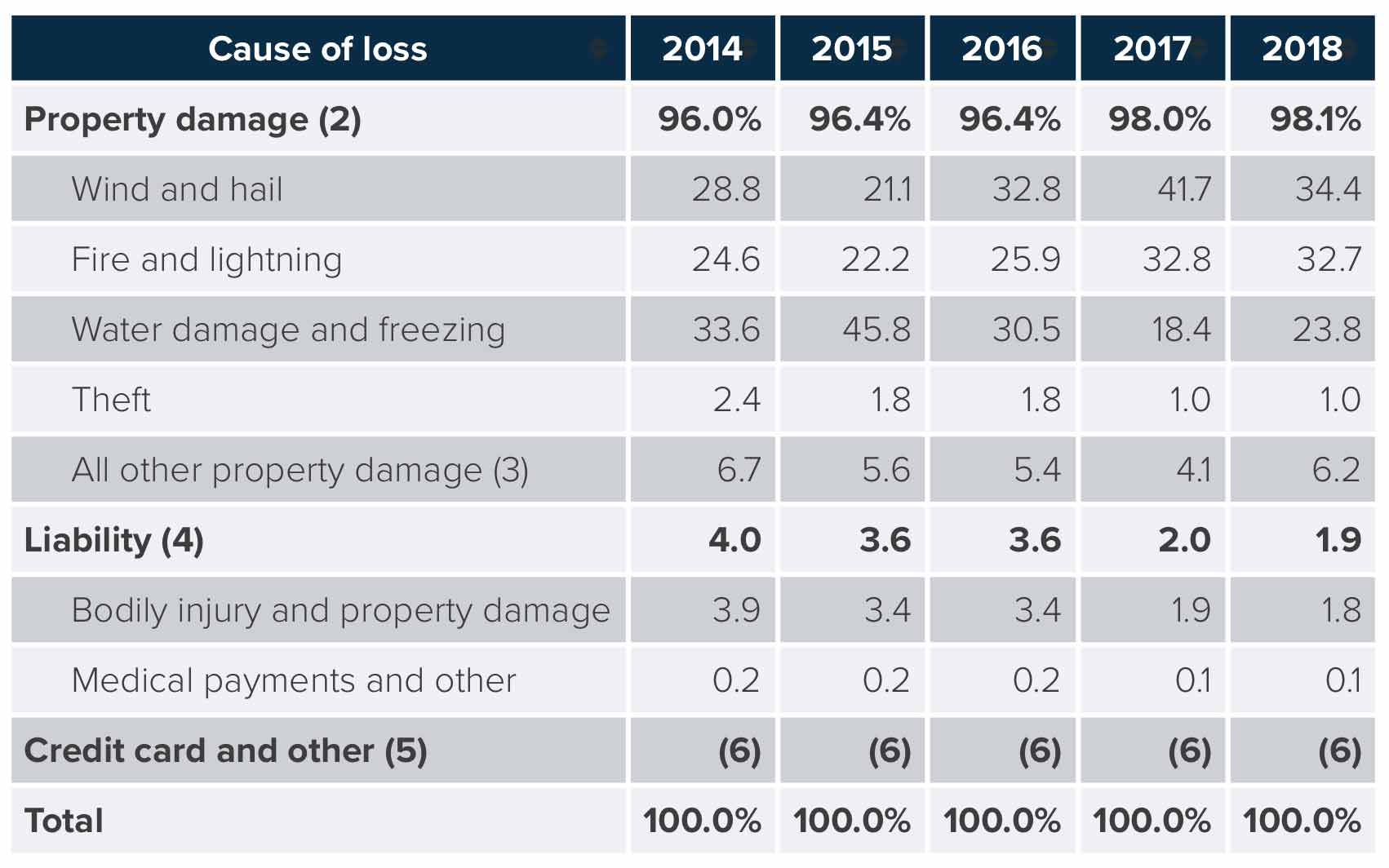 (1) For homeowners multiple peril policies (HO-2, HO-3, HO-5, and HE-7 for North Carolina). Excludes tenants and condominium owners policies. Excludes Alaska, Texas, and Puerto Rico.
(2) First party, i.e., covers damage to policyholder's own property.
(3) Includes vandalism and malicious mischief.
(4) Payments to others for which policyholder is responsible.
(5) Includes coverage for unauthorized use of various cards, forgery, counterfeit money, and losses not otherwise classified.
(6) Less than 0.1 percent.
Source: ISO®, a Verisk Analytics® business.
Do I Need Extra Endorsements to Protect Me?
When it comes to dog bites, you don't need any endorsements to your home policy. However, there are a variety of other scenarios where a home insurance endorsement can come in handy.
Homeowners often purchase the following coverages in addition to home insurance:
Home-based business endorsements: While standard homeowners policies protect against third party injuries on your property, you're not protected if you run a business out of your home. You'll need to add this endorsement if you have a home office or studio in order to ensure you have adequate liability coverage.
Personal property endorsements: Standard homeowners policies place limits on expensive personal property items like jewelry and electronics. If you're worried about these items getting stolen, lost, damaged, or destroyed, it's a good idea to purchase endorsements for specific pieces you'd like to increase coverage limits for.
Sewer backup endorsements: Homeowners insurance protects you against a lot of things, but typically sewage backup isn't one of them. While this incident would be messy enough in the first place, not having coverage would really be a nightmare. Talk with your independent insurance agent about adding a sewer backup endorsement to your coverage.
Flood insurance: Many natural disasters are covered under standard homeowners insurance policies, but floods aren't one of them. If you live in an area prone to flooding, you'll want to purchase a flood insurance policy to protect your home against damage or destruction due to flood waters.
Earthquake insurance: Also known as earth movement policies, this coverage protects homeowners against home damage due to earthquakes, mudslides, and other related natural events. Standard homeowners policies do not provide coverage for these types of disasters.
Your independent insurance agent can help you address any remaining coverage concerns you may have. They'll make sure you get set up with all the protection you could possibly need against many different kinds of unforeseen disasters.
What Can I Do If I Don't Have Homeowners or Renters Insurance?
If you don't have homeowners or renters insurance but want coverage in case of a dog bite, you can look into animal liability insurance. Animal liability insurance provides coverage in case your homeowners policy is not enough or if your dog is not covered by your insurance policy.
Some insurance policies will not provide coverage for breeds that are considered "bully breeds." Depending on the insurance company, any of the following breeds may be considered high-risk:
Pit Bull Terriers
Staffordshire Terriers
Rottweilers
German Shepherds
Presa Canarios
Chows Chows
Doberman Pinschers
Akitas
Wolf hybrids
Mastiffs
Cane Corsos
Great Danes
Alaskan Malamutes
Siberian Huskies
If your dog has a history of biting people, it may also be harder to obtain coverage from your homeowners policy which is where animal liability insurance can help.
What if My Dog Bites My Neighbor while in the Car?
If your dog decides to bite your neighbor while you're all in a car together, there's a chance your car insurance policy will cover the bite. It's also common that your homeowners policy will extend to your vehicle, so you may find your homeowners and your car insurance policyholders in a battle between who's in charge of incurring the loss.
Here's How an Independent Insurance Agent Would Help
When it comes to dog bites and other home-related insurance risks, an independent insurance agent is the best person to make sure you have the proper protection. They search through multiple carriers to find providers who specialize in this type of insurance, deliver quotes from a number of different sources, and help you walk through the quotes to find the best blend of coverage and cost.
©2023, Consumer Agent Portal, LLC. All rights reserved.