Vacation Home Insurance
The proper protection can help bring peace of mind, so you can relax and enjoy your property.

Your vacation home might serve multiple purposes. Maybe it's where you enjoy a quiet getaway a few times each year, or maybe you rent it out so others can do just that. Or perhaps your vacation home serves both of these purposes. But regardless of the role a vacation home plays, it still faces plenty of hazards on a daily basis, and it needs to be protected.
Fortunately, there's something called vacation home insurance to get the job done right. An independent insurance agent can help you get set up with all the vacation home insurance your property needs. For starters, though, here's a closer look at the ins and outs of this coverage.
What Is Vacation Home Insurance?
A vacation home insurance policy is designed to provide coverage for your secondary property. It's also known as seasonal home insurance or secondary home insurance, depending on your intended usage of the property. Vacation home insurance covers property damage, liability claims, burglary, recreational vehicles, and more, depending on the conditions of your policy.
Vacation home insurance is a type of homeowners insurance designed to cover the unique needs of a vacation home, from adverse weather (especially if your home is near the beach) to the extra risks of crime and vandalism in a home that you occupy only part-time.
Sometimes this coverage is an extension of your homeowners insurance on your primary residence. Other times, it's a separate policy. If you offer your vacation home for rent with services like Airbnb, your vacation home insurance should also include business insurance since business use is explicitly excluded from regular homeowners insurance coverage.
How Do Insurers Define a Vacation Home?
A vacation home earns that classification if it's used for vacations or other recreational purposes and is a dwelling other than the primary residence used for daily living. Vacation homes tend to be vacant for a good portion of the year and may be rented out to other guests while the owner resides elsewhere. Because of their unique usage, vacation homes require their own insurance policy.
Risk Factors for Your Vacation Home
As with any property, it's important to consider the risks and the insurance costs that come with them. Some of the insurance risks of vacation homes include:
Property type: Just as there are different vacations, there are different styles of vacation homes. From a one-room cabin in the mountains to a multi-level complex near the beach, the type of vacation home plays a significant factor in what risks may be present. Even vacant land with minimalist structures can be problematic.
Amenities: What may add value to your vacation home may also make it more dangerous. A hot tub can open your vacation home to a lawsuit should a guest slip and fall. Recreational vehicles, such as ATVs and rowboats, are also problematic, even if guests are not permitted to use them.
Location: Your property may be located in a remote area without easy access to emergency services, or it may be in a highly populated area, making it susceptible to crime.
Rentals: Renting your property opens it up to risks for your guests. Landlords need to have vacation rental home insurance, which is specifically designed to minimize risks, just like for any other rental home.
Value: Unsurprisingly, more expensive vacation homes will cost more to insure, while cheaper ones will cost less.
Building materials and design: The cheaper your home is to replace, the cheaper it will be to insure. Unique or artistic design elements will raise costs because they are more difficult or impossible to replace fully. Additionally, a home made of sturdier materials will be cheaper to insure since it's at a lower risk of damage.
Size: Larger homes are typically more expensive to replace, driving up the cost. Alternatively, a tiny vacation home could have a higher fire risk (from kitchen accidents) or wind damage. Either way, the size of your vacation home matters for the cost of insurance, though whether it helps or hurts you will depend on your specific situation.
Any other special risks on the property: Storing a boat or other recreational equipment can raise the cost. Features like pools, fire pits, and trampolines can also make vacation home insurance more expensive.
Business use: One of the single biggest factors in the cost of vacation home insurance is using your vacation home for business (such as short-term rentals on Airbnb or a similar service), which will definitely increase the cost of insuring it.
The best vacation home insurance policies work to provide comprehensive coverage that addresses all of these risks.
What Does Vacation Home Insurance Cover?
The answer to this question depends on how you'll be using your vacation home. If it's just a secondary home you use for your personal vacations, the coverage will be nearly identical to your regular homeowners insurance policy. So if your vacation home is just for personal use and won't be rented out "more than occasionally," as insurance companies define it, your coverage will include the following:
If you're planning to rent out your vacation home regularly, such as in the case of Airbnb owners, you'll probably need a slightly different kind of policy known as a landlord or rental dwelling policy. This insurance is similar to homeowners insurance with respect to property and contents coverages; however, it doesn't include everything a standard homeowners policy does. One area where dwelling policies lack sufficient coverage is on the liability side.
Vacation homeowners who will be renting out their property will likely want to supplement their dwelling policy with a liability endorsement or choose to extend the liability coverage from their main home to also cover their second home. This is known as an "additional insured location" and would require you to pay an additional premium. An independent insurance agent can advise you on the best coverage to meet all the needs of your specific vacation home.
What Doesn't Vacation Home Insurance Cover?
As is the case for all other types of insurance, vacation home insurance comes with a list of specified covered perils and non-covered perils. Becoming familiar with what your vacation home insurance policy doesn't cover can save you the hassle of filing claims that are bound to get denied, and in the event of certain non-covered natural disasters, help you find the right kind of policy to protect your vacation home.
Vacation Home Insurance Doesn't Cover the Following Perils:
Certain natural disasters (e.g., floods, earthquakes, and mudslides)
Maintenance-related losses
Wear and tear damage (i.e., failure of the owner to maintain upkeep of the property)
Insect damage or infestations
Damage from war or nuclear fallout
Business-related liability
If you run a business out of your vacation home, vacation home insurance typically won't cover any liability-related mishaps. Vacation home policies also tend to limit liability coverage for certain types of vehicles, including aircraft, ATVs, and boats, and have very specific exceptions for certain powered vehicles, such as riding lawnmowers. Double-check your particular policy to be sure of coverage for special vehicles.
To protect your vacation home against flood or earthquake damage, you'll need a flood insurance or earthquake insurance policy. Flooding is certainly a concern for beach or lake houses used as vacation homes. Vacation homeowners with properties near the water may want to seriously consider getting a flood policy for added protection.
Why Do I Need Vacation Home Insurance?
Unless you keep enough cash handy to comfortably pay for major repairs or replacements on short notice, having vacation home insurance is probably a good idea. It spreads your risk over time through monthly, quarterly, or annual premiums. It's easier to budget for these premiums than to pay out of pocket in an emergency. In short, vacation home insurance helps you hold onto your favorite vacation spot, even in a worst-case scenario.
Save on Home Insurance
Our independent agents shop around to find you the best coverage.
How Much Does Vacation Home Insurance Cost?
Quotes for a vacation home insurance policy are typically higher than if the same home were your primary residence. Beach and lake houses may be more expensive to insure because they are close to bodies of water. The crime rates and overall safety of your vacation home's area will also influence your premium rate.
Reasons for Higher Premiums Include:
The property is typically left vacant
Susceptibility to natural disasters (e.g., earthquakes, flooding, erosion, wildfires)
Access to emergency services (i.e., for a house fire)
Rate of crime in the area
The home is used as a rental property (including VRBO, Airbnb, etc.)
Each of these factors plays a role in the greater likelihood of filing an insurance claim, hence the higher costs. Some insurance companies don't require you to have a homeowners policy to insure your seasonal or vacation home. Either way, premiums are based on the same factors as any other residence. These include:
Replacement cost value of the property
Deductible
Other applicable risks (see above)
Of course, nearly every vacation home insurance company applies different surcharges and prices their premiums at different amounts. An independent insurance agent can help you find exact vacation home insurance quotes.
The Rising Cost of Vacation Homes in the US
Unsurprisingly, expensive vacation homes will be more costly to insure, while simple, rustic properties will be cheaper. But the costs of owning a vacation home have also increased over time.
Average Annual Expenditure on Owned Vacation Homes Per Consumer Unit in the United States from 2007 to 2020 (in US Dollars)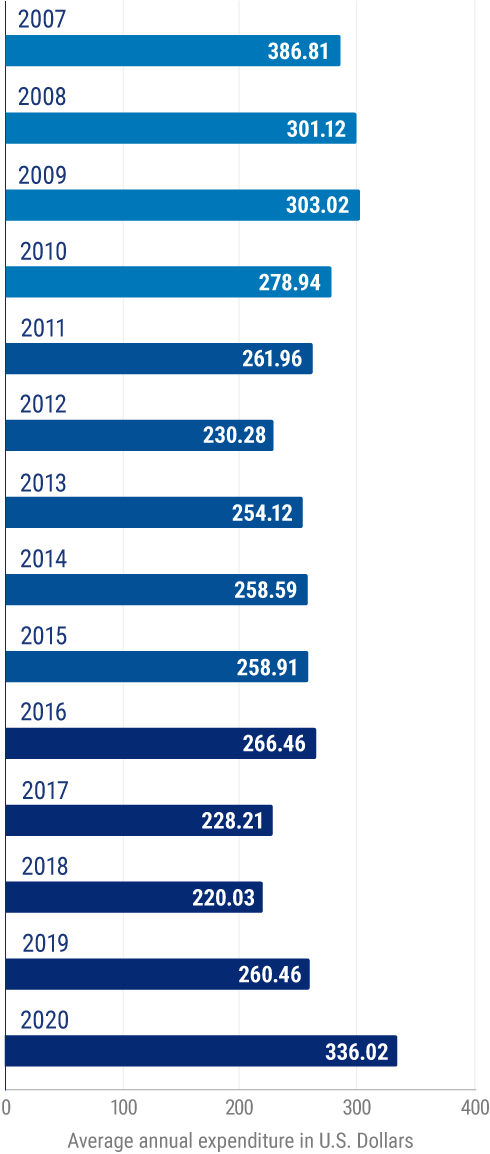 At the start of the decade, in 2010, the average annual cost of owning a vacation home in the US was $278.94. By the end of the decade, in 2020, the yearly expense had increased to $336.02.
How to Lower the Cost of Vacation Home Insurance
Fortunately, certain factors can reduce the cost of vacation home insurance. You may be able to lower the cost if:
The insurance company also insures your primary residence (i.e., bundling discounts).
A full-time housekeeper lives in the vacation home.
A caretaker lives on the grounds of the property.
A maintenance company regularly checks on the property.
You install a central alarm system to detect carbon monoxide, fires, break-ins, water damage, and more.
You install security measures like deadbolt locks, security cameras, etc.
You remove all non-essential structures and equipment from the property, such as lawnmowers, ATVs, etc.
To know your options, speak with an independent insurance agent to determine which specific factors affect your unique vacation home insurance premiums.
Do I Need Insurance on My Vacation Home?
There are a lot of what-ifs when it comes to determining the type of insurance policy a vacation home needs. Imagine the following situations:
A nearby river overflows and causes mold damage in your cabin: Comprehensive property coverage can help with the cleanup and restoration of the cabin.
A guest slips on a boat ramp and injures their knee: Having liability coverage can help with the injured person's medical bills and possible time off work.
A burglar steals your wife's purse with valuables in it: Replacement cost for stolen personal property with a secondary vacation home insurance policy can reimburse you in full, depending on your policy, or your homeowners insurance can replace those items at a percentage of the cost (typically 10%).
If any of these situations seem like they could happen to you, speaking with an independent insurance agent can get you the coverage you need for peace of mind.
What Are the Benefits of Vacation Home Insurance?
When most people think of vacation, they think of relaxation and escaping their daily stressors. When it comes to your vacation home, you want to ensure it can create a tranquil environment for you and your guests to unwind. Having adequate vacation home insurance helps allow this to happen and can also prevent you from losing your property following a particularly costly disaster.
Vacation Home Insurance Typically Provides Coverage for the Following Perils:
Theft
Vandalism
Explosions
Fire and smoke
Water damage
Aircraft or vehicle damage
Riots
Falling objects and trees
Certain natural disasters (e.g., windstorms, hail, lightning, and blizzards)
Your independent insurance agent can help you review your vacation home insurance policy to answer any remaining questions about your coverage. They'll also help you determine whether you've got enough coverage or if you should purchase more.
What If I Offer Short-Term Rentals of My Vacation Home?
If you offer short-term rentals of your vacation home, you must buy business insurance. Running a business on your property exposes you to massive new risks, including:
Lawsuits: Frivolous or not, lawsuits are expensive to resolve. Guests could sue you for their injuries, a ruined vacation (if your property didn't meet their expectations), and much more. Business liability insurance pays for legal representation and damages if you owe them.
Theft, vandalism, and general havoc: Drunken or rowdy guests can do a lot of damage to your property, including stealing the furnishings you provide. Commercial property insurance covers these scenarios.
Angry neighbors: Many neighbors resent nearby short-term rentals and actively seek to shut them down, which is another way you could get caught up in expensive legal action. Again, business liability insurance can help.
An independent insurance agent will help you get set up with any extra coverage you may need if you rent out your vacation home.
Save on Home Insurance
Our independent agents shop around to find you the best coverage.
Frequently Asked Questions about Vacation Home Insurance
While it may seem like you can spend claim money however you'd like, understand that claims are meant to preserve the property and restore it to a pre-loss condition. Some companies will allow you to do repairs yourself, while other insurers may only pay a claim if professional work is hired.
There are some instances where you can do the DIY route and pocket the difference, but be sure to check your policy details. Certain insurers only pay out the cost of repairs and demand reimbursement for anything over that.
In nearly every case, having accident insurance is a smart decision. However, it isn't mandatory unless required by an HOA/condo association. Also, mortgage lenders may only approve your loans and refinancing options if you have insurance.
A homeowners policy can reimburse you for cash stolen on your vacation within certain predefined dollar limits. Typically, this limit is around $200. This means that if your wallet was stolen with $600 cash inside, you would be reimbursed for only $200.
There is often a catch. Depending on the amount of your deductible, you might not be able to file a claim if you don't meet a threshold. If your deductible was $200, it would defeat the purpose altogether (i.e., paying $600 to get back $200 in cash).
The Benefits of Working with an Independent Insurance Agent
Independent insurance agents have access to multiple insurance companies, ultimately finding you the best coverage, accessibility, and competitive pricing while working for you. They'll help you find the right blend of coverage and cost in a vacation home insurance policy. An independent insurance agent will help you get matched to a vacation home insurance policy that offers the best blend of coverage and cost from a local carrier.
TrustedChoice.com Article | Reviewed by Jeffrey Green
©2023, Consumer Agent Portal, LLC. All rights reserved.
https://www.iii.org/article/insuring-a-vacation-home
https://www.valuepenguin.com/does-homeowners-insurance-cover-theft
https://www.farmers.com/home/seasonal-vacation-homes/
https://www.statista.com/statistics/468063/us-consumer-spending-on-owned-vacation-homes/?locale=en