Rebuilding After Superstorm Sandy
How the right coverage helped victims, and how you can prepare for your own worst disasters.

Insurance provides important protection for all kinds of disasters, even those from Mother Nature herself. When Superstorm Sandy swept the nation in 2012, it caused billions of dollars in damages and killed more than a hundred people. Fortunately for victims of this merciless storm, coverages like property and business insurance were able to help them get back to their lives.
An independent insurance agent can help you find the right coverage for your own worst disasters, even if they're not quite as tragic, destructive, or deadly as this one. But first, here's a closer look at Superstorm Sandy and all the ways insurance was able to help victims recover.
What Was the Impact of Superstorm Sandy?
In 2012, a massive hurricane that came to be known as Superstorm Sandy struck the Mid-Atlantic and Northeastern parts of the US, as well as Jamaica, Cuba, Haiti, the Dominican Republic, The Bahamas, and Canada. As one of the most expensive natural disasters in the nation's history, Sandy's impact is still felt to this day.
Quick stats about Superstorm Sandy:
147 deaths were reported in the US, Canada, and the Caribbean
24 states were impacted by the storm
All of the eastern seaboard was impacted by the storm
Sandy had the lowest barometric reading ever recorded for a storm that made landfall in the Atlantic region
Winds stretched out 175 miles from the eye of the storm
Sandy forced the New York Stock Exchange to remain closed for multiple consecutive days, a feat that had not occurred due to weather since 1888
7.9 million businesses and households were without power
9,000 people were forced to stay in temporary shelters
Sandy's diameter measured more than 900 miles wide
Sandy's windspeeds reached up to 110 MPH
More than 20,000 flights were canceled because of the storm
Though Superstorm Sandy was highly destructive, fortunately the victims were able to receive financial aid through insurance and relief packages.
Superstorm Sandy's Toll on the US Economy and Insurance Industry
Most Expensive Natural Disasters in the United States as of January 2019 (in billion US dollars)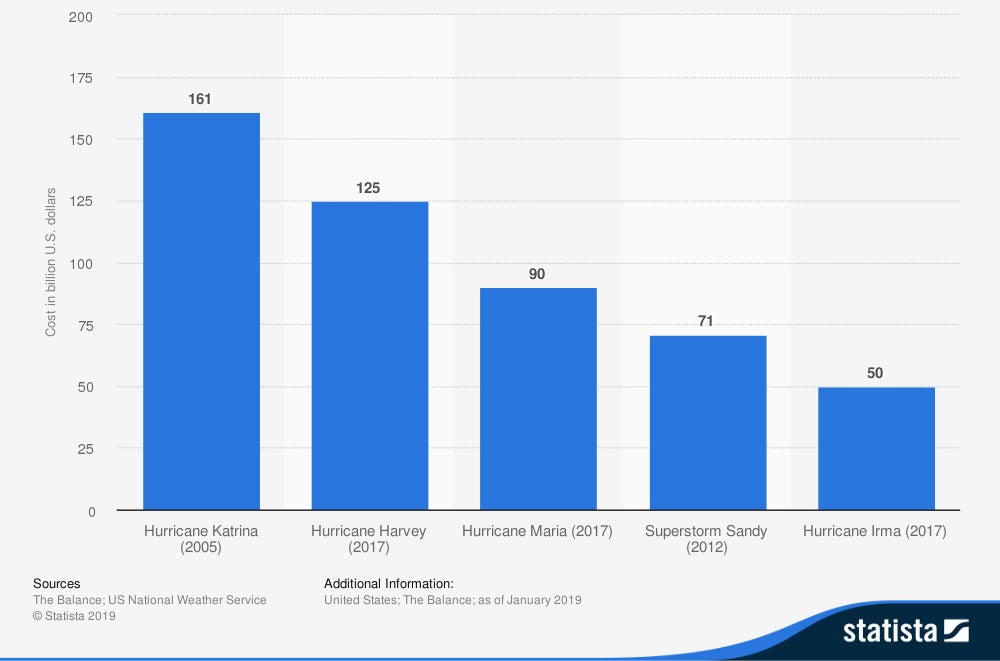 Superstorm Sandy ranks as the fourth-most expensive natural disaster in the nation's history, costing the US a total of $71 billion in damage. Sandy ranks behind only Hurricanes Maria, Harvey, and Katrina. In the lead for the nation's most expensive natural disaster of all time is Hurricane Katrina, which cost $161 billion in total damage, more than twice what Superstorm Sandy cost the US.
Most Expensive Flood Disasters in the United States from 1978 to 2019, by National Flood Insurance Program (NFIP) Payouts (in billion US dollars)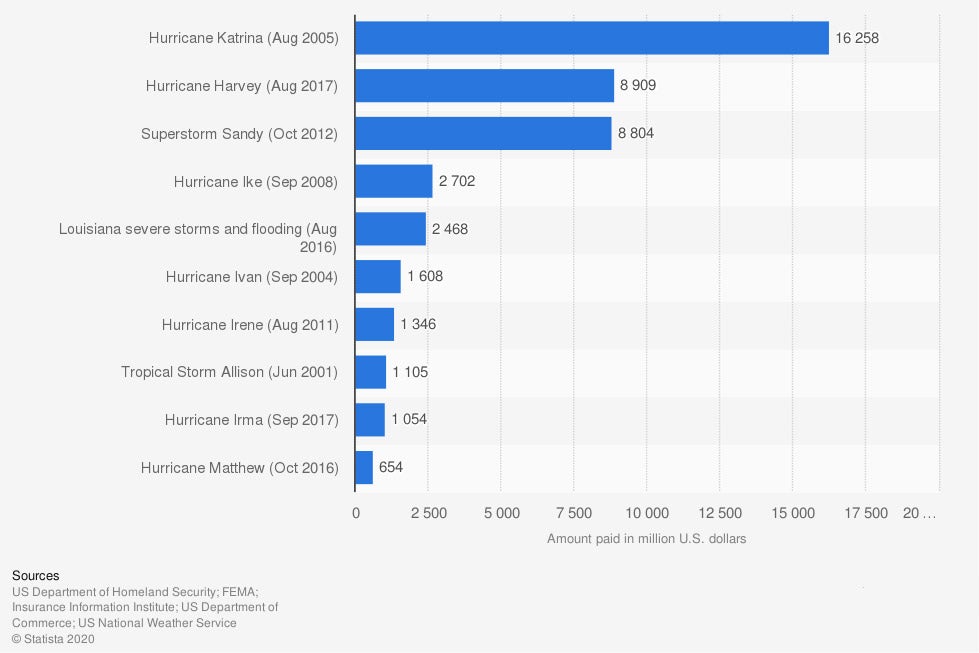 As for the impact on the insurance industry, Superstorm Sandy ranks as the third overall most expensive disaster for the period between 1978 and 2019. The NFIP made $8.804 billion in payments for flood insurance claims following the hurricane. Sandy falls behind only Hurricanes Harvey and Katrina, which cost the NFIP $8.909 billion and $16.258 billion in flood insurance payments, respectively.
Who Provided Help to the Victims of Superstorm Sandy?
The Red Cross provided shelter for thousands of US citizens across more than a dozen states during Superstorm Sandy. Following the storm, the organization reported that it had raised about $103 million in donations for those impacted by the hurricane.
A federal bill of $51 billion was designated for relief for victims of Superstorm Sandy. However, the bill was later criticized for having multiple uses across the entire country. An analysis made by Congress reported that just $17 billion of the bill actually went towards aid for Sandy's victims, while another $33.5 billion had been allocated for damage from future disasters.
Flood insurance payments from the NFIP also provided relief to victims of Superstorm Sandy. The Federal Emergency Management Agency, the organization that runs the NFIP, paid out $8.8 billion in approved flood damage claims across the country.
How Did Car Insurance Help Victims Get Back to Their Lives?
Fortunately for victims of Superstorm Sandy, having auto insurance allowed them further assistance in resuming their lives. Auto insurance helped Superstorm Sandy victims in the following ways:
Repairs: For victims whose cars were badly damaged by accidents in the storm, auto insurance covered repairs to their vehicles under the collision section of their policies. For those victims with flood damage to their vehicles, repairs would have been covered if they had comprehensive auto insurance.
Replacement: Those victims whose cars were completely totaled by the hurricane were able to obtain new vehicles through the help of their auto insurance.
Rental cars: While victims awaited repairs to their vehicles, their auto insurance provided them with rental cars so they could still commute to work, run errands, etc.
Medical payments: The victims who sustained injuries during Superstorm Sandy were able to be compensated by their auto insurance policy for medical payments while receiving treatment.
Though not all car insurance claims stem from damage caused by major hurricanes, it's helpful to see just how auto insurance provided relief for victims of this huge tragedy in a myriad of ways.
How Did Property Insurance Help Victims Get Back to Their Lives?
Property insurance also helped Superstorm Sandy victims to rebuild and restructure their lives. For Superstorm Sandy victims, property insurance coverage provided protection in the following ways:
Rebuilding homes: Property insurance coverage pays to rebuild homes in the event they are destroyed by a covered peril, such as a hurricane. Superstorm Sandy victims were able to rebuild homes that were destroyed by Superstorm Sandy's harsh winds thanks to property insurance.
Ending homelessness: Many of Harvey's victims were left temporarily homeless following the storm. Fortunately their property insurance coverage provided the financial assistance necessary to rebuild their homes. Homeowners insurance also provided additional living expenses coverage for victims to pay for fees associated with temporary housing, such as hotels, while awaiting repairs to their homes.
Replacing personal property: Superstorm Sandy victims were largely able to replace, repair, and recover from lost, damaged, or destroyed personal belongings such as clothing, furniture, silverware, etc. following the storm. Property insurance typically covers personal property up to 50% to 70% of the insured value of the structure of the home if it's lost/damaged/destroyed by a hurricane.
Replacing property stored elsewhere: Property insurance also covered Superstorm Sandy victims' personal belongings stored off premises, such as in storage units, following the disaster. Limits on off premises stored property are sometimes 10% of the total value of personal property coverage, but additional coverage can be added.
Mending foliage around homes: Property coverage also includes reimbursement for foliage around the home, including trees, plants, and shrubs if they are damaged or destroyed by a hurricane. Limits typically cap at $500 per plant, but coverage amounts can be increased. Superstorm Sandy victims were able to repair their gardens and general appearance surrounding their homes thanks to property insurance.
While you may never have to submit property insurance claims for catastrophic hurricane damage, it's still helpful to learn all the relief this coverage provided to victims of Superstorm Sandy.
Is Hurricane Coverage Part of Every Homeowners Policy?
While windstorm damage is often included in standard homeowners insurance policies, there are some exceptions, such as for victims of Superstorm Sandy. Additionally, Superstorm Sandy brought a lot of heavy rainfall along with it, leading to severe flooding. Sadly, flood damage is not a covered peril under homeowners insurance, meaning victims would have needed an additional flood insurance policy.
Superstorm Sandy victims needed the following coverages in addition to their homeowners insurance:
Flood insurance: For those who live in areas known to be at high risk for flooding, mortgage lenders often require them to purchase flood insurance, so many of Superstorm Sandy's victims may have already had adequate coverage. Flood insurance covers damages to homes and personal property due to flood waters, and is only available through the NFIP.
Windstorm insurance: Certain states that are prone to heavy winds require homeowners to purchase an additional windstorm insurance policy to protect against hurricanes, cyclones, etc. Since Superstorm Sandy impacted 24 states total, many of the storm's victims resided in areas that are required to place mandatory windstorm deductibles on homeowners insurance. Windstorm insurance protects against damage due to heavy winds beyond the limit available in a standard homeowners policy, so Superstorm Sandy victims absolutely needed to rely on this coverage.
Without adequate flood and windstorm insurance, victims of Superstorm Sandy would have been forced to rely on the limitations of their homeowners insurance policies. Homeowners insurance would not have covered victims whose homes were destroyed or damaged by flood waters, nor homes affected by heavy winds up to the amount of the mandatory windstorm deductible. Victims would have had to pay these damages out of pocket.
How Did Business Insurance Help Owners Get Back to Work?
Not all Superstorm Sandy victims were just homeowners. Many were business owners as well. Luckily, business insurance provided additional coverage that allowed business owners to reopen their doors and get back to work.
Business insurance helped Superstorm Sandy victims in the following ways:
Loss of income: Business insurance includes coverage for lost income suffered during temporary closings due to covered disasters, including hurricanes. Business owners who were victims of Superstorm Sandy were able to recover lost income thanks to business insurance.
Property repairs: Business insurance covers damage to or loss of your business's physical property, including the structure of the business and often the inventory inside of it, due to a covered disaster like a hurricane. Superstorm Sandy victims were able to rely on their business insurance to help them rebuild their businesses from the ground up, repair less major damages, and to recover lost property such as inventory.
Lost employee wages: Business insurance also helps pay employee wages that are lost while a business is closed due to covered perils like hurricanes. Victims of Superstorm Sandy were able to compensate their employees during long shutdowns thanks to business insurance coverage.
Businesses close for all kinds of reasons, not just due to historic natural disasters like Superstorm Sandy. That being said, knowing all the ways business insurance provided relief to business owners following this disaster proves just how important coverage is to have for all potential disasters.
Are Superstorm Sandy Victims and the States Impacted Back to Normal Now?
For many of Superstorm Sandy's victims, life has somewhat returned to normal. Payouts from homeowners, windstorm, and flood insurance claims has allowed many victims to repair or rebuild their homes and end homelessness. Car insurance allowed victims to repair or replace lost or damaged vehicles and business insurance allowed professionals to recover lost income and wages and get back to work.
However, recovery efforts are still underway in many of the impacted states, even several years later. In New Jersey, for example, it was reported that 1,200 of the 8,300 families affected had still not finished rebuilding their homes in 2018. Reconstruction on many projects remains incomplete, and houses are still elevated to prevent future flood damage.
The federal funding awarded for Superstorm Sandy victims has been criticized many times over as having dried up long before addressing the needs of the thousands impacted by the disaster. In certain areas, there simply isn't enough funding to rebuild properties such as entire apartment complexes. Sadly, another $19 billion disaster package was brought forth in mid-2019, but it mainly covered damage caused by more recent hurricanes like Maria and other disasters.
Here's How an Independent Insurance Agent Can Help Protect You from Your Own Disasters
You'll hopefully never encounter a natural disaster as destructive as Superstorm Sandy, but independent insurance agents can certainly help protect you from your own disasters. Independent insurance agents search through multiple carriers to find providers who specialize in home, auto, business, and all other forms of insurance, deliver quotes from a number of different sources, and help you walk through them all to find the best blend of coverage and cost.
TrustedChoice.com Article | Reviewed by Paul Martin
©2023, Consumer Agent Portal, LLC. All rights reserved.
Statista
iii.org
cnn.com
britannica.com
nytimes.com
phillyvoice.com