Does My Home Insurance Cover Burglary if My Guest Left the Window Open?
Find out how your coverage protects you, and to what extent.

Though the holidays are often thought of as a time for family and celebration, unfortunately criminals think of them as opportunities for other things. Sadly, crime rates increase around the holidays, so it's important to double-check your coverage ahead of time. And what happens if one of your house guests accidentally leaves a door or window unlocked while you're all out on a walk and an intruder vandalizes your home and steals your stuff? How does insurance cover that?
Luckily, an independent insurance agent can not only answer these questions for you, but also help you get set up with the right homeowners insurance. Independent insurance agents are experienced in handling all kinds of catastrophes, so they know exactly what kind of protection you need, and they'll get you covered long before you ever need to file a claim. Here's how they'd help protect against your home getting burglarized if a guest forgot to lock the door or left the window open.
What Are the Most Common Holiday Crimes?
When preparing to celebrate the holidays, it's important to stay updated on not only gift trends, but also crime trends. Knowing some of the most common holiday crimes can help direct you to the right kind of coverage to protect against unfortunate incidents. Check out some of the most frequently reported holiday crimes and check your homeowners insurance accordingly.
Burglary: Sadly, the "hypothetical" scenario about your house getting vandalized and your stuff stolen over the holidays is an all too common occurrence. When folks start shelling out the big bucks for holiday gifts, it piques the interest of burglars who know that a break-in around these times can result in higher value items to target.
Shoplifting: Jam-packed stores and overworked retail employees create the perfect environment for shoplifters, who eagerly welcome the additional distractions. The holiday season can account for a reported 37% of retailers' annual shrink losses, including employee theft and shoplifting.
Identity Theft: Once again, jam-packed stores and distracted employees provide the perfect grounds for identity thieves. While shoppers rush through stores, they're often paying less attention to guarding their personal information while making payments.
Vehicle Theft: While most folks are indoors and celebrating with their families, unfortunately vehicle thieves are outside using this opportunity to their advantage. With long holiday celebrations, it can take hours or even days for someone to notice their vehicle was stolen.
Leading Holidays for Vehicle Thefts in the United States in 2018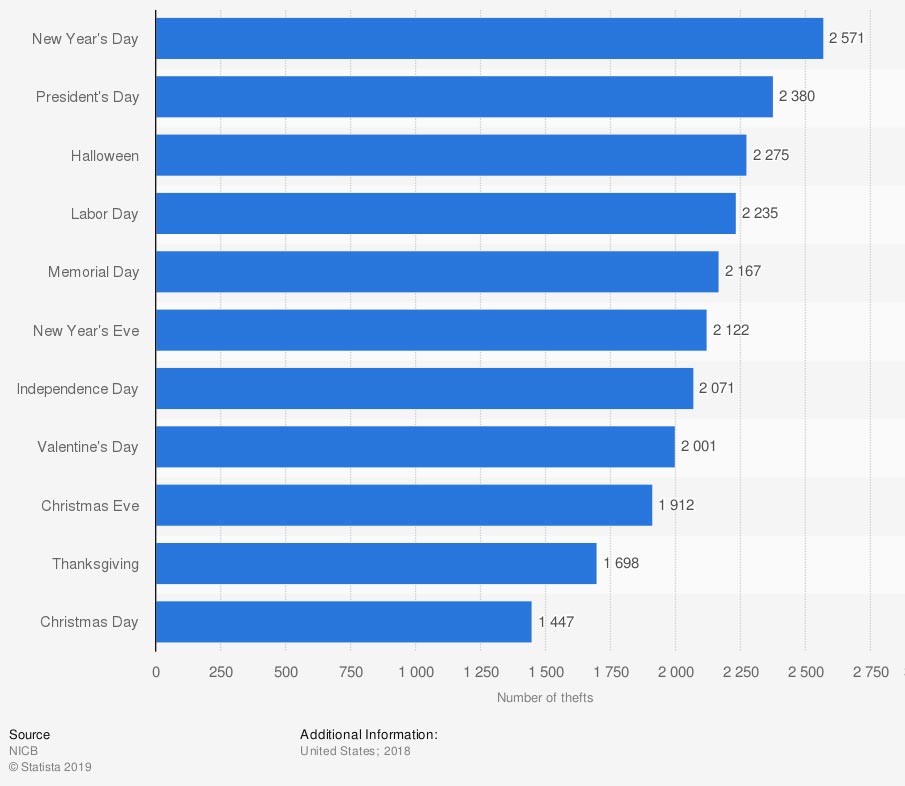 The most frequent occurrence of vehicle theft over the holidays in the year 2018 by far was on New Year's Day, with a reported 2,571 vehicles stolen that day. Next up, perhaps unexpectedly, was President's Day, with a reported 2,380 vehicles stolen. Halloween took third place, with 2,275 vehicle thefts reported.
The common theme of holiday crime involves theft. As a homeowner, fortunately you can work with your independent insurance agent to find the right insurance to help protect you, your family, and your guests against holiday theft.
Who's Responsible if My Home Gets Burglarized after a Guest Forgot to Lock a Door or Window?
Though your guest didn't consciously invite the burglar in, you as the homeowner would still have to file a claim through your insurance in this circumstance. Unfortunately, in many cases of home burglaries, the intruder is often never identified or caught, unless the home is equipped with a high-tech security system. Fortunately for homeowners, however, your insurance policy can still help protect you in cases like these.
What Kind of Insurance Do I Need to Protect Against Home Burglary?
No matter if your door/window was locked or not, luckily a homeowners insurance policy can still help protect you after incidents of home burglary and vandalism. Standard homeowners policies protect homeowners against many perils, including vandalism and burglary. It's crucial to work with your independent insurance agent before an incident occurs to make sure you'll be covered in the event your home gets damaged or your stuff gets stolen during a break-in.
Save on Home Insurance
Our independent agents shop around to find you the best coverage.
What Does My Homeowners Insurance Cover?
Homeowners insurance protects against all kinds of catastrophes, including vandalism and burglary that occurs after a guest forgot to lock up. Standard homeowners policies provide these major coverages:
Personal property damage: This covers personal belongings like furniture, collectibles, clothing, silverware, and more from incidents like vandalism and burglary. Property stored off premises is often covered with a much lower limit.
Additional living expenses: This covers extra costs if your home gets badly damaged or destroyed and you're forced to live elsewhere temporarily. Reimbursement for hotel rooms, extra food and gas mileage, etc. is covered. You may not need this following vandalism or a burglary, but you might after a hurricane, for example.
Liability: This covers legal expenses like attorney/court fees if you're sued for bodily injury or property damage to a third party. Settlements you're ordered to pay if you lose the case are also covered.
Structural damage: This covers the "dwelling," or structure of the home. Damage to/destruction of the dwelling is covered against listed perils, including vandalism and burglary. If a guest left a door or window unlocked, the burglar might not have damaged your property during their intrusion, but it's still important to have this coverage for many other perils.
Your independent insurance agent can get you set up with the right homeowners insurance to protect you against many major threats to your home, beyond just vandalism and break-ins.
How Do I Know if I Have Enough Coverage?
You'll need to work with your independent insurance agent to review your specific homeowners insurance policy. The limit on the structural coverage section of your policy might match the value of your home, or you may have purchased extra to cover rebuilding costs, which can sometimes exceed this value. The contents coverage section of your policy typically covers your personal property at 50% to 70% of the insurance on the dwelling.
You'll also want to review the amount of your deductible in case you ever need to file a claim. If property damage caused by vandalism or burglary does not exceed your deductible, you won't get any reimbursement from your insurance company. Homeowners insurance deductibles are typically 1% of the value of the home. However, you can opt for $500 or $1,000 deductibles if you pay a higher premium. Your independent insurance agent can help you make this choice.
How Else Can I Protect My Home Against Vandalism and Burglary?
While it's good to know that your homeowners insurance protects you in the event your home is vandalized or broken into, it's even better to protect your home from this incidents happening in the first place. Follow these tips to protect your home from unnecessary break-ins and vandalism today:
Lock it up: Of course extra locks wouldn't do much good if one of your guests forgot to secure a door or window before you all went out, but installing padlocks and window locks can seriously decrease incidents of theft. Additional locks make it much harder for burglars to break in, which means they're less likely to finish their attempt.
Take security to the next level: By installing burglar alarms or security cameras, not only do you seriously decrease your chances of being burgled or vandalized, but with cameras, you also increase the chances of catching the criminal if an incident does happen.
Trim the hedges: While foliage around your doors and windows may look nice and provide additional shade when it's in full bloom, it can also create the perfect encouragement for vandals and burglars to slip inside. Keep bushes and trees around your home well trimmed to deter potential criminals.
Increase your coverage: To get the fullest picture of protection, it's important to make sure your insurance coverage limits are high enough to make you feel secure. If you have property that's particularly valuable, you may want to purchase additional coverage such as endorsements or riders to cover the full replacement value if an incident occurs.
What if I Don't Have Insurance?
Without homeowners insurance, you'd have to cover the damage to your home or personal property out of your own pocket. After a break-in, there's likely to be damage to your home's structure as well as the contents on the inside. You may also have to replace stolen items. All the costs can add up fast. That's why it's so important to work with an independent insurance agent to get the right coverage you need before a tragic occurrence ever happens.
Here's How an Independent Insurance Agent Would Help
When it comes to protecting your home against vandalism, burglaries, and all other tragic incidents, no one's better equipped to help than an independent insurance agent. Independent insurance agents search through multiple carriers to find providers who specialize in homeowners insurance, deliver quotes from a number of different sources, and help you walk through them all to find the best blend of coverage and cost.
TrustedChoice.com Article | Reviewed by Paul Martin
©2023, Consumer Agent Portal, LLC. All rights reserved.
iii.org
rosenblumlaw.com
zarembalawoffice.com