Six Fascinating Facts You Might Not Know about Pool Liability
Understand your liability when it comes to owning a pool and how home insurance can help.

Swimming pools are fun to have and can keep the kids busy during the summer months. However, as a homeowner, owning a pool comes with some liabilities. There are an estimated 7.4 million swimming pools and five million hot tubs in residential or public use in the US. This is why it's not surprising that drowning is the leading cause of injury-related death among children ages 1-4.
If you're a homeowner with a pool, you want to keep things fun and accident-free. Should something go wrong, you'd have support from your home insurance. An independent insurance agent can help you understand your liabilities as a homeowner and how owning a pool impacts your insurance. They can also make sure you have the right coverage, which may require a little extra if you have a pool.
Where do Injuries Occur?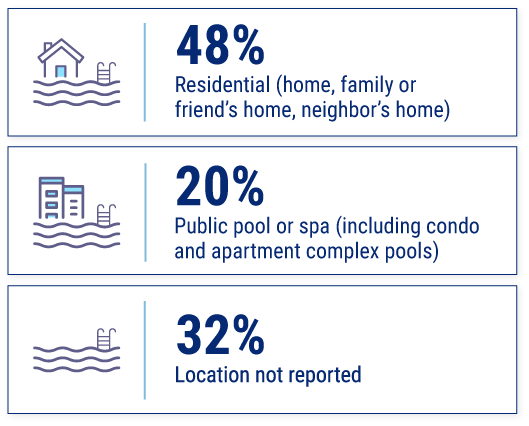 Six Surprising Facts You Might Not Know about Pool Liability
All pool owners experience higher premium rates due to the added risks of an accident occurring. However, there are certain steps you can take to help minimize your risks and therefore help keep your rates reasonable. Knowing these surprising facts about pool liability is a good place to start.
1. Your insurance carrier considers your pool an "Attractive Nuisance"
Let's face it, children are prone to accidents, which is why anything on your property that is considered irresistible to children is considered an "attractive nuisance" by the insurance industry. This includes more than just pools. Attractive nuisances can include:
Playgrounds
Power tools
Trampolines
Hot tubs
Tree houses
Construction projects
Fountains and human-made lakes or ponds
Pools attract kids and other guests so your insurance carrier will automatically assume it's a greater risk than if your home did not have a pool. Greater risks equal higher premiums, so you could see a spike in the cost of the liability coverage within your home insurance policy.
You should also speak with your agent to make sure you have high enough liability limits. Liability insurance coverage of at least $300,000 up to $500,000 is recommended for homeowners with a pool, and depending on how many guests your pool will have, you may want to consider an umbrella liability policy.
2. You're responsible for your own pool's security
If something goes wrong in your pool, it's on you, no matter the circumstance. Even if a group of teenagers sneak into your pool in the middle of the night and there's an accident, you could still be held responsible.
The best way to avoid unwanted guests is to secure your pool with barriers. These can include:
A fence
Locking the pool gate
Visible warning signs (i.e., "Swim at Your Own Risk)
A pool alarm that senses when someone enters your pool and alerts you to the intrusion
It's also important to never let children use your pool unattended. Anyone who will be frequenting your pool should be educated on safety precautions and some general pool rules, i.e. no running by the pool.
3. You must abide by local laws and ordinances
Your local municipality will have laws and ordinances related to owning a pool and pool safety. As the pool owner, you're fully responsible to remain in compliance with those laws.
In addition to local laws there are also federal, state, and county laws you may need to be aware of. Your city laws will likely be the most restrictive and the ones you need to pay the closest attention to. If your city law requires you to have a 10-foot fence around your pool, that would override any state or federal laws.
You can assure that you're abiding by all the local laws by having your pool checked by building inspectors, local authorities, and code enforcement.
4. There are many possible pool injuries
Drowning is the most obvious and talked about pool scenario, but there are multiple injuries that are more likely to occur near or in a swimming pool.
In fact, the U.S. Consumer Product Safety Commission reports that an average of 6,700 non-fatal drowning incidents occurred in a recent two-year period, while 379 fatal drowning incidents occurred in the same timeframe. While these deaths are tragic, that's a relatively small number when you consider the number of pools across the nation.
Some of the other injuries that can stem from swimming are:
Slip and fall injuries leading to lacerations, contusions, sprains, strains, and broken bones
Head injuries from diving or horseplay
Cuts from broken glass
Circulation entrapment injuries due to the suction of the pool equipment
Injuries from pool slides
Pool toy entrapment from floaties and other toys
5. Education is key
Educating your family members of all ages about pool safety and setting strict guidelines is a primary key to preventing tragedies. Some rules you can implement include:
Swimming times
Requiring a swimming buddy system
No running around the pool
No using the pool without adult supervision
No consuming alcohol near or in the pool
No glass near the pool
The U.S. Consumer Product Safety Commission reports that an average of 80% of children who end up in emergency care for nonfatal drowning injuries are younger than five years of age. Of those children, 73% of the incidents occurred at a residence.
In addition to setting strict rules that your children and pool visitors are well aware of, you can make sure to teach your children not only how to swim, but also that you have safety equipment installed poolside. It's important to train any children and adults who will be using the pool how to properly access and use the safety equipment.
6. Your liability coverage is flexible
Fortunately, your liability coverage within your standard home insurance is flexible. You'll need this flexibility if you own a pool as you'll likely want to increase your policy limits.
As previously mentioned, many insurance experts recommend increasing your limits up to $500,000 if you have a pool or other attractive nuisance. On average, this could increase your premium costs by $50 to $75 annually.
In addition to increasing your limits, you may want to consider adding an umbrella policy to your home insurance. Umbrella policies provide liability coverage above and beyond your standard limits. This means if an accident were to occur and you were liable for $800,000 in medical bills, settlement costs, and other costs, you'd max out your home insurance limits, and then you'd use your umbrella policy to pay the remaining amount.
If you choose to add an umbrella policy to your insurance, it can cost $200 to $300 a year, but it gets you an additional $1 million in liability coverage.
How Can an Independent Insurance Agent Help?
If you own a home with a pool, an independent insurance agent can assess whether you have an ample amount of liability protection under your homeowners policy. A single slip-and-fall by the neighbor's kid can set you back thousands of dollars.
Agents will speak with you free of charge to make sure you're fully protected. If necessary, they'll shop and compare costs and coverages with you to help get you a comprehensive home insurance policy.
TrustedChoice.com Article | Reviewed by Jeffrey Green
©2023, Consumer Agent Portal, LLC. All rights reserved.
https://www.moneygeek.com/insurance/homeowners/pool-safety-and-liability/
https://www.cpsc.gov/Newsroom/News-Releases/2022/CPSC-Report-Shows-Fatal-Child-Drownings-Remain-High-Nonfatal-Drowning-Injuries-Spiked-by-17-Percent-in-2021
https://www.cpsc.gov/s3fs-public/2020-Submersion-Report-4-29-20.pdf
https://pooltroopers.com/blog/swimming-pool-laws/
https://www.nationwide.com/lc/resources/home/articles/attractive-nuisances
https://www.iii.org/article/pool-safety-and-insurance