If a Customer Slips and Falls at My Business, Who's Responsible?
What if a customer slips and it's their fault? Am I still responsible for medical and legal bills?
When you run a business, you've got to keep the health and safety of your customers as one of your top priorities. But what happens if a customer slips and falls at your business and gets injured? Who's responsible for this mess, anyway?
Luckily, an independent insurance agent can help answer these questions for you and also get you set up with the right business insurance to protect you. Here's a closer look at how they'd help you get coverage to prepare for customer slips and falls at your business.
Who's Responsible if a Customer Slips and Falls at My Business?
As the business owner, if a customer were to slip and fall on your premises, you'd file a claim through your business insurance policy. Customer slips and falls are some of the most common incidents that occur at businesses of all kinds, so having coverage for these incidents is critical.
What Kind of Coverage Do I Need to Protect My Business?
To protect against customer lawsuits and injuries, you'll need a standard business insurance policy. Business insurance comes with liability coverage built in. An independent insurance agent can help your business get equipped with the right business insurance policy to protect against customer injuries and much more.
What if It's Their Fault? Am I Responsible for the Medical and Legal Fees?
According to insurance expert, Jeffery Green, the insurance company would defend the business owner and settle or ligate any claims brought against the business by the customer. Whether or not it was the fault of the business or the customer for the slip and fall is not as important as filing a timely claim.
Green stresses that the main point of this situation is that if an incident occurs on the business premises, the insurance company will deal with it, not the business owner. So don't waste time figuring out who's to blame after a customer injury, just go ahead and file a claim through your business insurance.
Save on Business Insurance
Our independent agents shop around to find you the best coverage.
How Does Business Liability Insurance Work in This Case?
The main coverage that will protect you, the business owner, in case of a customer injury on the premises is the liability coverage included in your business insurance policy. Liability insurance protects your business in the following ways.
Reimbursement for medical costs: If a customer slips and falls or otherwise gets injured on your business premises, the liability section of your business insurance policy will cover their medical expenses.
Reimbursement for legal costs: If the customer who got injured at your business pressed charges against you, the liability coverage section of your business insurance would also pay for the legal costs, including attorney, court, and settlement fees.
Having adequate business insurance with the right liability coverage is crucial in the success of all businesses. Customer injuries can and do happen often, so it's important to be protected at all times.
What if I Don't Have Insurance?
Customers can sue your business whether it's insured or not. While you may not be found liable in the end, legal fees can still be expensive. Without the right business and liability insurance, you as the owner would be responsible for defending yourself legally and paying for the customers' medical bills out of your own pocket.
Where Can I Get Business Insurance?
Business insurance is available from many different carriers, but where you find coverage will depend on the area you live in. Here's a look at some of the US's top business insurance companies.
Leading property/casualty reinsurers of businesses in the United States, by direct premiums written (in billion US dollars)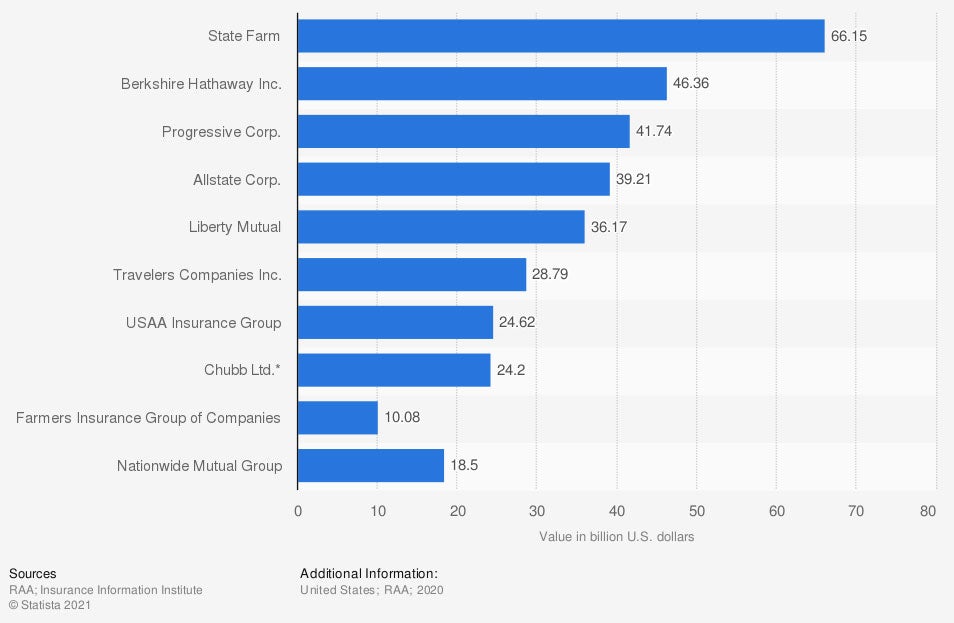 In recent years, State Farm has taken the lead by far in terms of premiums written for business insurance, at $66.15 billion. Next is Berkshire Hathaway, Inc., at 46.36 billion, and then Progressive, at $41.74 billion.
An independent insurance agent can help you find business insurance in your area, from one of these companies or another that best meets your needs.
Here's How an Independent Insurance Agent Would Help
When it comes to protecting businesses against customer slips and falls and all other incidents, no one's better equipped to help than an independent insurance agent. Independent insurance agents search through multiple carriers to find providers who specialize in business insurance, deliver quotes from a number of different sources and help you walk through them all to find the best blend of coverage and cost.
TrustedChoice.com Article | Reviewed by Jeffrey Green
©2023, Consumer Agent Portal, LLC. All rights reserved.
https://www.statista.com/statistics/186586/leading-us-property-and-casualty-reinsurers-by-direct-premiums-written/
https://www.iii.org/article/small-business-insurance-basics