8 Tips for Buying Your First Car
(Making sure you're fully prepared)

A lot of young adults today work and ride public transportation all the way through college. Others use a family car during their early driving years. In either case, this means that many people are well into their twenties before they decide on the best first car to buy.
Now buying your first car can be a daunting task. Engine size, safety ratings, and other common measures of quality can be confusing, to say the least. Then you have to consider what you can get with your income, the local market and other personal factors. Regardless of income, you can find affordable car insurance within our trusted network.
If your head is spinning at this point, have no fear. Before you venture out into any car dealerships, take a look at our 8 tips you should know when you're buying your first car.
1. Strongly Consider Buying Used
On average, a new car loses 11% of its value the moment you leave the lot. Every following year for the next 5 years, the car depreciates by 15% to 25%. And after five years, a car is worth just 37% of whatever you agreed to pay for it.
If you take out a loan to buy a new car, depreciation means you'll likely owe more than it's worth as soon as you start the ignition and drive away. That's not good if you need to offload it later, only to find you owe more than any buyer will pay.
With a used car, you're paying for a car that has already undergone the arbitrary depreciation. This means you won't pay an inflated price just for that "new car smell."
2. Set a Budget, Pick a Car – In That Order
The first question you need to answer is, "What is my budget?" It isn't exciting, but it'll narrow down the field from hundreds of cars to a handful (or two).
Keep in mind that budgeting for car ownership isn't just about paying the car payment. There are other associated costs, too. Here's a simple way to budget for all of the costs of owning a car:
Calculate your basic cost of living: This will include rent or your mortgage, food, health insurance and other spending allowances, like for going out.
Calculate what's left: What remains after your basic cost of living is covered is what you can spend on your car payment, insurance, gas and maintenance costs.
These additional costs might look something like this:
Insurance: $100/month - Depends on your age, history and the car you purchase.
Gas and upkeep: $75-$100/month - Depends on how often and how far you drive, along with your car and its gas mileage.
Whatever remains is what you can afford to spend on the car payment itself.
Here are other options to make your car purchase more affordable:
Reduce your monthly car payments by putting more down up front.
Find a car from a personal seller or classified ad - you might be able to pay cash and eliminate a monthly payment.
Buy a car that needs some work if you or someone you know looks at it and knows how to fix it.
3. Get What You Need
Once you know your price range r for either financing or a cash purchase, you can evaluate your needs. These are the features your first car absolutely must have so that your life runs smoothly.
Keep in mind that your needs should always be kept separate from what you want. For example, do you need:
Great gas mileage to stay strictly within your monthly budget?
Room for extra passengers or cargo?
All-wheel drive for snowy winters?
Extra airbags so your mom won't worry too much?
Write them on your list and then stick to it as you research and shop.
4. Do Your Homework
You know what you need. Now you need to know where to buy your first car. If you're purchasing from a friend or neighbor, this part is easy. Just make sure you follow local laws regarding:
A bill of sale
Title transfer
Sales tax
Insurance
Registration
The most important thing to embrace as a first-time car buyer is research. You have so much information at your disposal thanks to the Internet and other resources. Use them all so you aren't unpleasantly surprised down the road.
Here are some other suggestions to keep in mind research-wise:
NADA Guides and other publications like Kelley Blue Book can help you figure out how much your first car will cost, based on mileage and wear.
Use online reviews and auto repair forums to find all kinds of dirt on the cars and trucks you like best.
Find other owners to tell you what parts break first, how it rides and whether that too-good-to-be-true gas mileage number really stacks up to daily use.
Don't forget the most important research method of all: the test drive. A thorough test drive will take you down bumpy back streets and try out high freeway speeds so you can get a feel for the car's capabilities and know if it's a good fit for you. Don't feel pressured to hurry through this step, it could save you from regret later on.
Save on Car Insurance
Our independent agents shop around to find you the best coverage.
5. Get Your Own Financing Options
Failure to preshop for financing is the worst mistake new car buyers make. Once you're in the dealership office with a salesperson or a financing agent, the pressure to compromise and accept a sub-par loan gets intense and very confusing.
Take a cue from the financing experts, and stop by a local credit union or bank before you talk to any salespeople. A loan agent at the credit union can usually offer you:
Better rates
Extended warranties
No-nonsense advice about how much you should borrow and how much to put down up front.
Once your credit union officially preapproves you for used car financing, you can use those numbers when you go into a car dealership. If the salesperson offers better financing than your bank or credit union, great! If not, you've got options in your back pocket. This empowers you to say "no thanks" and to find a better deal when you're buying your first car.
6. Focus on the Right Numbers
Never tell a salesperson how much you plan to pay each month for your first car. If you do, they may manipulate the cost of a car that is out of your price range to fit in your budget.
Salespeople can do this by:
Adjusting the interest rate
Offering you a longer term on the loan
Restructuring the financing in a way that creates a payment that fits in your budget
So while you can technically "afford" it now, in the end it can add thousands of dollars and years of extra payments on your first car loan.
Instead of offering a monthly dollar amount, stick to total price. If you are willing to pay $8,000 for the car, stick to $8,000 in the negotiation, plus taxes, title and registration. If the car lists for $9,000, you can try to talk the price down to $8,000 or go elsewhere. If it lists for $8,000, try to get taxes and legal fees included in the price.
It helps to bring an experienced buddy along to give you moral support, especially an older person who has purchased enough cars to last a lifetime. If you have an uncle who also knows mechanics and can look under the hood for you before you purchase, it can make buying your first car that much easier.
7. Get Covered (by Insurance) Before You Drive
You're going to need insurance, and certain companies may not cut you the best deal. Insurance providers like proven, predictable, stable drivers, because they pose less risk of a costly accident and payout. You, on the other hand, are a first-time buyer, young, and not as experienced.
That sends up red flags. Red, expensive flags.
Contacting a local agent means you won't have to do any of the work. Trusted Choice agents can shop around with multiple companies because they're independent agents. Whether it makes more sense to get added to your parents' policy, get your own, or consider other options, Trusted Choice agents will make the best decision for you.
8. Don't Overpay, and Don't Underinsure
Every state has minimum requirements for liability coverage. Liability coverage is insurance that pays for injuries or damage you might cause other people and their property. If you live in Illinois, for example, you have to have coverage of at least:
$25,000 per person in an accident
$50,000 per accident in total
$20,000 for property damage
Your policy will list these amounts as 25/50/20.
While $50,000 per accident might sound like a lot of coverage, it can actually add up to very little depending on the vehicles, people and other factors involved. If the accident costs more than your coverage, you have to pay the difference. If you have no assets for a court to use to pay your debt, the injured person can go after your future earnings for an indefinite length of time until that debt is paid.
Simply put, stock up on as much liability coverage as you can afford. If you're financing your car with the dealership or a credit union, you'll also need collision coverage and comprehensive coverage, in most cases. This covers repairs to your car if:
You crash it.
Someone steals or vandalizes it.
It's damaged by the weather.
Even if you pay cash for your first car, you might still want collision and comprehensive coverage, unless you have enough cash in savings to get your baby back on the road after a major mishap.
If you go with a big brand company that spends millions on advertising every year, you'll probably overpay for car insurance. An independent agent, on the other hand, can compare lots of different policies and prices from all kinds of companies to find the one that offers you the most coverage for the best price. It's easy to see why independent is better.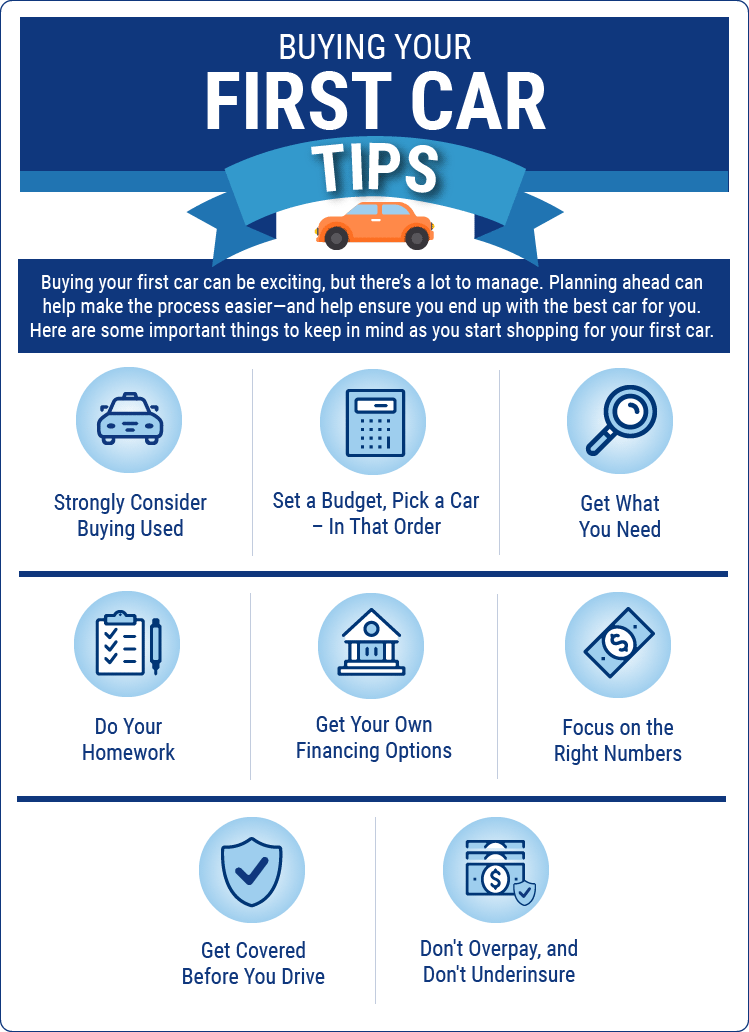 The Bottom Line
Now you have 8 tips that will make buying your first car easier than otherwise possible. Most importantly, you know that an independent agent can make at least a few steps in the process easier, especially when finding an affordable car insurance policy. In fact, they'll do the work for you.
So set that budget, do those test drives and call an independent agent. Your first car awaits you.
©2022, Consumer Agent Portal, LLC. All rights reserved.
https://www.edmunds.com/car-buying/how-fast-does-my-new-car-lose-value-infographic.html