8 of the Best Cars under $5,000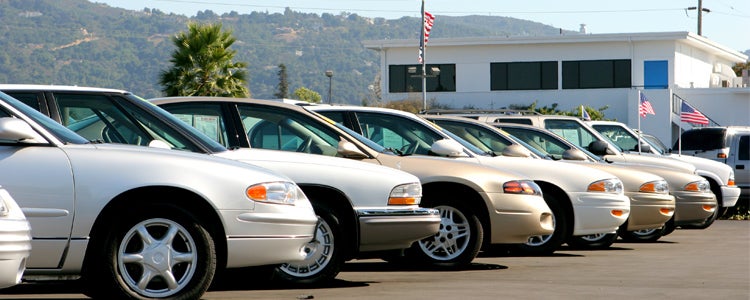 You're shopping for a used car with a $5,000 budget. You're probably expecting the worst. You probably don't think that you're going to find a reliable car at this price point.
Luckily, you're wrong.
There are plenty of reliable used cars under 5K available in your price range that have a solid track record. Just make sure you're covered with an affordable car insurance policy. Here we discuss:
Where to buy a car in this price range.
What to look for in a car in this price range.
10 of the best cars you can purchase in this price range.
What to Expect on a Car for under $5,000
Realistic expectations are important when you're shopping on a budget. Used cars for under $5,000 are no different.
Here are some things you should expect with any used car for under $5,000:
100,000-150,000 miles
Often at least 10 years old
No serious accidents, but some scratches or other cosmetic damage
Signs of wear on seats
Otherwise clean on the interior
Remember, you're buying a used car. But $5,000 doesn't mean that you have to settle or buy something you don't want. Going into the purchase realistically will make sure you don't get hung up on small details, too.
Now, where are you going to shop for this used car?
Where to Buy the Most Reliable Used Cars Under $5,000
Where you buy your car will depend - at least in part - on how you're going to pay.
If you're able to pay for your car with cash, you might be better off purchasing from a private seller than a used car lot. This saves you money by avoiding the middleman. You might be able to negotiate a better price, too. It's important to remember that while many used car lots certify their vehicles, you are not likely to find a certified, pre-owned car for under $5,000.
Of course, there are risks involved when you purchase from a private seller. You won't know the car's history, and the seller might be hiding known problems with the car. You can handle this by:
Looking for a current state inspection sticker
Asking the seller for records of the car's maintenance and repairs
If the seller can provide you with this information, you're probably in the clear.
What to Look for in a Used Car under $5,000
When you're looking for a used car under $5,000, there are multiple factors you'll want to look at. Some of these factors include:
Reliability: You can find articles about what problems users experience - and over a longer period - online.
Vehicle history reports: Use the car's VIN to run a vehicle history report. This will show issues with title, major accidents, and the car's service records.
Durability: Consider whether parts have been replaced, or if you'll have to replace parts any time soon. This is a price-related factor.
Features aren't as important to most people buying used cars at this price point. But think about what's important to you and add these factors to the list, too.
8 of the Best Used Cars You Can Find for under $5,000 in 2022
Remember: Pricing on these cars will vary according to the cars' condition and mileage. That being said, here are 8 of the best cars you are likely to find for under $5,000, according to industry experts:
1. Toyota Camry, 2002-2006
Toyota Camrys from the 2002 to 2006 model years should cost you less than $5,000. As of July 2010, 90% of all Toyota Camrys sold since 1995 were still on the road. This remarkable statistic shows the car's durability and reliability.
Camrys are the gold standard of reliability. Though they aren't the most stylish cars, they're practical, fuel-efficient and have a proven track record for standing the test of time.
2. Toyota Sienna, 2004 to 2010
Not every vehicle under $5,000 is a sedan or compact car. You can buy a Toyota Sienna for about that price. And while we don't want this entire list of vehicles to be Toyotas, it's no surprise that there's more than one: Toyota makes cars that last.
The Sienna is perfect if you're starting a family and want a safe, reliable car on a budget. Some models even have all-wheel drive for better handling. There aren't going to be hundreds of options here, but you'll still have choices if you stick to this model year range.
3. Fiat 500, 2008-2015
If a newer model is a priority for you, you can snag a Fiat 500 for $5,000 or less. As a compact car, the Fiat 500 is great for city driving and parking. It even gets up to 28 mpg in the city and 33 mpg on the highway.
Keep in mind that because the model are newer, you aren't going to have as many choices. You might have to compromise on features. But that will still get you an affordable car at a great price point.
4. Ford Escape, 2001 to 2007
Ford debuted the Escape in 2000 for the 2001 model year. As the manufacturer's first SUV, lots of Escapes were sold immediately. This means that it's even easier to snag one now, and for $5,000 or less.
Like all Ford models, parts are standard, easy to come by, and inexpensive. The cargo area is large and you get your money's worth with an SUV at this price point.
5. Ford Focus, 2008 to 2011
The Ford Focus is a popular choice when you're looking for an inexpensive used car because it's priced at an affordable price point new. This means you can get a more recent model for less.
Because it's popular, and the mechanics aren't overly complicated, it's easy to fix if something breaks. There are a lot of Ford Focuses for sale, too. This means you'll get more choice and options on different cars.
6. Honda Civic, 2006 to 2010
Honda sells hundreds of thousands of Civics in the US every year. This means that there are thousands of Civics across the country for under $5,000, too.
The best part about Civics is that there are a range of models, all of which are affordable. In fact, you've got the coupe, sedan and even a hybrid to pick from. There are always a lot of Civics for sale, and in this model year range, you can get one well within your $5,000 budget.
7. Subaru Outback, 2005 to 2009
The Outback is a bestseller new and used. And while a model from 2005 to 2009 is a bit older and will have some miles on it, the benefits far outweigh those minor issues.
In fact, the Outback comes with a standard all-wheel drive system. This is great if you live in a climate where it snows. With more cargo room than a sedan, you can carry more, too.
8. Acura TL, 2003 or earlier
Honda manufactures Acura vehicles, so it's no surprise they've landed on the list. The sedan comes with a V6 engine and other upgrades for the $5,000 price tag.
The trade-off is that while you'll have an older car, you'll also get reliability and some upgrades you otherwise wouldn't.
Now You're Ready to Make Your $5,000 Used Car Purchase.
Remember that you're going to need auto insurance coverage before you hit the road.
Car insurance is legally required in nearly every state. When you're wondering what you need to meet the legal requirements and keep your finances safe after an accident, an independent insurance agent can help.
Independent insurance agents work with multiple insurance companies and can show you various quotes before you buy, so you know you're getting the best deal.