Kentucky Restaurant Insurance
KFC - Kentucky fried (insurance) coverage

Whether your restaurant is making classic favorites or serving up something else, you'll need insurance and an independent insurance agent to lead the way. Your independent insurance agent will be an invaluable resource when it comes to basic things like types of coverage and more specific issues, like the risks that will influence your coverage.
Risks in Restaurant Insurance in Kentucky
Some of the factors that may affect your coverage and costs include:
The type of food you serve
How you cook the food
The building itself
The equipment you use to cook
Personal property, like furniture and décor
Specialty property, like a sign
Staffing needs
As you can tell, your restaurant insurance in Kentucky will look a lot different than any other restaurant's insurance. These aren't even all of the factors that will play into your specific policy, either.
There are 3 Basic Types of Insurance You Need for Your Kentucky Restaurant
Those 3 types of insurance are:
Property
Liability
Employee
Keep in mind that each type of insurance has sub-types of more specialized insurance. We'll cover what you get with the general policy (because you have to purchase this) and what you may want to consider by way of specialty coverage.
Property Insurance for Your Kentucky Restaurant
Property insurance pays for the replacement value of two types of property:
Real property (i.e., your building)
Personal, movable property (i.e., any property in your building that isn't bolted or attached to the building)
Remember, property insurance covers the replacement value of property. This means that if you have specialty property, you need an appraisal so you don't get shortchanged on replacement value. You probably also have property that is bolted down to your building. Keep in mind that this isn't covered by your general property coverage. This would include things like your kitchen equipment, and maybe even some furniture (if you have a bar, for example). Because this is typically going to be separate coverage, it's something you should talk to your independent insurance agent about. There are other types of property coverage, too. These specialty coverage options include the following:
Signage: You might have expensive signs for both the front of your restaurant and your drive-through. These signs can cost up to $100,000 on the higher end. They aren't covered unless you purchase additional coverage, so it's worth considering if you know you dished out some cash for your signs.
Damage from equipment (boiler and machinery) failure: Boiler and machinery failure can cause damage to wiring or other parts of your property. This coverage would pay for the cost of the repairs of any such damage.
Lost business income: Your restaurant might get shut down if there's a kitchen fire or some other covered loss. Lost business income coverage will pay for expenses – including employee salaries – while you're closed for repair and any damage to your restaurant is fixed.
Spoilage: If you have a refrigeration or freezer problem – especially when you're not on a coast and probably buy a lot of frozen food – you could lose thousands of dollars if your food spoils. Spoilage coverage ensures you're repaid what you're owed.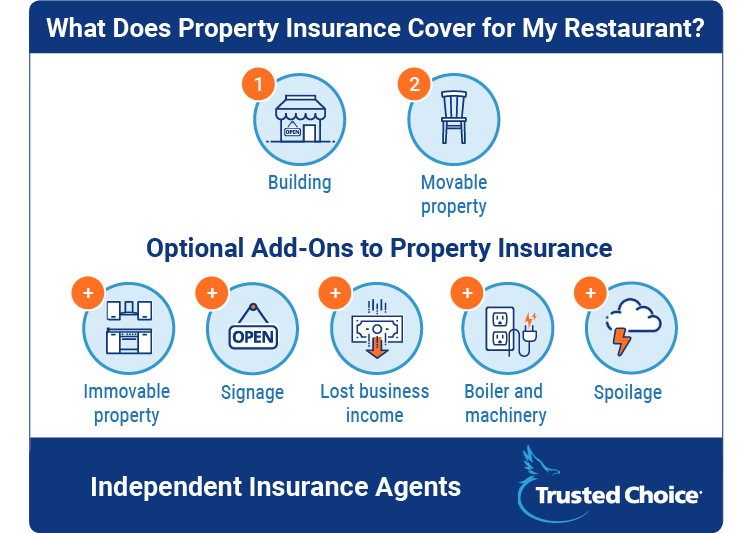 Commercial General Liability Insurance for Your Kentucky Restaurant
Commercial general liability is just that: It's general. It covers you for:
Something that happens to a customer while they're at your restaurant
Something that happens to a customer because of the food you serve
This means that general liability kicks in when there are slips and falls, or even if a customer trips over something in the parking lot that you should have removed. Of course, there are special types of liability coverage, too. The two most common types of specialty coverage are:
Liquor liability
Directors and officers liability
Liquor liability is one of the most common add-ons for liability coverage. It keeps you protected if you sell, distill, or brew alcohol and your customer gets into an accident. Specifically, it'll pay for the cost of (1) property damage; and (2) bodily injury. Liquor liability typically has a $1 million policy limit, but it's not uncommon for restaurants to purchase up to a $5 million policy if they serve a lot of alcohol and want to stay covered. Your independent insurance agent will be able to help you determine how much coverage you need.
Directors and officers liability insurance is another, much more specialized type of add-on. It will cover you if a stockholder, employee, or city brings a lawsuit against your restaurant for an alleged poor corporate decision. It's only necessary for certain circumstances and typically for larger restaurants. That being said, you may not need it at all. That's something for you and your independent insurance agent to decide.
Employee Insurance for Your Kentucky Restaurant
There are two types of employee insurance for your Kentucky restaurant: (1) workers' compensation; and (2) employment practices liability insurance. Workers' compensation is what most people think about when they think of employee insurance. It's legally required in Kentucky, and the cost will vary depending on (1) your payroll; and (2) the risk classifications for your employees. Generally speaking, your restaurant carries more risk when there are open flames and hot oil for deep frying. That being said, some of these factors might apply to your restaurant. Workers' compensation covers the costs of:
Medical expenses
Lost wages
Rehabilitation
Employment practices liability insurance is not as common but it is still worth considering if you're a mid-size or large restaurant. It covers litigation costs for lawsuits brought for issues like sexual harassment, discrimination, bad behavior, and a hostile work environment. The best part is that this type of liability coverage protects officers and the restaurant entity itself.
Certain Features of Your Kentucky Restaurant May Affect Insurance Cost and Coverage
Certain features and decisions you make about your restaurant can affect insurance coverage, too. Consider some of the following features and how they'll play a role in the conversation you'll have with your independent insurance agent about what you need.
Buffets: Underwriters don't like buffets because the food is sitting out and exposed to the public. This could increase the cost of your policy, even if it doesn't increase the cost of any particular part of it.
Drive-throughs: Most restaurant owners assume a drive-through will increase insurance costs, but it doesn't. The only way it might play a role is if your drive-through sign is expensive and you want additional property coverage for it.
Wait staff: Having a wait staff won't change much other than increasing workers' compensation costs. After all, workers' compensation is priced per $100 of payroll.
Carry-out: A carry-out restaurant has the opposite effect of a restaurant with wait staff – fewer employees mean less coverage in workers' compensation.
Delivery: Delivery means more liability coverage to extend to the vehicles. That being said, it's more cost-effective for many restaurants to purchase delivery vehicles rather than extend liability coverage to employees' existing vehicles. That's because employee cars generally have a lot of unknown risks that underwriters find problematic and increase policies more as a result.
Ready to Save On Restaurant Insurance?
Our independent agents shop around to find you the best coverage.
How Your Kentucky Location Affects Your Restaurant Insurance Needs
Your Kentucky location won't change much about the coverage you need other than because of:
The type of food served
How you cook it
As we mentioned above, Kentucky is notorious for fried foods, including desserts. This will increase workers' compensation coverage because a kitchen with hot oil is a higher risk. And, because Kentucky is an interior state, it's likely that restaurants are relying on frozen food. This means that spoilage coverage is probably in the cards, too.
General Costs of Restaurant Insurance in Kentucky
Before we go into how much restaurant insurance costs, it's important to note that there are two different packages you're paying for:
Property and liability
Workers' compensation
Workers' compensation is paid separately because the policies are written differently than property and liability, which are bundled together. It's based on your payroll (per $100 of payroll) and your risk classifications (risks for workers based on what they do in your restaurant). That being said, property and liability combined can be as little as $1,000 annually if you're a corner hot dog stand, or as much as $100,000 annually if you're operating a restaurant with multiple locations.
Keep in mind that an underwriter cares first and foremost about risk. There is little risk if you're operating a hot dog stand, but a lot to lose if you're a restaurant employing hundreds of people, cooking with hot oil or over open flames, and packed with priceless personal property (like paintings). If anything, it's important to understand that you won't have an accurate idea about the cost of insurance until you speak with an independent insurance agent.
Get Your Kentucky Restaurant Insured with an Independent Insurance Agent
An independent insurance agent will guide you through all of the general and specialized policies you need, including coverage for:
Property
Liability
Employees
Independent insurance agents have the freedom to speak to different carriers and the flexibility to fashion a policy that works specifically for you. By working with your independent insurance agent, especially knowing the details in this article, you can evaluate your options and get a policy that works for you at a price that works for your bottom line, too.