New Mexico Bonds
Find the right bonds for you.

Question: What do an independent construction contractor and a private investigator have in common? Answer: If they are doing work in New Mexico, both must be bonded. Surety bonds and fidelity bonds are designed to protect businesses and their clients from losses related to theft, fraud, willful non-compliance, and other dishonest acts.
Whether you are looking for surety bonds or fidelity bonds, a local independent insurance professional can help. These agents can shop around to find you the best business bonds for your New Mexico company. Find an insurance agent near you to learn more.
What Is the Difference between Surety Bonds and Fidelity Bonds?
Surety bonds and fidelity bonds are different. Surety bonds protect your clients while fidelity bonds protect your company.
Surety bonds are often required in order for certain companies to be licensed to work in this state. They serve to protect your clients in the event that your company fails to meet its contractual obligations.
Fidelity bonds act more like an insurance policy. They are designed to protect your business against dishonest or illegal acts committed by your employees.
Learn more about these business bonds by reading below and then bring your questions to a local independent insurance agent to get answers as well as help obtaining the right bonds for your business.
What Is a Surety Bond?
A surety bond can best be described as a three-way contract. It is an agreement between you, as the bond holder (or "the principal"), the bond provider (or, "the surety"), and your client (or, "the obligee").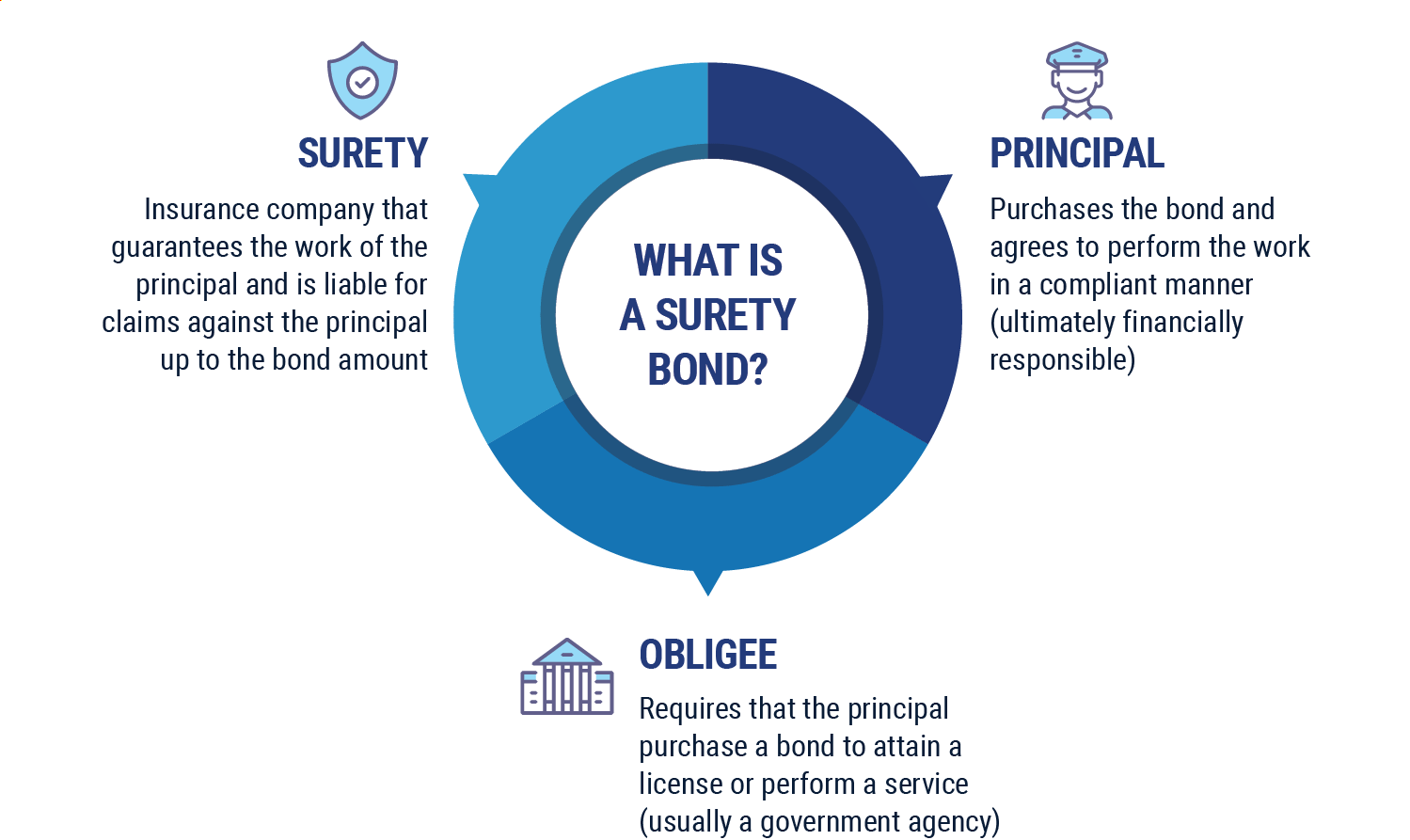 In the event that your business does not act in accordance with the terms established by the bond, the surety will provide the obligee with financial compensation. You would then be obligated to repay these funds to the surety. Surety bonds do not act as insurance policies, so they do not shield your business from financial losses.
For example:
A school district wants to build a new school. They request bids from various contractors and choose one. The hired contractor will need to have a surety bond in the amount of the total project cost. If the contractor fails to complete the project, the surety will cover the cost for another company to finish the work. They will then pursue the original contractor through legal action, if necessary, to recoup their losses.
Who in New Mexico Needs Surety Bonds?
The types of surety bonds that are required by law vary from state to state. In New Mexico, certain businesses and individuals must be bonded in order to legally perform their services. Examples include:
Appraisal management companies: The NM Board of Real Estate Appraisers requires these companies to have at least $25,000 in surety bonds. These bonds ensure that the appraisal company will act in compliance with all state appraisal laws.
Construction contractors: Individuals who are licensed to do construction work under contract are required to post a $10,000 contractor license bond before they can legally work in this state. These bonds obligate the contractor to comply with state laws and finish all jobs according to building codes.
Independent insurance adjusters: The New Mexico Office of the Superintendent of Insurance requires all independent insurance adjusters to post a $10,000 surety bond before they can be licensed in this state. The bond ensures that covered adjusters will operate in compliance with the state's insurance code provisions.
Private investigators and detectives: The NM Private Investigators Advisory Board requires PIs and detectives to post a $10,000 private investigator bond or a private patrol operator bond before they can legally work in this state. This bond ensures that the covered parties will comply with all state rules and regulations regarding investigative work.
Notaries: New Mexico's Notary Division requires that all notaries post a $10,000 bond before they can be legally commissioned to notarize documents in this state. This bond ensures that the notary will faithfully discharge the duties entrusted to them for the duration of their commission.
Motor vehicle dealerships and dismantlers: The NM Motor Vehicle Division requires dealerships to post a $50,000 surety bond and dismantlers to post a $12,500 bond before they can legally operate in this state. The bond ensures that covered dealerships and dismantlers will remain in compliance with all state provisions regarding motor vehicles.
Learn more about the requirements your business by have and get help obtaining the appropriate surety bonds by working with an independent insurance agent near you.
How Much Do Surety Bonds Cost in New Mexico?
The cost of surety bonds varies according to:
The amount of the bond you are purchasing
The type of surety bond you are purchasing
Your creditworthiness
Your company's current financial condition
For the most part, you can expect to pay anywhere from 1% to 15% of the bond amount. So a $10,000 bond can run you anywhere from $100 to $1,500.
A company with a long history of successful job completions will be less of a risk to bond, and will therefore pay lower rates. A brand-new company with little financial worth may find it difficult or impossible to be bonded for a large project.
What Is a Fidelity Bond?
It is unfortunate, but not all employees are honest, law-abiding citizens. That is why fidelity bonds, also known as employee dishonestly bonds, can prove beneficial.
Fidelity bonds act like crime insurance policies. They protect your company against dishonest and illegal actions by your employees by reimbursing the incurred losses that resulted because of these actions.
There are several different types of fidelity bonds. When you have any of these bonds, you can assure your clients that your employees are bonded. That way, they will know that your company has taken a proactive step toward vetting and hiring trustworthy workers. Some fidelity bonds that may be of use to your New Mexico company include:
Business services bonds: These are designed to cover business services companies against losses caused by illegal acts by their employees.
Janitorial & cleaning services bonds: These are designed to cover cleaning services businesses. They can cover against crimes like theft and intentional property damage for which your company may be held liable.
Financial institutions bonds: These are designed to cover financial companies like banks, credit unions, and insurance companies against losses due to employee dishonesty and crimes such as embezzlement and fraud.
ERISA bonds: These are designed to cover your employees and their beneficiaries against theft or fraud committed by employees or administrators of the policies in your employee retirement plans.
Learn more about each type fidelity bond and get advice about covering your business by speaking with one of the many independent insurance agents located in New Mexico.
How Much Do Fidelity Bonds Cost in New Mexico?
The cost to secure a fidelity bond can vary from one business to the next.
Fidelity bond rates are based on factors such as:
The types of bonds you are purchasing
The number of employees you have
The amount of coverage you need
An assessment of the controls your company has in place to reduce the likelihood of illegal acts by employees
Talk to a local independent insurance agent to receive customized fidelity bond quotes.
Who in New Mexico Needs Fidelity Bonds?
Fidelity bonds are not required by law. However, these optional bonds can protect your business from losses if an employee is stealing from you. They can prove vital to any business that contracts their services in such a way that their employees could potentially steal from or defraud clients.
Examples of New Mexico businesses that frequently purchase fidelity bonds include:
Cleaning companies
Financial advisers
Governmental entities
By advertising that your employees are fully bonded, your company is showing potential clients that you take their privacy and property seriously and that you have proactively taken steps to protect their interests. Talk to a local independent insurance agent to learn more.
How Can I Find the Best Bonds for My New Mexico Business?
If you are looking for competitively priced bonds to suitably cover your business, look no further than a local independent insurance agent. These agents can answer your insurance-related questions and can help you find reliable coverage at an affordable price.
Contact an insurance agent near your to start comparing customized quotes for bonds to cover your business interests.
©2023, Consumer Agent Portal, LLC. All rights reserved.
https://www.suretybonds.com/states/new-mexico.html
https://www.wwisinc.com/states/new-mexico-surety-bond