What is a single life annuity
(Find out if you need one, how much they cost, and more)

When it comes to financial protection, it's important to know that relying on one income isn't best for financial stability. With an annuity, you can create another source of income for the rest of your life.
An independent insurance agent can help you determine which annuity options are best for you. There are many options to annuities, so it's best to get professional help to ensure you have the most suitable financial protection.
What is a Single-Life Annuity?
Simply put, a single-life annuity can provide a long-running steady income for an individual that will help create more financial stability and security. Typically a single-life annuity pays income to the annuitant for the remainder of their life. Roughly a third of people use annuities as a nice little way to prepare for retirement.
How Single-Life Annuities Work
A contract between you and the insurance company is created that says you'll pay an initial lump sum payment and, in return, receive monthly payments for the remainder of your life.
Factors that Affect Monthly Payments:
Lump-sum investment: The amount of money invested into the annuity. The more you invest, the more you'll receive.
Age: Monthly payments increase with age. So as you get older, you'll receive more.
There are extra costs for a beneficiary to receive income after an annuitant's passing, so a lot of people add certainty periods to their annuities. If the annuitant passes away within that certainty period, then a beneficiary receives those payments until that time is up. It's not uncommon to see annuity contracts with 10- or 20-year certainty periods.
For example:
An annuitant has a single-life annuity with a fixed period of 15 years. About 10 years later, the annuitant passes away. The beneficiary, or secondary annuitant, will receive the annuity income for the remaining 5 years.
Annuities are a main method of financial protection as they had the highest policy reserves in a 2017 survey conducted by the American Council of Life Insurers.
Distribution pf policy reserves held by life insurance companies in the United States in 2017, by type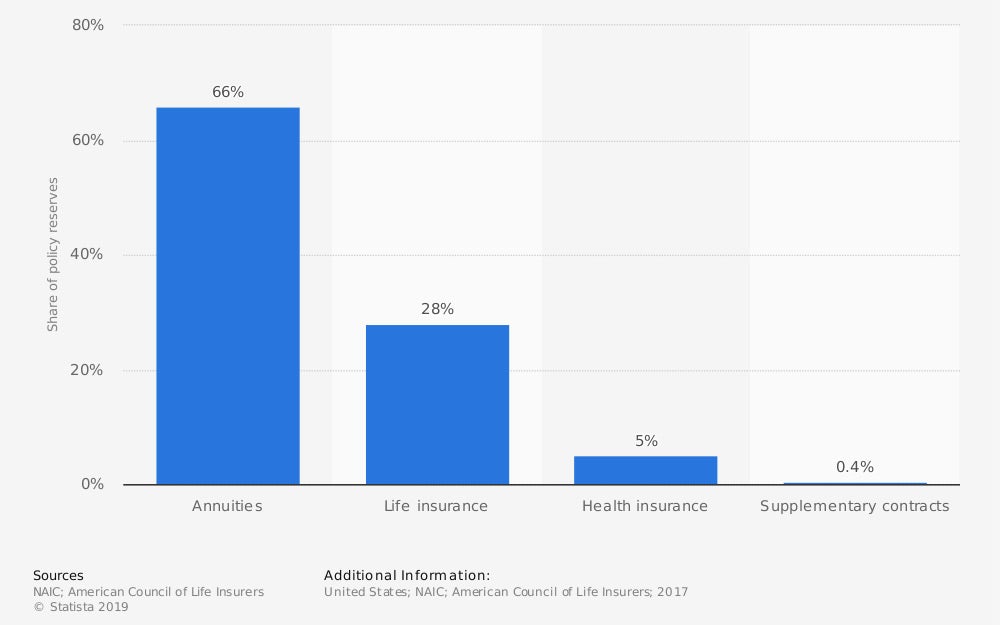 Save on Life Insurance
Our independent agents shop around to find you the best coverage.
How Much Do Annuities Cost?
What the purchase price will be varies greatly from annuity to annuity. There are many different options and features available with variable annuities, but generally, the more you include in the annuity contract, the more your costs will be.
But keep in mind that annuities are tax-deferred, so that's a nice little bonus. As for all the costs associated with your annuity, you can expect it all to go into:
Purchase payment
Surrender fees
Underlying fund expenses
Mortality and expense risk charge
Administrative fees
Additional fees and charges for other features
Transfer fees
The purchase payment is the annuity agreed upon in the contract, or however much you and your agent decide is right for you. The surrender fee applies to any withdrawals that occur within a certain time period of the contract, which is usually within the first ten years.
They do, however, decrease with each year until the period is up in which you could be charged a fee.
There will be underlying fees stemming from any mutual funds the annuity is invested under. The mortality and expense risk charge is a small annual percentage of the value of your annuity account designed to cover the potential risks the insurance company assumes under the contract.
The administrative fee is charged for administrative expenses like record-keeping and is a small annual fee with a set amount or a very small percentage.
This all may sound like a lot of fees and charges, but they're all there to help make sure your annuities are handled and processed properly.
Save on Life Insurance
Our independent agents shop around to find you the best coverage.
What Risks Are Involved with Single-Life Annuities?
Not a lot, really. But sometimes adding certainty periods is a way to protect yourself from losing out on part of the investment. If a single-life annuity contract has not paid out all of the annuity income before the passing of the annuitant, the remainder could stay with the insurance company.
And you don't want them to have your money, do you?
For example:
A person sets up an annuity contract with an investment of $80,000. This person then passes away after only receiving $50,000 in annuity income. If they did not add any certainty periods or additional annuitants, then $30,000 will stay with the insurance company.
Who are Single-Life Annuities for?
Most people who purchase annuities are well within, or over, middle age. They're planning for retirement and would like to receive a steady income in the years to come.
Annuities are a good option for folks who've established a good amount of savings and are looking to make a long-term investment. If a person doesn't have an emergency fund or savings, it's best not to invest in annuities.
What types of accounts do you have for your retirement savings?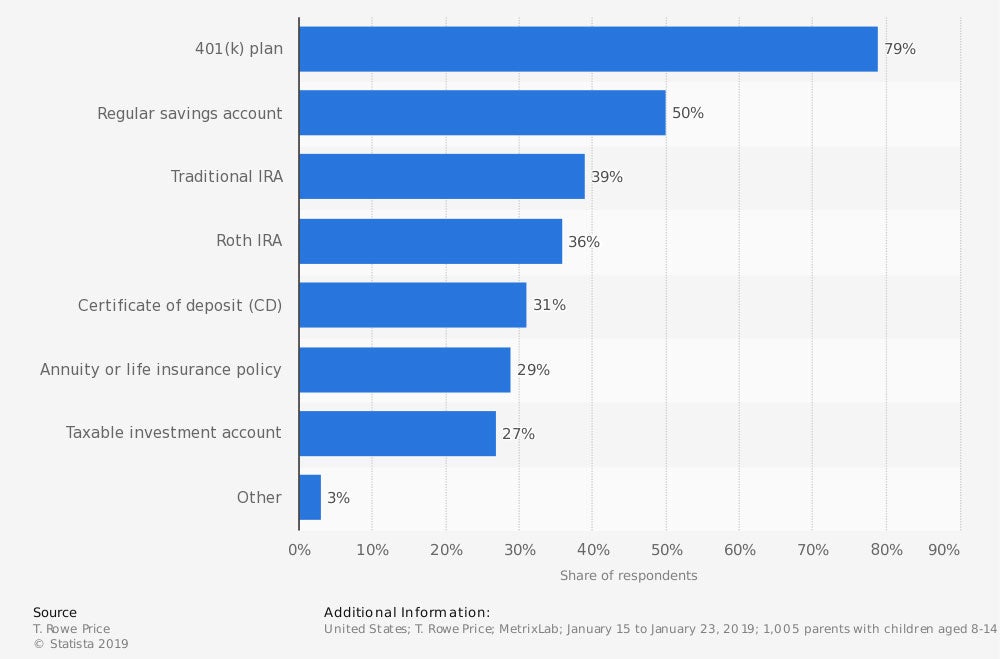 Compare Annuity Options with an Independent Insurance Agent
Look, your time is valuable, so why spend it doing all the hard work yourself? An expert independent insurance agent will help you determine what type of investment makes the most sense for you.
There are independent insurance agents that are annuity experts to help you choose the best annuity options.
They're not just there at the beginning, either. As changes and events occur, you'll have a trusted annuity expert by your side to ensure your annuity provides the financial coverage you planned for.
TrustedChoice.com Article | Reviewed by Paul Martin
©2023, Consumer Agent Portal, LLC. All rights reserved.
https://www.statista.com/statistics/542709/accounts-used-for-retirement-savings-usa/
https://www.iii.org/article/what-are-different-types-annuities
https://www.statista.com/statistics/194344/us-life-insurers-distribution-of-policy-reserves/