5 Steps to Take after a Tornado
(Your complete guide to picking up and moving on after a tornado.)

Your worst nightmare has happened. You awake to the sounds of wind and rain and thunder, and then tornado sirens. The next thing you know, you hear a deafening roar that sounds like a freight train approaching.
You gather your family and rush them to the basement to take shelter. You huddle in fear as you hear the sounds of limbs breaking and hail pounding and windows breaking. A few short minutes later, it's suddenly quiet and it's all over.
Or is it?
You've just been hit by a tornado. It may have only slightly damaged your trees or your roof, or it may have laid waste to your home and maybe even the entire neighborhood. Whatever the level of damage, here's what you need to do next.
Click on this independent agent matching tool to find the best insurance solution in your area. Describe what you're looking for, and the tool will recommend the best agents for you. Any information you provide will be sent to only the agent you pick.
Save on Home Insurance
Our independent agents shop around to find you the best coverage.
The Five Things to Do after a Tornado Strikes
1. Protect Life
Your first actions should be to protect yourself and your family from further harm. If there are injuries or people are trapped by debris, call 911 immediately. Render first aid to the best of your ability while you're waiting for help to arrive. Don't try to move an injured person unless they're in immediate danger.
There may be wires down, broken gas lines, exposed nails, and unstable structures that could collapse. If there are wires down, stay away from them and anything they're in contact with, including puddles of water. If you smell gas, vacate the area immediately and stay well away until the area has been declared safe by the fire department or gas company. Do not flip switches or operate anything electrical as you're vacating in order to avoid creating sparks, and do not use candles.
Keep in mind that the storm may not be over. Tornadoes often appear in clusters, so a battery-powered radio is essential. Stay tuned to a weather channel and don't assume there can't be more coming. If the weather forecast says there may be and your home is no longer safe, get to a community shelter or other safe place if possible. The last place you want to be in a thunderstorm is in a damaged house or outside exposed to the elements.
2. Protect Property
Once you've ensured that you and your family are safe, take steps to protect your property from further harm. Shut off the natural gas or propane at the main valve and the electricity at your home's main breaker panel. If you don't know how to do these things, now is the time to learn. Call your gas and electricity suppliers for guidance. Cover damaged windows and roofs against rain with tarps or plastic sheeting. Cover furniture, electronics, and valuables that might be exposed to the elements.
Secure valuables. Make sure that valuables that might be tempting to thieves are secured and out of sight.
3. Document the Damage
As soon as it's safe and practical to do so, take photos of your property, your belongings, and the damage. This will help ensure that you're able to recover the full insurance proceeds available to you, and it will support tax write-offs for any uninsured losses.
4. Communicate
Once the immediate priorities are met, reach out to your friends and family and let them know you're okay. Phones and internet service may be down or overloaded after a major event, so save phone calls for emergencies. Text messages or posting to social media are usually better options. Some social media sites have specific features they activate following disasters to allow you to quickly and easily let all your friends know "I'm okay" with a single message.
5. Initiate the Claims Process
Although your agent will probably be aware of a major incident, you need to be proactive and contact them. Inform them as soon as practical because they can help protect your property from further damage, assist with temporary housing and repairs, and document your losses.
Contact your insurance company as soon as possible to begin the claims process. Your agent can assist you with this.
A claims adjuster will need to visit your property and inspect the damage. Work with them and assist them in any way you can to maximize the coverage you receive.
Once you and the adjuster have reached an agreement on the amount of your claim, begin working with contractors to make emergency and permanent repairs. The insurance company may recommend preferred contractors they've worked with who are reliable and offer a fair price.
Record everything throughout this process. Keep copies of bids and estimates, repairs made, notes about discussions with contractors and the insurance company, and photos of damage and repairs in progress.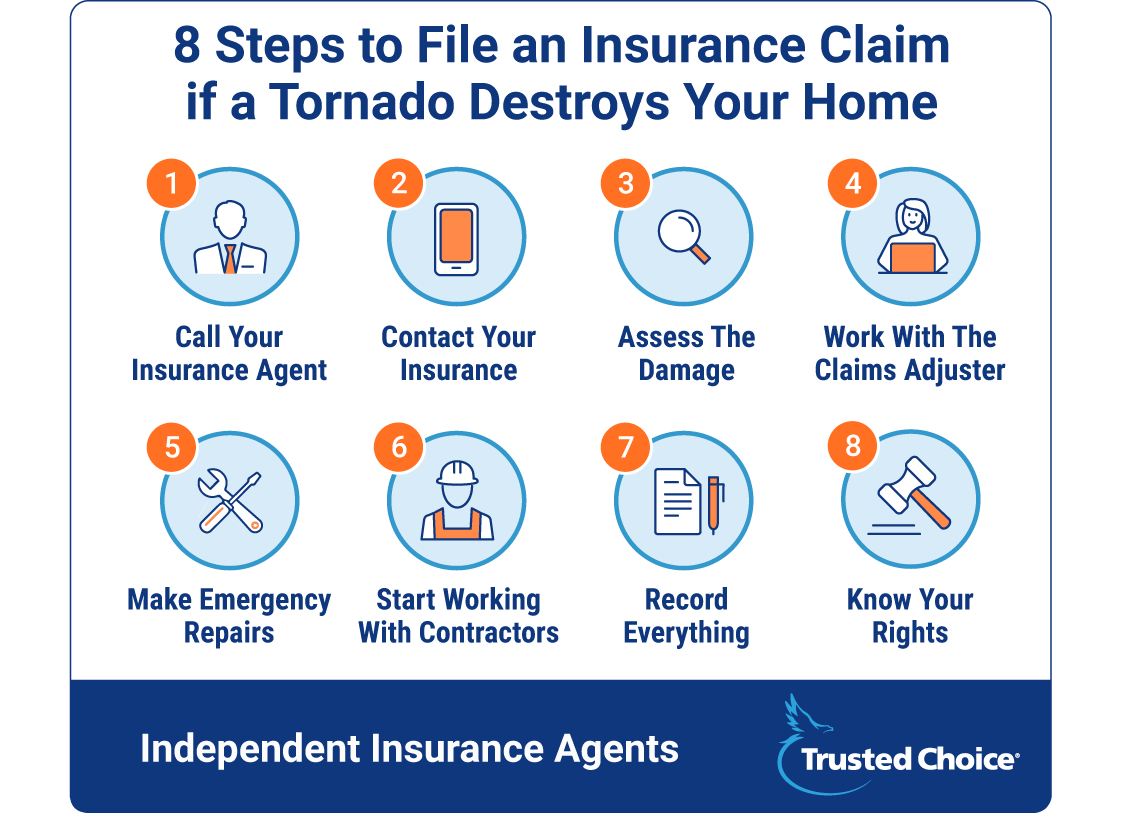 Save on Home Insurance
Our independent agents shop around to find you the best coverage.
Why Choose an Independent Insurance Agent?
Independent insurance agents can offer you a large selection of homeowner policies that will provide you with the security you need to deal with any storm, including tornadoes.
These agents simplify the process of shopping for and comparing homeowners insurance. They will explain the complex terms for you, cut through the jargon, and make sure you understand the fine print.
But perhaps most importantly, they work for you — not one insurance company. They can compare policies from many companies and pick the ones that are best for you at the best possible price.
They'll also be there for you in the future if your needs change or questions arise. They work for you, and their only job is keeping you satisfied now and in the future.
©2023, Consumer Agent Portal, LLC. All rights reserved.
https://www.cdc.gov/disasters/tornadoes/after.html
https://www.ready.gov/tornadoes