Colonial Penn Insurance Company Review
Colonial Penn Insurance at a Glance
Founded in 1968
Specializes in life insurance
Coverage offered to customers aged 18-85
Coverage is offered in 49 states and DC
"A-" (excellent) rating by A.M. Best
"A+" (excellent) rating by Better Business Bureau
Offers affordable coverage rates
Offers coverage with no medical exam
Strong financial stability
Colonial Penn Pros: Well-established company with more than half a century of experience in the insurance industry. Offers life insurance policies with no medical exam. Offers affordable rates on life insurance coverage. High ratings through both A.M. Best and the Better Business Bureau (BBB). Coverage is offered in almost every state.
Colonial Penn Cons: Concerning volume of customer dissatisfaction and complaints across multiple websites. Carrier's official website does not provide information about discounts. Carrier's website does not provide a claims response time frame or official claims process. Carrier does not offer 24/7 claims reporting via phone. Carrier does not offer online claims reporting.
What Type of Insurance Does Colonial Penn Offer?
Colonial Penn is a specialized insurance company that focuses on life insurance. They have a few coverage options available, including:
Guaranteed acceptance (whole) life insurance (ages 50-85)
Permanent whole life insurance (ages 40-75)
Renewable term life insurance (ages 18-75)
For individuals of almost any age, Colonial Penn offers a type of life insurance suited to their needs. If you're in the market for affordable life insurance, Colonial Penn may just be the right insurance company for you.
What to Know about Colonial Penn
Colonial Penn was founded in 1968, making it a well-established insurance carrier with more than half a century of experience in offering multiple insurance options to individuals in many different age brackets. The carrier was one of the first on the market to begin offering guaranteed acceptance life insurance plans requiring no medical exam to senior citizens.
With several decades of experience under its belt, Colonial Penn's history has helped it to earn a reputation as a stable company. Coverage is available in 49 out of 50 states, as well as DC, Puerto Rico, and the Virgin Islands. However, term life insurance policies are not offered in all states. Colonial Penn is a subsidiary of CNO Financial Group, which serves more than four million customers across the nation.
Colonial Penn's long-standing history and wide reach throughout the country aids the carrier's reputation as a financially stable insurance provider with a strong outlook for the future. A.M. Best, the leading global credit rating agency monitoring the insurance industry, gives Colonial Penn an "A-" rating, indicating the carrier is an excellent choice for insurance customers. The "A-" rating assures customers that Colonial Penn is capable of offering guaranteed, secure coverage from a trustworthy carrier. A.M. Best also places Colonial Penn in the $1.5-2 billion financial size category, further demonstrating the carrier's financial strength and stability.
Established in 1899, A.M. Best is one of the oldest rating companies in the world. Reviews from A.M. Best indicate an insurance company's financial strength and creditworthiness, and are based on comprehensive evaluations of the company's operating performance, business profile, and balance sheet. For customers who aren't as familiar with insurance companies' reputations, A.M.0 Best's rating system allows them to make an informed decision about who they can trust to meet their needs in the short term, and also to remain a strong, financially sound company in the long term.
Find The Right Company Today.
Shopping for a company? We have the right one for you.
What Discounts Does Colonial Penn Offer?
While Colonial Penn does not make information about their discounts readily available to prospective customers through their website or direct inquiries, there are several standard discounts offered by many life insurance companies. These discounts include: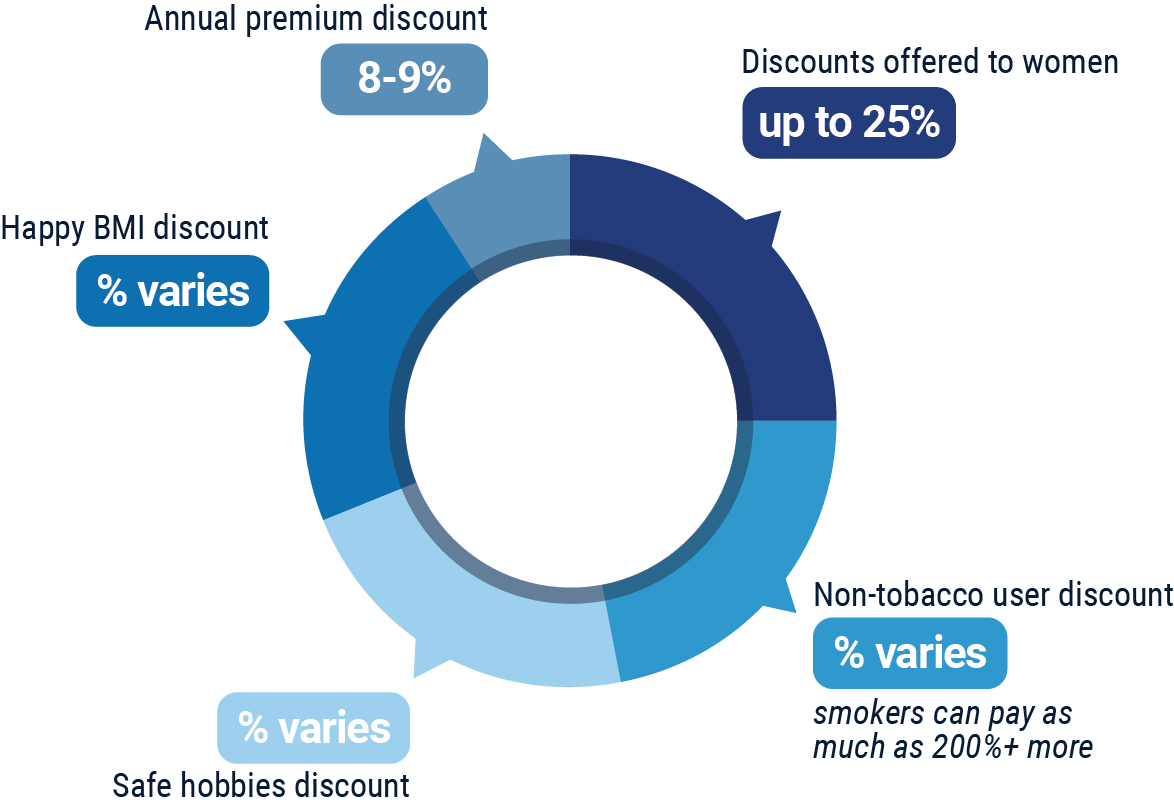 Discounts offered to women: Life insurance companies often charge noticeably cheaper premiums on their policies to women over men in the same age bracket.
Non-tobacco user discount: Life insurance companies tend to reward customers who do not use tobacco products with cheaper premiums.
Safe hobbies discount: Life insurance companies often award customers who practice safe, non-life threatening hobbies (e.g., no skydiving) with cheaper premiums.
Healthy BMI discount: Life insurance companies often grant cheaper premiums to customers with healthy body weight respective to their age group and height.
Annual premium discount: One verified discount offered by Colonial Penn is awarded to customers who pay their premiums annually instead of monthly.
An independent insurance agent can help you find specific discounts and quotes for more exact premium rates available through Colonial Penn, helping you get the most bang for your buck out of your coverage.
Colonial Penn Customer Service
Colonial Penn handles most customer inquiries via phone and regular mail. The carrier provides the following customer service options:
Email options available for customer service inquiries.
Main hotline for customer service has the following hour restrictions:
| | | | |
| --- | --- | --- | --- |
| | | Hours (EST) | |
| | | Monday-Friday | 8:30 am - 5:30 pm |
While Colonial Penn offers direct contact options, the easiest way to get set up with the right coverage for you is through working with an independent insurance agent. These agents also help handle claims and insurance concerns for you, making customer service even easier.
Colonial Penn FAQ
What is Colonial Penn's average claim response time frame?
For starters, Colonial Penn only accepts claims filed via snail mail, which already slows the process down considerably compared to many other modern insurance carriers that offer online filing or 24/7 filing via phone. The carrier's official website has no mention of any specific time frame in which they will respond to claims. However, a response given to a customer complaint on the BBB website stated that they would receive a mail response within 7-10 business days.
What is Colonial Penn's customer service availability?
Colonial Penn offers a phone line for prospective and current customers to get in touch with them during restricted hours, Monday-Friday. The carrier does not offer a 24/7 hotline for claims reporting. However, they do provide an email address for additional customer service inquiries.
What is Colonial Penn's claims process?
Colonial Penn only accepts claims filed via snail mail. A mailing address is provided for customers on their official website, as is a link to download the necessary form. The company allows customers to call or email them if they have further questions. The carrier's claims FAQ answers several questions about claims, but none of them actually detail the claims process. Colonial Penn does not make an official claims response time frame promise, nor do they offer customers any outline of their claims process. However, customers have reported experiencing a 10-14 day total turnaround for filing claims.
Does Colonial Penn create a user-friendly experience for customers?
Colonial Penn's official website is not extremely modern or user-friendly. Many pertinent pieces of information that prospective customers may be seeking are not readily available, such as information about discounts and claims processes. Customers do not have the option to file claims online or over the phone, which is strange and inconvenient for an insurance carrier in the modern world. The website does have options for prospective customers to request quotes, and for current customers to pay their bills online, however. The carrier does have a presence on Facebook, which makes them more available to customers, and their page states that they typically respond to direct messages within a day.
Colonial Penn Customer Reviews
Yelp

"I wouldn't advise anyone to get life insurance with Colonial Penn. The application on their website is false advertisement. They ask you medical questions about the past 3 years and ask for complete honesty, yet when my application was denied, it was due to them going into my pharmacology history going back 7 years. Seven years ago, I had undergone minor surgeries, misdiagnosed illnesses and there were some medications during that time that I never heard of and definitely never filled. In the past three years, I have only taken high blood pressure medication and there was a cholesterol medication that I can't take because of the side effects. I lead a vital, healthy and productive life, but Colonial Penn misrepresents themselves as the insurance company that anyone can get, regardless of their situation. That is lie number 2. I left a message for a supervisor. I will see how much they care about the false misrepresentation of their company. STAY AWAY FROM THEM."
Better Business Bureau

"Commercial ad tells you NO medical questions and NO medical exam. " Guaranteed Acceptance." I filled out an application online and did have to answer medical questions. After giving payment information and getting a confirmation email, a week later I received a letter telling me I was denied due to my medical questions. Absolutely ridiculous and deceiving. Please stop paying Alex to lie for you. It's disingenuous. Thank you."
Consumer Affairs

"I have had Colonial life for several years (over 15). I have filed cancer, sickness, and accident claims and have always got prompt settlements. I received notifications when my claim was received and also when they mailed the payments. The mail claims that I sent were usually about a 10 -14 day turnaround and the faxed claims were about half that. I am very pleased with Colonial life and would recommend it to anyone."
Consumer Affairs

"While I got an initial payment they have yet to pay anything else. I've been put out of work through the summer while I undergo treatment and possibly surgery to fix the nerve damage in my foot, and because the doctor changed the date on my initial paperwork, Colonial wanted more proof of my continued treatment. What scares me is that they wait the full 8 business days and don't communicate with you about the need for more paperwork. I've called and reached out to ensure they have all they need and am told "not at this time." But come next week if they request more paperwork, it means all my bills are later than ever ... again. I wish I had known how difficult they can make things before I agreed to the policy, which is now in danger of being cancelled for nonpayment because I have had no income except their initial payment which didn't even cover my rent."
Value Penguin

"While the costs for Colonial Penn's guaranteed acceptance insurance are on-par with those available for similar final expense products, if you're in good health or young, you should probably compare quotes from other insurers. Colonial Penn's term and whole life insurance products don't require a medical exam and have a maximum death benefit of $50,000, meaning you'll typically pay higher premiums and won't be able to purchase a greater amount of coverage should your financial needs change."
TrustedChoice.com's Final Review

We award Colonial Penn a final rating of 2.5 out of 5 stars. While the carrier promises it offers several types of life insurance with no medical exam required, many concerning customer reviews have stated that this is false advertising. Several customers state that they were denied coverage by Colonial Penn based on their medical history or current health status. Further, the carrier's official website is sorely lacking in terms of important information like claims processes and response time frames. The carrier also lacks an option for customers to file claims online or over the phone, which in comparison to other modern insurance companies, makes them seem extremely dated. A concerning volume of customer dissatisfaction overall knocks the carrier down a couple of stars automatically. However, Colonial Penn does have excellent ratings through both A.M. Best and the BBB, proving that they still have been able to provide reputable coverage for many folks for several decades. Colonial Penn also offers life insurance coverage at more affordable rates than many other carriers, which makes them an option worth considering for those trying to save money. So while there are some benefits to choosing coverage from Colonial Penn, it may be in your best interest to work closely with your independent insurance agent to look into several insurance carriers before selecting your policy.
©2022, Consumer Agent Portal, LLC. All rights reserved.
colonialpenn.com
ambest.com
bbb.org
https://www.consumeraffairs.com/insurance/colonial.html?#sort=recent&filter=5
https://www.bbb.org/us/pa/philadelphia/profile/insurance-companies/colonial-penn-life-insurance-company-0241-80001800/customer-reviews
https://www.yelp.com/biz/colonial-penn-insurance-philadelphia