What is an Independent Insurance Agent?
(In a nutshell, they find the right insurance and the sweetest discounts. Boom.)

When your car's making some sort of whir-whir-whir-clunk noise, it pays to know the right car guy. When your bathroom sink is backed up with beard hair, it pays to know the right plumbing guy. And when it comes to protecting your home, your car, and all the other toys you own, you just can't beat having the right insurance guy in your corner to make sure you're covered with the right protection for it all.
For that kind of peace of mind, we say you can't go wrong with an independent insurance agent. But what exactly does "independent" mean? For starters, there are three basic types of insurance agents out there:
Captive (or direct writer) agents: These are most often the kind of agents your mom and dad used. Agents like this buy a franchise (like Allstate, State Farm, Farmers, American Family, etc.) and use their systems, sales materials, and only their products — which means your options are pretty slim.
Online agents: Like captive agents, online agents also only sell one carrier's policies. But instead of being sold through a franchised location, they're sold online and over the phone through a call center located just south of "Whoknowswhere." Without a lot of overhead, these agents may be able to get you super-cheap insurance, but it typically comes with significant sacrifices in your coverage.
Independent agents: a.k.a. brokers, independent agents are like a super combo of both captive and online agents. Similar to captives, you meet with them face to face to walk through your needs, but they aren't just tied to one specific company, which gives you way more options for coverage. And like online agents, they can usually help save you a bunch of money since they get to shop around for the right deal — at no sacrifice in your coverage.
There are benefits to all three, but we're firm believers that when it comes to bundling up your personals — like homeowners, auto, snowmobiles, and so on — the perks of independent insurance agents are second to none.
Want More Reasons? You Got 'em.
1. They give you choices. Lots of them.
As we said, the "independent" in independent insurance agent means they're free to provide insurance products from all sorts of different providers. And with a bigger playing field, they can help you find a policy that matches all of your needs, at the perfect price for you.
2. They've got your back.
Independent insurance agents work for you, not the insurance company. They want your home and all of your other toys to have the coverage they need, should they need it, and not an ounce more. And if there are discounts available or bundles that might help lower your premiums, they'll find them for you. Because independent insurance agents sit and listen to all of your personal needs and goals, to help find the perfect protection for you.
3. They're just down the street.
With a local independent insurance agent, you get someone who's just a quick phone call away and knows exactly what you need. They know all about any state-specific auto requirements, general insider details about area flood zones, and so on. You can't beat that.
Ready to Save On Insurance?
Our independent agents shop around to find you the best coverage.
4. They live for dirty work.
No one likes dealing with the insurance companies when it comes to filing claims and dealing with billing issues. But with an independent insurance agent, you've got someone who will handle it all for you. They'll fight your fights, handle all the nitty-gritty, and let you get back to your life.
5. They're real know-it-alls.
When you're looking for the right coverage for your house, car, snowmobile, or whatever, it's important to have someone who knows what they're doing. After all, insurance can be confusing, packed with all of those intimidating legal terms and fine print.
But an independent agent will help walk you through it all, showing you how your car, your home, and other stuff can all be bundled together for better protection at a better price. And in the end, you should be able to understand your insurance policy just as well as they do. Because the better you understand it, the better it will help protect you.
6. They're your "Insurance Guy."
Independent agents don't just disappear once you've got your policy in hand. They'll periodically review your coverage and reach out with any suggestions that might protect you better or save you money as time goes on.
And unlike captive and online agents, if you want to switch insurance carriers for a better price or coverage, your independent agent can go with you. And they already know all about your life.
7. They're as convenient as it gets.
Your time is valuable. So why waste it talking to this agent about life insurance, and that agent over there about car insurance? With an independent insurance agent, you get a one-stop shop — and that means you get all the insurance you need in one place. Car, home, life, boat, snowmobile, or whatever.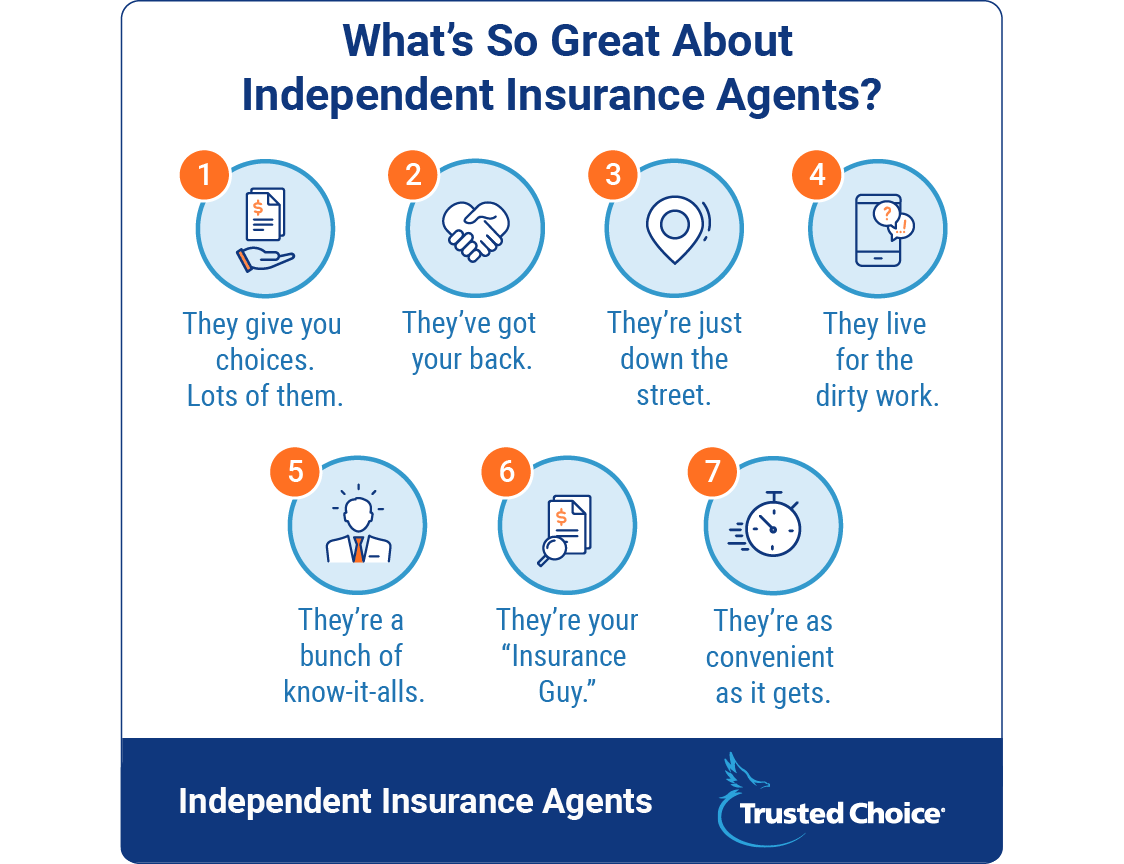 So, How Do You Find Independent Insurance Agents?
Good news is, it's easy. A quick stop at TrustedChoice.com will put you right where you need to be to get started. Just answer a few quick questions and a massive database featuring over 250,000 independent insurance agents will set you up with recommendations based on your needs and your location. Then you'll contact any, or all, of the agents referred to you and they'll take it from there. See, super easy.
Meet Your Match.
When you're looking for insurance to cover your family's home, the toys in the garage, and so on, having the right agent in your corner is key. And while there are benefits to both captive agents and online agents, you just can't beat the personal touch, the options and the price that comes with an independent insurance agent. Good luck, and happy hunting.