Pharmacy Insurance
Your pharmacy needs protection from professional errors as well as from property damage and more.
When you run a pharmacy, you've got to keep all kinds of risks in mind on a daily basis. From filling customer orders to protecting your inventory from spoilage, there are just a ton of things that could too easily go wrong. That's why having the proper pharmacy insurance is crucial.
Fortunately, our independent insurance agents can help you find the best pharmacy insurance for your needs. Even better, they'll get you set up with all the coverage required, long before you need to ever file a claim. But first, here's a closer look at this critical coverage.
Pharmacy and Drug Store Industry Stats
There are about 26,000 pharmacy and drug stores in the US
More than 723,000 people are employed in this industry
This industry generates about $263 billion in revenue each year
Save on Business Insurance
Our independent agents shop around to find you the best coverage.
The pharmaceutical industry is huge, both in terms of size and revenue. That's why it's so imperative for each individual pharmacy to be equipped with the proper protection.
What Is Pharmacy Business Insurance?
Pharmacy business insurance is a special type of coverage designed to protect the owners and operators of pharmacies and prescription drug stores. Often, the basics of coverage are provided in a Business Owners Policy (BOP) which then gets topped off with additional coverages specific to the business niche's needs. An independent insurance agent can help ensure that your pharmacy or drug store gets equipped with each type of coverage it requires to succeed.
What Could Go Wrong at a Pharmacy?
There are a number of things that can go wrong at a pharmacy, and some of these could be financially devastating to businesses that lack the proper coverage. Consider how your pharmacy or drug store would handle the repercussions in these scenarios.
A customer falls while on their way into the pharmacy counter and suffers a hip fracture that requires surgery. The customer then sues your business for their medical treatment and lost wages.
An employee uses their own vehicle to make a prescription delivery to a customer. On the way, they cause a serious collision that injures a family. The family then sues your business.
A pharmacist accidentally mislabels a prescription bottle, and a customer who takes the medications ends up in a coma. The customer's family then sues your pharmacy.
Distributing medications comes with a myriad of risks. Just one "small" mistake could cause catastrophic health problems to a third party, not to mention lawsuits against your business. For this reason, pharmacies and drug stores were among the first business to have industry-specific, custom-built insurance packages.
Who Sells Pharmacy Business Insurance?
Pharmacy business insurance is available from many different insurance companies, and the best way to find the right carrier for you is through working with an independent insurance agent. They know which insurance companies to recommend to meet your needs, and can provide informed suggestions based on company reliability, rates, and more.
While many insurance companies could create a pharmacy business insurance policy for you, finding coverage could also depend on the area you live in. Here are a few of our top picks for pharmacy business coverage.
What Does Pharmacy Business Insurance Cover?
Pharmacies need coverage for not just their medications provided to the public, but also for routine business operations. Pharmacy insurance is customizable, so you'll build your package based on the needs of your specific business.
Your policy will provide the basic protections included in standard business insurance and get topped off with additional, pharmacy-specific coverages. Here are some of these important coverage options for pharmacies.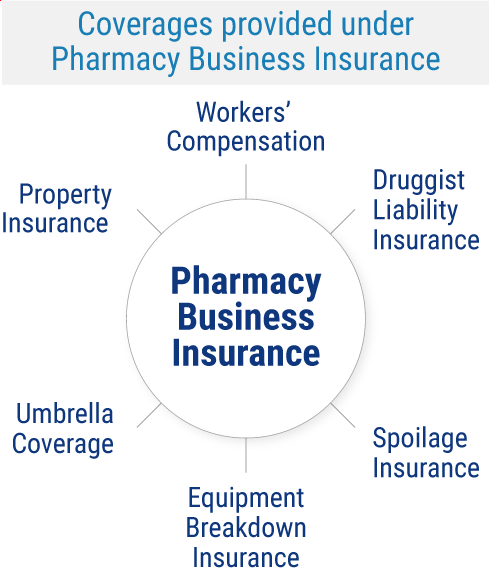 Workers' compensation: Workers' comp protects your employees if they get ill or injured on the job, or die from a work-related incident. Coverage is mandatory for most businesses, depending on the state.
Property Insurance: Property damage coverage protects against damage to or destruction of your pharmacy's physical building as well as the contents inside (e.g., furniture, carpeting, electronics, etc.) after a covered disaster like a fire, hailstorm, etc.
Druggist liability insurance: Druggist liability insurance is a special form of professional liability coverage tailored to pharmacists. If a prescription is filled incorrectly, it can result in a costly lawsuit against your pharmacy.
Umbrella coverage: Commercial umbrella insurance provides reimbursement for excess liability charges that reach beyond your built-in business insurance liability limits. Up to $100 million in this coverage may be added.
Equipment breakdown insurance: Equipment breakdown coverage protects against damage to major appliances that may be affected by power outages, etc. Many medications require refrigeration, so this can be a crucial add-on to pharmacy insurance.
Spoilage insurance: This provides compensation for medications that require refrigeration if an extended power outage renders them unusable.
You may want to list more expensive medications on a separate policy, such as an inland marine insurance policy. Costly products can be cheaper to insure this way. Your independent insurance agent will help you determine which coverages are the most important for you and your pharmacy business.
What Other Pharmacy Business Insurance Coverage Do You Need?
In addition to the basic coverages, there are other protections that may be required or are at least worth considering for your pharmacy or drug store, such as the following.
There are a number of different insurance options available to you, and some may be a good fit for your pharmacy. Be sure to discuss your day-to-day operations with an independent insurance agent who can suggest appropriate coverage.
Additional Coverages for Pharmacies
A lawsuit can be financially devastating for your pharmacy. Even if your store is found to be non-negligent, the cost of your legal defense can be overwhelming. Fortunately, liability insurance provides your business with a financial safety net. Some coverage types you will want to discuss with your independent insurance agent include the following.
An independent insurance agent will ensure your pharmacy business gets equipped with all the additional coverages necessary to maintain smooth and safe operations over time.
What Doesn't Pharmacy Insurance Cover?
Though pharmacy insurance comes with many important coverages, it also comes with a list of exclusions. These are just a few incidents most commonly not covered by pharmacy insurance policies.
Robbery
Pollution
Dishonest acts by staff
Routine maintenance
Earthquake damage
Nuclear reaction and war
Temperature changes
Missing inventory
Flood damage
Your independent insurance agent can provide you with more information about finding coverages necessary for your specific pharmacy business if they're excluded from your main policy.
How Much Does Pharmacy Insurance Cost?
The cost of your pharmacy insurance package isn't a standard number. A lot of factors go into determining the cost of your coverage. Here are just a few.
The size of your pharmacy
The amount of business you do annually
The value of your inventory
How many employees your pharmacy has
The age of your pharmacy's construction
Your pharmacy's specific location
However, the liability coverage alone needed by pharmacies costs about $97 to $159 per month on average for $1 to $2 million of coverage. As far as the business coverage needed by pharmacies, the average price of BOPs can range from $27 to $59 monthly.
Your independent insurance agent will help you find coverage that fits within your pharmacy's budget. They'll also be able to scout out any discounts you qualify for.
Frequently Asked Questions about Pharmacy Business Insurance
Sometimes called "drug store" insurance, pharmacy business insurance is designed to cover all aspects of pharmacies or prescription drug stores, from professional errors and lawsuits to routine business operations and lost income.
Pharmacy insurance protects your business against lawsuits filed by third parties, and protects many other aspects of your business as well. Property damage, employee injuries, data breaches and more can be covered by your pharmacy insurance, depending on which coverages you select with the help of an independent insurance agent.
Your pharmacy could potentially go bankrupt without the proper coverage. All it takes is one prescription to be filled incorrectly and you could end up with a hefty lawsuit on your hands. Without the proper liability protection, your business would be stuck paying out of its own pocket for the legal costs — and this is just one example of a costly disaster.
For the most part, yes, the coverages needed (liability, property insurance, etc.) will be similar between bigger and smaller pharmacy businesses. However, the larger chains such as CVS, etc. will require much higher coverage limits, especially for liability.
What will pharmacy insurance protect me from?
Some of the most common protections provided by the right pharmacy insurance are protection against data breaches, protection against costly lawsuits and protection against business interruptions.
Pharmacist owners need to have coverage for the actions of their employees, such as employment practices liability. The pharmacist's employees, however, should have their own coverage to protect themselves from other liability charges, such as professional errors.
Save on Business Insurance
Our independent agents shop around to find you the best coverage.
Why Are Independent Insurance Agents Awesome?
It's simple. Independent insurance agents simplify the process by shopping and comparing insurance quotes for you. Not only that, but they'll also cut the jargon and clarify the fine print, so you know exactly what you're getting.
There's no business too small for our gifted independent insurance agents. They have access to multiple insurance companies, ultimately finding you the best pharmacy business coverage, accessibility, and competitive pricing while working for you.
TrustedChoice.com Article | Reviewed by Jeffrey Green
©2023, Consumer Agent Portal, LLC. All rights reserved.
Statista
iii.org
irmi.com