Where Can You Purchase Work Comp?
Where to Purchase Workers' Compensation Insurance
(How to get the best coverage and price, all together)

Workers' compensation insurance is an important form of protection for any business owner. After all, who knows when an employee will get injured or sick on the job? Without the right protection, both your business and the injured employee could be in trouble. And knowing where and how to purchase coverage should be your top priority. That's where an independent insurance agent comes in.
An independent insurance agent is a trusted advisor for every business owner when it comes to workers' compensation insurance. They'll help answer any questions you may have, get to know your business needs, and shop multiple companies for the best coverage and price for you. But first, here's a bit of background on workers' comp costs and coverages to get you started.
Where to Purchase Workers' Compensation Insurance
Workers' compensation insurance can be purchased like every other policy through your independent insurance agent. Your agent will look at multiple insurance carriers to help find you the best workers' comp coverage at the best price for you.
One thing to know is that the number of years you've been in business is important to insurers. Some carriers will only consider insuring you if you've had three years of continuous prior workers' compensation coverage.
Other deciding factors that insurance companies look for:
Employee safety practices
Employee training practices
Business operations as a whole
Daily operations in each employee type
Certifications that pertain to the improvement and upkeep of your business
If you have a designated safety officer or consultant
What your workplace looks like from a safety point of view
The Details on Workers' Compensation Insurance Companies
Not every company is created equal when it comes to workers' compensation insurance. That's why having the right trusted advisor in place to help guide you and your business into better coverage with the proper company is key. There are literally dozens upon dozens of different insurance companies that provide coverage for all types of different industries, depending on their niche.
Every insurance company is different, and each one has it's own insurance rating that's basically a grading score set by the powers that be for consumers. If you're offered the choice between an insurance company that has higher premiums for great coverage and their rating is an A+ vs. an insurance company that has much lower premiums with great coverage but their rating is a C, then you need to know what you're getting yourself into.
While the lower premium is tempting, you have to think long term with your workers' compensation insurance just like you do with your business. A lower insurance score or rating means the company doesn't have adequate amounts of reserves in its bank accounts. As a result, if their insureds have enough claims at any given time, there's a likelihood the insurance company wouldn't have enough funds set aside to pay for the loss.
What Does Workers' Compensation Cover?
It's important to know just how financially damaging workplace injuries and illnesses can be to employers and employees both.
Money spent in 2019 on workplace injuries:

All the more reason to have the right coverage in place. And working with a trusted advisor, like an independent insurance agent, will help you make sure you're getting the right protection from the unexpected.
Your workers' compensation policy will include:
Coverage limit amount per occurrence for bodily injury
Coverage limit amount per employee for bodily injury by disease
Coverage limit amount policy limit for bodily injury by disease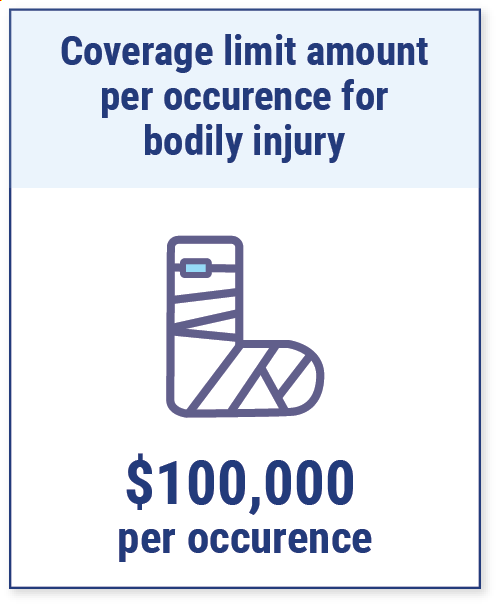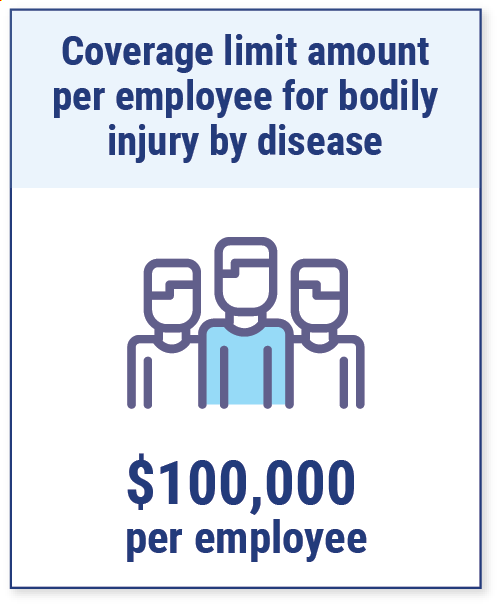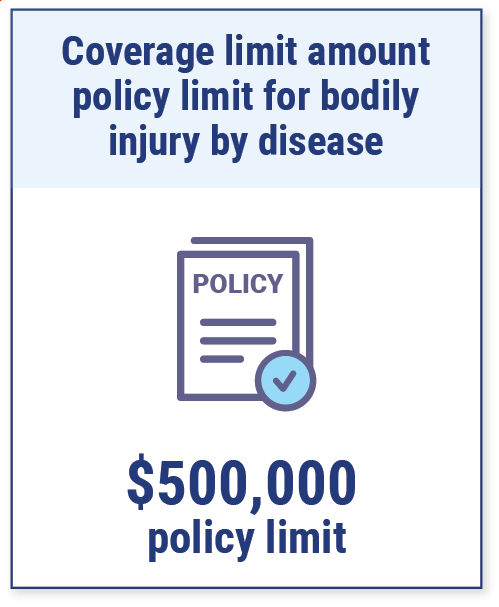 Put it all together and it looks something like this: $100,000 per occurrence/$100,000 per employee/$500,000 policy limit
By the way, the $100,000/$100,000/$500,000 are the bare minimum basic statutory limits that are typically required by law for every employer or independent contractor to carry. Your business may benefit from more coverage than that, so it's important to run through your circumstances with an agent to make sure you don't wind up in a financial fiasco.
What Doesn't Workers' Compensation Cover?
Workers' comp offers great protection for your business, but it doesn't cover everything.
What's not covered under a workers' compensation policy:
Full wages (This is lost income, and it will only cover partial usually up to two-thirds of regular pay.)
Non-work-related injury or illness (This is crossing the line into insurance fraud which is discussed next.)
Coverage more than what is offered on the policy (Once your policy limits are exhausted for any one claim, that's it. There is no more coverage and it has officially become a personal problem.)
How Much Does Workers' Compensation Coverage Cost?
Workers' compensation costs vary widely depending on a number of factors, like:
Past claim History
New business with no track record
On-site safety measures
A good agent will walk you through the things most insurance companies are looking for when it comes to safe practices for your business. It's important to note, too, that having an assigned safety officer or consultant could help improve your premiums.
Now, while it's near impossible to know what your individual workers' compensation premium will be, there are some other determining factors you can look out for.
Workers' compensation price-determining factors:
Industry: This plays a big part in the cost of your workers' compensation premium. The riskier your business, the more your premiums will be.
Number of employees: This determines how much your rates will increase. More people equal more money.
Gross annual payroll per employee type: Each employee is given a classification code that classifies their job duties and then premiums are charged according to how risky or not risky their tasks are. The amount of money you pay them will determine the amount of premium per classification code. The more payroll, the more premium you pay.
Experience modification rating: If your business has had workers' compensation insurance for a total of three years or more, and you are paying over $5,000 in annual premium, you'll be assigned an experience modification rating, aka "mod." This mod will adjust throughout the years depending on the number, length, and frequency of claims turned in. The better the mod, the better rate you will receive. It's kind of like a credit score for your workers' compensation policy.
What Is the Benefit of Having Enough Coverage?
The benefits of good coverage for your business far outweigh the costs involved. Whether you're new to the scene or you've been in business for a long time, things happen, and having proper protection for when they do is essential. A knowledgeable independent insurance agent is also a key component that can pay off in the long game. Along with a proper coverage assessment, they can also save you some money because of their numerous carrier offerings and the ability to shop coverage year after year if needed.
Is Workers' Compensation Insurance State-Specific?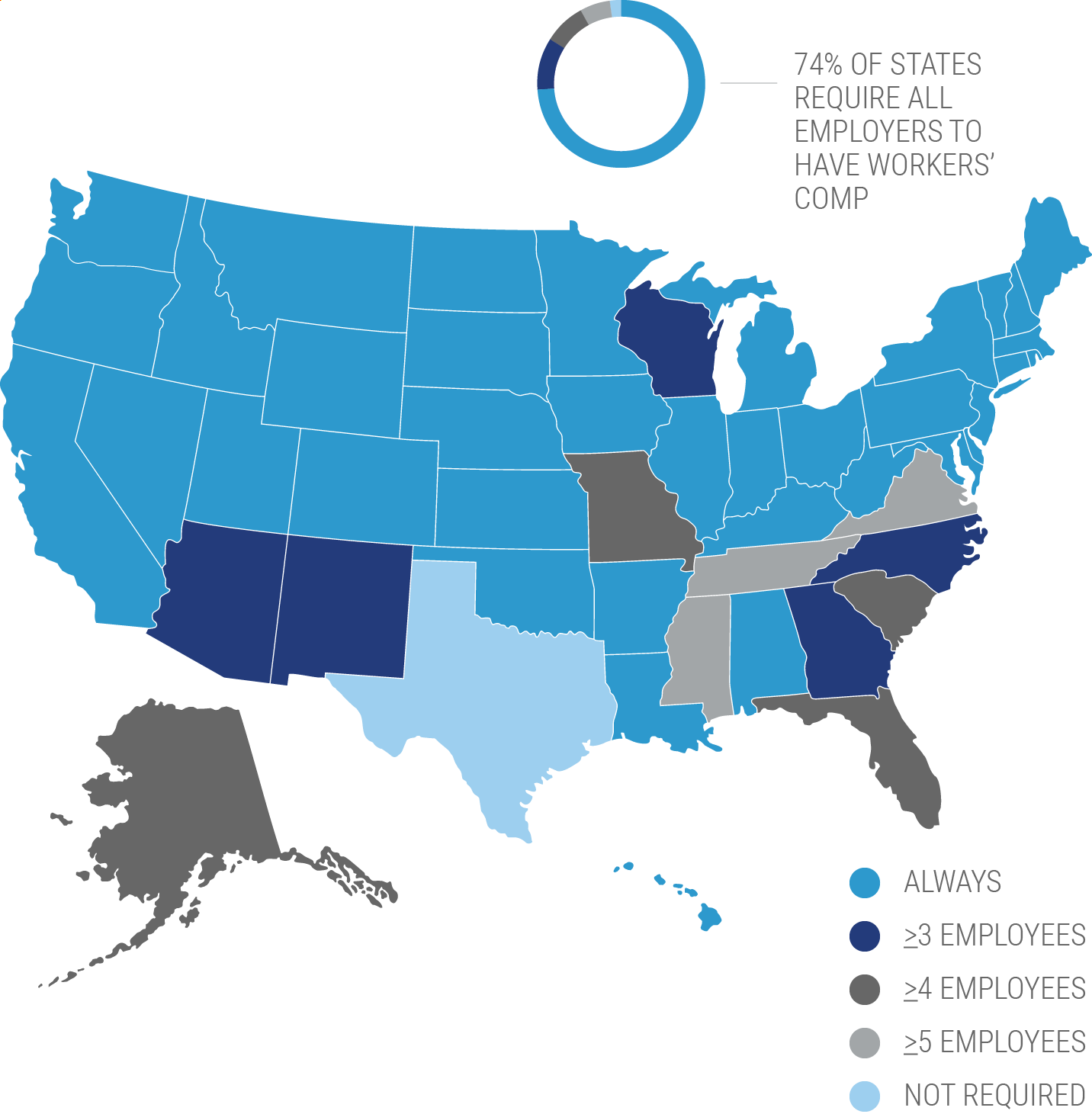 Each state has its own rules when it comes to workers' compensation insurance, though Texas is the only state without mandatory workers' compensation coverage in some form or another. This means your state ultimately holds the keys to what requirements it has concerning workers' compensation.
There also may be some separate workers' compensation forms that could apply to coverage specifics on a policy. Knowing what your state specifics are concerning coverage types and different policy forms can be discussed with your local independent insurance agent because they have the know-how when it comes to workers' compensation regulations.
Why Choose an Independent Insurance Agent
Independent insurance agents have access to multiple insurance companies, ultimately finding you the best coverage, accessibility and competitive pricing while working for you. And as your company grows and your needs change, they'll be there to help you adjust your coverage, up or down, to make sure you're properly protected without overpaying. Find an independent insurance agent in your community here.
©2020, Consumer Agent Portal, LLC. All rights reserved.
https://www.statista.com/statistics/711311/direct-costs-of-top-disabling-workplace-injuries-in-the-us/