Does Homeowner Insurance Protect You if an Outlet Spark Starts a Fire?
And what other coverages you may need

Homeowners insurance is designed to provide protection against a variety of perils that can cause damage to your home, including unexpected electrical fires. But if an overloaded electrical outlet sparks a fire in your home, will your insurance protect you? We'll tell you, and we'll tell you if you're covered.
An independent insurance agent can help you find the best protection for a variety of disasters that can happen within your home, even if they're a result of plugging too many things into one outlet. Here's how an independent insurance agent can help you find the protection you need when you need it.
What Happens if an Overloaded Outlet Causes a Fire in My House?
Power outlets are designed to handle a certain amount of electrical watts, and that number varies depending on the type of outlet and where it's located in your home. The outlets in your kitchen are designed to handle large appliances like a refrigerator or microwave, while one in the hallway probably couldn't handle the same watts. If you overload an outlet and it causes a fire, it could burn down your home.
Sure, that's the worst-case scenario, but fire spreads quickly and damages easily. In 2018, a home fire occurred every 87 seconds and accounted for 55% of all fire insurance loss claims. And check out these stats related specifically to fires caused by overloaded outlets.
47,700 home fires in the US are caused by electrical failures or malfunctions each year.
Electrical overload fires result in 418 deaths, 1,570 injuries, and $1.4 billion in property damage a year.
It's predicted that more than 50% of electrical fires could be prevented.
What Insurance Is Going to Help Protect Me after an Outlet Fire?
Your homeowners insurance policy will cover damage from an overloaded electrical fire. The policy includes a combination of property damage, liability coverage, and extra money for living that is designed to repair, replace, or recover the value of your property should they be damaged by a covered peril, which includes fire. Even though electrical fires are covered by insurance, if you live in an older home with poor wiring, you may have to pay a higher premium for insurance since there's a higher risk of a fire.
How Does Property Coverage for Homeowners Help with Outlet Fires?
As part of your homeowners insurance policy, property coverage is the piece that will cover fire damage from an overloaded outlet plug. Property coverage includes three types of coverage including replacement costs, actual cash value, and extended replacement costs.
Replacement cost: This repairs or replaces your damaged property at the same or equal value before it was damaged. The cost to replace is based on replacement costs versus the cash value of the property that was damaged.
Actual cash value: This pays for the value of the damaged property minus any depreciation if the item is older. For example, if a fire burns down a 15-year-old washer, you would receive the value of the washer after depreciation, not a brand new washer.
Extended replacement costs: This pays over the coverage limit if the construction costs have increased, but there's usually a limit that the payment will not exceed.
Property coverage will not protect you or pay for damage caused by a wildfire, so you'll need a different insurance for that. Your independent insurance agent can help you understand the perils that are covered by your property damage and where you may want to purchase additional coverage or riders.
Do Homeowners Need Liability Insurance for Fires?
Liability coverage is protection for when a third-party is injured on your property. If a family member or friend is injured during the fire caused by your outlet plug, liability insurance will help pay for medical bills and any potential legal fees. Anyone who is injured on your property can sue you for medical bills and more. Whether or not you end up in court, dealing with a lawsuit costs money. Your liability insurance will cover the legal fees and any medical bills if you're found at fault for the incident.
The Importance of Umbrella Coverage for Homeowners
Umbrella insurance extends your liability coverage's limits by increasing the dollar limit of liability coverage. Depending on your home and other factors, you may want to consider umbrella coverage to help extend your liability limits. When it comes to covering fire in your home, umbrella coverage would only be valuable if people were injured, since it does not cover property damage.
While umbrella coverage may not be beneficial in dealing with home fires, (unless you were housing valuable property for a friend that was destroyed by the fire), homeowners face a variety of liability risks such as slip and falls, dog bites, a tree falling on your neighbor's car, or being sued for slander that warrant talking to your agent to see if umbrella insurance is right for you.
What Precautions Can Be Taken to Minimize the Risk of Outlet Fires?
According to US Consumer Product Safety Commission, more than 50% of overloaded electrical fires could be prevented with a few small steps.
Don't use extension cords or multi-outlet converters for appliances like dishwashers, washer, dryer, refrigerator, etc.
Plug all of your major appliances directly into a wall receptacle outlet.
Don't plus more than one heat-producing appliance into a receptacle outlet at a time.
If you rely heavily on extension cords, consider adding more outlets to your home.
Have a qualified electrician inspect your home and add new outlets if needed
Power strips only add additional outlets, they do not change the amount of power being received from the outlet.
Educate yourself on how many watts your outlets can handle.
Other Common Home Insurance Claims
Homeowners face a variety of risks on a daily basis, with fire damage being one of the most common accounting for 32% of property damage losses in 2018. Other common claims include wind and hail damage, water damage and freezing, and theft.
Homeowners Insurance Losses by Causes 2014 to 2018 (1)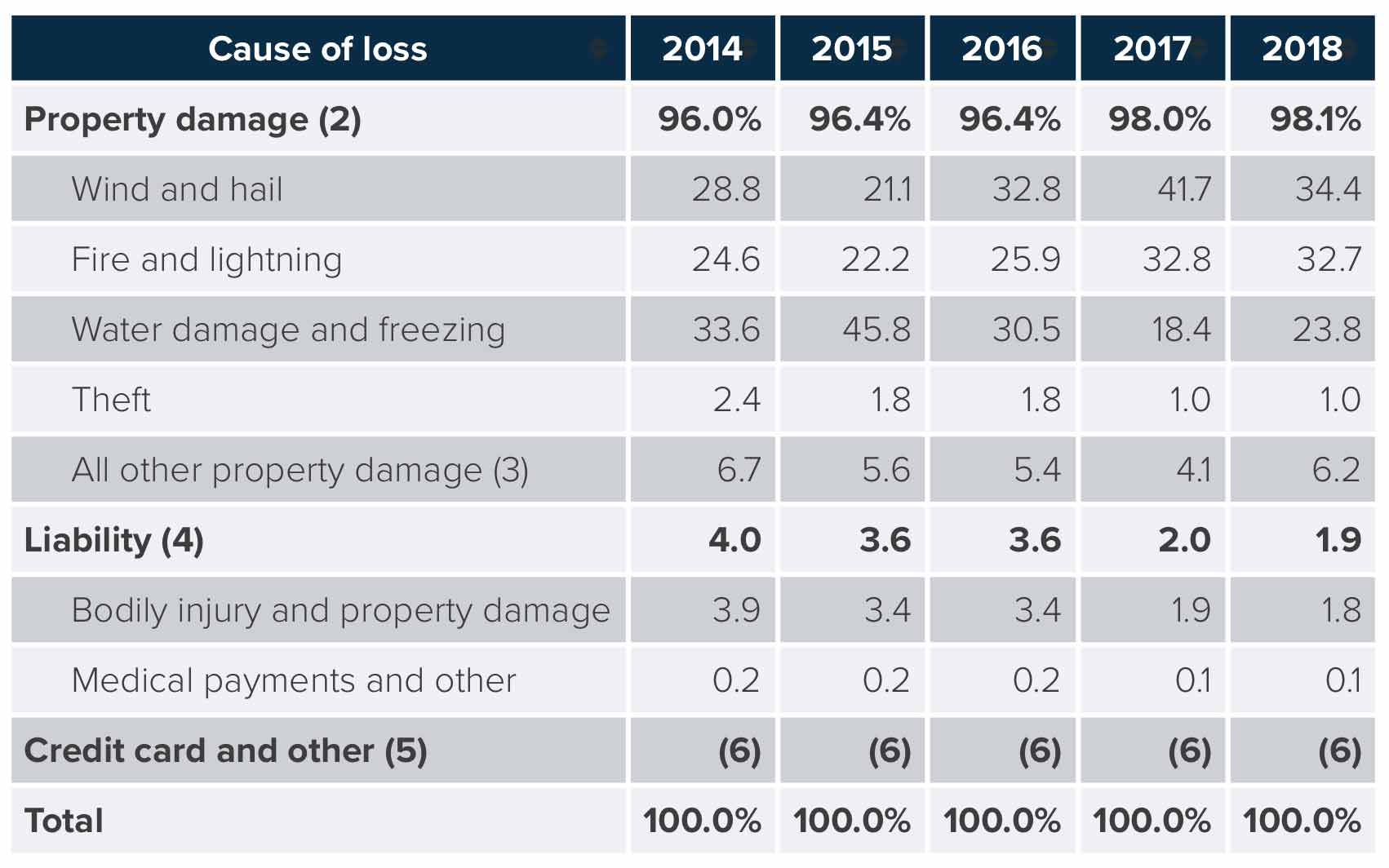 (1) For homeowners multiple peril policies (HO-2, HO-3, HO-5, and HE-7 for North Carolina). Excludes tenants and condominium owners policies. Excludes Alaska, Texas, and Puerto Rico.
(2) First party, i.e., covers damage to policyholder's own property.
(3) Includes vandalism and malicious mischief.
(4) Payments to others for which policyholder is responsible.
(5) Includes coverage for unauthorized use of various cards, forgery, counterfeit money, and losses not otherwise classified.
(6) Less than 0.1 percent.
Source: ISO®, a Verisk Analytics® business.
The frequency in which losses occur is in addition to the amount of insurance losses related to fire and other perils. Wind and hail damage claims occur twice as often as fire and lightning, but a fire is still going to cost you more to repair.
Homeowners Losses Ranked by Claims Frequency, 2014 to 2018 (1)

(1) Claims per 100 house years (policies). For homeowners multiple peril policies (HO-2, HO-3, HO-5, and HE-7 for North Carolina). Excludes tenants and condominium owners policies. Excludes Alaska,,Texas, and Puerto Rico.
(2) Includes vandalism and malicious mischief.
(3) Includes coverage for unauthorized use of various cards, forgery, counterfeit money, and losses not otherwise classified.
Source: ISO®, a Verisk Analytics® business.
What about Extra Endorsements? Do I Need Them?
Fortunately, your homeowners insurance will cover you if a fire starts because of overloaded appliances. However, if your home catches on fire because of a flood or earthquake, you won't be covered. That's where an endorsement or rider can come in handy.
Endorsements are added coverages that protect you above and beyond what's offered on your general policy. Depending on your home location and personal situation, it's worth talking to your independent agent about the following endorsements you can make to your homeowners insurance.
Earthquake insurance: This coverage protects homeowners against home damage due to earthquakes, mudslides, and other related natural events. Standard homeowners policies do not provide coverage for these types of disasters.
Flood insurance: Many natural disasters are covered under standard homeowners insurance policies, but floods aren't one of them. If you live in an area prone to flooding, you'll want to purchase a flood insurance policy to protect your home against damage or destruction due to floodwaters.
Sewer and drain backup: Homeowners insurance protects you against a lot of things, but typically sewage backup isn't one of them. While this incident would be messy enough in the first place, not having coverage would really be a nightmare. Talk with your independent insurance agent about adding a sewer backup endorsement to your coverage.
Jewelry and personal property endorsement: High-value items like jewelry, firearms, and other property can be damaged in a fire, but they won't be covered under your general property insurance. If you have valuables that you're concerned about, a personal property endorsement can pay for their replacement if they're damaged in a fire.
Here's How an Independent Insurance Agent Would Help
Hopefully, you never have to deal with an overloaded outlet sparking a fire, but if it happens, independent agents can make sure you have the protection long before you need it. Independent insurance agents search through multiple carriers to find providers who specialize in home, auto, business, and all other forms of insurance, deliver quotes from a number of different sources, and help you walk through them all to find the best blend of coverage and cost.
©2023, Consumer Agent Portal, LLC. All rights reserved.