Kansas Restaurant Insurance
Find the best coverage for you.

Kansas is renowned for its barbecue. Wings, ribs, and even chicken-fried steak are some of the dishes that are notoriously synonymous with the state. Maybe your Kansas restaurant makes one of these classic favorites, or maybe you're serving something else.
Regardless, one thing is true: You're going to need restaurant insurance. And when it comes time to get it, you need an independent insurance agent to follow the Yellow Brick Road right to your sweet spot for coverage - including spotting all the risks that will drive coverage.
Use our independent insurance agents to find the best insurance plan in your area. You tell us what you're looking for, and our technology will recommend the best agents for you. Any information you provide will be sent to only the agents you pick. We do not sell to third parties.
Ready to Save On Restaurant Insurance?
Our independent agents shop around to find you the best coverage.
Risks in Restaurant Insurance in Kansas
There are a lot of factors that will affect the coverage you select and what you pay, including things like:
What type of food you're serving
How you cook the food
Real property (your building)
Movable property, like décor and furniture
Specialized property, like your restaurant's sign
How many employees you have
These factors can affect each other and different types of insurance, too. That being said, the biggest takeaway is that an independent insurance agent will be your best resource in the insurance purchasing process. Once you learn more about what you need, you'll probably agree.
Let's Talk Basics: 3 Types of Insurance You'll Need for Your Kansas Restaurant
You just opened a restaurant – congratulations! You now need three types of insurance:
Property
Liability
Employee
Each of these types of insurance comes with general and specific coverage. You'll always need the general coverage, but more specialty policies may or may not be the right fit for your Kansas restaurant. An independent insurance agent can help you navigate the process to ensure that you end up with what you need and not with anything you don't.
Property Coverage for Your Kansas Restaurant
General property coverage is good for the replacement value of two types of losses:
Your building
Movable property inside your building
By movable property, we mean tables and chairs. After all, there is also immovable property in a lot of restaurants. You may have certain equipment in your kitchen that is bolted down. Or maybe you have built-ins as seating or a bar. Either way, it's important to note that your general property coverage typically doesn't cover immovable personal property. It will be a policy add-on and additional cost that is still property insurance, but is more specialized coverage.
Speaking of specialized coverage, there are other specialty policies that fall under the property umbrella. These policies include:
Your sign (drive-through signs, too): Many restaurants dish out tens of thousands of dollars for their signs. If you do the same, the best thing you can do is purchase specialty coverage for your sign. Your drive-through sign could cost some serious cash too, so you may want to ask your independent insurance agent whether this is worth insuring as well.
Lost business income: Covered losses happen. There are kitchen fires, floods, or other natural disasters. Lost business income means your restaurant will still be receiving money while you're shut down. This way, you can pay employees and other expenses to keep the restaurant afloat. This is typically optional coverage, but banks may require it if they're loaning you money.
Equipment (boiler and machinery): Equipment breaks down. While it costs money to fix or replace the equipment itself, that breakdown can also cause additional damage. And if it does, equipment coverage will pick up the tab.
Spoilage: Every restaurant has food that will spoil if something happens to the refrigeration system. That being said, spoilage coverage is a way to get money for the food that spoils should this issue arise.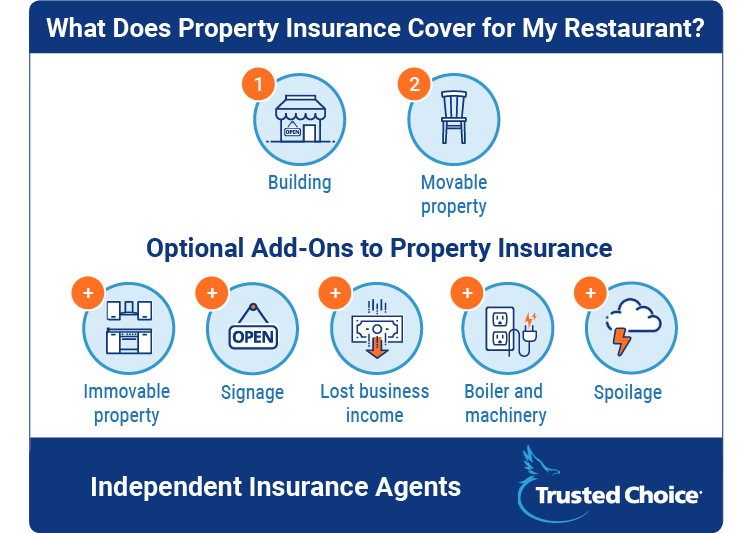 Commercial General Liability Insurance for Your Kansas Restaurant
When you purchase commercial general liability insurance, you're protecting your restaurant from the costs of certain issues that might arise with your customers. Specifically, this includes:
An accident (slip, trip, or fall) that happens to a customer while they are at your restaurant
A food-related illness, whether because you served spoiled food or made a mistake in its preparation
Beyond the general policy, there are two types of specialty policies you may want to purchase. They are:
Liquor liability
Directors and officers liability
One of the most important things to note with general liability coverage is that it does not – we repeat, does not – cover liquor-related incidents. This applies no matter whether you're brewing, distilling, or selling alcohol at your restaurant. Most often, liquor liability is important should you overserve a customer, leading to an accident. This specialty policy will cover:
Property damage
Bodily injury
Another important note about liquor liability policies is the policy limit. A standard liquor liability policy has a policy limit of $1 million. However, if you're a restaurant that serves, sells, distills, or brews a lot of alcohol, it's probably best to increase the limit. In fact, many increase the coverage to $5 million, if not more. This is an amount you can discuss in further detail with your independent insurance agent.
A less common, but still common enough, specialized liability policy is directors and officers liability. This is more likely to apply to a large restaurant, especially one with multiple locations, than to a one-location smaller setup. This type of policy protects your restaurant if a city, a group of stockholders, or even some employees bring a lawsuit against you for what they view as a poor business decision. There is no damage or injury, per se, but it's still a lawsuit they can bring. This policy will protect against what could be high litigation costs in defending the lawsuit.
Employee Insurance for Your Kansas Restaurant
Workers' compensation is legally required in Kansas. However, you may also want to opt for employment practices liability insurance.
Workers' compensation is insurance that pays for certain expenses when an employee is injured at work. Generally speaking, this applies to three main types of expenses:
Medical
Wages (lost while unable to work)
Rehabilitation
It's important to note that workers' compensation coverage is calculated in part according to a risk classifications for employees in your restaurant. At a basic level, this means that if you're operating a fried food restaurant and there are deep fryers in the back, the cost of coverage will likely increase. If you're cooking over open fire pits, the risk also increases, and coverage goes up. The higher the risk, the more expensive the coverage.
Employment practices liability insurance is another type of employee-related policy, but it's not legally required. However, it will protect both your restaurant and its corporate officers from the cost of litigation if an employee brings a lawsuit for:
Bad behavior
Discrimination
Hostile work environment
Sexual harassment
Again, this is a more common policy for a larger restaurant entity. However, this isn't to say that smaller restaurants can't opt for this additional coverage, too. If you're in doubt, your independent insurance agent can help clarify any uncertainties so you can better determine what's right for you.
Various Restaurant Features Can Affect Your Coverage and Insurance Costs
No two restaurants serve the same type of food, and none are set up exactly the same way, either. After all, some restaurants offer only carry-out, whereas others are dine-in only. Some have drive-through windows, and others don't. Each of these features can have an impact on your insurance coverage.
Some of the most common ways your restaurant's structure and features can affect insurance include:
Buffets: Buffets aren't intrinsically dangerous, but underwriters tend to have a bias against them. The fact that food is sitting out, exposed to customers who may all touch the food, is troublesome for some underwriters. That being said, you may end up paying more for liability coverage if you have a buffet and someone writing your policy who doesn't much care for them.
Drive-throughs: Drive-throughs seem to have additional liability written all over them, but having a drive-through actually does very little to insurance costs. In fact, it won't affect your liability coverage at all, but will instead affect property coverage if you wish to cover your drive-through sign.
Dine-in restaurants: You'll pay more for workers' compensation if you have a dine-in restaurant because you'll have more employees. Otherwise, having a wait staff won't affect insurance for your Kansas restaurant at all.
Carry-out restaurants: The opposite of what is true for dine-in restaurants is true for food stops that only offer carry-out. If you don't need to hire a wait staff, you don't need as many employees and you'll likely save on worker's compensation coverage.
Delivery: Delivery services have much more of an impact on insurance coverage. Specifically, it'll affect liability coverage. If you offer delivery, and employees use their own cars, liability coverage will increase drastically. Typically, that's because most employees doing delivery have older cars with a range of unknown problems. If you invest in your own delivery vehicles, you'll pay less for liability coverage, though you'll still pay more than a general policy because vehicles are on it, too.
The main takeaway here is to consider the unique features of your restaurant. If you have a buffet and are a dine-in restaurant, you'll pay a bit more. If you're carry-out only, you'll save some money. In any case, it's important to think about how each of these factors affects your unique set-up so you're better prepared to talk to your independent agent when it comes time to get covered.
How Your Kansas Location Affects Restaurant Insurance Coverage
Some restaurant owners believe there are significant state-by-state differences for insurance coverage. While there can be some differences based on the type of food that you serve (and what's popular in your state), the basics are still true no matter where you're located.
DID YOU KNOW?
Kansas is a landlocked state, so many restaurants rely more on frozen food than fresh food. This means that you are more likely to need to consider spoilage coverage as more of a standard policy than an optional one.
Likewise, with deep fried food comes additional risk. More risk in the kitchen will increase the cost of workers 'compensation, because part of it is calculated based on risk. Of course, all of this depends on what type of food you're serving and how you serve it. Generally speaking, you'll pay more if the kitchen danger is higher. And because Kansas has a lot of barbecue, that's more open flames and even more risk.
The Cost of Insurance for Your Kansas Restaurant
The cost of insurance can be steep depending on how big your restaurant is, how many employees you have, and how many specialty policies you stack on top of the general coverage.
That being said, you'll pay for the three types of required insurance in two ways:
Property and liability (combined)
Workers' compensation
The costs are separate because workers' compensation is calculated in a unique way. By unique, we mean that workers' compensation is calculated according to two factors:
Payroll (per $100)
Risk classification
Your restaurant will have a risk classification according to how food is prepared in the kitchen. If you don't fry a lot of food, your risk will be lower. Seafood restaurants with extra-sharp knives tend to have pricier insurance, too.
Property and liability coverage is a more complicated calculation.
There are two extremes. If you're the corner hotdog stand with one location, you could pay as little as $1,000 annually for your property and liability coverage. After all, you probably have less than 5 employees (if even that many), and you have little that can go wrong by way of injury to your employees or customers.
On the higher end, coverage could cost up to $100,000 or more annually. This is if you're operating a higher-risk restaurant with multiple locations and hundreds of employees. There is a lot of risk in the kitchens, and lots of potential liability with a lot of customers coming in and dining on your premises, and your policy will reflect that.
An Independent Insurance Agent Is Your Best Resource When You're Getting Coverage for Your Kansas Restaurant
Independent insurance agents know and understand property, liability, and employee insurance needs for restaurants in Kansas, both big and small. Regardless of what operation you're running, independent insurance agents have the resources to get you multiple quotes to ensure that you get the best deal at a price you feel confident in, too.
An independent insurance agent guarantees that you'll get the coverage you need at a range of prices with various providers to ensure that you feel comfortable with the cost.
TrustedChoice.com Article | Reviewed by Paul Martin
©2023, Consumer Agent Portal, LLC. All rights reserved.