Funeral & Burial Insurance
(And how to better protect yourself during the hardest times)
Planning and preparing for a funeral and burial is one of the hardest things you'll likely have to go through in life. Being proactive so that day is as comfortable as possible, is one of the best things you can do for yourself and your family during a loss.
An independent insurance agent is a welcomed friend in times of need. Working with your best interests at heart and making sure you have the coverage you need for some of the toughest days in life.
What Is Funeral and Burial Expense Insurance?
Funeral and burial insurance is also referred to as final expense insurance and is a type of whole life insurance. t provides coverage for the cost of a funeral up to the coverage amount chosen prior to loss.
Some expenses funeral and burial insurance cover:
Memorial service
Casket
Urn
Burial
Cremation
How Much Does a Funeral Cost?
A funeral is one of the last things that anyone wants to think about much less plan for, but since it's a part of life for everyone, it makes sense to know the costs. A funeral costs on average $10,000 for a simple celebration of life. Some comparison breakdowns are listed below and may be helpful when planning.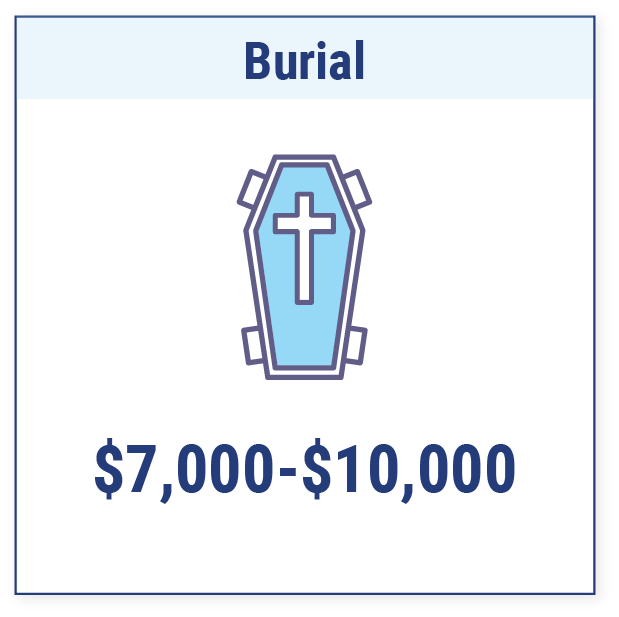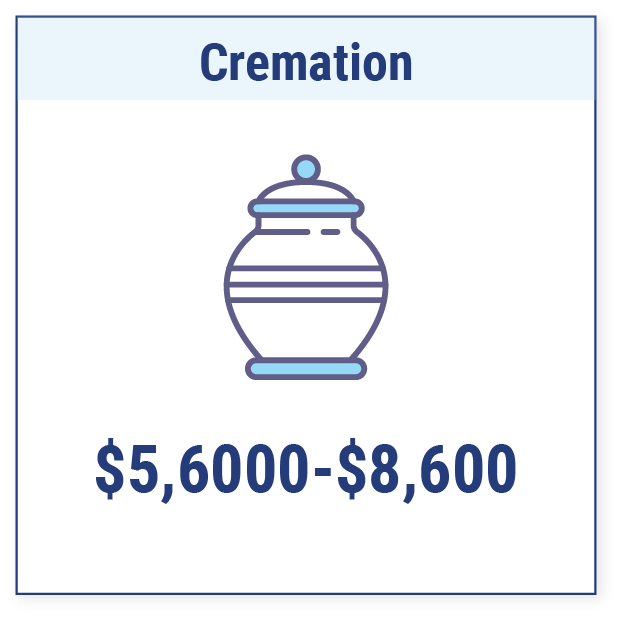 Types of Funeral and Burial Insurance
Funeral and burial insurance has a couple different options when choosing which policy is right for you and your family. Your independent insurance agent can help when making the final decision on which policy type is most beneficial.
Preneed insurance: also called prearrangement or prepaid funeral insurance and is purchased through a licensed agent who's associated with a funeral home. In this policy type, the funeral home is your beneficiary. You would preselect the burial items you desire and want and pay the policy premium according to the agreed terms of the policy.
Final expense (or burial) Insurance: This is purchased through an insurance company, typically with a whole life benefit. Because it doesn't have the same increasing benefit as preneed insurance, this type of policy usually comes with a lower premium. Your beneficiary would then receive funds and make arrangements in any manner they see fit, from paying off medical bills to legal fees.
Ideally, you have talked about this responsibility with your chosen beneficiary and any expectations you may have prior to. This can also be included in your will and should be consulted with legal counsel and your independent insurance agent to make sure your final wishes are executed the way you wanted.
Save on Life Insurance
Our independent agents shop around to find you the best coverage.
Why Purchasing Funeral Expense Insurance Is Needed
Like most insurance policies, insurance is about being prepared for future loss and the dollar amount it will take to cover the expense of that loss. Funeral and burial insurance is no exception. Preparation is key to avoiding as much pain in life as possible. Since loss and in this case, death is inevitable in life being the most prepared for the financial aspect of these unwanted situations to make them as comfortable as possible.
Another reason, besides being prepared, is because you love your family and friends. Your family will have enough to deal with when it comes to the loss of a loved one, giving them the peace of mind concerning expenses is a good plan.
How Much Does Funeral Expense Insurance Cost?
It depends entirely on the policy, but anywhere from $10 per month to $100 per month. And with a preneed policy premium, they are dependent on the services and options you choose and will become more expensive the longer you stretch the policy out.
On the other hand, final expense insurance is based on the coverage you select with premiums that increase each year on a term life policy instead of a whole life policy. All funeral homes are required to provide you with a printout of their costs.
Checking with your independent insurance agent is the best way to sort out which policy type is best for your specific situation. Knowing what your coverages are before it's too late is just what your agent is there to help with.
What's the Difference Between Final Expense Insurance and Life Insurance?
At its core, the only difference is your intent. Final expense insurance is a form of life insurance, however, it's a policy you purchase with the sole purpose of covering your funeral and burial costs.
Since the goal is purely to handle expenses for your funeral, the policies are created to provide less for payout. This, in turn, makes them cost less than your typical life insurance policy.
Another item to note is the fact that you can have a final expense policy in addition to a permanent or term life insurance policy. Using both for different things and keeping all aspects of your life protected is something your independent insurance agent can assist with.
Save on Life Insurance
Our independent agents shop around to find you the best coverage.
Comparing Funeral Expense Insurance Policies
The duty of an independent insurance agent is to compare multiple policies with a number of different carriers. Giving you options in both price and coverage. First, your agent will review your needs and help you evaluate which type of funeral expense insurance makes the most sense for you.
The differences in preneed insurance and funeral expense insurance are with the preneed option your independent insurance agent is working on your behalf and providing variety ultimately saving you time and money. A preneed insurance policy the agent is working on behalf of the funeral home because that's who is essentially the recipient of the funds.
Benefits of an Independent Insurance Agent
Independent insurance agents have access to multiple insurance companies, ultimately finding you the best coverage, accessibility and competitive pricing while working for you. Find an independent insurance agent in your community here.
TrustedChoice.com Article | Reviewed by Candace Jenkins
©2023, Consumer Agent Portal, LLC. All rights reserved.