Final Expense Insurance
(Find out with a few key details.)

Let's face it. Planning a vacation is hard enough, but a funeral? After all, do you go coffin or cremation? Memorial service or are you just not a fan of the attention? It's all just so morbid to even think about. And the costs? Oof. But you don't want to leave that for your heirs to 1. figure out and 2. pay for, do you?
That's why there's final expense insurance — and our independent insurance agents know all about it. But first, let's give you a little background on the subject.
What Are Final Expenses?
Final expenses are the costs associated with your "end of life" plans. Burial expenses are part of the equation, but there's a lot more to it. The average out-of-pocket healthcare expenses at the end of life are $11,618.
The median cost of a funeral is $8,755, or higher depending on what you want. Plus, there might even be fees associated with settling the estate, which can be substantial.
Overall, final expenses were one of the top 10 financial concerns of Americans in 2017.
Financial concerns of American consumers in 2017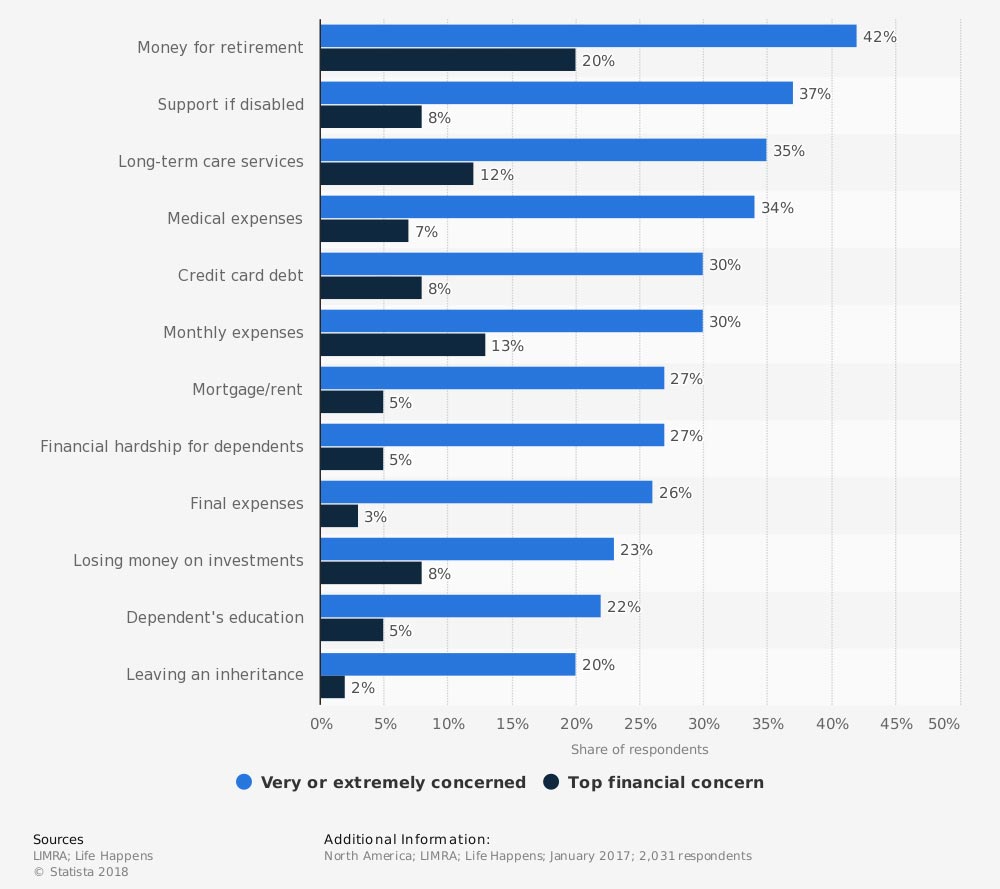 What Is Final Expense Insurance?
Final expense insurance is typically a whole life insurance policy that is designed for:
Smaller death benefits
Senior citizens
People with health issues
Like all whole life insurance, the premiums and benefits are guaranteed in the policy. There are even cash values that are available, too.
Some insurance companies that offer final expense life insurance will guarantee to issue a policy all the way up to age 85. Others will ask only a few health questions to make the coverage easier to obtain. Every carrier does things differently.
Save on Life Insurance
Our independent agents shop around to find you the best coverage.
What Does Final Expense Insurance Cover?
Anything, really. As we mentioned, final expense insurance benefits cash out straight to your named beneficiary and they can use it however they like.
Ideally, you've put in place a strong estate plan that lays out your desired use of your benefits and you've chosen a beneficiary you trust, not someone who's going to go out and blow it all on a new dirt bike.
The desired outcome of your final expense insurance is to pay for any leftover medical bills, funeral and burial arrangements, and estate taxes. But every life is different and may require different financial needs in the end.

How Much Does Final Expense Insurance Cost?
Just like any other form of life insurance, the cost changes based on your age, sex, and how much you need. The difference is that because final expense insurance is available to older and generally less healthy people, typically age 50-85, it will usually cost more per thousand dollars of death benefit than life insurance that is also available to younger people in better health.
Should I Buy Final Expense Insurance?
The real question is: Do you need life insurance? And chances are pretty good that you do. 40% of Americans have no life insurance. 1 in 5 Americans who do have life insurance say that they don't think that they have enough.
If you're a young married man with 3 young kids, your passing would put a serious strain on your surviving family. Think about braces, and college, and all of that. If you're older and your house is paid off and you have no other debt, the financial strain would be much less painful.
Of course, having your end of life arrangements all taken care of would be nice, because it's not getting any cheaper. In that case, maybe burial insurance is the right answer.
How Much Life Insurance Should I Buy?
Begin by determining your long-term financial obligations and then subtract your assets. What's left is the amount of life insurance you need to fill the gap. It's never exact, but it gives you a basic idea.
Financial obligations include: salary (times the number of years you want it to replace your income,) plus mortgage balance, plus any other debts and future needs such as tuition and funeral expenses. If there is a stay-at-home parent, include the cost to replace those services, such as child care and household services.
Second, subtract liquid assets such as savings, ongoing tuition and any current life insurance. This should give you a ballpark figure. Keep in mind that as your needs or financial situation change, you will need to update these amounts.
There are many calculation tools out there that can help you get more specific. There are also many variables when choosing what's best for your particular needs, so take the time to seek advice from your local independent insurance agent.
Is Final Expense Insurance A Good Deal?
If you're over the age of 50 and not in the best of health, final expense insurance may be worth exploring. Here is what you need to be aware of:
Final expense insurance may be a "modified benefit" plan. A modified benefit plan only pays the full death benefit after a waiting period, often 2 years. If you die before that, the beneficiary receives only the premiums paid plus interest.
Cash values take time to build up.
At the higher end of coverage available, like $50,000, the coverage may be unaffordable. These plans are designed for relatively small amounts.
Single premium life insurance may be an alternative.
If you're in good health, you are likely to have more options available to you. Your professional independent insurance agent can show you what those options are. It pays to shop around.
It's All About Planning… Steps You Can Take
If you haven't done so, create a checklist and instructions for your family if something happens to you. Make sure they know where it is.
Consider seeing an attorney to draft or update your will.
Talk to your local independent insurance agent about life insurance. They have the experience, tools and resources to help you choose the amount and type of coverage that makes sense for you.
Save on Life Insurance
Our independent agents shop around to find you the best coverage.
What's So Great About an Independent Life Insurance Agent?
It's simple. Literally. Independent insurance agents simplify the process by shopping and comparing insurance quotes for you. Not only that, they'll cut the jargon and clarify the fine print so you know exactly what you're getting.
Plus, independent agents work for YOU and not one insurance provider. Actually, they're the only agents who can check policies from multiple carriers to find the best answers for your unique needs.
Most importantly, they'll be there to help your family when claim time comes. The outcome of insurance claims can be strongly impacted by how the process is approached and handled.
The Inside Scoop about Online Final Expense Insurance Quotes
We know what you're really looking for — fast and easy insurance quotes in 30 seconds or less. We get it, you want the goods ASAP, but choosing speed over accuracy can cause endless rain on your life's parade.
Robots and algorithms may be quick, but online companies might leave out cost-cutting options or leave in factors that assume higher risk, resulting in a pricier policy.
Not only that, our competitors may sell your info to multiple companies, which can result in calls, on calls, on calls. We flipped the script on this process and give YOU the info and options to connect with an independent insurance agent.
©2023, Consumer Agent Portal, LLC. All rights reserved.
National funeral directors association, national bureau of economic research, insurance information institute, Jacque Weir