Why Guaranteed Acceptance Term Life Insurance is the Best Way to Go
(Because everybody deserves to leave a little something behind.)

Life insurance provides a cushion for your loved ones after you pass away. However, most life insurance policies need to be purchased when you're young and healthy in order to be affordable. So what happens if you're sick or not in the best shape but you need life insurance? That's where guaranteed acceptance life insurance steps in, and an independent insurance agent will help you get it.
What Is Guaranteed Acceptance Life Insurance?
Guaranteed acceptance life insurance is a type of life insurance that doesn't require you to provide any medical information. This makes it easily attainable by nearly anyone, regardless of their age or health condition.
As long as you pay your premiums, you get the benefits. Even though the benefits tend to be lower than traditional life insurance, independent agents can help you get the maximum guaranteed life insurance payout of $50,000.
Why Should I Buy Guaranteed Acceptance Life Insurance?
The biggest reason is that you are unable to get any other type of life insurance policy. Guaranteed acceptance life insurance is a policy that works a little differently, but it's insurance for those who have no other way to protect their loved ones when they die. In short, everyone gets approved. Plus, you can still choose a term or length of policy that works for you.
While we can control our lifestyle habits, we can't control diseases, infections, and other illnesses that we may acquire in our lifetime. In fact, the most common major causes of death are from diseases that are mostly out of our control.
Top 15 Major Causes of Death, 2017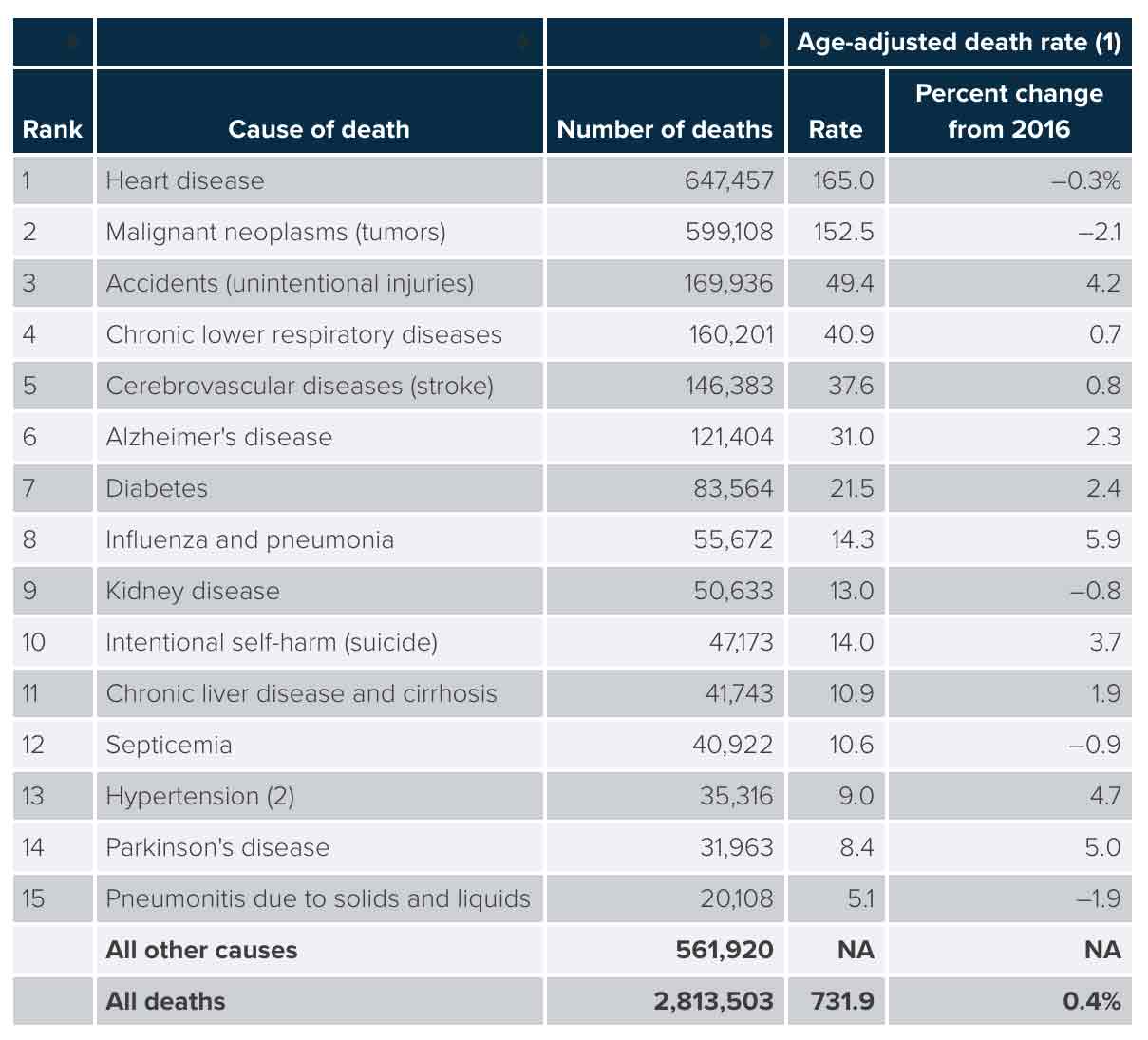 Source: https://www.iii.org/fact-statistic/facts-statistics-life-insurance
The cost of a funeral, and even cremation, is astronomical these days. And the last thing you want to do is leave your loved ones with a funeral tab, never-ending credit collection calls, or worse.
What Does Guaranteed Acceptance Life Insurance No Health Questions Mean?
A guaranteed acceptance life insurance no health questions policy makes it easy for individuals between the ages of 45 and 85 who may be in poor health or having trouble finding insurance to get the coverage they need.
With traditional life insurance, you're asked a series of questions in your application that are taken into serious consideration when deciding whether you are approved. This includes everything from your current health condition and lifestyle habits to whether you're married. In most cases, you're then required to take a medical exam to prove that you didn't lie about your health.
Most Americans are concerned that their unhealthy habits will eventually catch up with them, and the first sign of that could be trying to obtain life insurance.
Percentage of US adults concerned that their unhealthy habits will soon catch up with them as of 2018, by generation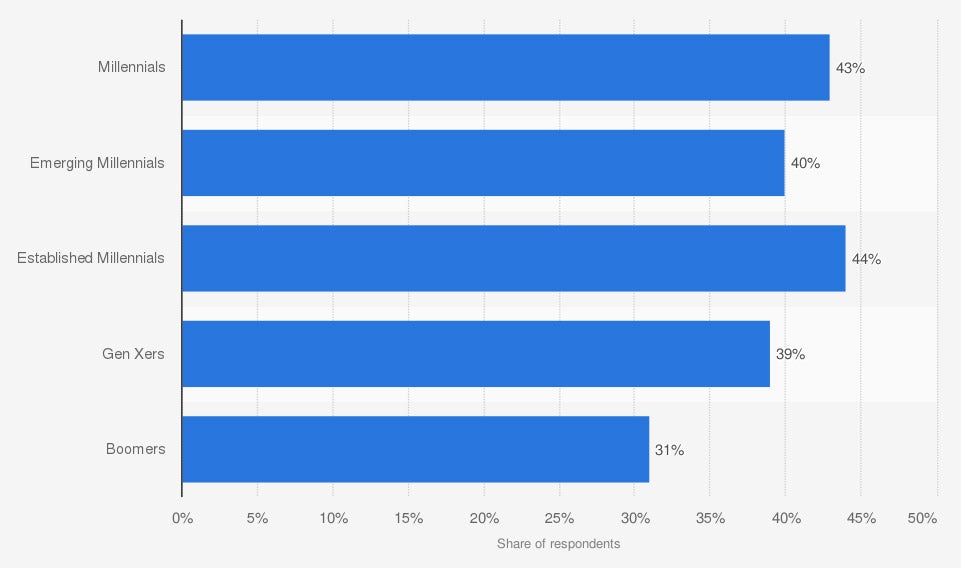 Basically, if you're not healthy you'll be looking at a high premium, or possibly not qualifying for life insurance at all. Guaranteed acceptance life insurance no health questions means that you can go right from your application to being covered, without worrying about whether your preexisting conditions or lifestyle will affect your ability to obtain life insurance.
The Benefits of Guaranteed Acceptance Term Life Insurance
Just like traditional life insurance, guaranteed life insurance has a few different types to choose from, the best of which is term insurance.
Term life insurance is exactly how it sounds, you get your life insurance for a set period, or "term." This is usually 10, 20, or 30 years. During the term of your policy, your insurance premium stays the same. In general, premiums for term insurance are less expensive than for permanent or whole life insurance.
A guaranteed acceptance term life insurance policy is an ideal choice for convenience and consistency. As long as you die during the term of your policy, your beneficiary will receive payouts.
In addition, term life insurance allows you to determine the length of your policy. You can choose a term that coincides with your end-of-life plan and fits in with your monthly budget.
Guaranteed Acceptance Whole Life Insurance vs. Guaranteed Universal Life Insurance
If you're worried about outliving the term of your policy, a good alternative could be guaranteed whole life insurance or guaranteed universal life insurance.
Guaranteed whole life insurance: A whole life policy works differently than a term life policy, in that it also comes with a guaranteed cash value. With every premium you pay, some of that goes into your policy's cash value account, which grows on a tax-deferred basis. The downside to a whole life policy is that your premiums will be higher.
Guaranteed universal life insurance: Similar to whole life in that you will have a cash value account, but it's dependent on market conditions and the growth could be affected. It's also less expensive than whole life, since it's set up for even payments throughout the policy's life.
While whole and universal life insurance policies are available, a term policy is more consistent and affordable when seeking out a guaranteed acceptance life insurance policy.
| | | | |
| --- | --- | --- | --- |
| | Term Life Insurance | Whole Life Insurance | Universal Life Insurance |
| Affordable premium | Yes | No | No |
| Choose a specific term | Yes | No | No |
| Pick a term that fits your life needs | Yes | No | No |
| Easy-to-understand policies | Yes | No | No |
| Premium changes | No | Yes | Yes |
Guaranteed Acceptance Life Insurance No Waiting Period
Traditionally, life insurance policies will have a waiting period between when a policy is purchased and the benefits can be used. Usually, that period is around two years. With guaranteed acceptance life insurance no waiting period, your benefits are available as soon as the first payment is made.
It may cost a little more to purchase a no waiting period plan, but for those with serious health conditions who need insurance quickly, it's worth the extra price.
It's important to keep in mind that benefits work a little differently with guaranteed life insurance. For the first two years, the payout will be limited. Before two years have elapsed, the policy may only provide reimbursement for the premiums paid, a depreciated value of the policy, or, in some cases, nothing at all.
How Much Does Guaranteed Acceptance Life Insurance Cost?
This all depends on a number of factors, like the type of policy, length, your age, and more. Turn the TV on early some Saturday morning and you'll see companies advertising some form of guaranteed life insurance for as low as $9.95 per month if you act now, or it can be as much as $200 per month for a shorter-term policy for elderly seniors.
The best way to get an accurate estimate is to connect with an independent agent and tell them all about you, your budget and what you want to leave behind—they'll take it from there.
Comparing Guaranteed Acceptance Life Insurance Policies
Independent insurance agents will review your needs and help you evaluate which type of guaranteed acceptance life insurance makes the most sense for you. They'll also compare policies and quotes from multiple insurance carriers to make sure you have the right protection in place for you and your family.
TrustedChoice.com Article | Reviewed by Neel Lane
©2023, Consumer Agent Portal, LLC. All rights reserved.
https://www.cdc.gov/tobacco/data_statistics/fact_sheets/index.htm
https://www.iii.org/fact-statistic/facts-statistics-life-insurance