Business Life Insurance
(To help retain your best employees)

As an employer, one way to retain the right talent that will be mutually beneficial for both you and your employees is to offer them group life insurance. This added benefit will help your employees be able to take care of their loved ones financially should the worst happen.
The best resource to obtain a group life insurance policy for your business is through your independent insurance agent. They'll walk you through a number of group life insurance options that your employees and their beneficiaries will greatly appreciate.
What Is Group Life Insurance?
It's a single policy contract for life insurance that covers an entire group of people. Typically, an employer will negotiate the policy for its employees. Should an employee become deceased, their beneficiaries are compensated with the death benefit decided upon in the policy contract.
Save on Business Insurance
Our independent agents shop around to find you the best coverage.
The Benefits Of Group Life Insurance
While it is not mandatory for employers to offer group life insurance, there are major benefits that could impact your business operations and bottom line.
Offering group life as an employee benefit helps companies stay competitive in the job market, while also allowing some employers to deduct the costs from their federal taxes.
This allows people with chronic health issues and even senior citizens to obtain a place of employment. If any of your employees have preexisting health conditions then they will have a hard time getting life insurance on their own.
If an employer is offering it, group life will cover an employee even if they have chronic health concerns.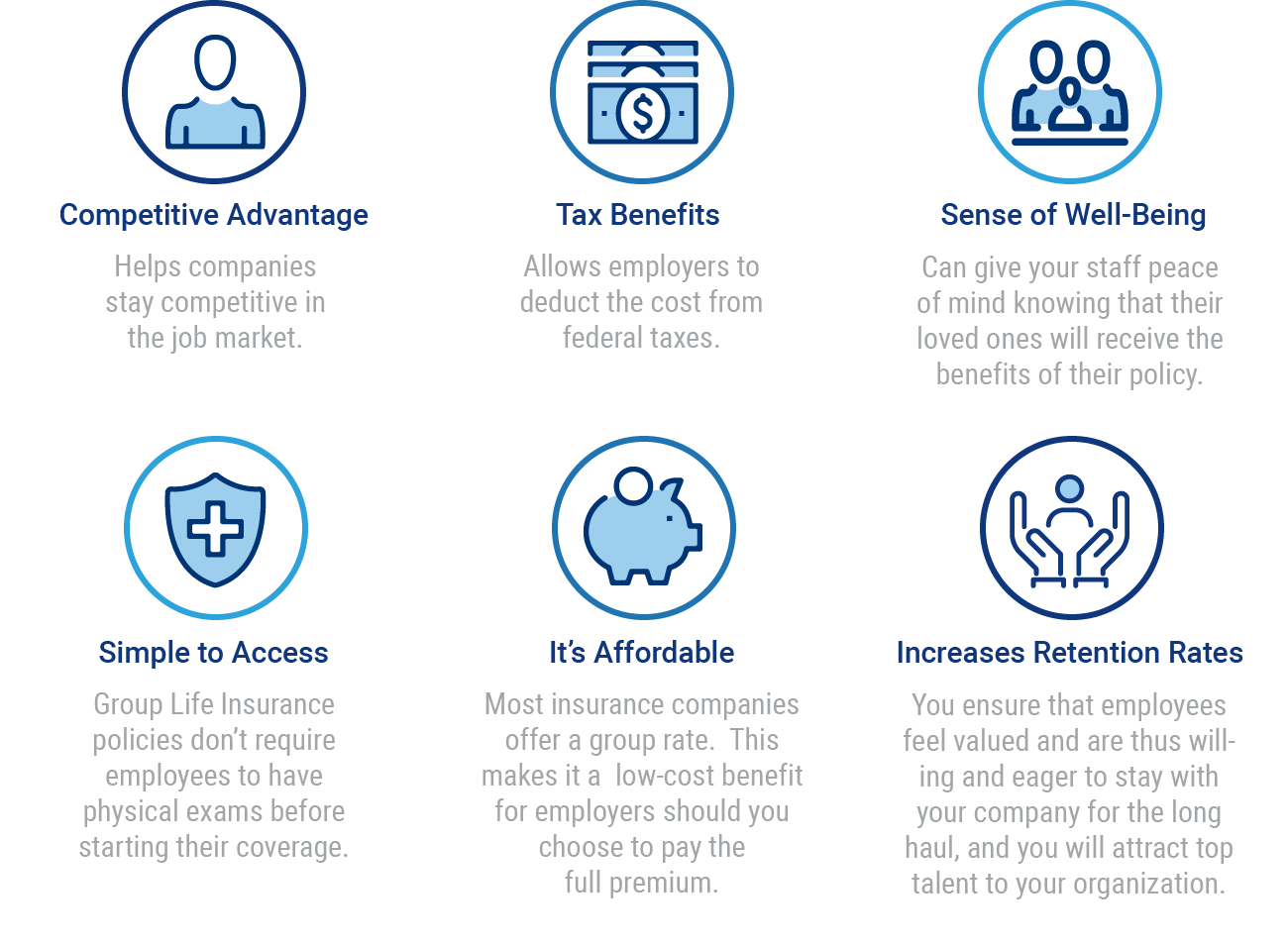 What Does Group Life Insurance Cover?
Coverage will be decided between the employer and the insurance company. As an employer, you have a few options when choosing the policy type and amount of coverage.
Typically, employers offer a basic group term life benefit as opposed to the other, costlier group universal life or permanent life product.
Death benefit: this is the amount that is predecided upon and paid out to the beneficiary listed on the policy when the named insured becomes deceased.
Cash value: is a portion of your premiums that are paid into the investment account of your permanent or universal life policy. As this money grows with interest over time you have the option to cash in your life insurance early and surrender your death benefit coverage to the insurance company. This will give you the cash value amount of the policy minus fees. You can also take out a loan against the cash value and repay it in order to keep your coverage benefit and policy intact.
Term life insurance plan: covers employees for a certain term usually ten, twenty or thirty-year increments. The amount of coverage called the death benefit is a set amount for each employee or equal to an employee's annual salary.
Universal or whole life insurance plan: this coverage is more expensive and would allow your employees not only a death benefit but a cash value that they could access after a certain period of time. Giving your employees the option to use their life insurance policy as more of a vehicle for retirement or large purchases. However, any amount taken out against the cash value will eat away at the death benefit if not replaced.
Supplemental coverage: this applies to accidental death and dismemberment and is another option for employers to offer. This added benefit might be a good idea for employees concerned about the amount of debt they're leaving behind to loved ones.
How Much Does Group Life Cost?
How much group life insurance costs are dependent on a few items. Mainly it is the type of coverage you select and who it is covering that will impact the premium.
If offering a group term life policy, some employers choose to pay for all of it. Leaving it free for employees to take advantage of. This could be as minimal as a few dollars per month, per employee for basic coverage.
Employers may also select to share the cost with their employees allowing each party to be responsible for a portion of the premium. Any supplemental coverage beyond the basic group life policy is typically the expense of the employee.
Save on Business Insurance
Our independent agents shop around to find you the best coverage.
The Benefits of an Independent Insurance Agent
Independent insurance agents are one of the best resources when finding the right group life insurance plan for your business. They work with an assortment of insurance companies to present you with the best offerings for you and your employees.
Your local independent insurance agent has been licensed and trained to know which carriers offer the coverages that best suit your needs and will have a low impact on your finances.
They are knowledgable in multiple lines of insurance for your business and will help you save time that can be better spent on your operation.
Comparing Group Life Insurance Quotes
When working with an independent insurance agent, they will have a variety of policy options to compare. One of the main benefits of doing business with an independent agent is they act as a trusted advisor and give you, the employer, multiple choices making sure you are getting sufficient coverage at a reasonable price.
TrustedChoice.com Article | Reviewed by Paul Martin
©2023, Consumer Agent Portal, LLC. All rights reserved.