Does Your Existing Car Insurance Cover RV Rentals?
(What's protected and what's not in your temporary home on wheels)

If you're planning a road trip and have decided you want to travel in luxury and comfort, then you've got an RV or Recreational Vehicle all lined up to go. Nothing beats exploring the country in a home on wheels, but do you know if you need additional insurance to rent an RV? We'll tell you. We'll also tell you if you're covered by your existing car insurance.
An independent insurance agent can help you think about the risks of renting an RV and other scenarios you may not realize are risks at all. They've seen all sorts of claims and can make sure you're protected long before you need it. Here's how they can make sure you have the best insurance coverage before hitting the open road.
Does Your Car Insurance Cover RV Road Trips?
Typically, yes, your general car insurance coverage will extend on some level to an RV rental. Depending on your policy, it may only cover driving-related accidents like rear-ending another vehicle or running into a mailbox. In some instances, your full auto policy will extend to an RV rental including your liability, collision, and comprehensive coverage if you have it.
Liability: This covers your medical expenses (up to a point) if you're at fault for an accident, and it also covers the other driver's medical expenses and car repairs. It does not cover repairs to your rental. If you were driving the RV and were to rear-end a car in front of you and the driver were to suffer neck damage, your liability coverage would pay for any medical bills and damage done to the car you rear-ended.
Collision: This covers repairs to your RV in case of a collision with another vehicle or inanimate object, like a mailbox. If you accidentally back into a structure while pulling into a campground, your collision coverage would protect you.
Comprehensive: This covers everything else that can happen to your RV, such as fire, wild animal collisions, riots, and even missiles. It's more accurately called "other than collision." If your RV were to collide with a deer, your comprehensive coverage would step in.
With COVID-19, the US is seeing a surge in RV sales as Americans have been forced to keep their travels within the US. According to a special report from the Kampgrounds of America (KOA), the following are the safest predicted activities once travel restrictions are lifted.
Views on the Safest Types of Travel When Restrictions are Lifted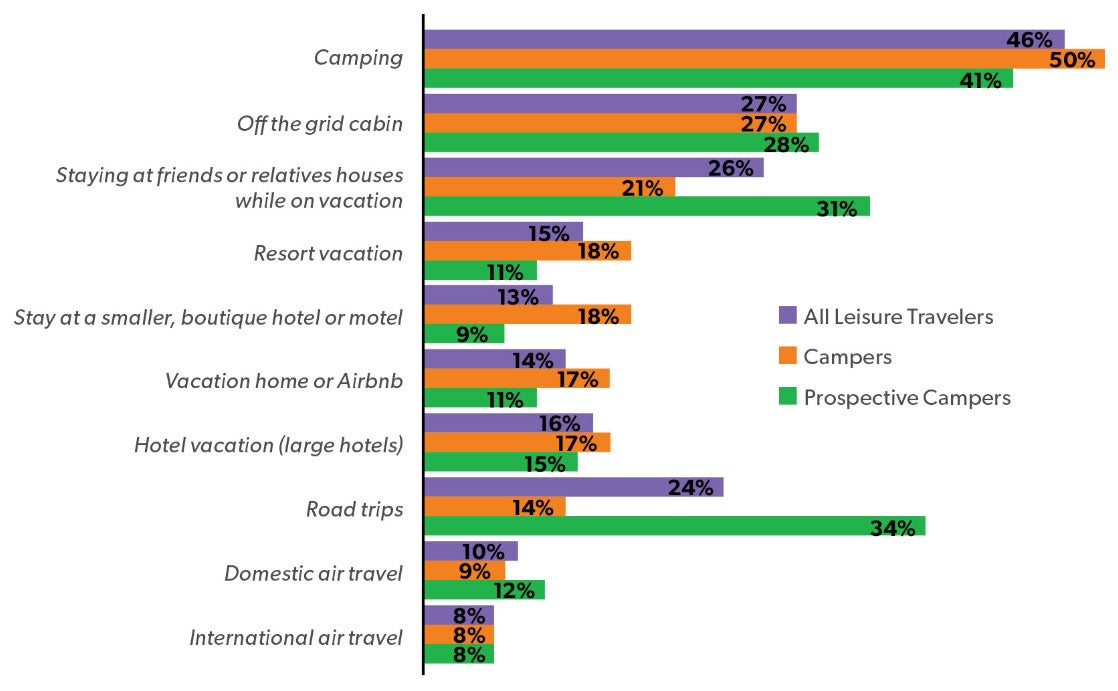 Source: Kampgrounds of America. "The 2020 North American Camping Report - Special Report: North American Camping and the Effects of COVID-19"
With more people renting and buying RVs, it's important to understand what insurance coverage you need to stay protected in your home on wheels.
If Not, What Insurance Coverage Do You Need?
Even if your current car insurance extends to your RV rental, you'll want to work with your independent insurance agent to understand what your insurance covers and make sure you supplement with any additional coverage you may need. Plus, sometimes rental companies will require that you have a specific amount of insurance on the rental. This includes liability insurance and RV rental insurance. Sometimes it can include uninsured motorist insurance as well.
RV liability insurance: Just like liability insurance for your car, RV liability insurance covers any third-party medical expenses as a result of an at-fault accident that occurs in your RV. Seeing as RVs are much more expensive than your typical car, most general liability policies do not offer high enough limits to protect an RV.
RV rental insurance: Similar to car insurance, RV rental insurance offers liability, collision, and comprehensive coverage to protect you in the event of an accident or damage to the RV.
Uninsured/underinsured motorists: This protects you financially if the other driver who you are involved in an accident with doesn't have any car insurance or not enough to pay for all expenses.
Often times, RV rental insurance will be offered through the rental company or as a rider on your existing car insurance policy. If you will not be the only driver of the RV, you'll also want to check with your insurance agent to make sure all drivers are properly insured.
Does My Homeowners Policy Protect My RV Rental?
It might sound strange for your homeowners policy to extend to your RV rental, but certain home insurance policies will protect your personal property that you take with you inside your RV. This can include things like your laptop, cell phone, clothes, jewelry, and other personal items if they are stolen or damaged during your trip.
How Can My Auto Property Coverage Help in an Accident?
An RV is much larger than your typical car, which means driving it can be a little more tricky than your everyday sedan. If you're not used to driving such a large vehicle, it's easy to hit objects and even other cars.
Your auto property coverage is there to cover the expenses that may result from an accident that leaves a third-party with vehicle or property damage such as a fence or mailbox. It's important to understand that your property coverage will only pay for the damage for the party whose vehicle or property you hit, it will not cover any damage done to your RV. In order to have coverage for any damage done to your RV rental, you'll need collision coverage.
How Does My Auto Liability Coverage Protect Me in an RV Accident?
Your auto liability coverage will cover the costs associated with any injuries or property damage you're responsible for due to an accident. However, you'll want to be aware of the limits on your general auto liability insurance as often times it will not be high enough to cover the potential damage caused by an RV. That's why you should consider purchasing temporary RV rental insurance as it will provide higher liability limits to protect you in the event of an accident.
What Happens if I Don't Have Insurance and I Get Into an Accident?
Driving without insurance is against the law, even if you're only driving a rental RV. If you're caught driving without insurance, you could be fined or even end up in jail. Plus, when it comes to an RV rental, getting out of the parking lot in a rented RV without insurance is nearly impossible. Rental companies will require you to show proof of insurance before starting your journey.
Save on Car Insurance
Our independent agents shop around to find you the best coverage.
What about Extra Endorsements? Anything I Should Consider?
Determining any add-ons or endorsements you need to add to your RV rental insurance will depend heavily on the type of RV you're renting, how long you'll be in your RV, and where you'll be going.
Here are some additional coverages that you can consider adding to your RV rental insurance.
Total loss replacement coverage: Should you get in an accident that results in a total loss of the RV, this would cover you.
Campsite and vacation coverage: If someone other than you is hurt in your RV or at the campsite your RV is parked at, you would be covered.
Emergency expenses: If your RV breaks down and you need to get a hotel or rent another vehicle, your expenses would be taken care of.
Towing and roadside coverage: Should your RV need to be towed or receive roadside maintenance, this would pay for it.
Full-timer coverage: If your RV becomes a full-time residence, you'll need additional limits.
Here's How an Independent Insurance Agent Would Help
Auto insurance varies state by state and depends heavily on the type of vehicle you drive. When it comes to RV rentals, there are a variety of scenarios that will affect how many risks you face when hopping into your home on wheels. An independent insurance agents job is to simplify the process. They'd search through multiple carriers to find providers who specialize in RV rental insurance, deliver quotes from a number of different sources, and help you walk through them all to find the best blend of coverage and cost.
TrustedChoice.com Article | Reviewed by Paul Martin
©2022, Consumer Agent Portal, LLC. All rights reserved.
https://koa.com/north-american-camping-report/