Oklahoma Restaurant Insurance
Sooners, cowboys, and restaurant insurance, oh my.

Opening a restaurant is a dream come true for most. But the whole "restaurant insurance" part is not so much a dream as it is a reality that has to come with the full package. And while the idea of getting covered might seem a bit nightmarish, your independent insurance agent will keep the process as stress-free as possible.
Seriously, an independent agent will make the risks less risky, the special policy additions more special, and the flowers will even smell better, too. Okay, we're not so sure about that last one, but an independent agent is your key to a simpler, dare we say more enjoyable, restaurant insurance shopping experience in Oklahoma.
Ready to Save On Restaurant Insurance?
Our independent agents shop around to find you the best coverage.
First: Restaurant Insurance Basics
They're the three words that mean the most. And no, not "I love you;" they are property, liability, and employees. If you can remember those three words, you're already on your way to getting the coverage you need.
Restaurant insurance covers those three categories. It protects you in case something happens to your building or the property in or around it, to your customers in or around your building, and to employees. And if you're still unsure of everything that restaurant insurance will cover, fear not. That's one of the many beautiful reasons you should work with an independent agent.
Insure Your Oklahoma Restaurant's Property
Property comes in two forms: real estate (i.e., your building and real property) and personal property. But your general property policy isn't going to cover all of the property inside your building. It just covers the stuff you can move. If it isn't bolted down, it's typically covered by your general policy.
This leads us to the next point. There's probably some property in your restaurant that's bolted down. It's even more likely that this property is in your kitchen, but it could include some furniture built-ins, too (think bars, storage, etc.). You may need additional coverage for immovable property. And, you guessed it, your independent agent can help you sort that out.
Keep in mind that property policies aren't a flat rate just because of the factors we just mentioned. In fact, things that seem as straightforward as your kitchen equipment could influence whether your property coverage is more or less. And the reason for this makes sense. If you've got a lot of open flames, a kitchen fire could start a lot more easily than if you didn't. Insurance providers must account for these types of issues to give you a fair policy and price.
So you've got the building. You've got the stuff you can move around. And you've got the stuff that isn't going to budge. But there's lots of other stuff in and around your building that would need property coverage, too. This means things like:
Your sign: A sign can cost tens of thousands of dollars. If you have a drive-thru, that sign needs to be covered, too. And because neither is generally covered against vandalism or good, old-fashioned property damage (whether because of weather or an accident) under your general property policy, the best thing you can do is discuss additional coverage with your independent agent.
Equipment (boiler and machinery): All that fancy wiring and plumbing that you can't even see needs coverage. Equipment (boiler and machinery) coverage pays for damage to these infrastructural components if a major piece of equipment breaks down and causes additional damage.
Food (spoilage): Food is property, too. And if a freezer stops freezing, you're going to be in trouble in a state like Oklahoma, where your location probably means you're serving a lot of frozen food. The answer: spoilage coverage. It'll pay for the food you have to throw away if a refrigerator or freezer breaks down.
Lost business income: If something happens to your property – like a kitchen fire or natural disaster – this pays your bills and employee salaries while you rebuild. It's basically a lifeline that keeps your restaurant afloat.
Ordinance and law: State codes matter. If your restaurant isn't compliant with Oklahoma's codes, you'll want this coverage to protect you. This policy also applies if you have to rebuild your restaurant or if you've chosen to build it from the ground up. Relevant factors that might bring you in (or out) of compliance include handicapped-compliant features, fire safety equipment, and emergency exits.
Art floater coverage: If you have specialty property, like artwork, get it appraised. You'll need special coverage to ensure that you get the actual price the painting is worth if it is destroyed or stolen.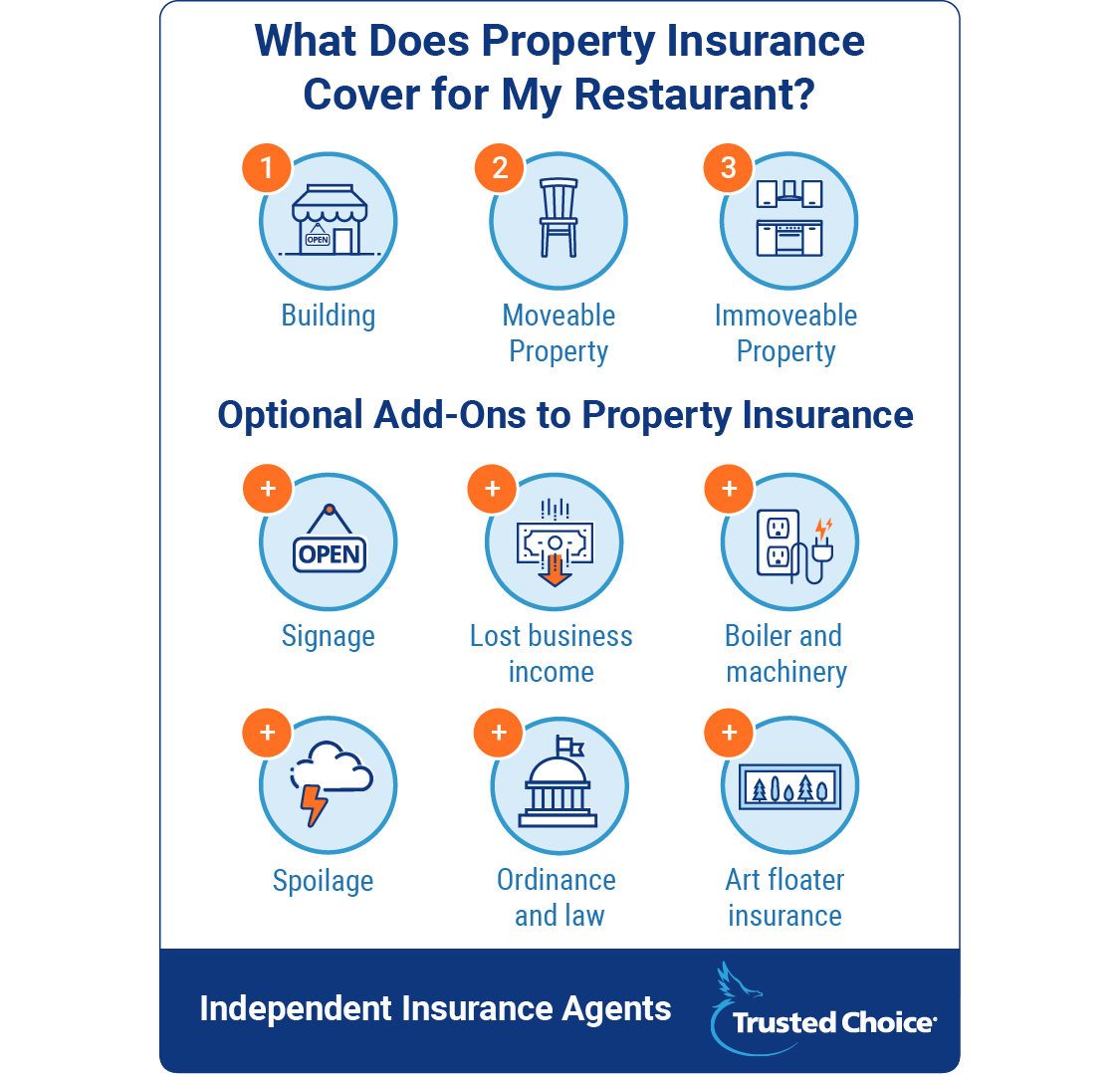 Cover Your Oklahoma Restaurant's Liability
Liability is fancy talk for risk. Risk means you could make customers sick. Risk also means that customers could slip or trip on a wet floor, ice, food, you name it. General liability insurance takes care of both of these risks.
Once you throw alcohol in the mix you have a whole different ballgame. Liquor liability is a separate policy that will have limits similar to, if not higher than, those in your general liability policy. You need it if you serve, distill, or brew alcohol. That's because there's always that one customer who drinks too much, gets behind the wheel, and leaves your restaurant on the line for the resulting injuries and property damage. Liquor liability does just that. Note that liquor liability is intended more for smaller restaurants, because chains tend to have stricter serving policies. However, it's something anyone opening a restaurant should discuss with an independent insurance agent.
Communicable disease coverage is another straightforward add-on policy that you should discuss with your independent agent. For almost any restaurant, this additional policy is a good idea. After all, employees can transmit germs through mishandling food or poor hygiene. Either way, this will protect you if a customer gets sick.
A unique type of add-on policy is directors and officers liability. Stockholders (if you're public), employees, or even cities can bring lawsuits against companies for poor business decisions. If you want protection should this happen, this is the add-on policy for you.
Ready to Save On Restaurant Insurance?
Our independent agents shop around to find you the best coverage.
Oklahoma Dram Shop Laws
Oklahoma, like many other states, has dram shop laws. This means that if you sell alcohol to someone who is obviously intoxicated, or serve alcohol to a minor, anyone injured by that individual can sue your restaurant for the injuries and property damage resulting from an accident.
Generally speaking, you need to be most concerned about third parties. These are the innocent individuals who are harmed by a restaurant patron you've served and shouldn't have (according to Oklahoma law). First-party suits are also possible, but only for minors, since adults are charged with the responsibility of monitoring their alcohol consumption.
Cover Your Oklahoma Restaurant's Employees
If you're opening a restaurant in Oklahoma, the law says you need workers' compensation coverage. This pays for an employee's medical bills, lost wages, and rehabilitation costs if they get hurt at work. It's pretty straightforward, and it's pretty non-negotiable.
One other type of common employee-related insurance is employment practices liability insurance. All this means is that employees can bring lawsuits against the restaurant for things like sexual harassment, a hostile work environment, or discrimination. If you want to sleep like a baby at night, this is good assurance that your restaurant and its officers are covered if there's a lawsuit.
Features Can Change Your Coverage, Too
Drive-thrus, carry-out, and delivery services, oh my! Different restaurants are…well, different. And these features can play a role in what coverage you need, how much you need, and how much it's going to cost.
Drive-thrus, contrary to popular belief, don't change your insurance coverage much. All that you'll pay extra for is some property coverage for the pavement, and a little more for the sign (which would get lumped in with your other sign-related coverage, if that's an additional policy you've already decided to add for weather, accident, or vandalism-related issues). Long story short, you won't pay much for a drive-thru by way of insurance premiums. So if you want one, add it. If you don't, don't. It won't affect anything other than your day-to-day operations.
That's where the features being a non-factor in coverage stop. Consider the carry-out vs. dine-in dilemma. If you're a carry-out only restaurant, you need fewer employees and will carry lower liability insurance because customers aren't spending hours and hours on your property. If you offer dine-in services, you'll have more employees (meaning higher workers' compensation costs) and need more liability coverage.
Speaking of liability, this is where delivery services matter, too. If you offer delivery, and employees use their own cars, you have to extend your liability coverage to those vehicles. If you have teenage delivery drivers – as lots of restaurants do – you may not have the most reliable cars to cover, either. This is why a lot of businesses invest in vehicles. You get lower liability coverage and your underwriter is pretty happy, too. If your restaurant is a food truck, you'll need additional liability coverage for that as well.
Ready to Save On Restaurant Insurance?
Our independent agents shop around to find you the best coverage.
How Much Does Oklahoma Restaurant Insurance Cost?
Every budding restaurateur wants to know how much all of this is going to cost. And while our independent insurance agents have nearly magical powers, we can't give you an actual price until we know all the specifics of what you're bringing to the table.
What we can tell you is that Oklahoma restaurant insurance will be broken up into two different payments:
Workers' compensation
Property and liability
The reason? Workers' compensation is calculated per $100 of payroll and by risk classification (as in, the more hot oil and sharp, shiny objects in the kitchen, the more you'll pay in workers' compensation coverage).
Property and liability can vary from $10,000 to $100,000 annually. It just depends. Let's say you want to start a food cart on the corner. This is one of the safest and cheapest ways to open a restaurant. If you own minimal property, are the only employee or only have a few employees, and pose little to no risk to customers, you're going to be on the low end here. On the other hand, if you're going to open a chain of restaurants with lots of property and risks galore, you're going to pay for that. After all, you'll have lots of employees (so more workers' compensation), property to fill the restaurants, and risk (more kitchens = more danger = more insurance coverage). This is where you'll end up looking at the $100,000 policy. Chains are expensive and risky, but can be worth it.
Remember, every restaurant is different. Take costs with a grain of salt until you talk to an independent insurance agent and get a sense of the whole shaker.
Speak to Your Independent Insurance Agent in Oklahoma
Independent insurance agents know restaurant insurance in Oklahoma. They know what you need, what you don't, and how to get you the best price for peace of mind (risk-wise and wallet-wise). The best part is that they'll shop around for your policy so you don't have to.
So what are you waiting for? Contact your independent insurance agent and get covered.
TrustedChoice.com Article | Reviewed by Paul Martin
©2023, Consumer Agent Portal, LLC. All rights reserved.