Catering Insurance
Because your business deserves the best protection.

The catering business is a fast-paced industry that's perfectly suited for anyone with a flair for cooking and an entrepreneurial spirit. In fact, there are currently more than 11,000 catering businesses in the US, employing over 137,000 people, with annual revenue of about $8 billion. But there's also a fair amount of risk involved.
Luckily, independent insurance agents are here to help. They'll walk through your catering business's needs with you, identifying risks and exposures to help put together the right set of business insurance policies to cover you properly. But first, let's talk about the kinds of coverage you need for your catering business.
What Is Catering Insurance?
Basically, catering insurance is an agreement between the business owner and the insurance company in which the insurer agrees to cover financial losses that befall the business. However, only listed perils in the catering insurance policy will be covered by the insurance company. Catering insurance is crucial to help your business prevent a potentially devastating financial loss stemming from risks like property damage or work vehicle accidents.
Essentially a specialized form of business insurance, catering insurance packages start with common coverages needed by many types of businesses, and are topped off with certain protections designed to protect against risks unique to your niche. Working with an independent insurance agent is the best way to get set up with all the coverage you need.
Who Sells Catering Insurance?
Catering insurance is available from many different insurance companies, and the best way to find the right carrier for you is through working with an independent insurance agent. These agents have helped all types of insurance customers, including those in search of catering insurance. They know which insurance companies to recommend to meet your needs, and can provide informed suggestions based on company reliability, rates, and more.
While many insurance companies could create a catering insurance policy for you, finding coverage could also depend on the area you live in. Here are a few of the top picks for catering business coverage.
One catering insurance company outshines its competitors:
Best overall catering insurance company: Nationwide
On top of TrustedChoice.com's 5-star rating of Nationwide, the insurance company has almost a century of experience in the industry now, and "A+" ratings from both A.M. Best and the Better Business Bureau. While Nationwide offers its catering coverage under the title of food service insurance, the carrier's insurance package provides numerous critical protections needed by caterers.
Nationwide's catering insurance starts off with a business owners policy (BOP), providing essential coverages like business property insurance, general liability insurance, business income insurance, and equipment breakdown insurance. The insurance company tops off the BOP with specific coverages tailored to your business's needs, and customers can choose from the following:
Business auto insurance
Workers' compensation
Employee practices liability insurance
Property and sewer drain coverage
Utility service and spoilage coverage
Employee dishonesty coverage
With their convenient package for catering businesses and their consistently high reviews across the board, Nationwide earns our pick as the top insurance company for catering insurance. An independent insurance agent can help you decide if Nationwide is the right choice to meet your coverage needs.
How Big Is the Catering Industry?
The catering industry is considerably larger today than it was just a decade ago. Check out a couple of stats for the catering industry below.
Market size of the catering sector in the United States from 2011 to 2021 (in billion US dollars)
In 2011, catering was just a $7.86 billion industry. By 2021, the catering industry grew quite a bit, to $11.59 billion.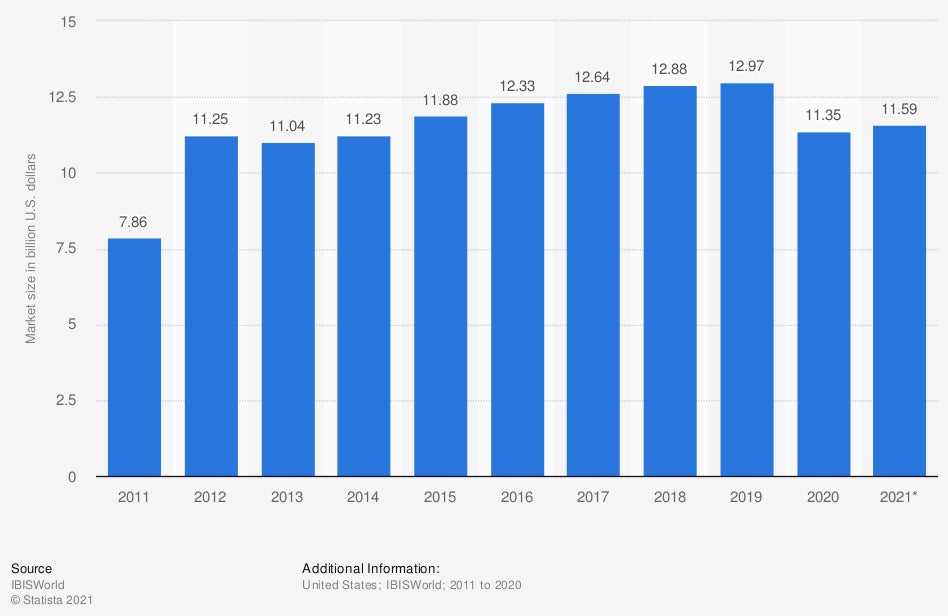 Number of businesses in the catering sector in the United States from 2011 to 2020, with a forecast for 2021 (in 1,000s)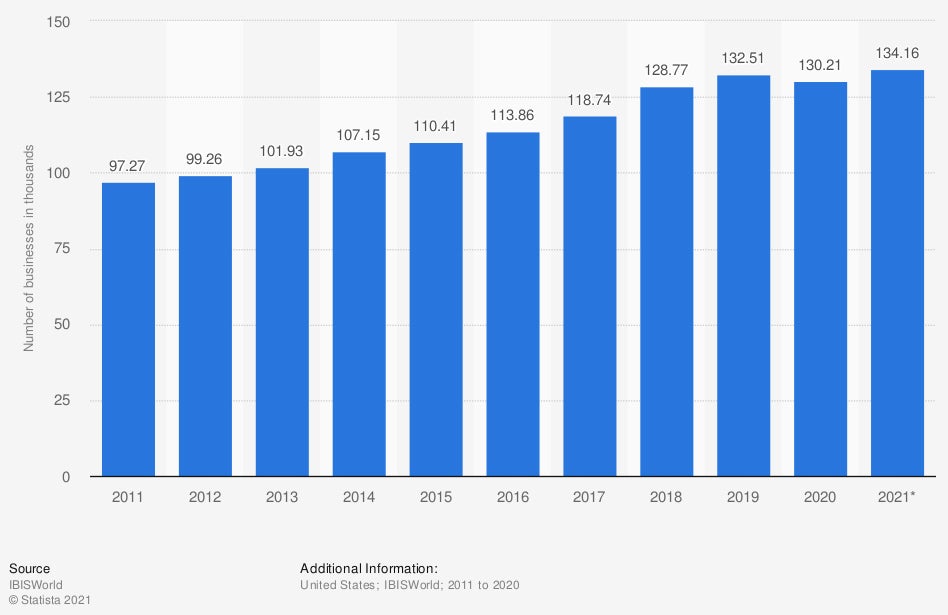 The number of catering businesses in the industry has also grown pretty smoothly over the years. In 2011, there were about 97,000 catering businesses. As of 2021, this number jumped up to a total of 134,160.
With the growing nature of the catering industry, having the right coverage is all the more important to keep this section of the market safe and continuously thriving.
Why Do I Need Catering Insurance?
Without the right coverage, your catering business could get hit hard by an unexpected disaster, and perhaps not be able to financially recover. Businesses go into bankruptcy all the time simply because they lack the right insurance. You never know when a storm or act of vandalism could result in property damage too extreme to cover out of your own pocket.
Catering insurance also provides crucial legal protection in case your business gets sued, as well as coverage for your employees while on the job. Basically, the right catering insurance policy is designed to get you covered from all angles and provide a sense of security. Having coverage allows your business to maintain smooth operations for years to come.
What Types of Insurance Do Catering Businesses Need?
Small catering companies are often run out of the home, while larger companies may work out of large kitchens, banquet halls, or restaurants. The size and location of your privately owned catering company will affect the risks you face, as will the type of catering you do. Coverage must be selected with the help of your independent insurance agent to address your unique business's risks.
Common coverages included in catering insurance are:
Liability insurance: Caterers face a number of liability risks, depending upon the food and drink served, and a number of other concerns. If you set up in someone else's banquet hall, backyard, or kitchen, there's always a chance of damaging property you don't own — which you could be held liable for.
Business property insurance: If your catering business is based out of your home, you can add an endorsement for your business equipment and materials to your home insurance policy. If your business is located outside your home, you'll need commercial property insurance provided by a catering insurance policy. Coverage protects against loss or damage caused by fire, weather, vandalism, and theft.
Business contents insurance: Otherwise known as business personal property coverage, it protects your company's equipment like computers, inventory, and office supplies from numerous perils like fire and more.
Business income insurance: If your business's operations get temporarily slowed or suspended due to a covered peril, this coverage protects against a loss in profits.
Food spoilage insurance: Caterers often keep a lot of food in their freezers and refrigerators. If an extended power outage or mechanical failure results in the loss of that food, this coverage will provide compensation so you can restock your inventory without taking a big financial hit.
Equipment breakdown insurance: This coverage is best suited to large catering companies that use industrial-sized kitchen equipment. If a power surge or mechanical failure leaves you unable to do your work, this insurance can assist you with repair costs and the loss of income that can come from it.
An independent insurance agent can help you review your business's coverage needs, and find the right catering insurance policy to cover them all.
Save on Business Insurance
Our independent agents shop around to find you the best coverage.
What Additional Coverages Might Caterers Need?
While some insurance policies are mandatory, others are optional but very important for protecting your business's finances. The coverage you may need, depending on your specific catering business, includes:
Product liability insurance: This coverage provides protection to companies that sell or manufacture products. Whether this type of insurance is appropriate for your catering business is likely to depend upon the nature of the services you provide. Talk with an independent insurance agent to learn more.
Liquor liability insurance: If you serve alcohol at weddings and other functions, this important coverage can provide you with defense and pay damages if you are accused of overserving, leading to injury or damage.
Workers' compensation insurance: Burns, falls, and other work-related injuries are common in the catering industry. Workers' compensation is required for companies that have more than a certain number of employees, although the specific requirements vary by state. Workers' comp provides medical coverage for employees who get injured or ill as a result of the work they perform.
Unemployment insurance: This coverage is included as part of your state taxes, depending on where you live and operate your business. Once you establish and register your catering business with your state's workforce agency and begin paying taxes, your business will be covered.
Disability insurance: This coverage is required by law if your catering business is located in California, Hawaii, New Jersey, New York, Rhode Island, or Puerto Rico. Otherwise, it's optional.
Commercial auto insurance: Your catering business probably uses a delivery van or has a fleet of company-owned vehicles. You will need to insure them with a commercial vehicle insurance policy that meets your state's minimum liability coverage requirements.
Hired or non-owned vehicle insurance: If your employees use their own vehicles on the job, you can still be held responsible for covering any liability expenses they incur while transporting goods or materials to and from job sites. This insurance will provide that coverage.
An independent insurance agent will make sure that your catering business insurance package includes all the protections your unique business needs.
Common Risks and Exposures for Caterers

Caterers face hazards of all kinds on a daily basis, regardless of the size or location of the company. Some common risks and exposures caterers need to anticipate and plan for from the beginning include:
Premises risks: Like many other businesses, catering businesses need to keep the safety of their premises in mind at all times. Customer slips and falls are some of the most common business insurance claims across the board.
Food/product risks: Working in the food service industry, caterers must take extra precautions when delivering their products to the public. From burning hazards to food-borne illnesses, caterers can be sued for numerous food-related risks.
Employee risks: Employees may steal from the company, get injured on the job, or even harass a customer or fellow team member. All of these concerns must be addressed before hiring your team.
Property risks: Your business property is always at risk of natural disasters like hurricanes and lightning strikes, but it's also prone to destruction by falling objects, vandalism, and more.
Equipment breakdown risks: Not only could your equipment itself be expensive to repair or replace in the event of a breakdown, but it could also halt your business's operations, leading to a loss of income.
Business vehicle risks: Work vehicle accidents are another of the top claims for businesses of all kinds. It's crucial to make sure your company's vehicles are covered against a whole host of risks, from liability to theft.
Your independent insurance agent can help you review these risks and exposures to catering businesses and anticipate them ahead of time, by getting you equipped with all the right coverage to prepare for the worst in every scenario.
How Much Does Catering Insurance Cost?
The cost of your policy will depend on numerous factors, like your business's exact location, size, annual profits, and more. However, there are a few coverages that have average costs across the country, like:
| | | | | |
| --- | --- | --- | --- | --- |
| | Monthly Average | Median Annually | Deductible | Limits |
| Caterer BOPs | $70 | $845 | $500 | $1 million per event |
| Caterer workers' compensation: | $90 | $1,070 | Varies | Varying limits & deductibles |
| Caterer general liability insurance: | $40 or less | $465 | $500 | $1 million per event |
| Caterer business auto insurance: | $80 | $950 | Varies | $1 million |
Things to Keep in Mind When Shopping for Catering Insurance
Before meeting with an independent insurance agent to discuss your catering insurance options, it's helpful to keep these points in mind:
The value of your business's structure
The value of your business's inventory
The value of any upgrades you've made to your business
How prone your specific area is to certain natural disasters, like hurricanes
Your specific products and their risk level to the public
The size of your company's team
Considering these factors beforehand can seriously help streamline the process of shopping for the right catering insurance policy.
Save on Business Insurance
Our independent agents shop around to find you the best coverage.
Frequently Asked Questions about Catering Insurance
Well, you'll need different types of coverage depending on the style of your catering business. If your catering business has a separate office space, you'll need business property coverage for each location. But really the biggest difference in pricing is the overall size of your catering business, or its annual revenue. If you have an extremely successful home-run catering business, you might pay as much or even more for coverage than for a catering business run out of a strip mall that doesn't turn over much profit.
It's the same thing as business personal property insurance. This coverage protects certain business equipment and inventory from numerous disasters. For example, computers and office supplies are covered from perils like fires and theft.
Yes, any type of business that serves or sells food to the public needs food contamination, or "spoilage" coverage. Food can cause all kinds of illnesses and injuries to the public, whether it's from having been spoiled, improperly prepared, or just served too hot. To protect your catering business from a legal standpoint, this coverage is critical.
Catering businesses need insurance to protect themselves from bankruptcy, among other huge concerns. Without proper coverage, a lawsuit or property damage event could be too expensive to cover out of your own pocket, and you could lose your business. It's always best to be prepared with the right insurance before ever opening your business's doors to the public.
The Benefits of an Independent Insurance Agent
Independent insurance agents are kind of like the Google of insurance quotes. You tell them what you're looking for, and they bring in the results. And since they aren't tied down to one carrier, they're free to shop around and bring multiple policy options to the table.
But it doesn't end with your signature. Along the way, if something bad ever happens, they'll handle the entire claim process for you and deal with the carrier, so you can focus on your catering empire.
TrustedChoice.com Article | Reviewed by Paul Martin
©2023, Consumer Agent Portal, LLC. All rights reserved.
Statista
iii.org
irmi.com