Trailer Insurance
(And how you can easily get started today)

Whether you're hauling horses or bringing the boat to the lake for the weekend, navigating a trailer isn't as easy as it may sound. Even the safest drivers have to learn the tricks of safely driving with a trailer attached to their car.
Accidents are unexpected and avoiding them can be more difficult when you have something hitched behind you.
That's why finding coverage for your trailer should be a top priority. Fortunately, an independent agent is there to guide you through a handpicked selection of options to make sure you and whatever you're pulling are properly protected.
Save on Trailer Insurance
Our independent agents shop around to find you the best coverage.
What Are the Different Types of Trailers?
When it comes to trailers, various types are designed to haul different things. Here are the different types of trailers:
Horse trailers
Livestock trailers
PWC trailers
Boat trailers
Auto trailers
Camping trailers
Commercial trailers (used to transport equipment or goods used in a business)
Is Trailer Insurance Required?
No. Trailer insurance is not required by law, but in many cases your auto policy will extend to your trailer. However, it will typically only apply to liability coverage. This means you're only covered for bodily injury or property damage.
If it doesn't, or if the trailer's contents are critical to you or your business, a more substantial insurance policy would definitely be a good investment.
What Does Trailer Liability Insurance Cover?
Trailers can cause some pretty serious property damage and injuries. Misjudging turns, colliding with objects. and clipping other cars are all too common trailer mishaps.
Sometimes the extension of liability coverage from your auto policy is enough to protect you. At other times, it's not.
Liability coverage: You can increase the liability limits beyond the coverage under your auto policy to help cover medical damage, legal fees, property damage, etc.
Comprehensive coverage: This is designed to help you with repairs if your trailer is damaged by theft, vandalism, fire, or severe weather.
Collision coverage: This is ready to lend a helping hand with repairs if your trailer gets damaged in a traffic accident.
Contents coverage: If you're using a trailer to transport personal items or for business, you may want to tack this on in case of damage.
How Much Does Trailer Insurance Cost?
The cost of your trailer insurance will be based on coverage and a number of other things like location and its total value.
With most lower-cost trailers, you can typically add coverage to your homeowners, renters, or auto insurance policies, sometimes at no additional cost.
But if you're hauling a horse trailer with sleeper space, you're going to want a separate policy that contains collision and comprehensive coverage.
Some other factors that will affect your trailer insurance premium are:
Size of the trailer
How you use it
How often you use it (year-round, seasonally, or just weekends)
How much it's on the road
If it only stays on your ranch (you still might want to cover that trailer with comprehensive coverage in case of storm damage or some other unexpected event)
The Benefits of Bundling Trailer Insurance
Keeping your insurance policies together is always a good idea. First off, it makes filing a claim easier when you only have to go through one agency.
Second, you can get a discount by bundling your trailer and your home or renters, auto, and umbrella policies together.
Comparing Trailer Insurance Quotes
Understanding and finding the proper trailer insurance can be overwhelming. Comparing insurance quotes can be time consuming and frustrating, which is why an independent insurance agent will review your needs and help you evaluate the trailer coverage that makes the most sense.
They'll also compare insurance policies and quotes from multiple carriers to make sure you have the right protection in place.
Save on Trailer Insurance
Our independent agents shop around to find you the best coverage.
Adding Trailer Insurance Coverage
Have this information ready when you add trailer insurance coverage to your car insurance policy: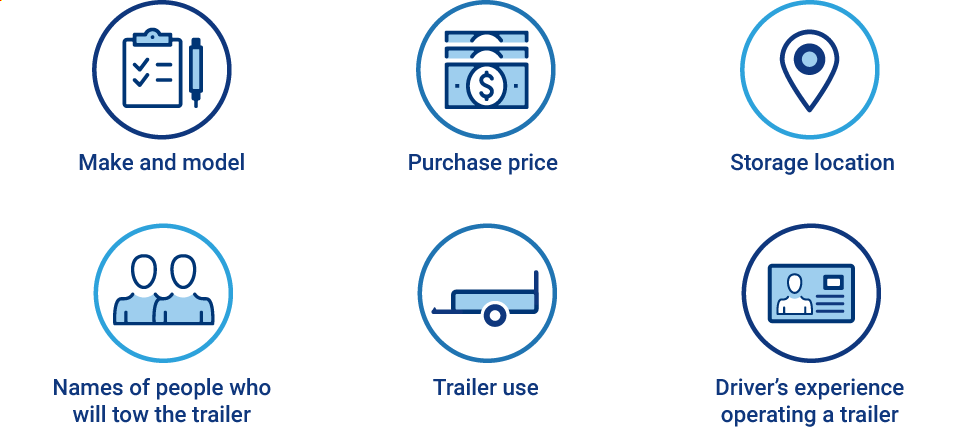 Why Go with an Independent Agent?
Independent insurance agents will walk you through a handpicked selection of policies from all the top trailer insurance carriers. Not only that, they'll cut the jargon and clarify the fine print so you know exactly what you're getting.
Most importantly, they'll be there to help you file a claim. The outcome of insurance claims can be strongly impacted by how the process is approached and handled.
TrustedChoice.com Article | Reviewed by Paul Martin
©2023, Consumer Agent Portal, LLC. All rights reserved.