South Carolina Restaurant Insurance
Because your business is worth protecting.

You know that restaurant that you're about to open? It needs more than just the building, the customers, the employees, and the rest of what you throw inside and around. In fact, you need protection for all that stuff. And the way you're going to get it is with an independent insurance agent and the restaurant insurance they help you buy. An insurance agent is the closest thing you'll get to a ninja in the insurance world. They may not wear the classic black outfit, but you'll see what we mean when yours slices and dices a policy that'll have you ready to open your doors.
What Is Restaurant Insurance?
If this is your first restaurant or just your first time getting one insured, you're probably wondering what restaurant insurance entails. In short, it's everything. It's coverage for your property, for customer and employee risks, and all sorts of specialty coverage to make sure that if and when something goes wrong, you're in the clear. Because restaurant insurance is so comprehensive, one of the best things you can do for yourself is to reach out to an independent insurance agent. They'll know what you need and what you don't so when it comes to getting covered, there's no guesswork or paying for unnecessary policies.
What Type of Restaurant Insurance Coverage Do I Need in South Carolina?
Property coverage protects your property. This includes your building and the movable stuff inside it. By movable, we mean you can literally slide it around or pick it up (furniture, decor, flatware, etc.). Since you're a smart cookie, you realize that this means there's something called immovable personal property. This would be your kitchen equipment, built-in furniture, and stuff like that. It's not typically covered under your general policy, so be sure to talk to your agent about that.
Note here that property coverage isn't just priced based on the building and what you put inside it. Things like risk come into play. If you're a restaurant that cooks over open flames in the back of the house, you'll pay more than a similar restaurant that doesn't. The reason is simple: If there's a greater potential for destruction (open flames), there's more risk, and you'll pay more for coverage. After that comes your other specialty property policies. This can be for things you own, like your:
Sign: Restaurant signs (both out front and in the drive-thru) can cost tens of thousands of dollars. This specialty policy would cover you for damage due to vandalism, natural disaster, or an accident.
Food: Covering the cost of your food comes in when there could be spoilage. So if a freezer goes out and you lose your food, you're covered for the cost of what you have to throw out.
There are other types of property insurance, too. This could be for:
Lost business income: Let's say there's a hurricane, which isn't unlikely in South Carolina. Lost business income would pay your bills and your employee salaries. It would also kick in if there's a kitchen fire or other disaster that shuts you down for some time.
Boiler & machinery: This covers damage to pipes, wires, and all that sort of building-type stuff if a major piece of equipment breaks down. But don't get it twisted: This only covers the cost of damage to the building-type stuff, not the cost of repairing the equipment itself.
Ordinance and law: This is coverage that protects you if you aren't compliant with state codes. This applies to everything from handicapped compliance to fire safety features and emergency exits. If you have to rebuild your restaurant or are building from the ground up, this is an important coverage to have.
Ready to Save On Restaurant Insurance?
Our independent agents shop around to find you the best coverage.
One note about property that you should keep in mind is that sometimes property is worth a lot more than it seems. This would be the case if you were one of those "art connoisseurs" in the sense that you paid a lot for what's hanging on your walls. And while we totally believe it's worth thousands rather than $10, the insurance company won't without an appraisal. So as soon as you hang it (or preferably before), get it appraised and get it covered by an art floater policy, just in case it's ever stolen or destroyed.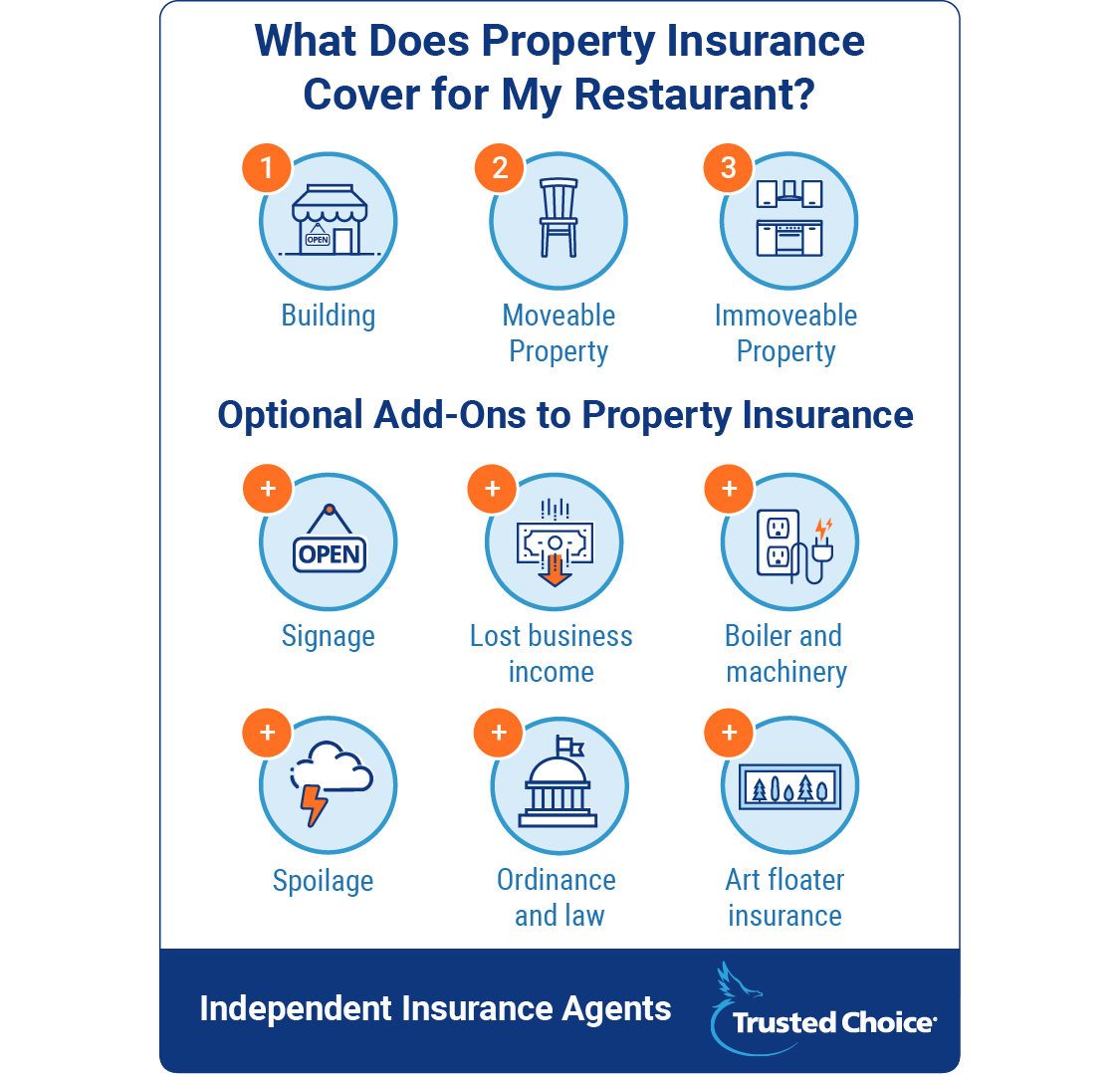 Coverage for Hurricane Damage
South Carolina doesn't get many hurricanes, but there's always a small threat that one might hit the coast. In fact, in the past handful of years, two hurricanes have hit South Carolina. Hurricane damage isn't typically covered by your general property policy, so the best thing you can do is talk to your independent agent about adding some coverage. You may decide it isn't worth it, but it's always best to explore the option.
Get Your Customers Protected
Or, technically, get protected against your customers. You see, customers will sue you if you make them sick or if they slip and fall where they shouldn't. General liability coverage keeps you protected in either of these situations. Keep in mind that in your South Carolina locale seafood might be on the menu. And if it is, you might pay more in liability coverage. Poorly prepared seafood can be a bit nausea-inducing if you catch our drift. If you serve fish raw, there's even more of a risk. More risk = more liability = more money toward your premium. Communicable disease is another type of liability coverage. If an employee has poor hygiene and transmits illness to a customer, this protects the restaurant.
Then, there's the fancy liability coverage. And by fancy, we mean alcohol. You serve, distill, or brew it, and you need a liquor liability policy. It pays out if you overserve a customer and they get behind the wheel and cause property damage and/or bodily injury. Just don't skimp on the policy limits, either. You might really need that extra coverage one day. Of course, some restaurants need liquor liability coverage more than others. In fact, smaller restaurants tend to purchase this policy more than chains, just because chains have stricter serving policies in place to minimize risk, where possible.
Another type of liability coverage is directors and officers liability. This sounds complicated. And maybe it is, but that's where your independent insurance agent comes in to save the day (again). The starting point is whether your restaurant is public. If it isn't, then you don't have to worry about that. But if it is, this would keep you covered if stockholders, employees, or even cities decide to sue you for a bad business decision. No damage required, just a supposedly bad decision. And if this confuses you, remember: you've got an agent for that.
South Carolina Liquor Liability Insurance
South Carolina is one of the few states that doesn't have dram shop laws. However, South Carolina still has laws against a restaurant knowingly serving alcohol to any person who is intoxicated. There are criminal statutes that would allow recovery by an injured party if the person can demonstrate that the restaurant knew or should have known that it was serving an intoxicated person. This liability also applies if a restaurant serves someone under the age of 21. It's best to discuss liquor liability with your South Carolina independent insurance agent. They'll have a handle on the criminal laws in play and be able to recommend a policy limit and coverage that makes sense for you.
Workers' Compensation Insurance for South Carolina Restaurants
If you're running a restaurant in South Carolina, you're legally required to buy workers' compensation coverage. This will take care of the cost of medical expenses, lost wages, and rehabilitation if an employee is injured on the job. There's also coverage you can purchase in case employees sue your company. Employment practices liability coverage takes care of the cost of litigation if there's bad behavior, sexual harassment, discrimination, or a hostile work environment. It could cover other workplace-related suits, too, but these are the biggies.
Features Can Change the Cost of Coverage
We know, we know: Features can mean anything. But here, we're talking about features like buffets, drive-thrus, and whether your set-up is dine-in or carry-out. But don't be fooled! Not every feature will change the cost or scope of coverage. Buffets are one feature that doesn't do much to your coverage. Underwriters don't really like them much. So yes, unfortunately, personal bias matters, and because of this, you might pay a bit more for coverage. Then there's the drive-thru dilemma. It seems like this might up the cost of coverage. It makes sense that it might – after all, it's another feature and there could be risk involved. But there's good news: Drive-thrus don't do much to coverage issues.
All you'll pay for is the cost to cover the pavement and the additional sign. The simple stuff ends there. Because once you enter the dine-in vs. carry-out debate, a lot can change. Let's start with dine-in. If you let customers dine in, you're keeping them on the restaurant premises for longer. This increases liability. Plus, if you have space for customers to dine in, you have a larger restaurant. This increases property. Then, if you need a staff to work the dine-in restaurant, the cost of your workers' compensation increases. And the opposite logic applies to carry-out.
One last feature that can change a whole lot is delivery. Delivery involves vehicles. Vehicles are covered under liability policies. But then there's another element: Are workers using their own cars, or are they using vehicles you purchased for delivery? If they're using their own cars, you're going to pay more for coverage because, reality check: Most delivery drivers aren't driving around the newest model on the block. If you purchase vehicles, you'll pay more up front, but an underwriter will price you out better. If you're running a food truck, you'll also need this type of liability coverage.
Ready to Save On Restaurant Insurance?
Our independent agents shop around to find you the best coverage.
How Much Does Restaurant Insurance Cost in South Carolina?
Now we've gone on and on (and on) about all of the different parts of restaurant insurance. You know the different components. You know the features. You know the additional policies you might need. But what you don't know is how much this is all going to cost. We hate to be the bearers of bad news, but we don't have an answer for you. But we do have some helpful guidelines that should give you an idea of what you're going to pay on an annual basis. First thing's first: You aren't going to pay for all of your coverage together. It's going to break down like this:
Workers' compensation
Property and liability
Workers' compensation is paid for separately because it's priced differently. It changes based on every $100 of your payroll and your restaurant's risk classification. Risk increases when there are sharp knives, hot oil, and open flames around. More risk = higher cost. Property and liability aren't as straightforward. The range can be huge depending on what kind of restaurant you're trying to open.
Let's say you want to open a bagel and coffee stand. Bagels aren't too dangerous. They don't involve deep frying or open flames. You don't have much property, just your stand. And maybe you have yourself and one or two other employees to run it. This would be a case where your annual premium could be as little as $10,000. It's safe and easy to start, and that's why a lot of first-time restaurant owners start small.
On the opposite end of the spectrum is your multi-location chain restaurant. You have lots of property, lots of employees (especially if dining in is an option), and lots of risk in practically all of the policy areas we talked about above. You'll need to opt for specialty policies for additional coverage where the general insurance falls short.
Annual premiums for places like this could be upwards of $100,000, if not more. These places are risky and expensive, so the cost shouldn't be too much of a surprise. Your restaurant will probably fall somewhere in the middle, and we're sorry we don't have a better answer for you. Luckily, your independent insurance agent will have all the answers you want that we don't have. Speaking of which…
It's Time to Call Your Independent Insurance Agent
Independent insurance agents are the best resource you'll have for your South Carolina restaurant insurance. They'll be able to evaluate your coverage options, give you the best policy, and price you out at a cost that makes sense for your restaurant. They'll do the heavy lifting so you don't have to. There's really no reason to wait. The sooner you call your independent insurance agent, the sooner you can get quotes and a general idea of what's going on. So just do it. Now. Our work here is done.
TrustedChoice.com Article | Reviewed by Paul Martin
©2023, Consumer Agent Portal, LLC. All rights reserved.