Wyoming Workers' Compensation Insurance
Your Guide to Workers' Comp Insurance in Wyoming
All you need to know about finding the right workers' comp for you.

Over the past few years, Wyoming has paid out more than $1.195 billion in workers' compensation claims, and is among the states with the most workplace incidents. Sadly, workplace incidents resulting in injuries and illnesses to employees are common, and can be costly.
Fortunately having the right workers' comp policy in place can not only protect your team, but also your business. For help navigating workers comp insurance coverage, find a local independent agent.
Workers' Compensation Coverages/Non-Coverages in Wyoming
Workplace incidents not only set employees back in terms of time lost on the job, but also financially. But workers' comp can protect employees from unexpected medical expenses. Further, coverage also offers critical protection for employers against employee lawsuits stemming from these incidents.
Here's a simple breakdown of what workers' compensation covers and does not cover in the state of Wyoming.
Workers' comp covers the following:
Injuries caused by repetitive motion
Occupational illnesses and diseases
Traumatic injuries
Various mental injuries and illnesses
Consider this real-life example of coverage:
A grocery store employee in Wyoming slips on a wet floor. The worker visits the doctor to be treated for minor injuries. The right workers' comp policy would help pay for any related medical treatments and other costs.
Workers' comp insurance excludes the following:
Employee illnesses or injuries that happen outside of work
Intentional or malicious acts by employees
Injury or illness to intoxicated employees
| | | |
| --- | --- | --- |
| Workers' Compensation Coverage | Covered | Not Covered |
| Traumatic injuries | | |
| Repetitive-type injuries | | |
| Certain mental injuries | | |
| Occupational diseases | | |
| Employee illnesses or injuries sustained outside of work | | |
| Accidents that occur while an employee is intoxicated | | |
| Intentional employee injuries to themselves at the workplace | | |
An independent insurance agent can further break down what workers' comp covers and doesn't cover in Wyoming.
Why Do You Need Workers Compensation Insurance in Wyoming?
Businesses who don't comply with state mandated workers' comp guidelines can face legal and financial consequences. Your business might be fined or even ordered to shut down if it fails to get coverage. Business owners can even be sentenced to jail time.
Your business must have coverage in place upon hiring any employees, before they start performing work duties. Having coverage in place before any incidents can occur is crucial to protect your business from resulting employee lawsuits.
What Consequences Could You Face if You Don't Have Workers' Compensation in Wyoming?
It's important to not treat workers' comp as an optional coverage, even if your business's operations are on the safe side. Without this insurance, you could be vulnerable to lawsuits, hefty fines, and even jail sentences.
In Wyoming, workers' comp is mandatory for businesses with one or more employees. Businesses that fail to obtain the necessary coverage can be subject to fines set by the state after the offense or even ordered to shut down by the state until the right insurance is obtained.
Wyoming Workers' Compensation Laws
Wyoming is one of four monopolistic workers' comp states in the US, meaning all workers' compensation insurance must be purchased from the Wyoming State Fund. This allows for no competition between private insurers.
The state's workers' comp laws eliminate the need for an employee who has been injured on the job to file a personal injury claim against their employer. Wyoming workers' compensation insurance provides immediate benefits for injured workers regardless of who was at fault for their injury.
Get a Workers' Comp Quote in Minutes
Let our independent agents do all the heavy lifting while you save.
How Much Does Wyoming Workers' Compensation Insurance Cost?
Wyoming is a monopolistic workers' compensation state. This means that all rates are set by the state, and private insurance companies may not sell workers' compensation in Wyoming.
Workers' compensation insurance is relatively expensive in Wyoming due to the lack of competition. Employers are assigned a classification code by the state, and must check with the state to determine what is required after their class code has been assigned.
Consider this example:
Drilling Oil and Gas Wells
Base Rate: $3.53
Employer payroll: $100,000
Premium calculation: $3.53 per $100 of employer payroll (or 3.53% of payroll)
Estimated annual premium: $3,530.00
To determine an employer's workers' compensation premium, the annual payroll at the beginning of the policy period is divided by 100, and then multiplied by the base rate for its class code.
Workers' Comp Cost Per Employee in Wyoming
Businesses with higher company payrolls are more expensive to insure and pay more for workers' comp. Here's a breakdown of how workers' comp costs vary by payroll range in each specific industry below.
Annual Workers' Comp Cost Per Employee
| Industry | Lower Cost | Medium Cost | Upper Cost |
| --- | --- | --- | --- |
| Construction | $1,751 | $3,356 | $12,839 |
| Finance and Insurance | $577 | $1,041 | $3,811 |
| Hotels / Motels | $423 | $950 | $4,013 |
| Manufacturing and Food Production | $749 | $1,423 | $5,408 |
| Professional and Technical Services | $541 | $1,072 | $4,191 |
| Real Estate | $98 | $194 | $759 |
| Restaurants and Taverns | $172 | $383 | $1,611 |
| Retail Trade | $330 | $633 | $2,425 |
| Transportation and Warehousing | $1,290 | $2,540 | $9,902 |
If your business has a greater track-record of safety and fewer accidents, its workers' comp insurance will likely be cheaper. However, insurance companies will reset your rates after an accident, often leading to a large spike in your premiums.
Finding Wyoming Workers' Compensation Insurance
All businesses in Wyoming must register with the Wyoming Division of Employer Services to receive their workers' compensation class codes. Wyoming workers' compensation insurance may only be purchased from the Wyoming State Fund, which is maintained by the Wyoming Workers' Safety and Compensation Division.
Top 6 Most Common Workers' Comp Claims/Injuries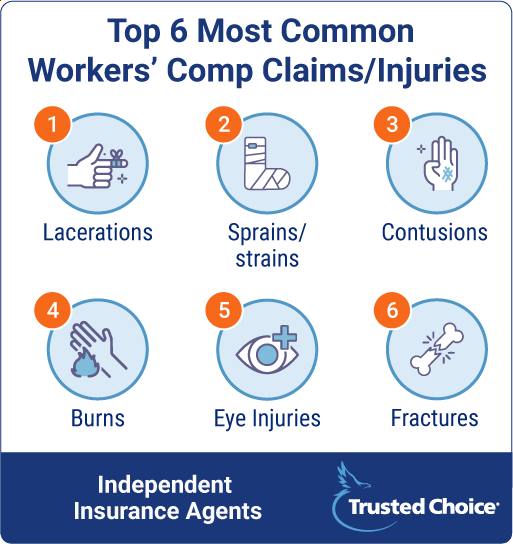 Lacerations: Deep cuts can happen to employees in any work setting.
Sprains/strains: Sprains and strains can also happen to employees in any industry.
Contusions: Contusions, or bruises and other skin marks caused by impact, can also occur in any environment.
Burns: Burns can happen to workers in any business that has a heat source.
Eye injuries: Eye injuries can happen in a variety of fields, especially if the workplace requires the use of chemicals.
Fractures: Fractures can also happen to employees in any industry, especially if lots of movement is necessary.
Why Are Independent Insurance Agents Awesome?
It's simple. Independent insurance agents simplify the process by shopping and comparing insurance quotes for you. Not only that, but they'll also cut the jargon and clarify the fine print, so you know exactly what you're getting.
There's no business too small for our independent insurance agents. They have access to multiple insurance companies, ultimately finding you the best workers' comp coverage and competitive pricing while working for you.
TrustedChoice.com Article | Reviewed by Paul Martin
©2022, Consumer Agent Portal, LLC. All rights reserved.
http://www.wyomingworkforce.org/_docs/wc/Employer-Guide-to-Workers-Safety-and-Compensation.pdf
https://www.employers.com/blog/2019/7-common-workers-compensation-claim-injuries/