LLC Insurance
Finding the Best LLC Insurance for You
(Because business is always personal)

Starting an LLC (limited liability company) is a great way to start protecting your personal assets from damage or liability by keeping them separate from your business.
But even if your own personal assets aren't on the line, the thought of your business failing or being sued for some mistake is terrifying. And your American Dream deserves to be protected.
That's why it's important to know all about the different types of LLC insurance available. Many LLC owners believe they're exempt from liabilities, but sadly, that's just not the case.
With the help of an independent Insurance agent, you can understand your options and what will work best for your business through a handpicked selection of top policies.
What Is LLC Insurance?
Simply put, LLC insurance is really just a combo of general and professional liability policies designed to help protect your company against claims of injury caused by your business, employees, faulty products, or a professional error.
Like other policies, your liability insurance can be customized to more specifically fit the needs of your LLC.
But Doesn't a Limited Liability Company Already Act as LLC Insurance?
The short answer is no. Being registered with the state as a limited liability company means your personal assets are off-limits when it comes to accidents and lawsuits, but your business is considered a separate entity and needs its own insurance policy.
Just imagine if your business does something that causes physical harm to someone, or hurts another company financially. Your business could be on the hook for cost of all those medical bills, legal fees, and damages. And that can add up to a lot.
There are, however, certain exceptions to the separation of personal and business where a business owner could still be held personally responsible for damages caused by the company, like excessive debt.
What Are Some Other Limited Liability Exceptions?
While having an LLC offers protection from personal liability for business claims and debts, it's not all-encompassing. There are some factors that it can't protect the owner from, like:
If you've acted in a negligent or irresponsible manner
If you've done something illegal with your business, like fraud
If you've signed a personal guarantee for a loan
If you've mixed your personal expenses with business expenses
If you've personally injured someone
If you've failed to deposit taxes withheld from employee wages
What Does LLC Insurance Cover?
An LLC insurance policy protects the liability-related details of operating a business by covering its owner(s) and employees. The two most important types of coverage will be general and professional liability, but to make sure you cover all your bases, there are a few extra add-ons you may want to consider.
Key components of protection:
Additional coverage to consider:
Business owners policy (BOP): This is like a 2-in-1 that includes general liability plus property coverage. It will help protect your merchandise, your store, any business interruption expenses and loss of income, and liability if someone's hurt on your property.
Commercial auto insurance: Covers any damage, or theft, to the vehicles you or your employees use on the job.
Inland marine insurance: Protects property, equipment and tools moving between job sites and the business.
Installation floater insurance: This is a type of inland marine insurance that covers materials and products from the time they leave your property until they're installed or used.
Property insurance: Covers any damage to your physical office space.
Workers' compensation: Covers employee's medical costs, lost wages, permanent disability or death benefits that result from a workplace injury or illness. This coverage is mandatory in almost all states.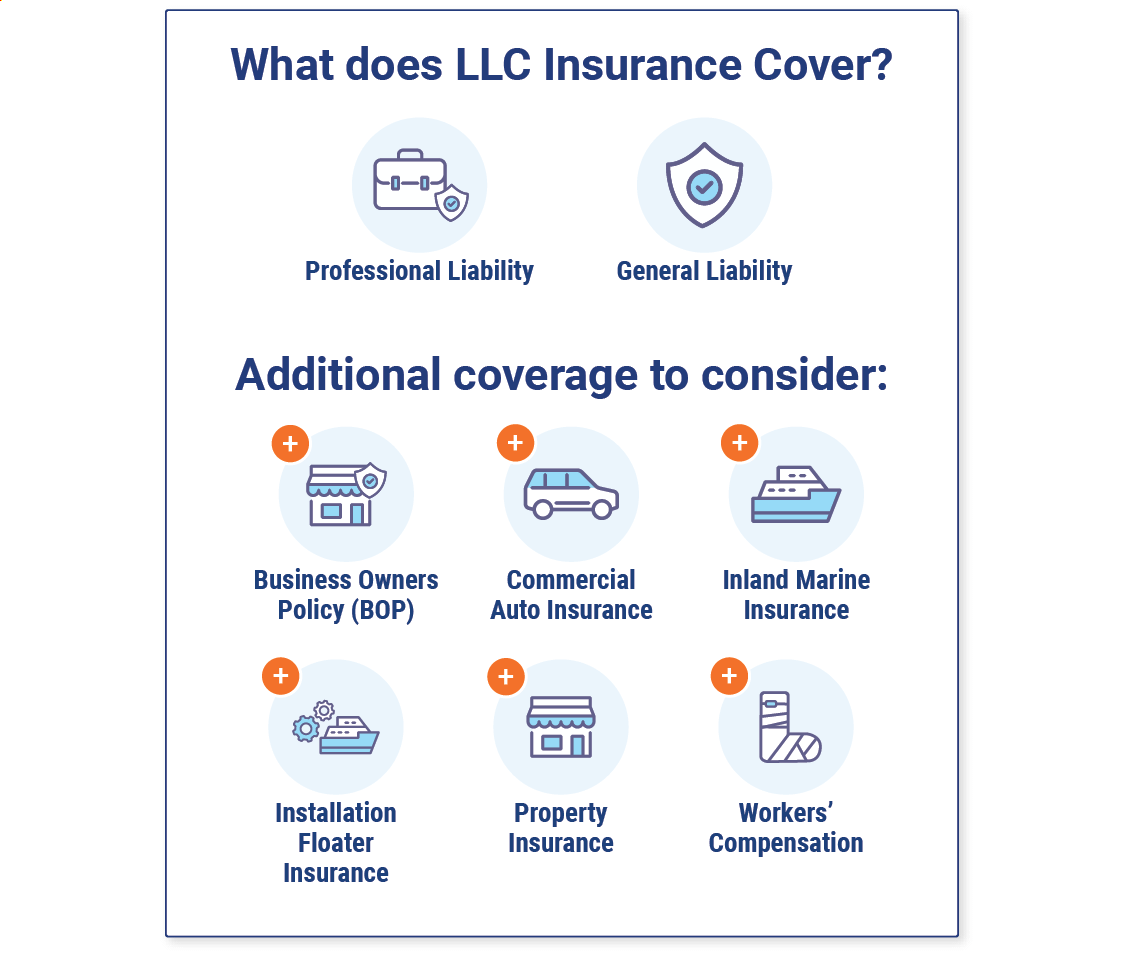 Is LLC Insurance Mandatory?
Yes and no. When it comes to insuring your LLC, you're free to decide whether you want to purchase insurance. But depending on the laws in your state, the type of business you have, and the type of service you're offering, you may be required to have some coverage.
Workers' compensation is a necessity in nearly every state. A local independent insurance agent can help you understand your state's requirements and make sure you are covered in those areas.
Beyond state-specific requirements, nearly every small business expert will recommend that you have the proper coverage in play to help protect your business and give it the chance to grow.
If something bad should ever happen and your business is sued, that could be the end of your small business dream—the very last thing anyone wants.
Why Do I Need LLC Insurance?
Just because your personal assets are off-limits, you're still liable for any debt and incidents related to the business itself. In today's overly litigious world, no one is exempt from a potential lawsuit.
Not to mention the environmental factors you can't predict that could come into play and leave your business in a state of ruin.
LLC insurance coverage exists to ensure that any potential lawsuits can be settled without causing you or your business complete financial ruin. It's also there in case a fire wipes out your business and you're at financial risk.
You owe it to yourself to at least speak with an agent about potential coverages and gaps to help keep you growing.
How Much Does LLC Insurance Cost?
The cost of your policy will depend on coverage and a number of other factors like the size, nature and location of your business, and the materials you use. A small accounting firm with just a few employees might pay between $350 and $1,600 for a business owners policy with $2 million in coverage.
However, a four-person delivery business that requires several vans for deliveries might be looking at more than $2,000 for coverage that includes a commercial auto policy and professional liability coverage.
If your business offers products, services or both that are considered to be high-risk, your policy will be more expensive. Typically, coverage ranges from a few hundred to a couple thousand per year.
The Benefits of an Independent Insurance Agent
Insurance policies can be complex. And searching through company after company can be extremely time-consuming and overly frustrating. An independent insurance agent's role is to simplify the process.
They work with multiple insurance companies on a daily basis, so they know all the pros and cons of each and can help you navigate the playing field.
Plus, they'll break down all the fancy insurance jargon and fine print to make sure you're confident you got the right coverage for your small business's unique needs.
Finding and Comparing LLC Insurance Quotes
An independent insurance agent will review your needs and help you evaluate which type of small business insurance makes the most sense for you. Then they'll start shopping options from some of the best companies out there to bring a number of different options to the table.
You'll review them with your agent, walk through all the fine print, get all your questions answered, and the one that is right for you, together. It just doesn't get any easier than that.