LLC Insurance
Because just being an LLC does not provide bulletproof protection.

Running an LLC (limited liability company) is a great way to protect your personal assets from damage or liability by keeping them separate from your business. But even if your assets aren't on the line, your business failing or being sued are still very real possibilities.
That's why it's so important to know all about the different types of LLC insurance available. Our independent insurance agents can help you get equipped with all the protection you need, long before you need it. But first, here's a deep dive into LLC insurance and what it's all about.
What Is LLC Insurance?
Simply put, LLC insurance is a combination of general and professional liability policies designed to help protect your company against claims of injury caused by your business, employees, faulty products, or a professional error. As with other policies, your liability insurance can be customized to more specifically fit the needs of your LLC, and an independent insurance agent can help you.
Does a Limited Liability Company Already Act as LLC Insurance?
The short answer is no. Being registered with the state as a limited liability company means your personal assets are off-limits when it comes to accidents and lawsuits, but your business is considered a separate entity and needs its own insurance policy.
If your business causes harm to a client or other third party, or hurts another company, you could be responsible for the medical bills, legal fees, or other damages. But there are exceptions in which a business owner could still be held personally responsible for damages caused by the company, like excessive debt.
Why Is LLC Insurance so Important?
LLC insurance is crucial to protect LLC businesses from various liability risks, including injury or property damage to others caused by your products, operations, or employees. Small businesses register as an LLC to help protect the business owner's commercial assets and keep them separate from their personal assets.
Just being an LLC business, though, doesn't offer bulletproof protection against all disasters. An independent insurance agent can further explain why having LLC insurance is so critical.
Who Sells LLC Insurance?
LLC insurance is available from many different insurance companies, and the best way to find the right carrier for you is through working with an independent insurance agent. Independent insurance agents know which insurance companies to recommend to meet your needs, and can provide informed suggestions based on company reliability, rates, and more.
While many insurance companies could offer LLC insurance for you, finding coverage could also depend on the area you live in. Here are a few of our top picks for LLC insurance carriers.
One LLC insurance company outshines its competitors.
The Hartford offers several important coverages for LLC businesses, including:
Professional liability insurance
General liability insurance
Workers' compensation
Commercial auto insurance
Business income insurance
Commercial property insurance
Though several insurance companies offer coverage for LLC's, The Hartford's LLC insurance package provides the most comprehensive coverage around. The Hartford also has "A+" (superior) ratings from both AM Best and the Better Business Bureau. Overall, The Hartford earns its spot as our top pick for LLC insurance.
Do I Need Business Insurance for My LLC?
Yes, your LLC needs its own special protection against lawsuits and more. LLC's themselves are not exempt from liabilities and other risks, contrary to popular belief.
Your LLC, by itself, is not protected against the following disasters:
Your business pays taxes incorrectly
One of your clients or another third party gets injured by your business in some way
An issue arises with your business's loan or you accrue debt
Your business commits fraud
Your actions damage the company in some way
You commit malicious acts against the company or a third party
While some of these behaviors are optional, your LLC can always be sued, even if you're on your best business behavior. An independent insurance agent can further explain the importance of protecting your LLC with the right insurance.
Risks LLCs Are Not Protected Against
Just being an LLC does not automatically protect your company against all potential costly risks. Here are just a few examples of common disasters that could strike your LLC that you would not be protected from without the right insurance.
Customer slips and falls: You'd be responsible for paying lawsuit costs on top of medical costs if a customer slips and falls on your business premises, which is one of the top reported incidents for all businesses.
Work-related injuries: Without the workers' comp coverage provided by LLC insurance, you'd be responsible for paying for your employees' medical costs after an injury or illness caused by your company.
Employee car accidents: When using your company vehicles, your employees put your LLC at risk of further lawsuits. It's imperative to have the commercial auto coverage in your LLC insurance if your company uses business vehicles at all.
These are just a few of the most common risks LLCs are not protected against without the proper insurance. Even if you're not legally required to carry LLC insurance, you owe it to your company, and yourself, to have the right protection.
Save on Business Insurance
Our independent agents shop around to find you the best coverage.
What Does LLC Insurance Cover?
An LLC insurance policy protects the liability-related details of operating a business by covering its owner(s) and employees. The two most important types of coverage will be general and professional liability, but to make sure you cover all your bases, there are a few extra add-ons you may want to consider.
Key components of protection:
Additional coverage to consider: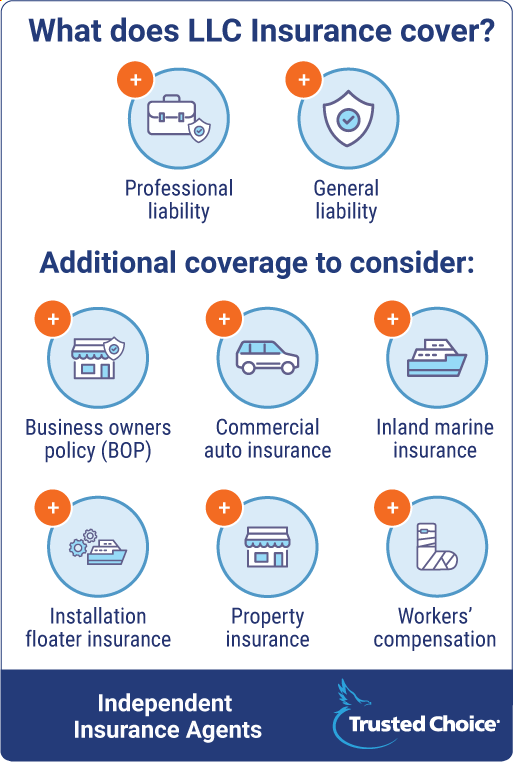 An independent insurance agent will help you create an LLC insurance package that covers all the necessary bases of protection.
Key Benefits of LLC Insurance
Having LLC insurance offers many important benefits. Some of the most common are:
Protecting your business against costly claims, including lawsuits.
Protecting you, the owner, against claims of negligence.
Protects your business's reputation by allowing others to request proof of insurance from your LLC.
Protects you from state laws and penalties in case your LLC is actually required to carry insurance.
These are just a few of the key benefits of having the right LLC insurance for your company. An independent insurance agent can easily rattle off several more.
Is LLC Insurance Mandatory by State?
Yes and no. When it comes to insuring your LLC, you're free to decide whether you want to purchase insurance. But depending on the laws in your state, the type of business you have, and the type of service you're offering, you may be required to have some coverage.
Workers' compensation is a necessity in nearly every state, along with unemployment insurance, and disability insurance. A local independent insurance agent can help you understand your state's requirements and make sure you are covered in those areas.
Why Do I Need LLC Insurance?
Just because your personal assets are off-limits, you're still liable for any debt and incidents related to the business itself. Not to mention the environmental factors you can't predict that could bankrupt your business.
LLC insurance coverage exists to ensure that any potential lawsuits can be settled without causing you or your business complete financial ruin. It's also there in case a fire destroys your business.
Top claim costs for LLC insurance:
$30,000 for property damage or accident claims
$50,000 for reputational harm claims (i.e., slander or libel)
$20,000 for customer injuries like slips and falls
An independent insurance agent can provide more examples of top claims filed through LLC insurance and why it's so critical to protect your company with the right coverage.
Save on Business Insurance
Our independent agents shop around to find you the best coverage.
How Much Does LLC Insurance Cost?
The cost of your policy will depend on coverage and a number of other factors like the size, nature and location of your business, and the materials you use.
If your business offers products, services or both that are considered to be high-risk, your policy will be more expensive. Typically, coverage ranges from a few hundred dollars to a couple thousand per year.
The average cost of the main coverages needed by LLCs:
General liability insurance: $500 per year
BOP insurance: $636 per year
Cyber liability insurance: $1,675 per year
Commercial auto insurance: $1,704 per year
Workers' comp: $560 per year
Professional liability insurance: $713 per year
An independent insurance agent can help you find exact quotes for LLC insurance in your area.
General Liability Insurance vs. Professional Liability Insurance
Two of the most important coverages needed by LLCs are general liability insurance and professional liability insurance. Here's a breakdown of each.
General liability insurance covers:
Bodily injury to third parties
Personal property damage to third parties
Advertising injuries
Medical expenses
Etc.
General liability insurance usually does not cover:
Your personal property
Damage to business vehicles
Damage to your business operations
Intentional injuries and malicious acts
Etc.
Professional liability insurance covers:
Negligence on your part
Legal fees
Omissions by you
Copyright infringement charges against you
Etc.
Professional liability insurance usually does not cover:
Intentional and malicious acts by you
Business property damage
Bodily injury and medical expenses
False advertising by your LLC
Etc.
Frequently Asked Questions about LLC Insurance
It's possible LLC insurance is required in your area. Depending on the laws in your state, the type of business you have, and the type of service you're offering, you may be required to have coverage. Workers' compensation is required in most states, along with unemployment insurance and disability insurance.
Yes, if you run a for-profit business, including an LLC, your business expenses are tax-deductible. This can include your business's insurance.
The amount of coverage you need depends on several factors, such as the type of company you run. You'll also need to determine which coverages are necessary based on your company's details, such as if you have employees and company vehicles. An independent insurance agent can help you get set up with all the coverage you need.
LLC insurance is crucial to have because your company is not protected from various disasters, including lawsuits, just by being an LLC. Customers and employees alike could press charges against your company, and without the right coverage, you'd be left paying for these hefty expenses out of your own pocket.
There are many benefits of carrying LLC insurance, but the biggest of which is protection against potential bankruptcy. LLC insurance can protect your company against expensive lawsuit fees and other expensive claims that you'd otherwise have to pay for yourself. Without LLC insurance, you could bleed your company's funds dry after just one incident.
The Benefits of an Independent Insurance Agent
When it comes to helping insurance customers find the absolute best price and quality for LLC coverage, no one's better equipped to help than an independent insurance agent. Independent insurance agents search through multiple carriers to find providers who offer LLC insurance, deliver quotes from a number of different sources and help you walk through them all to find the best blend of coverage and cost.
TrustedChoice.com Article | Reviewed by Jeffrey Green
©2023, Consumer Agent Portal, LLC. All rights reserved.
https://www.irmi.com/term/insurance-definitions/limited-liability-company
https://howtostartanllc.com/general-liability-insurance#:~:text=workers'%20comp%20policy.-,How%20Much%20Does%20General%20Liability%20Insurance%20Cost%3F,needs%20and%20incur%20different%20risks.
https://www.iii.org/publications/insuring-your-business-small-business-owners-guide-to-insurance/small-business-insurance-basics