Idaho Construction Insurance
Because when you're building something great, accidents can happen.

You've entered the world of construction and you're looking forward to using your skills and body (literally) to build something that someone depends on. While hoppin' into an excavator is thrilling, it's no secret that operating heavy machinery can be risky. Even a mellow construction site can turn ugly with one misstep, which is why it's crucial to secure proper construction insurance before getting your hands dirty.
That's where our independent insurance agents come in. They'll break down all kinds of construction insurance options available in Idaho, including coverages for solo contractors all the way up to large-scale construction companies. Whatever the scale of your business or project load, they'll get you set up with the protection you need. But before we get too far ahead of ourselves, let's start with an overview.
Save on Construction Insurance
Our independent agents shop around to find you the best coverage.
What Is Construction Insurance?
In short, construction insurance is a bundle of policies packaged together that are designed to cover all the components involved in construction work. This includes everything from the tools workers use, to the job site's property, to all the people connected to that job. It's no surprise that all construction businesses and jobs are different. This means the insurance that's needed to protect the company—or job— isn't one-size-fits-all. The perfect coverage for one site might not be enough to protect yours. That's why it's important that your coverage is tailored specifically for you. When you work closely with an independent insurance agent, you get the protection that's right for you.
Is Construction Insurance Required in Idaho?
The not-so-simple answer is: Sometimes. Small-scale projects involving less risky operations may not require coverage, while larger jobs that involve more hazardous equipment and complex labor absolutely will. But required or not, construction work comes with numerous risks, both obvious and hidden, so coverage is always a good idea, especially if you are a:
Property owner: If a construction mishap occurs on your property, you can be sued — even if the incident wasn't your fault. Construction mishaps can potentially cause injury to guests on your property, so you'll need protection against lawsuits.
Contractor: If you make a calculation error that somehow causes injury to workers and property guests or damage to the actual property, you can be sued. Protection against lawsuits is crucial for contractors.
Subcontractor: As with contractors, subcontractors need coverage to protect themselves against lawsuits.
Construction company: Construction companies need protection for themselves and their workers. If your employees cause damage to a job site or get injured while on the job, coverage is essential. Also, you'll definitely want to be protected if a property owner decides to sue you because of a mistake your workers may have made.
Save on Construction Insurance
Our independent agents shop around to find you the best coverage.
Why Do I Need Construction Insurance?
Construction workers are constantly working against a variety of risks. Not only do you have to be prepared for potential injuries to yourself or your workers, but also for potential property damage, lawsuits, and unexpected damage from the elements and environment you're working in. For workers in Idaho, this can mean wildfires, flooding, or even tornadoes. Fortunately, the state isn't overly susceptible to Mother Nature's ugly side, but all these risks make construction insurance a must-have. It's best to understand the most common construction insurance claims in Idaho so you can be properly covered:
Fire damage: Whether it's an unexpected wildfire or an on-site fire, construction sites run a high risk of going up in flames. Each year fires in structures under construction result in more than $170 million in property damage.
Employee injury: It's no secret that construction is a risky business. Projects come with all sorts of hazards, from working at great heights on unstable surfaces to dealing with dangerous equipment, and even direct exposure to the elements. Injuries, and even death, are a risk that all construction workers need to be mindful of, and protected from.
Damage due to defective work: Mistakes made during a construction job can (and often do) cause damage to the structure and any surrounding property, or injure someone on the site — during or afterward. Sewer line disturbances due to construction projects are some of the most common and costly claims.
Damage due to falling objects: Overloaded cranes, workers dropping materials, and pieces of a structure being knocked off are all-too-common mishaps. And as you can imagine, falling objects can cause serious destruction in the form of property damage, injury, or even death.
Business interruption: Regardless of where a construction project takes place, it's always prone to nature's elements. If your construction site gets caught in a wildfire or flood, you run the risk of losing precious income if you're forced to temporarily suspend operations.
With the proper coverage in place, however, you can help minimize your risks and protect your construction projects and workers from unexpected catastrophes.
What Does Construction Insurance Cover?
A construction insurance policy is typically the easiest option when it comes to knocking out your extensive list of coverage needs all together in one tidy package. These policies offer most of the liability insurance you'll need, and your independent insurance agent can hook you up with any additional coverage you may need depending on the size and scope of your business, the type of construction work you do, etc.
Here are several common construction insurance options:
Your construction insurance package will be assembled by selecting the coverages that work for your unique business from a big list of available options. Coverage applies to everything from lost business revenue to potential legal/court fees and beyond.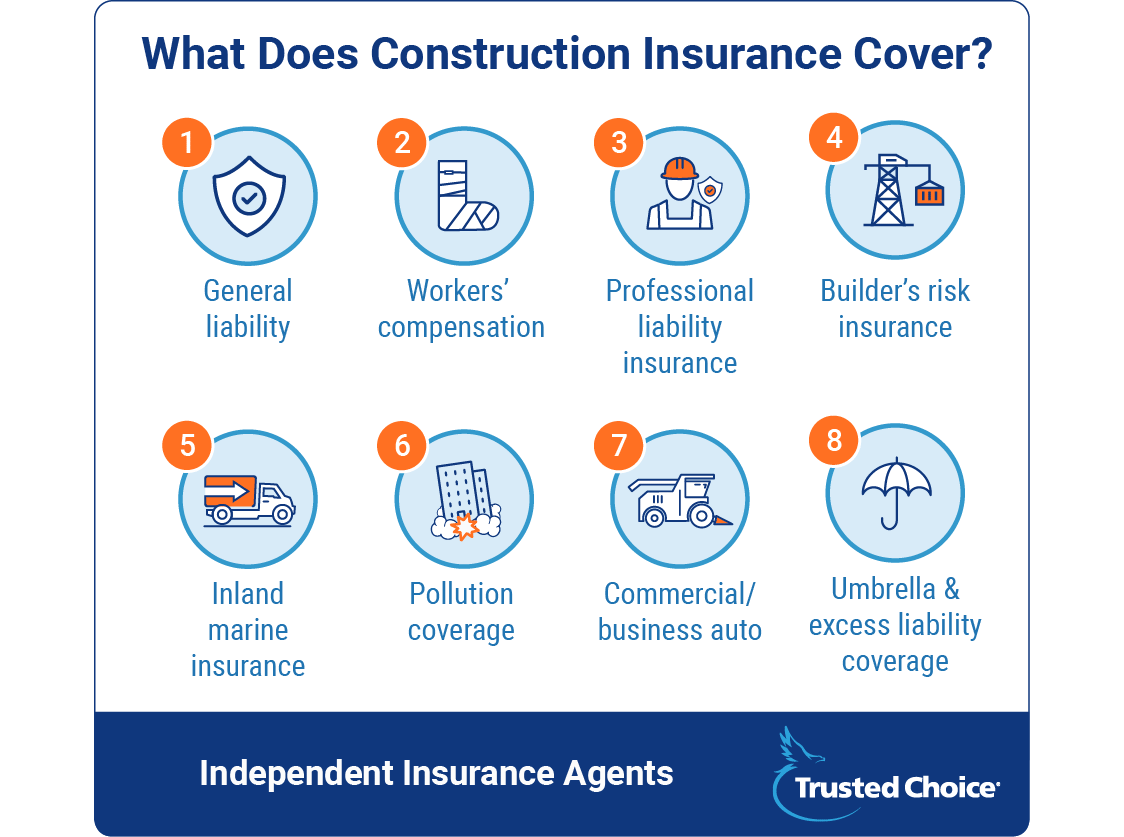 How Much Does Construction Insurance Cost in Idaho?
The short answer is: It depends. On a lot. A small construction company with just a few employees that only handles sidewalk paving might pay around $25,000/year. But a solo construction worker completing the same type of project would probably only pay somewhere in the low thousands annually since they have less equipment and no employees to cover with workers' comp. Now, on the other end of the spectrum, a huge construction business working on a large-scale project in a major city, like an event venue in Boise, could easily have premiums ranging in the millions each year. Really, it all depends on a number of factors, like:
The type of project: Construction projects come in all different scopes and sizes, and will require varying amounts of equipment and manpower. Also, the more dangerous a project is considered, the higher the risk (and potentially cost) that comes with it for an insurance company.
The location of the project: For example, a construction project may cost up to 20% more to insure if it's located on the coast vs. somewhere 50 miles inland. Job sites located within a certain distance (dictated by the specific insurance company) of the Atlantic Coast have to factor in windstorm coverage. Of course, other regions of the country have their own unique natural disasters that also need to be factored in.
The number of employees: The more you've got, the more workers' comp you'll need. Simple as that.
How much business you generate: Premiums are calculated based on business projections for the upcoming year. If your workload doubles, so will your premium, most likely.
Save on Construction Insurance
Our independent agents shop around to find you the best coverage.
Top 5 Ways to Score Construction Insurance Discounts in Idaho
Every business owner loves to save a buck or two wherever they can. And fortunately, there are some tips and tricks out there to help you significantly lower your premium, like:
Maintain a track record of safety: Insurance companies love working with clients who put safety first. Put practices in place to keep your employees, equipment, and project sites as safe as possible, and you'll probably be rewarded by your insurance company.
Maintain a track record of quality work: Another tip is to prove that your construction company finishes projects on-schedule and in-budget. Essentially, keeping your clients happy is the key to keeping your insurance company happy, and they just might slash your premium as a thank-you in return.
Keep your claims history low: This pretty much goes hand-in-hand with maintaining a safe and efficient business. Plus, if you ever need to switch insurance policies or companies, having a low or even squeaky-clean claims record will definitely help you land a lower premium.
Keep it professional: Sometimes insurance companies send industrial hygienists or safety engineers out to observe a construction project in progress. If your equipment is clean and well-maintained and your employees are following necessary safety protocols, you'll get a good report. A favorable evaluation could reward you with a reduced premium.
Work with an experienced agent: An expert independent insurance agent in our network will not only know where to find the best coverage and price but also help make sense of all the fine print. In the end, you'll get the right protection and the best price, and you'll know your policy just as well as your agent does.
Compare Idaho Construction Insurance Quotes with an Independent Insurance Agent
We all know how valuable your time is, so why spend it doing all the hard work yourself? From insurance packages to add-on policies, our independent insurance agents will help you determine which types of coverage make the most sense for your business and your budget They're not just there at the beginning, either. If disaster strikes, your agent will be there to help you through the entire claims process and get your construction business back on track. It's nice having someone in your corner with you, isn't it?
TrustedChoice.com Article | Reviewed by Paul Martin
©2023, Consumer Agent Portal, LLC. All rights reserved.
https://www.nfpa.org/News-and-Research/Data-research-and-tools/Building-and-Life-Safety/Fires-in-Structures-Under-Construction-Undergoing-Major-Renovation-or-Being-Demolished
https://www.idahopress.com/news/what-s-our-risk-for-natural-disasters-in-idaho/article_8f22326a-8f40-11e0-b9e2-001cc4c002e0.html